If you're an adult traveler considering a cruise vacation, there are several different companies to choose from. In this post, we'll compare two of the top cruise providers in the industry: Disney Cruise Line vs Virgin Voyages.
Why these two? Well, Disney Cruise Line offers one of the most beautiful, immersive and thoughtfully designed cruise experiences on the market. And then there's Virgin Voyages, who stormed onto the scene in 2020 with the intention to "shake up" the cruise industry with a modern and unique approach. These are two great cruise lines that each do things very well, but very different.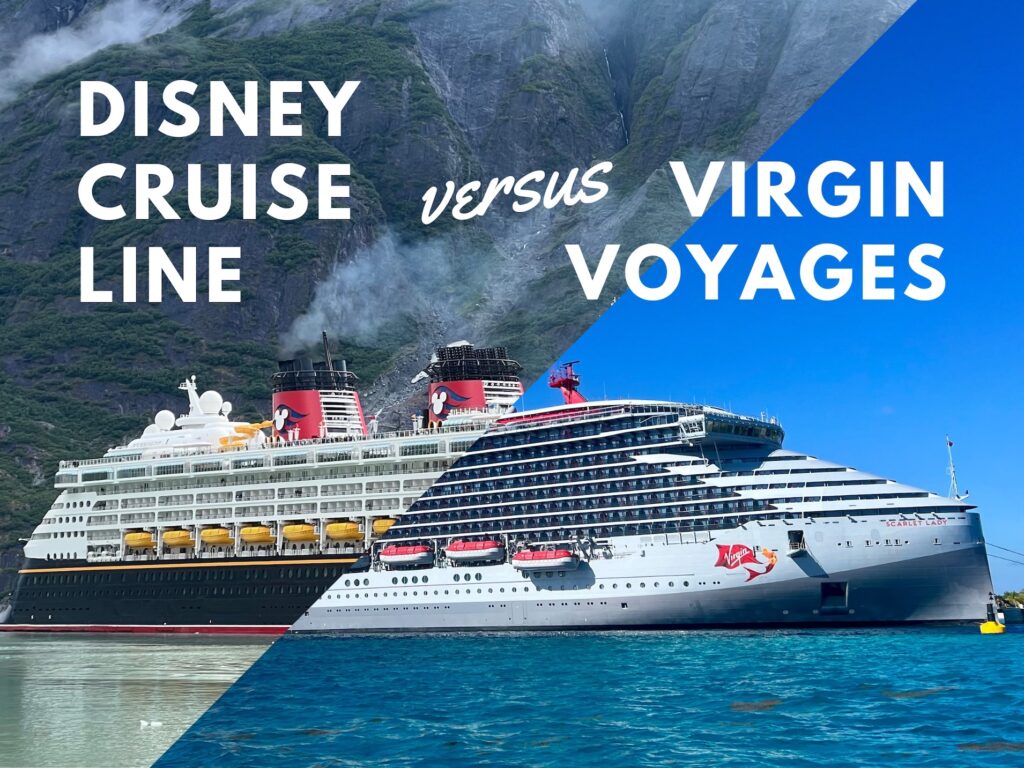 I have sailed with Disney Cruise Line five times now, and most recently returned from my first trip on Virgin Voyages. I couldn't help but compare my experiences on these two very different cruises.
Both of these cruise lines can be a great choice for adults. Which one is better? Well, that depends on what you're looking for. This post will explore 10 key differences between Virgin Voyages and Disney Cruise Line to help you decide which cruise line is right for you.
Disclaimer: My Virgin Voyages cruise was graciously gifted by our trusted travel advisor, Lauren Quirk, from Travel With Character. This post is not sponsored by Virgin Voyages or Travel With Character, and I do not receive any compensation in exchange for this post. All thoughts and opinions in this review are my own.
1. Kids
Virgin Voyages does not allow children under 18 on any of their cruises. So if you're traveling with children, you can stop reading right now because Virgin Voyages won't be an option. Even if you're not traveling with kids yourself, it's still important to understand how children onboard can impact overall cruise experience.
Disney Cruise Line of course allows children, but they do have some adults-only spaces. The main adults-only area is on the upper deck and has a bar, pool and coffee shop. It is restricted to guests over 18 at all times. There are also some adults-only activities, such as crafts and a some evening shows. Most of the bars onboard transition to adults-only after 8 PM.
Meanwhile, Virgin Voyages is entirely adults only. Virgin Voyages has some additional adult-friendly spaces like a night club, casino and old-school arcade that Disney Cruise Line doesn't have. Traditionally family-friendly spaces like the pool, basketball courts and even dessert shops, are less crowded with children and take on a different energy.
Both Disney Cruise Line and Virgin Voyages have plenty of bars and alcohol available, but the way people engage with them is very different because of the presence of children and/or the responsibility required to care for them. I would definitely say that Virgin Voyages has more of a party vibe (more bars, more adult entertainment, more people letting lose), but they actually do a very good job keeping it contained. You could easily avoid the crowds and alcohol and still have an amazing time sailing with Virgin Voyages.
Which is better? It depends. This one really comes down to whether you want a fully adults-only experience or if you're content with adults-only spaces.
2. Entertainment Onboard
The entertainment on Disney Cruise Line versus Virgin Voyages is evident from the moment you sail away. Both cruise lines have a sail away party. Disney Cruise Line's features Mickey and friends leading choreographed dance moves while Virgin Voyages was hosted by the resident Drag Queen and features dancing of a different sort. The entertainment continues to diverge from there.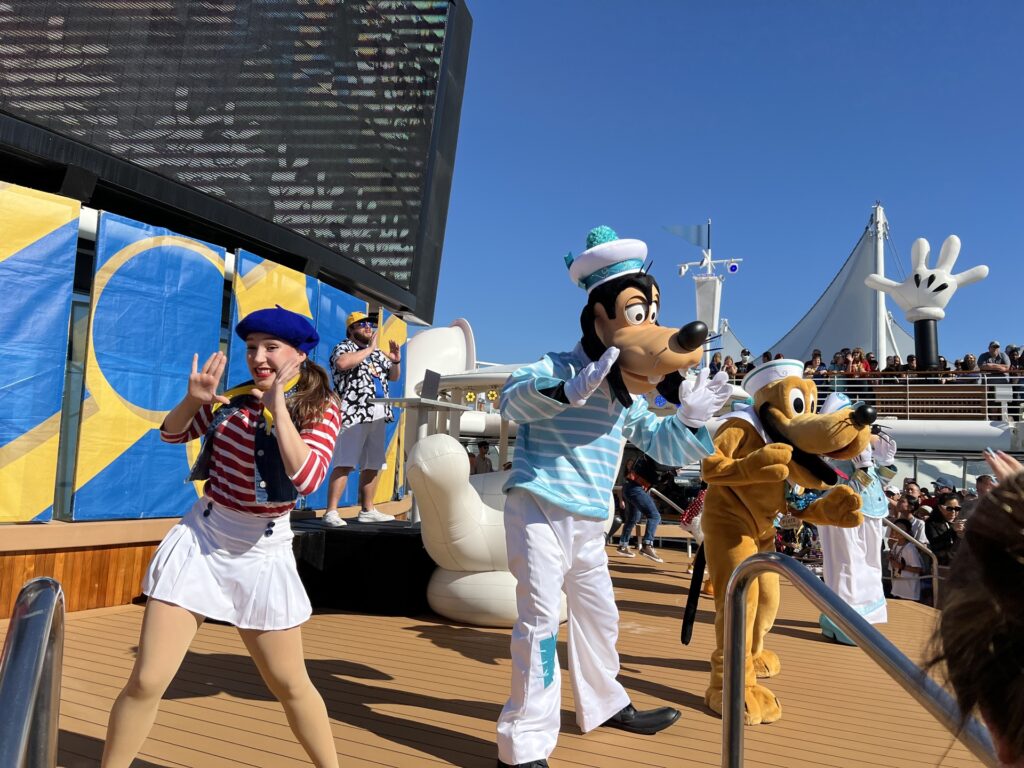 Virgin Voyages does have some "kiddy" options, like camp crafts and pumpkin painting, but most of the entertainment is geared toward adults. Not in a scandalous way, but it has things that might not appeal to children. There's a hypnotist, lots of DJ dance parties, comedy shows and game shows, that all skew more to adult interests and taste. Even the restaurants and bars are tailored to adults with more upscale and sophisticated menus.
Disney Cruise Line offers a family-friendly cruise experience, meaning that most of the entertainment and themes are appropriate for children. The stage shows, restaurant themes and trivia topics all tend to involve a lot of Disney characters and stories. Even the evening entertainment — like bingo, dance parties and game shows — is very G-rated.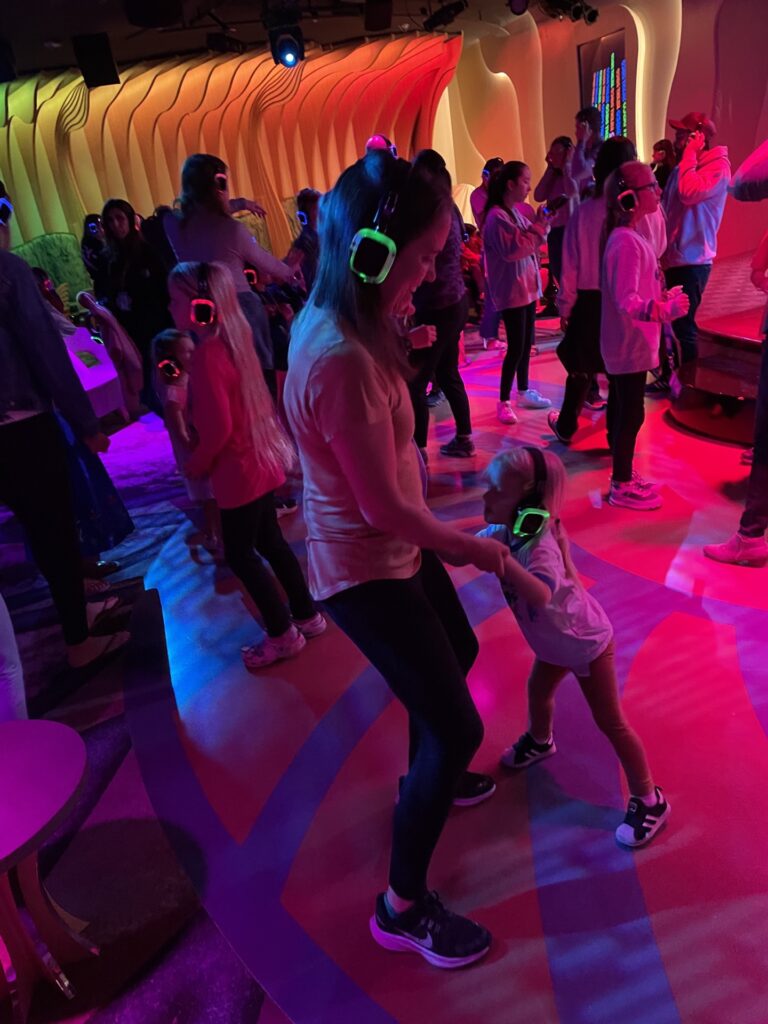 There are a few non-Disney things to do onboard, like beer/wine tastings, cooking classes and even some of the musical performances. However, I think you do have to be somewhat interested in Disney storytelling to really enjoy a Disney Cruise Line trip. Everything on the cruise isn't Disney-centric, but a lot of the entertainment is.
Which is better? It depends. (This is the last time I'll say that!) Again, this comes down to how much you want to participate in the onboard entertainment and if you're into Disney characters and stories. I personally found the entertainment better on Disney Cruise Line, but I am a Disney fan.
3. Dinner Schedules
Both Virgin Voyages and Disney Cruise Line offer dinners at table service restaurants at no extra cost. However, the scheduling of dinners is handled very differently between the two.
Disney Cruise Line has rotational dining, which means you will automatically be assigned a restaurant for dinner each night. You can choose the earlier or later seating, and it will be same time for your entire cruise. You will also have the same service team each night, and they will follow you to each of the restaurants. Depending on your cruise duration, you might repeat restaurants, but the menu and entertainment will change.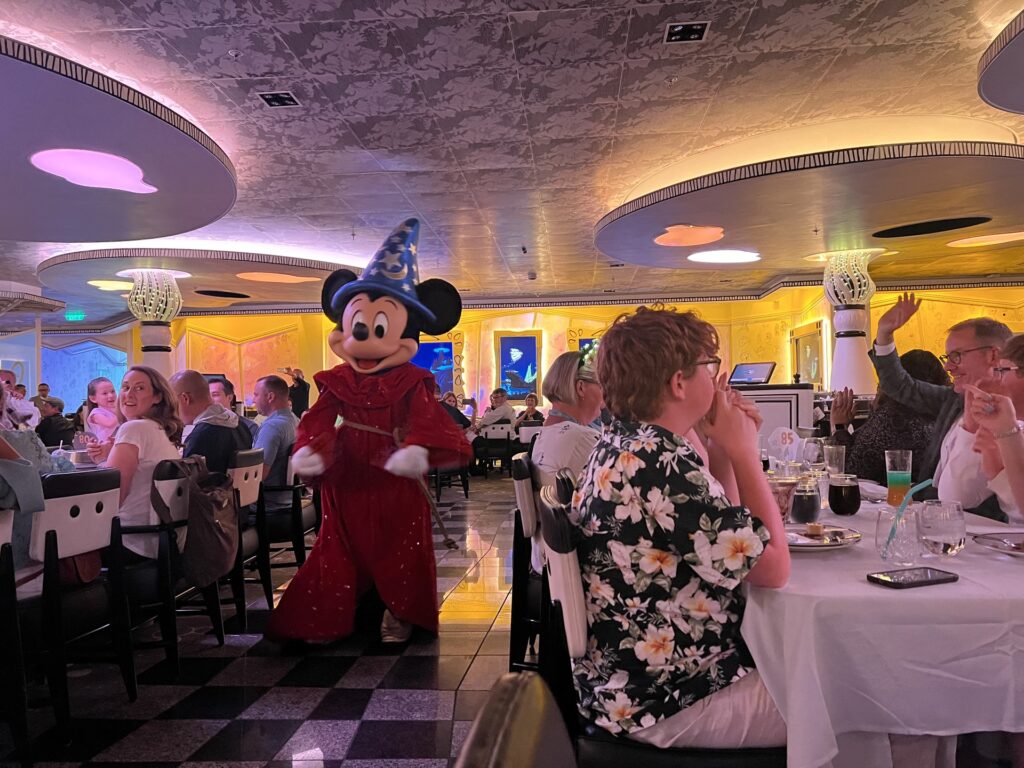 There is also signature dining available on Disney Cruise Line. Each ship has one or two signature restaurants that are adults only. These nicer restaurants require advance reservations and are available for an extra fee ($45 – $125).
On Virgin Voyages, you do not have any automatically scheduled dinners. Instead, you'll need to make reservations if you wish to dine at one of the table service restaurants onboard. (Dining reservations open 45 days in advance.)
The advantage to this model is that you can choose what you eat on what day at what time. The downside is that reservations book up quickly. If you don't book your dining when it opens up, you might miss out on the best restaurants. Each restaurant onboard does have some day-of reservations and walk-ups, but these seatings are limited and take time and effort.
Virgin Voyages does not have any signature restaurants that cost extra, but some of the restaurants do have meal enhancements for an extra fee (like oysters or premium cuts of meat).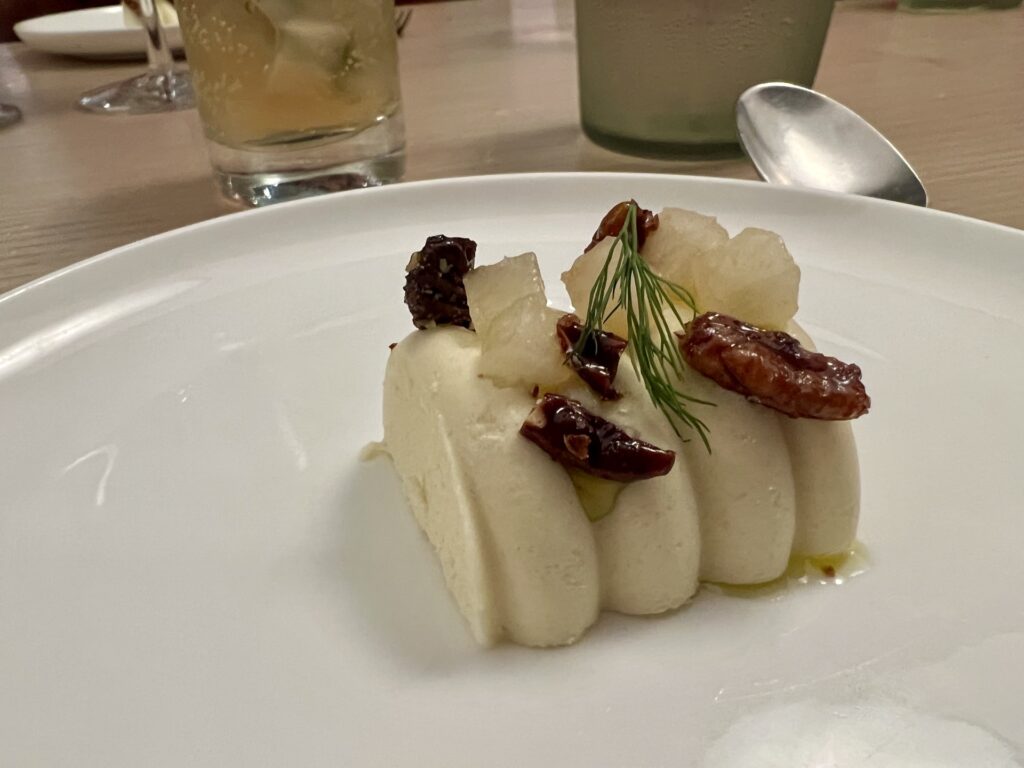 Both Cruises offer alternatives to table-service dinners. There are always some quick-service restaurants available or you can order room service (complimentary on both cruise lines).
Which is better? Disney Cruise Line. While the food itself is better on Virgin Voyages, I have to say the rotational dining is better than the reservation system. I like that you are guaranteed a meal at every table service restaurant without any extra effort.
4. All Day Dining
Let's keep the food-talk rolling! We covered dinner, but what about everything else? Well, the good news is that all of your food is included on both of these cruise lines. However, the options and hours vary quite a bit.
One of the biggest differences is that Virgin Voyages offers 24-hour dining! You can get pizza, breakfast and diner food all day, everyday. (Did I get into a bad habit of late-night french fries before bed? Yes, I did — but vacation calories do not count, people!)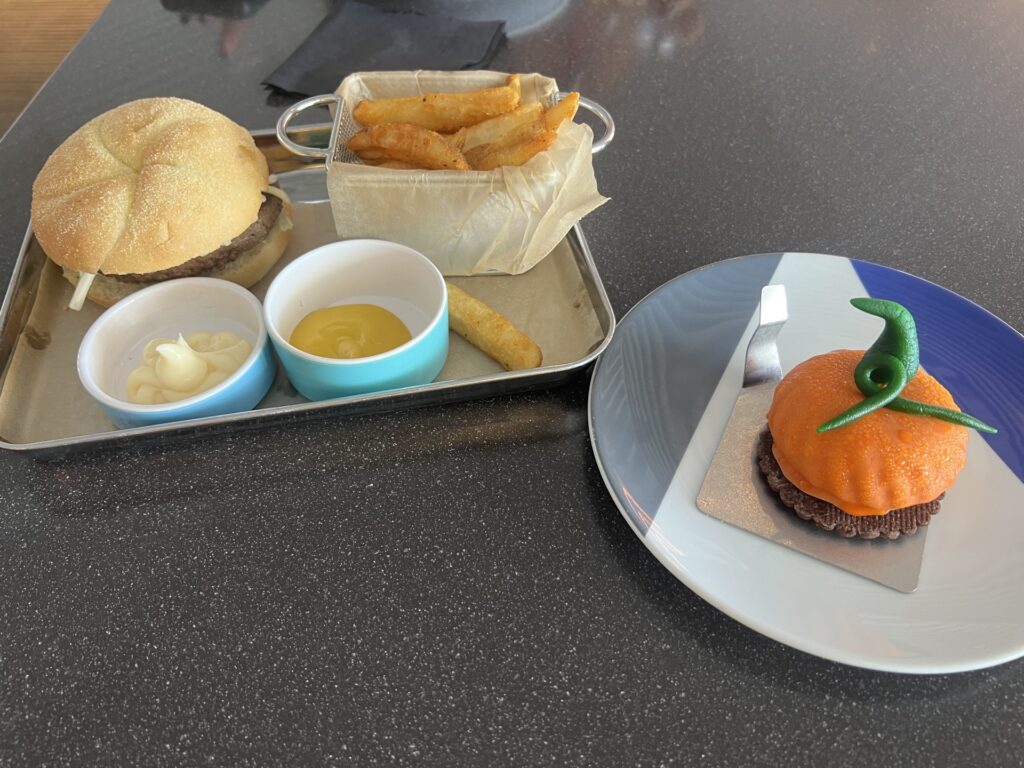 Virgin Voyages very proudly does not have a buffet. Instead, they have a food hall with a variety of stations (including sushi, ramen, tacos, salads, pressed sandwiches, an A+ dessert spread, etc). This is where you'll probably come for breakfast and lunch. You can order at the station or you flip a flag at the table and a server will come and take your order. All of the stations are not always open all day, but some always are.
In addition to the food hall, there's also a pizza place, Asian pool-side cafe, ice cream shop, sports bar with pub snacks, and a few other spots where you can grab food throughout the day.
On Disney Cruise Line, there is a large buffet that open for set hours for breakfast, lunch and select evenings for dinner. There is a wide variety of foods and cuisines available, and the selection does rotate a bit each day.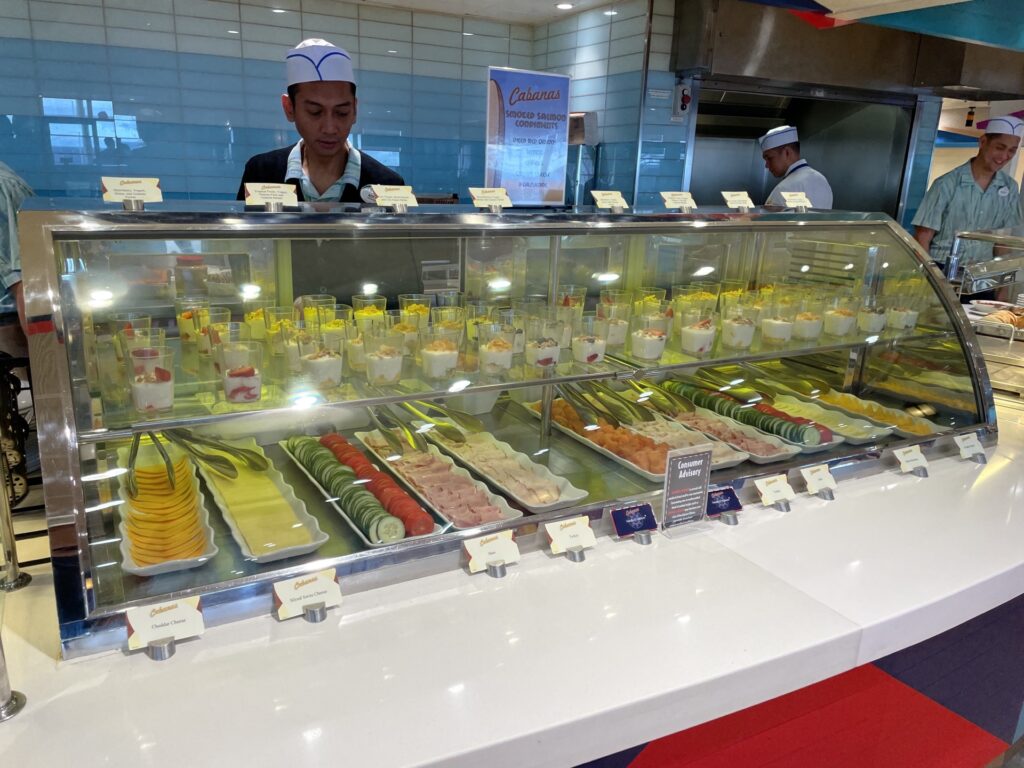 Beyond that, Disney Cruise Line has three quick-service restaurants around the pool deck. There's pizza, burgers, salads, and most iconically, all-you-can-eat self-serve soft-serve. These restaurants are all open for lunch, but usually only one is open at dinnertime. The only 24-hour dining available on Disney Cruise Line is room service.
Which is better? Virgin Voyages. The variety and quality of quick-service options, some of which are open all night, gives Virgin Voyages a huge advantage.
5. Dietary Restrictions
This is the last thing I'll say about dining, I promise.
Both cruise lines cater to dietary restrictions and allergies quite well. Food is always labeled and modifications can often be made. Before each meal on both cruise lines, servers always asked about any allergies or restrictions. Both cruise lines often had separate ovens, tongs or even full trays of food to prevent cross-contamination.
I'm vegetarian, which is the only dietary restriction that I can personally speak too. I will definitely say that the plant-based options on Virgin Voyages was substantially better than on Disney Cruise Line. While Disney Cruise Line had some fake-meat options at their quick-service restaurants, their table service vegetarian meals were almost entirely just boring vegetables with very little creativity, substance, or protein.
Meanwhile, Virgin Voyages had appealing vegetarian options at every turn, all day. What stood out the most to me was the plant-based hot dog in the sports bar, fried avocado tacos and cucumber sushi rolls in the food court, and oyster mushroom bao at the pool deck. The table service menus featured things like truffle gnocchi, chile relleno and Nashville hot cauliflower.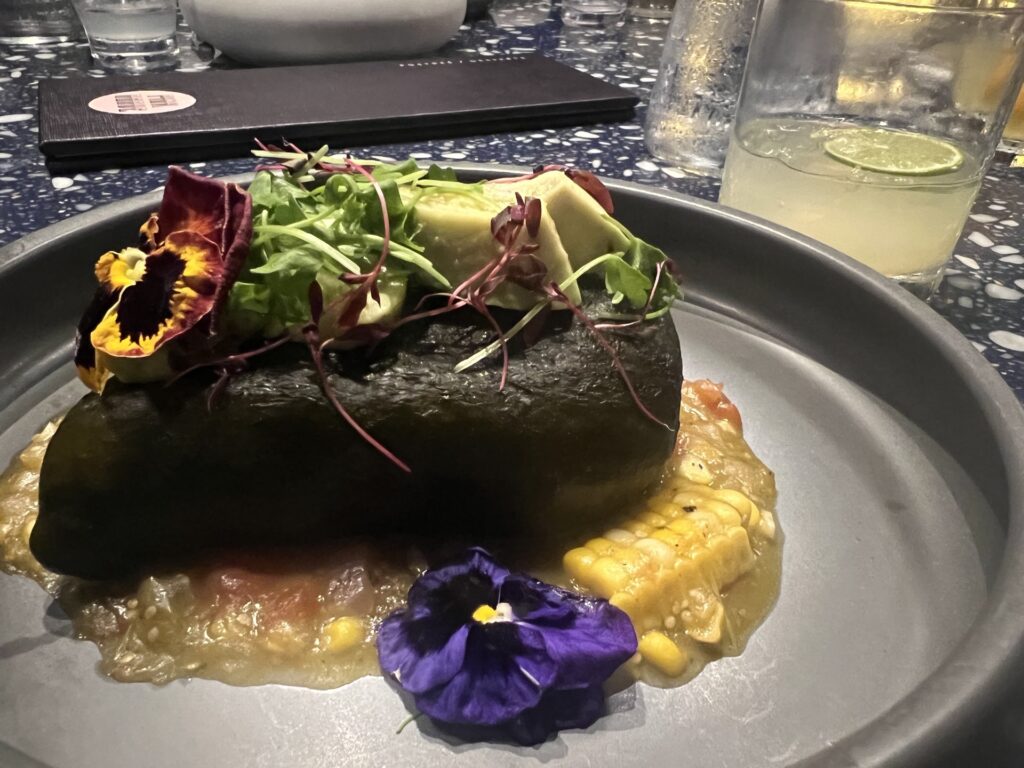 Which is better? Virgin Voyages. This is purely based on my experience as a vegetarian, but the vegetarian food was so much better, filling and varied on Virgin Voyages.
6. Stage Shows
Both Disney Cruise Line and Virgin Voyages have evening stage shows.
On Disney Cruise Line, these are broadway-style productions that take classic stories to the stage (like Frozen and Aladdin) or feature beloved characters in a new story (like the Golden Mickeys or Disney's Believe). They're longer shows that take place in a larger theater.
Each stage show takes place twice a night, and coordinates with the scheduled dinner seatings. Guests with the early dinner seating can see the later show, and vise versa. There is no advance registration, and they fill the theater on a first-come-first-serve basis. Some shows do fill up, but if you get there a bit early, it's not usually an issue.
Virgin Voyages also has a handful of stage shows, but it's not usually the highlight of the evening. They tend to have more smaller shows instead of one big one. You'll find an acrobatic retelling of Romeo & Juliet in the main theatre, but also maybe a comedian, game show and live-music happening on other smaller stages.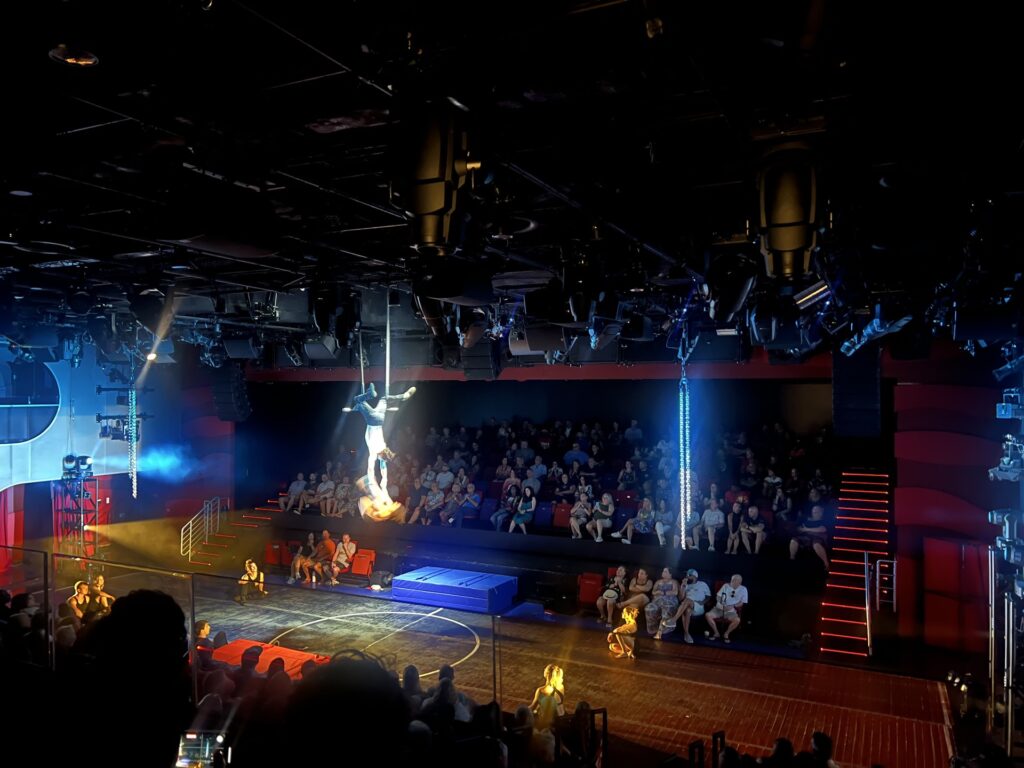 To support this model, Virgin Voyages requires pre-registration for most of the popular shows. The schedule is released in the app at the start of the cruise and you can register as soon as you board. These shows can sell out quickly, though. If you don't know to sign up or if you board late, you can easily miss out on the best shows.
Which is better? Disney Cruise Line. The shows are scheduled around your mealtimes, with no planning required. Plus, I found the quality to be better on Disney Cruise Line than Virgin Voyages.
7. Internet
Did you even go on a cruise if you don't post it on Instagram?
Virgin Voyages says no, and that's why they have free wifi for all sailors. All sailors have access to basic wifi and passengers with Deep Blue Extras (Virgin's loyalty rewards program) receive free premium wifi. There is no data or time cap, it is just all inclusive free wifi. Everyone in our group (including those using basic and premium wifi) was able to successfully stream video, post to social and FaceTime without any issues.
Disney Cruise Line does not offer free wifi. Their data plans vary by ship, with the older ships selling wifi by the megabyte and newer ships offering unlimited plans by the day. I have only sailed on ships that had the per-megabyte option. No matter what settings I turned off, my data was almost always instantly drained. I have heard better things from the unlimited day plans, but I haven't personally sailed on those ships.
Which is better? Virgin Voyages. It was just so nice to have unlimited, free wifi. Personally, I was away from my family and being able to stay connected was huge.
8. Price
If we're talking straight booking price, these two cruise lines are pretty competitive in price. The rack rate on Disney Cruise Line is typically a bit higher than Virgin Voyages. However, Virgin Voyages (at least at this time) tends to have more promotions and their base fares include a bit more.
For example, let's look at a 4-night Caribbean cruise in a room with a balcony/terrace for roughly the same dates 6 months out.
On Virgin Voyages, that is the Fire & Sunset Soirées itinerary that sails from Miami with port stops in Key West and their private beach club in the Bahamas. The price for a Sea Terrace room for two sailors comes out to $3,606. However, with a current promotion that trip is available for $2,786.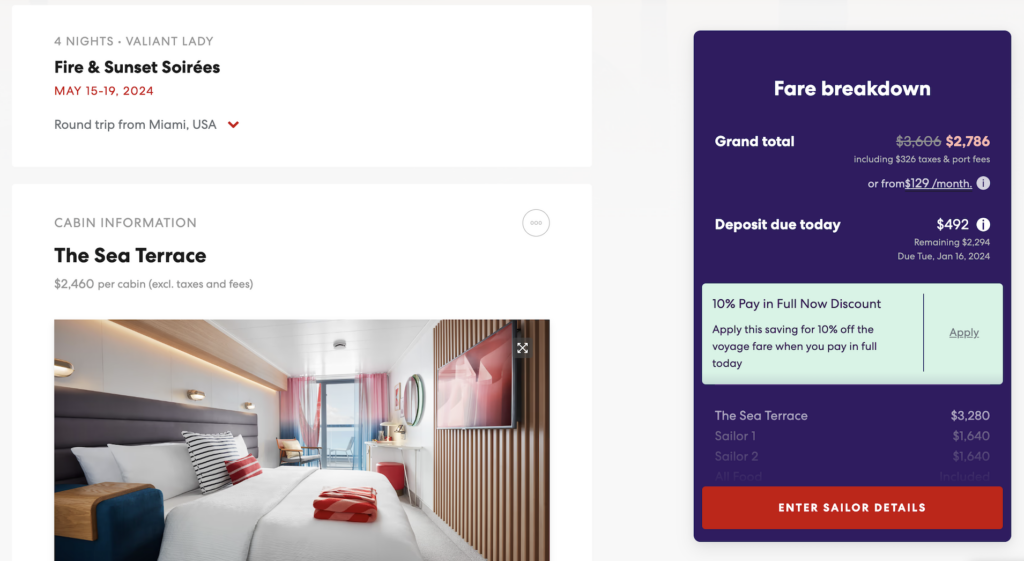 Disney Cruise Line's comparable itinerary is the 4-Night Bahamian Cruise which sails from Port Canaveral with port stops in the Bahamas and at Disney's private island. The price for a Deluxe Oceanview Stateroom with Navigator's Verandah for two sailors comes out to $3,798.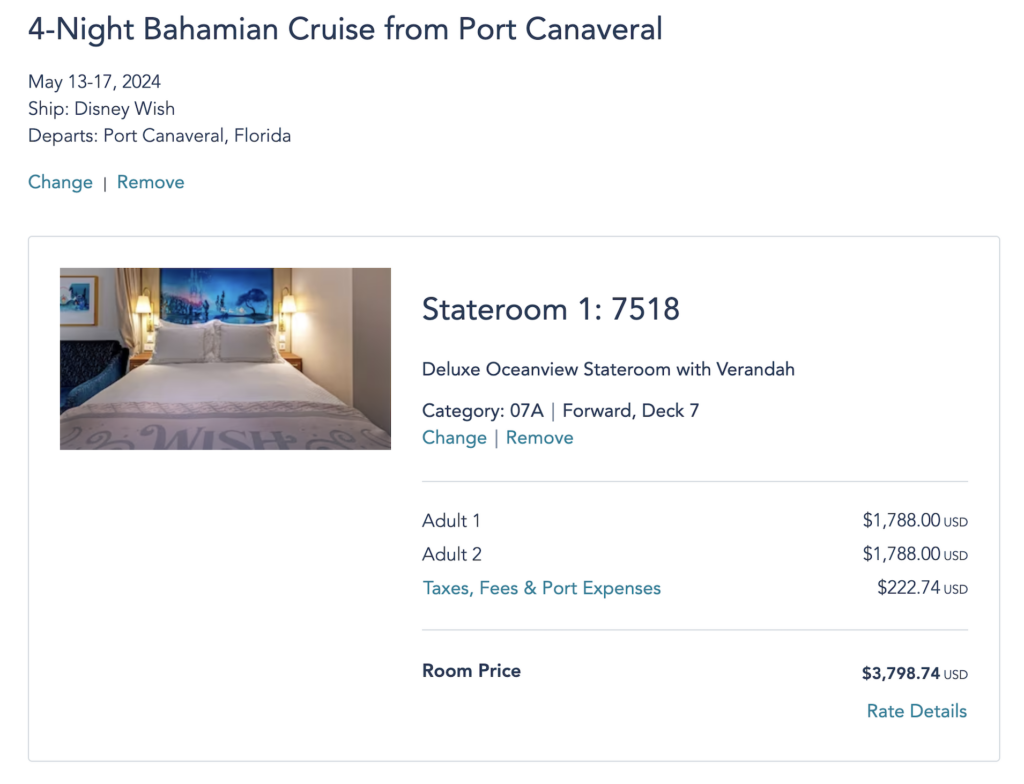 As you can see, the promotional fare on Virgin Voyages is about $1,000 cheaper than Disney Cruise Line. Without the promotion, Virgin Voyages is still about $200 cheaper. The price difference is actually much greater than that though because the Virgin Voyages fare includes a few things that cost more on Disney Cruise Line, like tips and wifi.
Which is better? Virgin Voyages. The cruises are often cheaper, they have more promos, and more things are baked into the fare.
9. Tips
The difference here is pretty straight forward. Tips are included in the Virgin Voyages fare and tips are not included in the Disney Cruise Line fare. Disney Cruise Line is very transparent about who the tips go to, while Virgin Voyages simply says tips are "covered."
Tips are technically optional and discretionary, but Disney Cruise Line automatically charges set amounts by default. (You can alter them in some cases, but you have to proactively do so.) Disney Cruise Line collects $14.50 USD per night, per guest for tips to be distributed to the waitstaff and housekeeping. They also automatically add an 18% gratuity on most other purchases (like drink charges or spa services.) You can read the Disney Cruise Line tipping details here.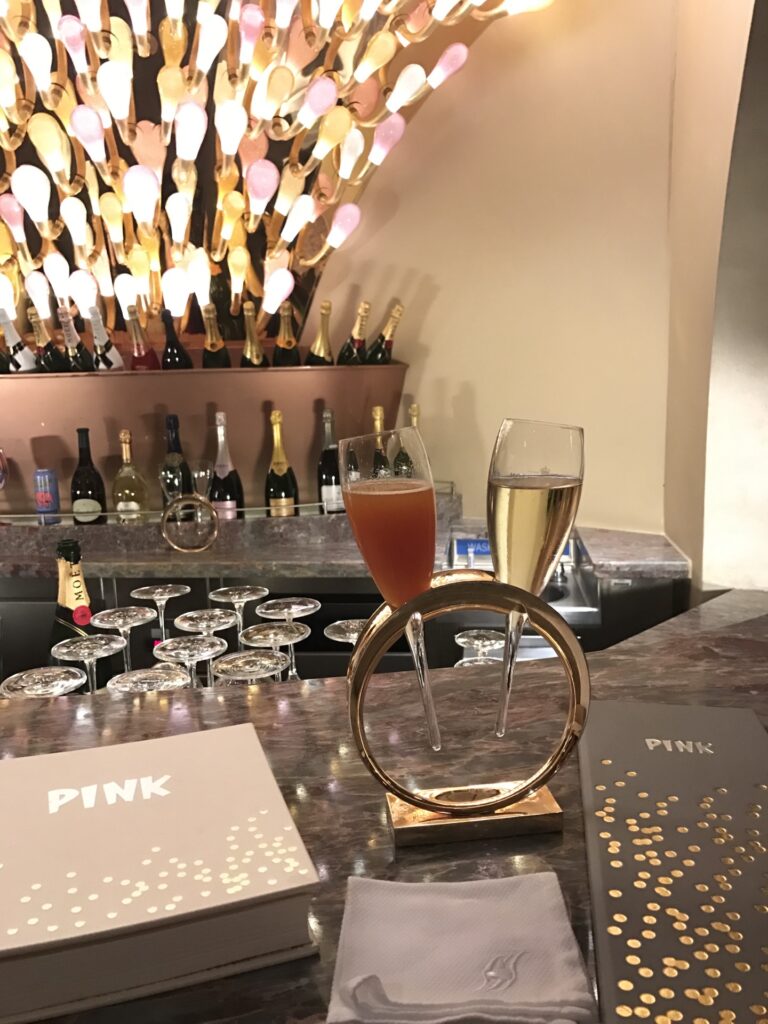 On Virgin Voyages, there is no additional tipping expected or collected. All tips are covered in the cost of your fare, which I would read as they pay their staff better outright. (That is unconfirmed, though.)
Which is better? Virgin Voyages. I'm generally pro-tipping, as it usually results in better service. However, the service on Virgin Voyages was amazing by default and I didn't have to tip extra for it.
10. Private Beaches
It has become quite common for cruise providers to invest in private islands or beaches for their Caribbean itineraries. These can serve as a selling point as they are unique to each cruise line.
Disney Cruise Line does this better than anyone. Castaway Cay is Disney's private island in the Bahamas and it is *exquisite.* It is truly a picture-perfect island destination. The island features white-sand beaches, a variety of bars and a fantastic bbq lunch at no extra charge. There's even an adults-only beach on the far side of the island with its own bar and dining space.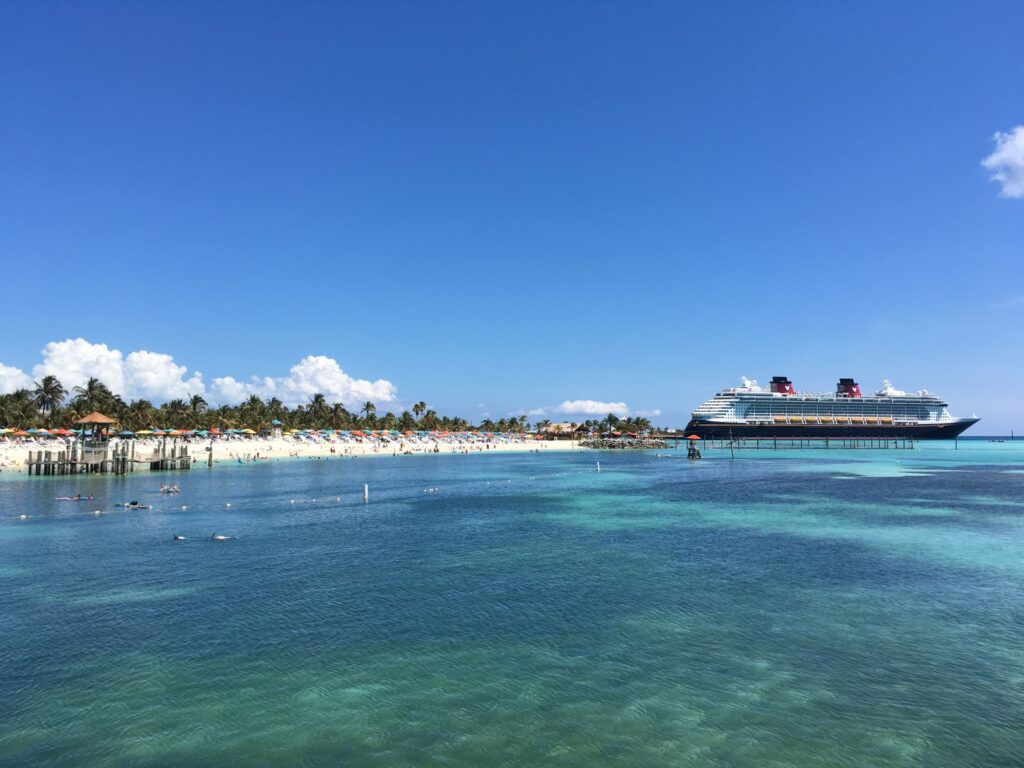 Virgin Voyages does not have an entire private island, but instead has a private beach club on the Bimini Islands in the Bahamas. The Beach Club is located a short distance from the port, but there is a free shuttle to get there. It is a large private beach area with tons of seating, a few bars and a large swimming pool. An island style lunch is available, also for no extra charge.
A stop at these beach destinations is included on almost all of the Caribbean itineraries for each respective cruise line. If you're sailing anywhere else, this won't matter.
Which is better? Disney Cruise Line. Castaway Cay outshines any other port stop I've ever had in the Caribbean. I would take a cruise that only stops at Castaway Cay.
BONUS! Coffee
I'm not sure anyone cares about this but me, but I care a lot so here we are! On both cruise lines, regular drip coffee is complimentary and available at a couple places around the ship. Both cruise lines also have at least one coffee shop that serves up specialty coffees for an additional charge.
On Disney Cruise Line, there is a coffee shop in the adults-only section of the ship. It's a cute, often quiet library-style space with cozy seating. There is a menu of specialty coffee drinks that typically varies by the season. It's usually a standard latte (espresso and milk) with a fun combination of syrup flavors and whipped cream on top.
They also make standard espresso beverages like americanos and cappuccinos. It's the only place on the ships where you can get cold brew. You can add alcohol, like whiskey or Baileys, to your coffee for an extra charge. A small selection of complimentary pastries are available as well.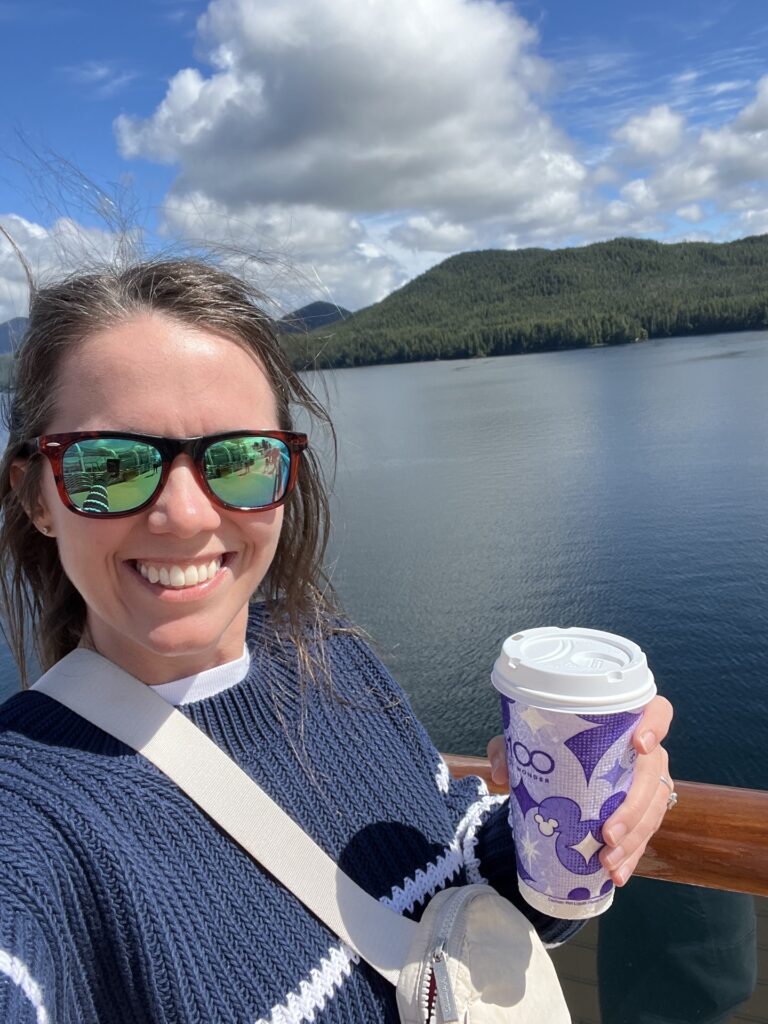 On Virgin Voyages, there are two coffee shops. One is located in the main food hall and one near the main lobby area. Both are located in high-traffic areas, though, so they don't have a true coffee shop vibe.
The coffee shops serve up your basic espresso beverages, all using intelligentsia coffee. They notably don't have cold brew, and I didn't notice any specialty drinks. However, they can also add booze to your coffee, and even have an espresso martini available at one of the locations. (However, I tried it and it wasn't very good.)
Which is better? Disney Cruise Line. Their coffee shop had more variety in flavors and drinks, and there is a true coffee shop space.
Closing Thoughts on Disney Cruise Line vs Virgin Voyages
Disney Cruise Line and Virgin Voyages are two great cruises lines. They both shine in different ways, including the ones listed here but also in many more subtle ways.
Disney Cruise Line is more beautiful. From the classic exteriors to the thoughtfully designed layout, everything on a Disney cruise ship feels whimsical and classic. It offers more and varied daytime entertainment, but the topics do tend to focus on Disney stories and characters. The evenings with pre-set dinners and entertainment are relaxing and "magical." (I got this far in my post before dropping that word, and I'm pretty proud of it.)
Meanwhile, Virgin Voyages is hip! Its ships are sleek and modern, and their staterooms are extremely comfortable. Nights are full of glitz and glamour, with nightly parties, DJs and dancing. Where Virgin Voyages really shines, though, is their food. Upscale table-service menus, 24-hour dining and a wide variety of quick service options means there's something tasty at every turn. You do have to do some more planning to take advantage of it all, but a bit of effort can pay off big time.
If you settle on Virgin Voyages, be sure to check out our 10 best tips for sailing with Virgin Voyages.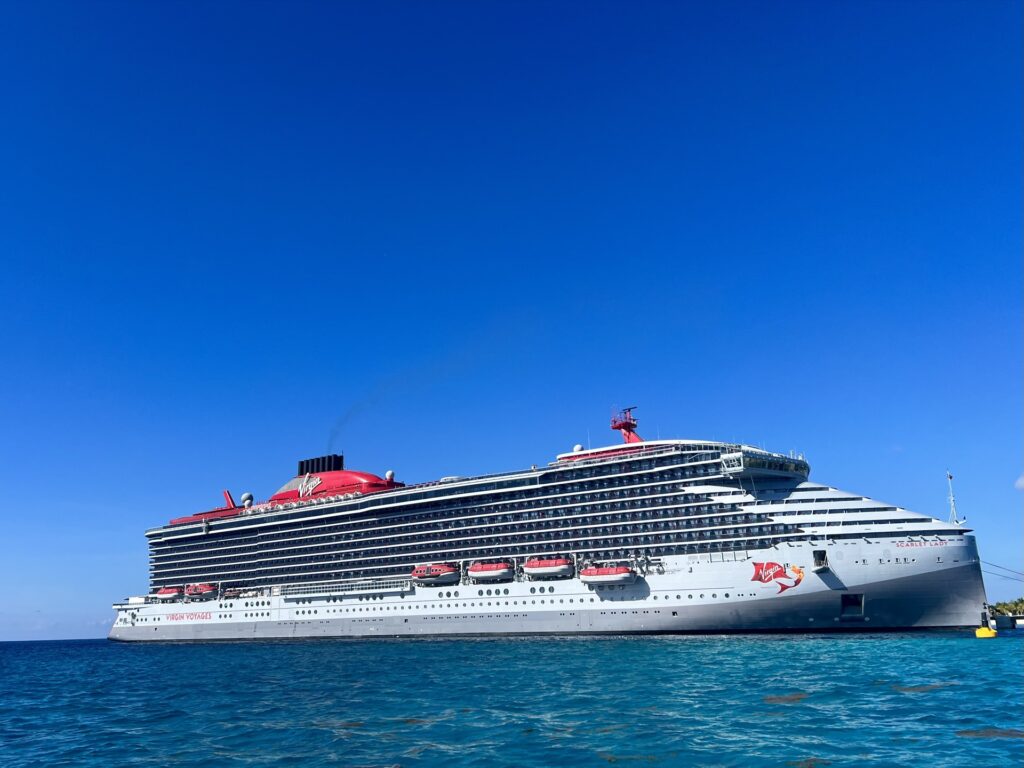 Which one is better? That's up to you.
Personally, I liked Disney Cruise Line just slightly better, but I'm a kid at heart. I enjoy meeting characters, I thrive at a Disney trivia and I would rather drink a beer and play chess in a pub than dance at a night club. My kid also loves cruises, so I'm not likely to cruise without them again anytime soon. But that's just me! If you aren't bringing kids and you are interested in adult entertainment, Virgin Voyages might be perfect for you.