In this trip report, I'll detail my experience sailing with Virgin Voyages onboard the Scarlet Lady. I sailed on the 5-night Dominican Daze itinerary, with a slightly modified route. I'll share exactly how we filled our our days, where we ate, and what the experience was like. Then I'll go over some of the pros and cons of sailing with Virgin Voyages. Keep reading to learn what it's like to sail with Virgin Voyages!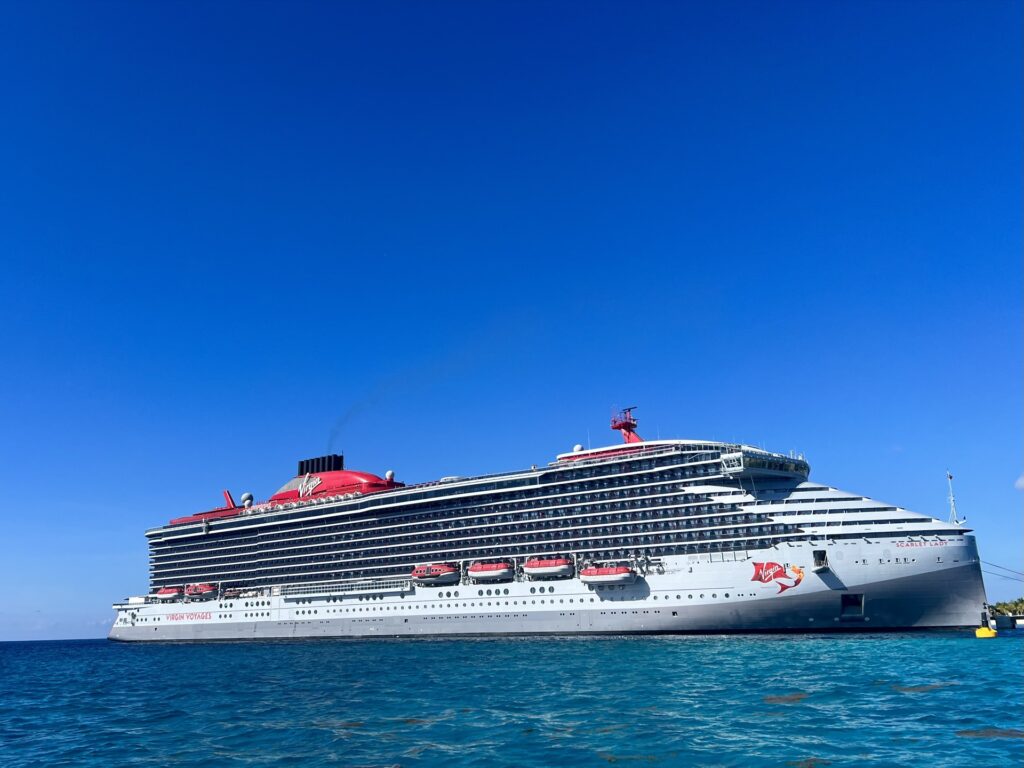 Disclaimer: This cruise was graciously gifted by our trusted travel advisor, Lauren Quirk, from Travel With Character. This post is not sponsored by Virgin Voyages or Travel With Character, and I do not receive any compensation in exchange for this post. All thoughts and opinions in this review are my own.
In This Post
And if you're looking for more information about Virgin Voyages, be sure to check out our 10 best Virgin Voyages tips for your first cruise.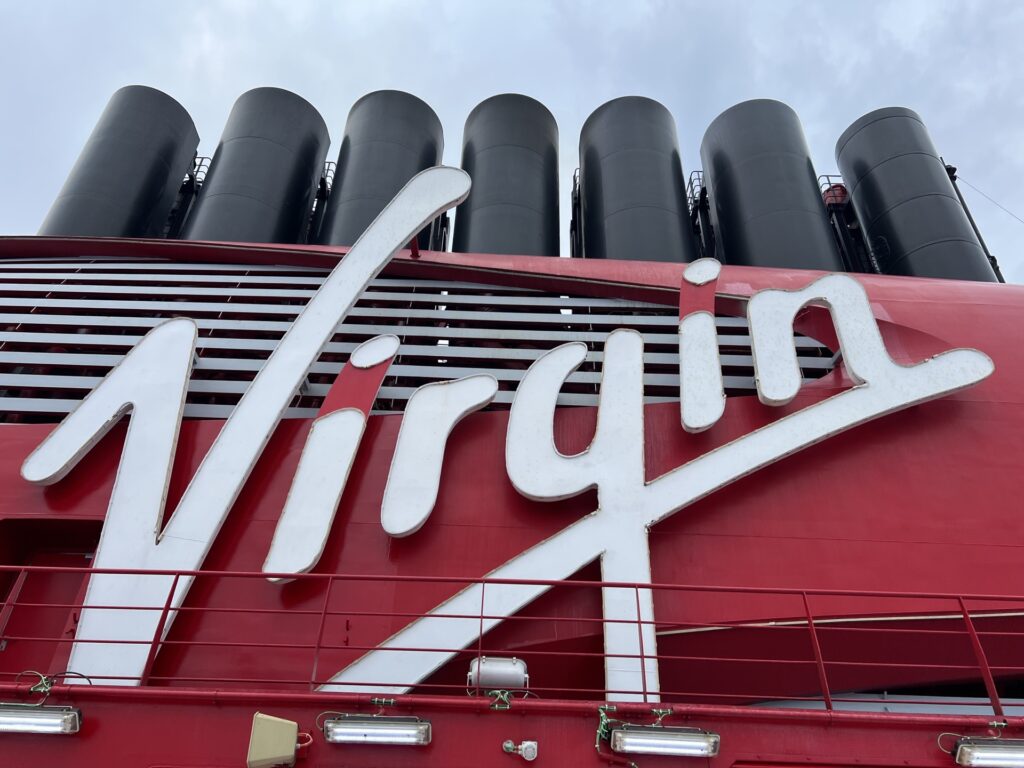 Intro to Virgin Voyages
Virgin Voyages is the new kid on the cruise block, having only had its first sailing in late 2020. The cruise line was founded by billionaire businessman Richard Branson, who wanted to "shake up" the industry.
In a way, Virgin Voyages does offer an alternative cruise experience. Most notably, all Virgin Voyages cruises are adults only. And as such, things like the entertainment themes and upscale dining menus, are all tailored to an adult audience. There are some other practical differences too, like tips and wifi are included and the ships themselves are all very nice and new. Plus there are some unique features like an onboard tattoo parlor, nightclub and casino, that you won't find every other family-friendly cruise ship.
But in other ways, Virgin Voyages is cruising as usual. It has the same general experiences and amenities that you would expect on most cruise lines. There's a full-service spa, swimming pools, and lots of restaurants and bars around the ship. Entertainment is offered throughout the day and includes things like group fitness classes, bingo and trivia, plus stage shows in the evening. And of course, like all cruise lines, this is all managed by an app that is barely operational. #facepalm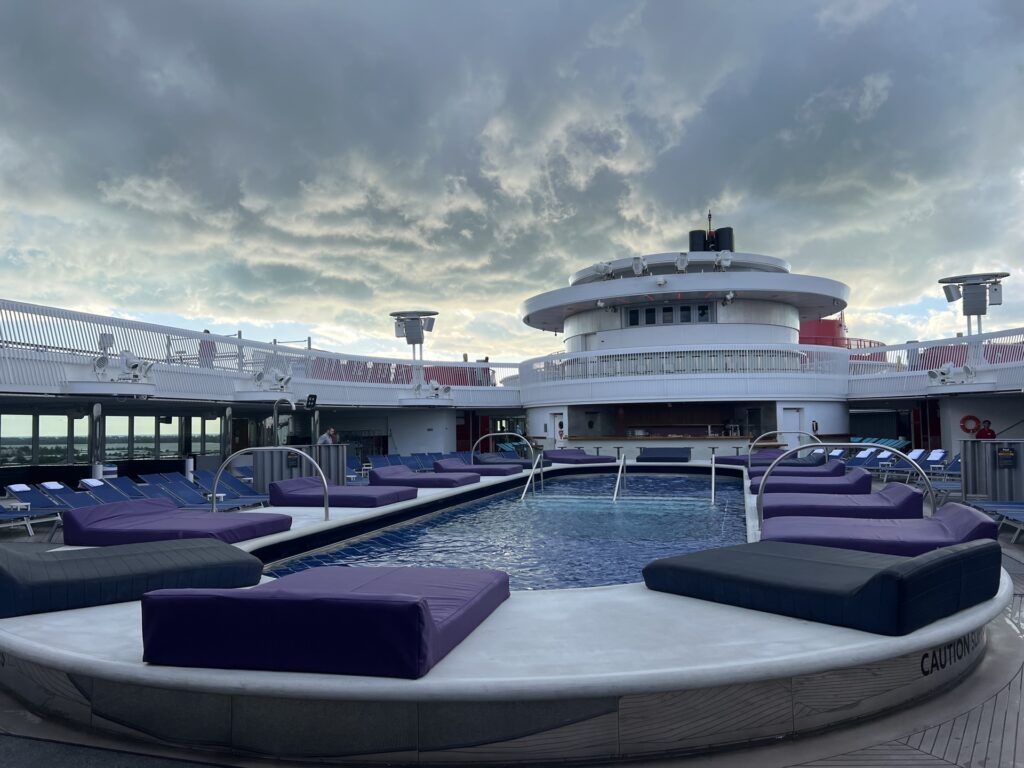 Currently (as of 2023), Virgin Voyages has four ships that are sailing routes all around the globe including the Caribbean, Europe and Australia / South Pacific.
NOTE: The only other cruise I have personal experience with is Disney Cruise Line. If you're considering either of these cruise lines, we have a detailed post that explores the 10 biggest differences between Disney Cruise Line vs Virgin Voyages.
Virgin Voyages Booking & Pricing
I sailed with Virgin Voyages on the 5-night Dominican Daze itinerary. This particular itinerary is listed as $1,750 average per cabin. Prices range based on the date, number of sailors and the specific cabin. For example, a Sea Terrace cabin for two on that itinerary in January costs $1,838, while an Insider Room (no outward facing porthole or terrace) costs $1,426.
Virgin Voyages often has promotional deals for certain routes throughout the year. (You can find current deals here.) This same Dominican Daze cruise has a promo at the moment that drops it down to $1,314 average per cabin. You can also get great deals and promotions if you purchase your next cruise onboard a current cruise. During my recent cruise, they were offering $300 off your next cruise plus $600 in bar tab if you booked onboard.

I personally sailed on the Dominican Daze itinerary from October 13 – 18, 2023. I was a solo sailor in a Sea Terrace cabin and the total cost for my cruise after taxes and fees as $2,284. As I mentioned above, my cruise was gifted by our travel advisor at Travel With Character.
If you find the itineraries and cabin options overwhelming, I would highly recommend reaching out to Travel With Character for assistance. We personally work with Travel With Character to book each of our Disney vacations, and I was equally impressed by their cruise knowledge and services.
Sea Terrace Cabin Details
I stayed in the Sea Terrace cabin onboard the Scarlet Lady. All of the cabins in this category are nearly identical throughout the entire ship and across all of Virgin's ships. So if you book a Sea Terrace cabin, you can expect it to be a lot like this.
When you enter the room, there's a closet on one side and the bathroom on the other. The light switch and Do Not Disturb button are inside the closet. The closet also had hangers (not the theft-proof kind), a hairdryer, safe, and the required life vests for each passenger. The bathroom is small but functional, complete with a rain shower.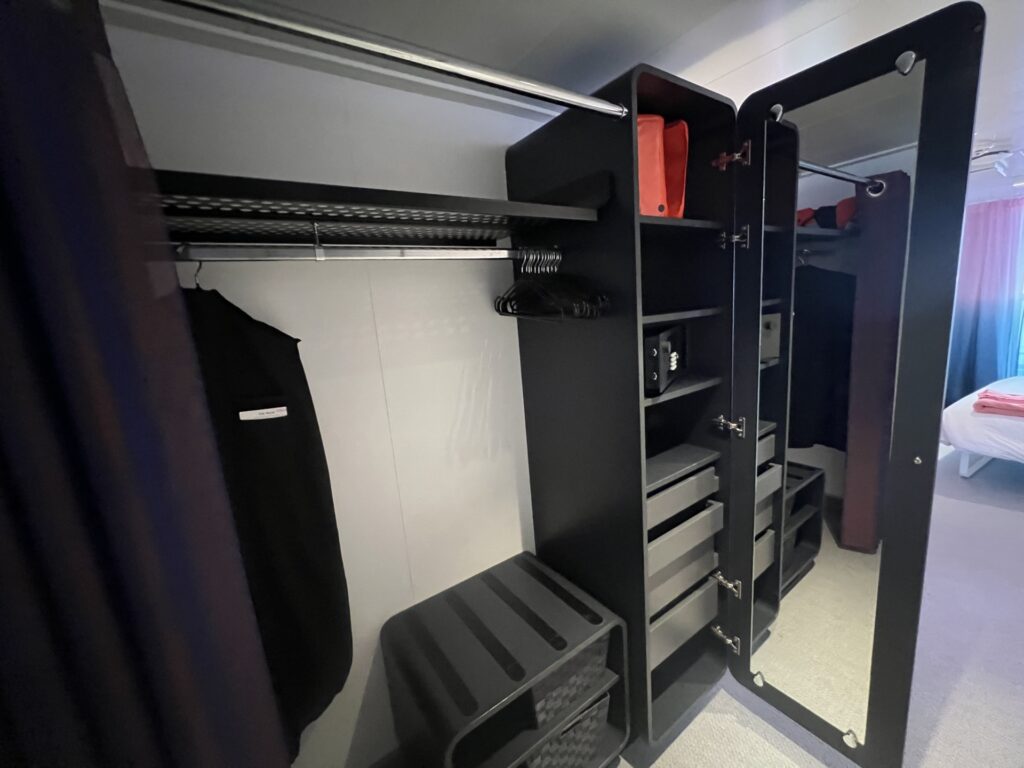 The inside of the room opened up to a larger space and included a chair, end table, double bed, and a "glam station" with a vanity table and mirror. (There's also full-body mirror in the room.) Behind the blackout curtains was a sliding door, which opened to a small balcony with two chairs, a table, and a hammock.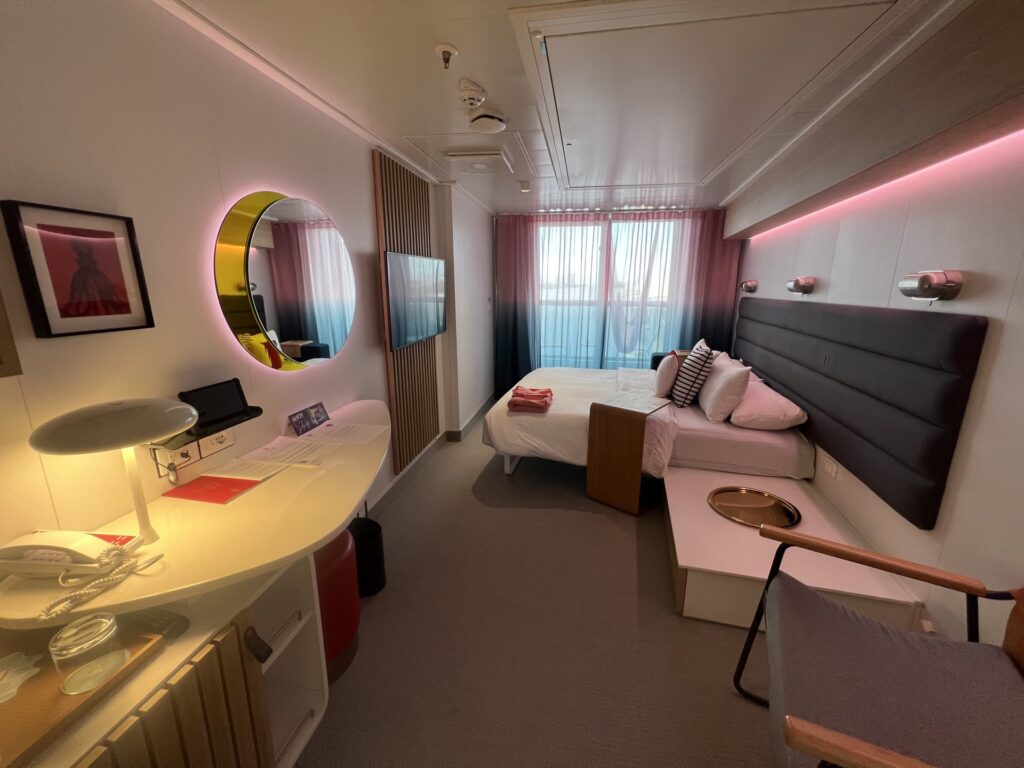 It's a new ship, and that translates to the room design. Most everything (including the tv and customizable room lighting) is controlled by an in room tablet. Even the blinds are button-controlled and open automatically when you walk in the room.
Overall, the room was really nice and comfortable. I thought the cabin was incredibly spacious, but I was only one sailor. I think it would be comfortable for two sailors, but I can imagine it gets tight with 3-4. (FYI, you can see the setup for the 4-bed layout in the image carousel here.)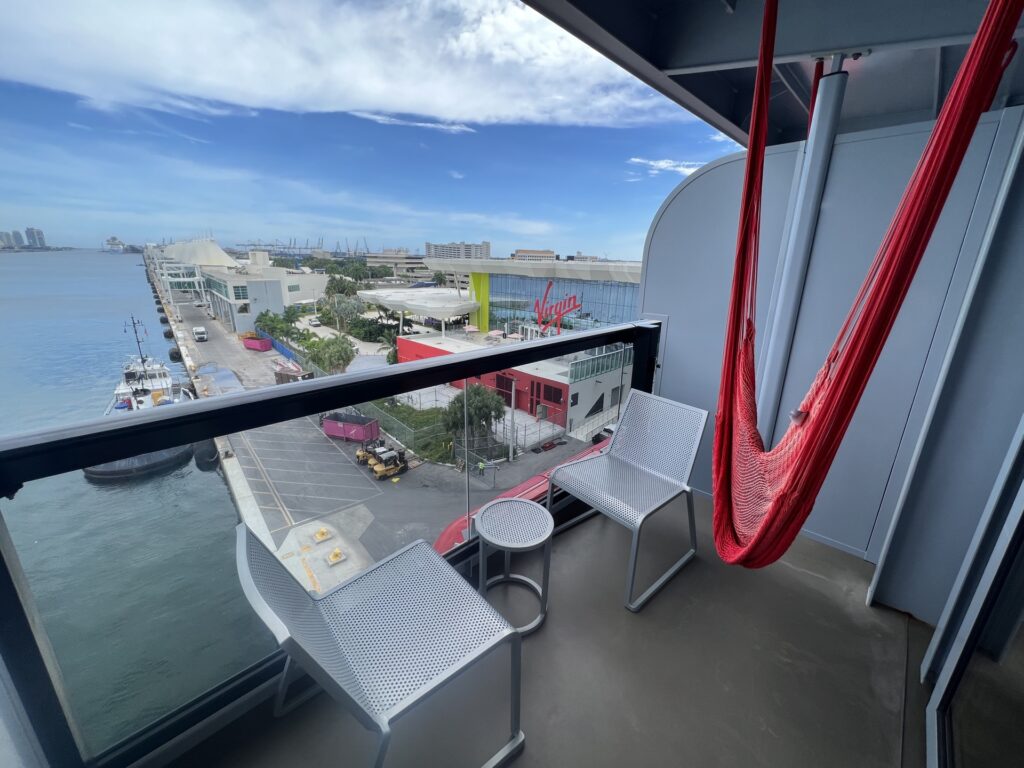 Getting to Miami
All Virgin Voyages' Caribbean sailings depart from Terminal V at PortMiami in Florida. The cruise port is a 20 minute drive from Miami International Airport. (There is a public transportation option, but it takes much longer and still requires a lot of walking, so I don't recommend it.)
Our scheduled embarkation time was 2 PM. However, I've had enough delayed morning flights to Florida to know that you can't bank on an on-time arrival. To be safe, I flew to Miami the night before. If you're flying, regardless of how far or how long the flight is, I'd suggest flying in the night before.
I flew American Airlines First class from New York. I'm still partial to Delta First Class for domestic flights, but I was happy to try something new. I had a nice dinner and a beer, binged my favorite podcast (Be There in Five) and crushed a few crosswords. Is there any better way to start a vacation?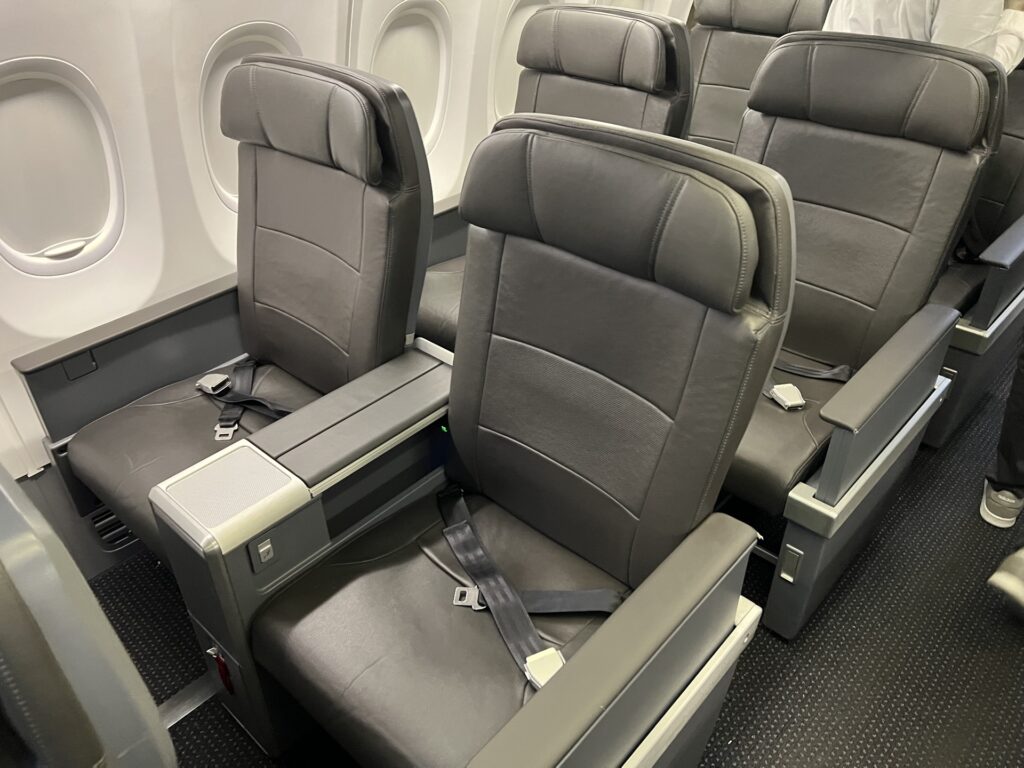 Since this was a gifted trip, Travel with Character chose and booked my hotel for me. I stayed at the Miami Marriott Biscayne Bay, which is conveniently located minutes away from the Virgin cruise terminal. In fact, I could see the ship from the hotel gym during my morning run!
I got in late, so it was straight to bed for me.
Day 1: Miami & Embarkation
Okay, bear with me! I'm going to go into probably too much detail on day 1, because I want to explain things as I go. As we move on though later days, I promise things will be more succinct.
Miami
Since we didn't board until 2 PM, we decided to go on a morning adventure before we sailed away. I had never been to Miami before, but our trusty travel advisors planned a morning in Little Havana.
It was such a cool area! We had an amazing Cuban lunch at Old's Havana, which was such a vibe. There was a cute park next door where people played dominos and an amazing coffee shop (La Colada Gourmet). I didn't make it to the ice cream shop across the street (Azucar Ice Cream), but I heard rave reviews from my fellow sailors. There was tons of cool street art, and our stroll down Tamiami Trail was just delightful. If you have a morning to fill, go to Little Havana.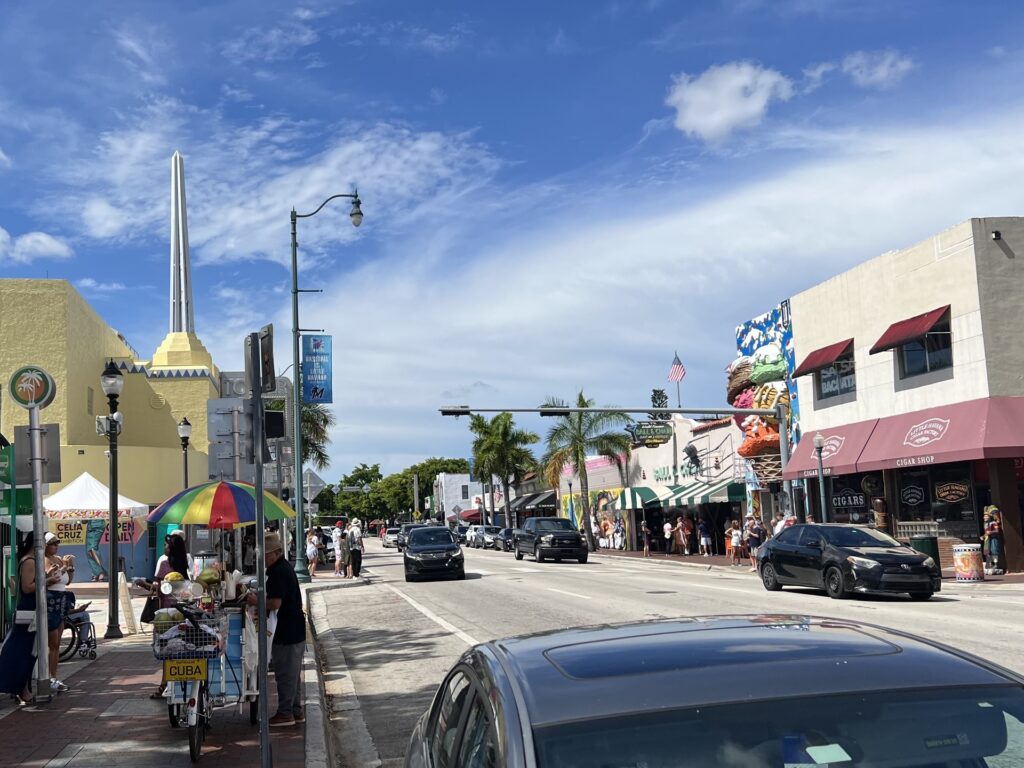 After a fun morning exploring, we picked up our luggage from the hotel and made our way to the cruise terminal.
Embarkation
Virgin Voyages sails out of Terminal V in PortMiami. The newly opened terminal is as beautiful as it is functional. The boarding process was very organized and quick.
Our driver dropped us off in the dedicated area right across from the terminal, and we immediately saw the baggage check. You can leave your bags here and have them delivered to your cabin by 6 PM. This is an optional, complimentary service, but it was nice to have free hands during the boarding process.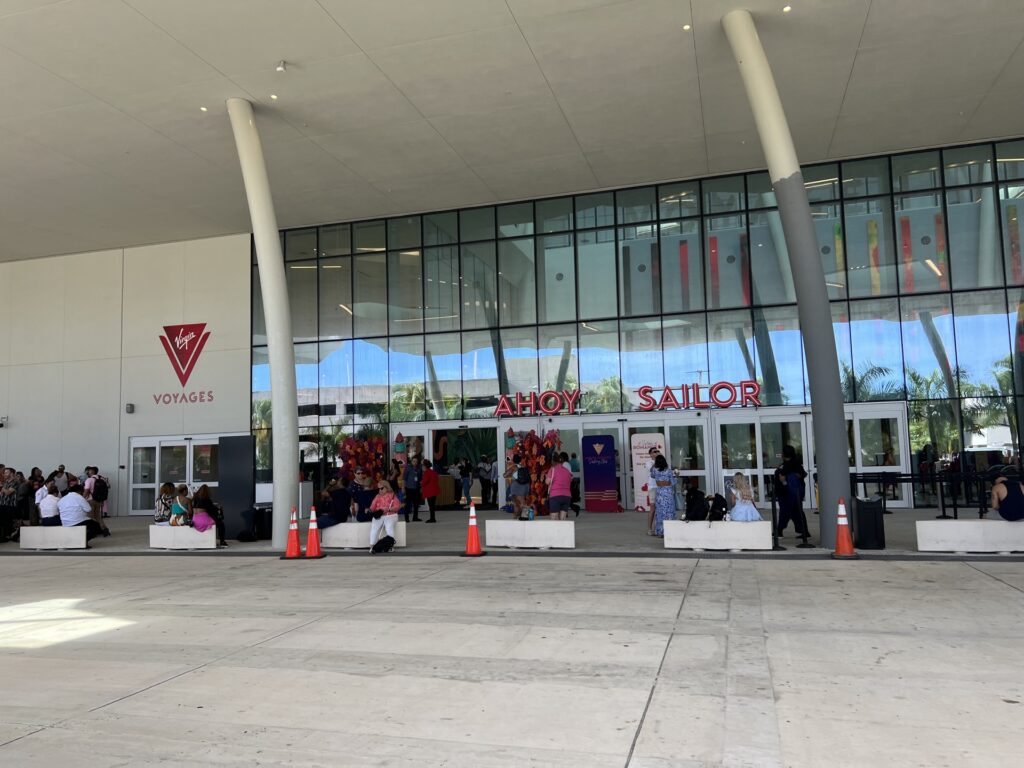 Outside the terminal, there were queues for each scheduled boarding time. Our scheduled time was already called, so we went right in. There was a short line for check in, which only entailed a quick passport check. I received my cruise band, which I needed for basically everything onboard (tapping on and off the ship, getting into my room, making purchases, etc.). The bracelet part immediately broke, so I just slipped the device onto a hair tie, which worked perfectly. I also got a blue wristband to designate my Blue Extras status.
There was a brief security check and then we walked right on the ship. The whole experience took less than 15 minutes.
Getting Acquainted With The Scarlet Lady
Our cabins were ready when we boarded the ship. However, our bags weren't schedule to arrive until 6 PM, so I couldn't get ready for the night just yet. (Pro tip: Keep everything you need for the afternoon and early evening with you!)
Our group met up at Sip to start making plans. Once we connected to the ship's wifi, we could view the schedule for the entire voyage and sign up for things. By 3 PM, some of the activities (like yoga and spin classes) were already fully booked. The app was also unbearable and was constantly crashing, logging us out, or spinning relentlessly. We signed up for a few high-priority activities, but then gave up.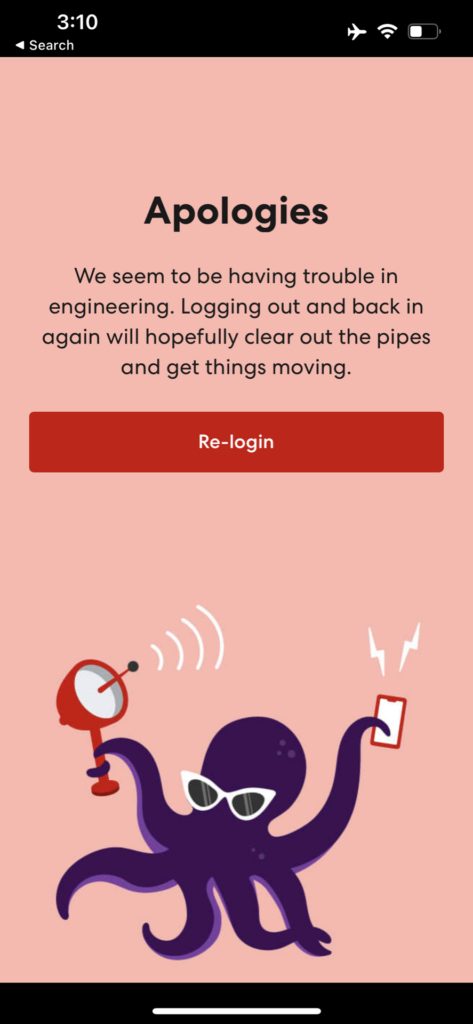 Next up was the required safety drill. We first had to watch a safety video in the app. Then we had to report to our assigned meeting point at anytime during a 90 minute window. Safety demos were rolling and repeated every 5 minutes. We just had to scan our band at the start of the demo to get credit for attending.
After that, we decided to explore the ship. We scoped out some of the different locations on board (starting with the ice cream shop), visited Sailor Services to fix a dining reservation and took a tour of the spa. There were a few activities that required in-person registration — like spa services, tattoos or karaoke — so we did some of that, too.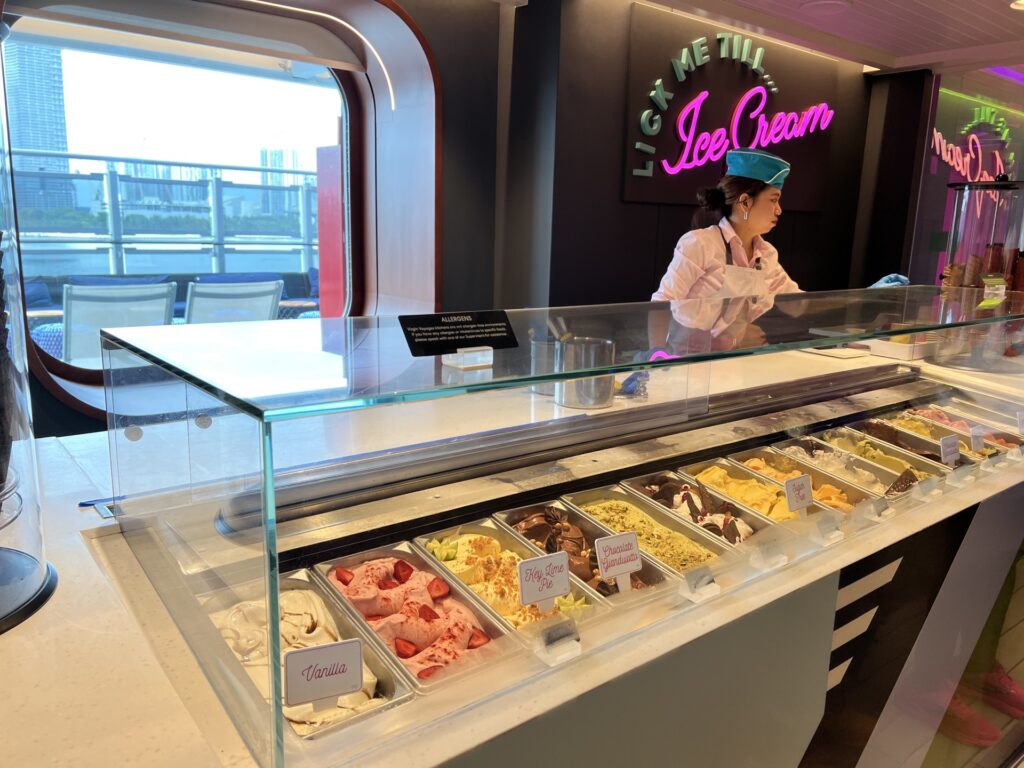 Evening Plans
We started our evening at the Sail Away Party on the pool deck, which included complimentary champagne. This is where we were first introduced to the Happenings Cast. The Happenings Cast are really the hype crew for the whole cruise. They each have a persona — like The Diva, The Artist or The Cowboy — and they lead different events and activities throughout the cruise.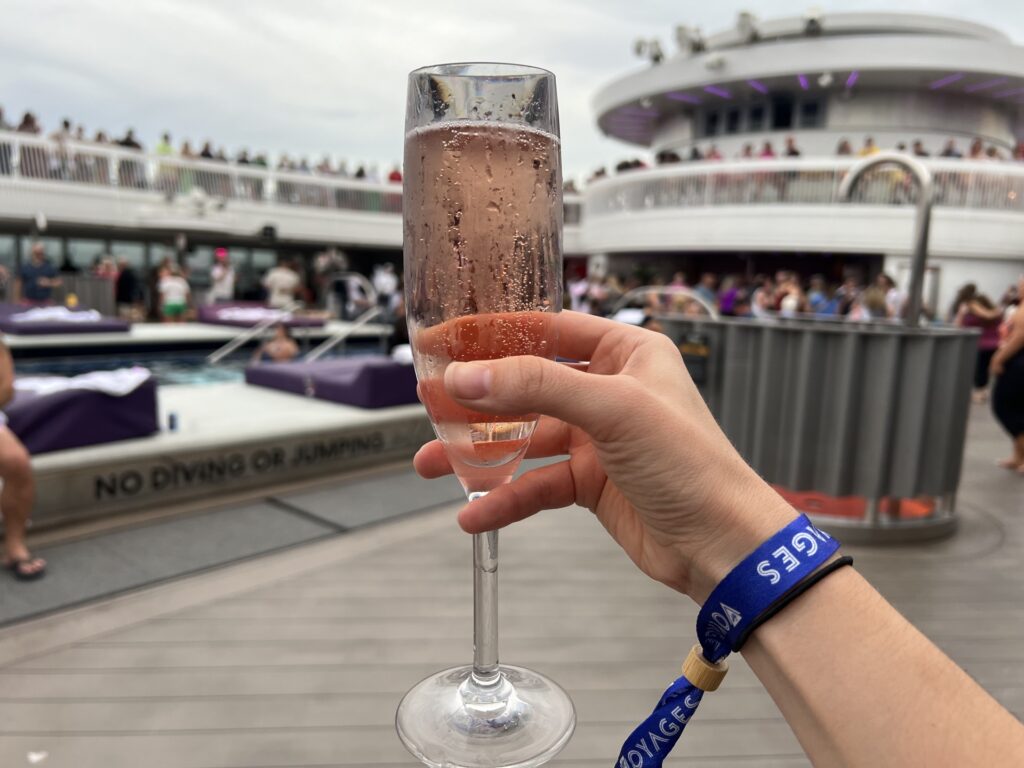 After a short dance party, we were off to our first dinner of the cruise at Extra Virgin. All food onboard is complimentary, so you can order as much as you want from the food menu. "Essential" drinks (water, soda, plain juice) are complimentary, and other drinks (alcohol, espresso drinks, mocktails) are available for an additional charge.
Extra Virgin turned out to be our favorite meal of the entire cruise. It is an Italian restaurant, and one of the fancier restaurants on the ship. The fried artichoke, gnocchi and table-side affogato were the highlights.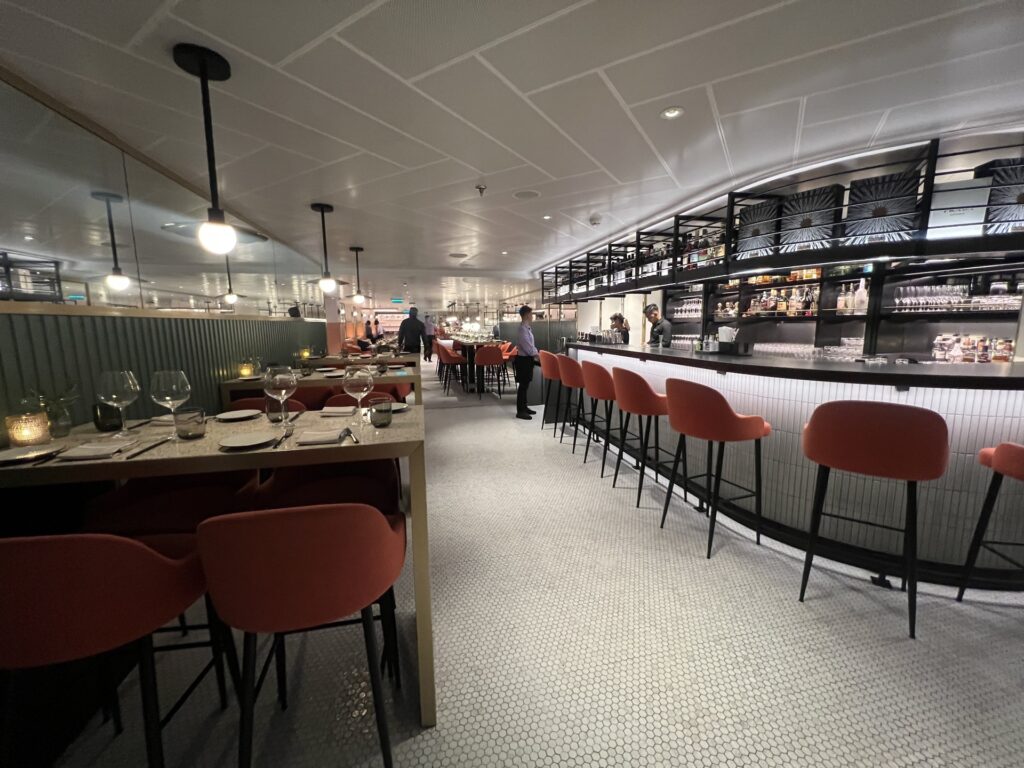 The themed event of the night was a PJ party. It was also a halloween cruise though, so there was a mix of PJs and halloween costumes, including a weirdly high number of Playboy Bunnies. The party included a DJ, dancing and special appearance by The Diva. However, it also took place at the back of the ship where there was a lot of seating, so plenty of people were just there lounging.
It was a long day, so we didn't make it long before we put on our actual PJs and went to sleep.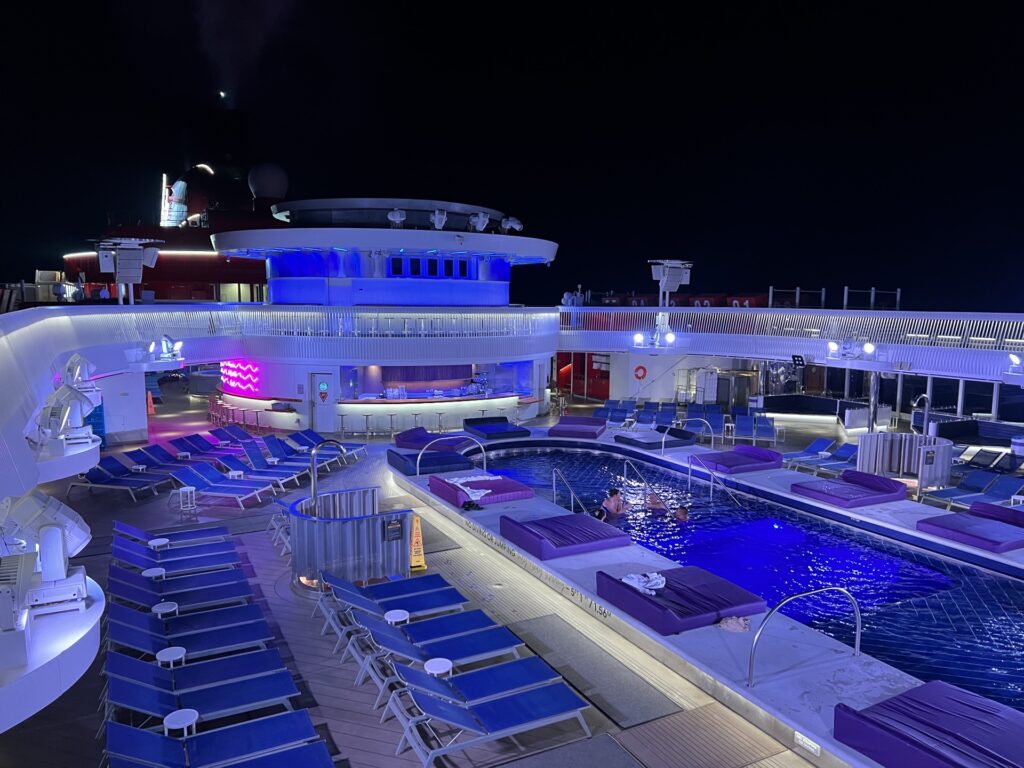 Day 2 — Day at Sea
Our itinerary included two days at sea and two port days. I loved starting with a day at sea because it gave us time to explore the ship and take advantage of everything.
I'm the worst at relaxing vacations, so I started my day at the gym. The gym was pretty busy, and I snagged one of the last available treadmills. It was a really nice fitness center with cardio equipment on one side and weightlifting equipment on the other. Alternatively, there's also a dedicated outdoor track on the upper deck. It was too hot for me to run outside, but this was a great asset of the ship.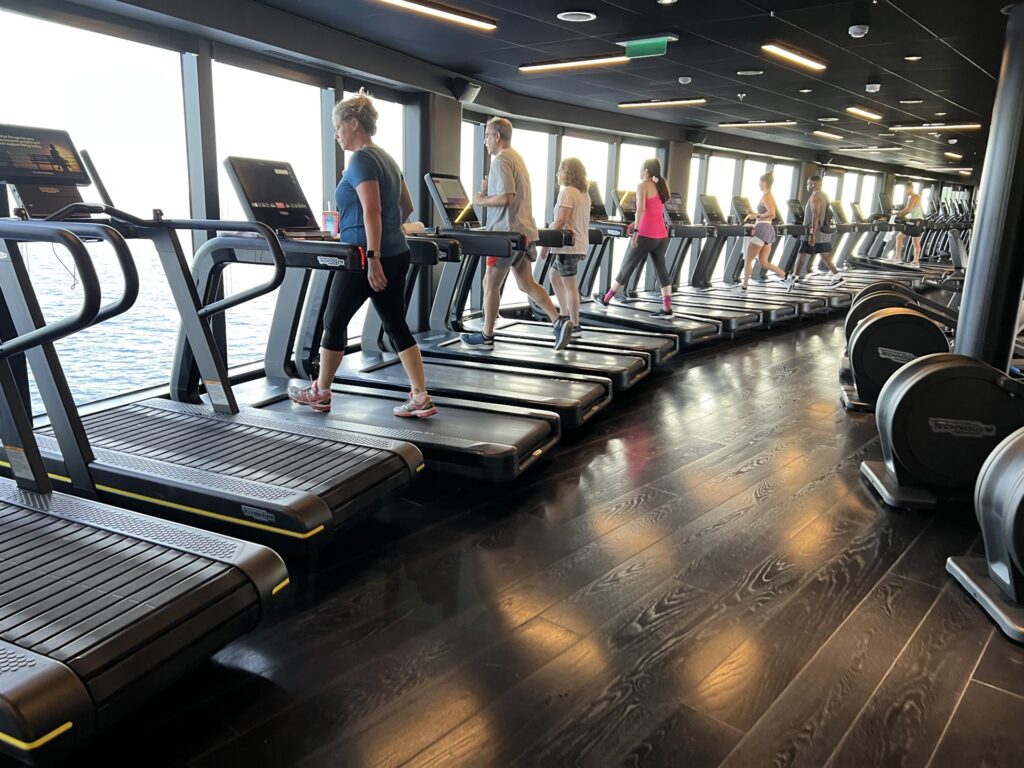 My Deep Blue Extras got me $10 of specialty coffee a day, which I took full advantage of. There were two coffee shops onboard, including a small one in The Galley (the main food court) and a larger one on deck 7 near the main lobby area. Both coffee shops served Intelligentsia coffee.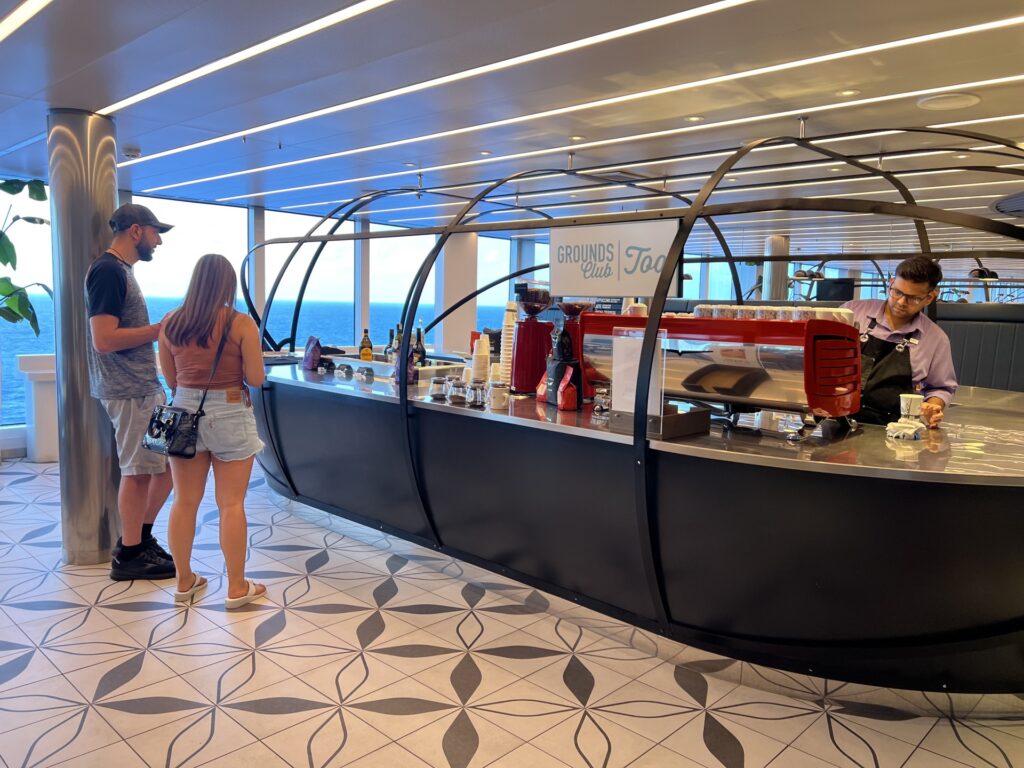 Next up was a Boy Band Dance Class, hosted by a member of the Happenings Cast. We learned the famous dance to the chorus of Bye, Bye, Bye. The class was about an hour and included a performance at the end. It was really fun and pretty low effort.
We booked a brunch at The Wake, which was my second favorite meal of the trip. The quick-service options at The Galley were good, but we knew we'd grow tired of the offerings after a few days. For no extra cost, we were happy to indulge in more table service meals.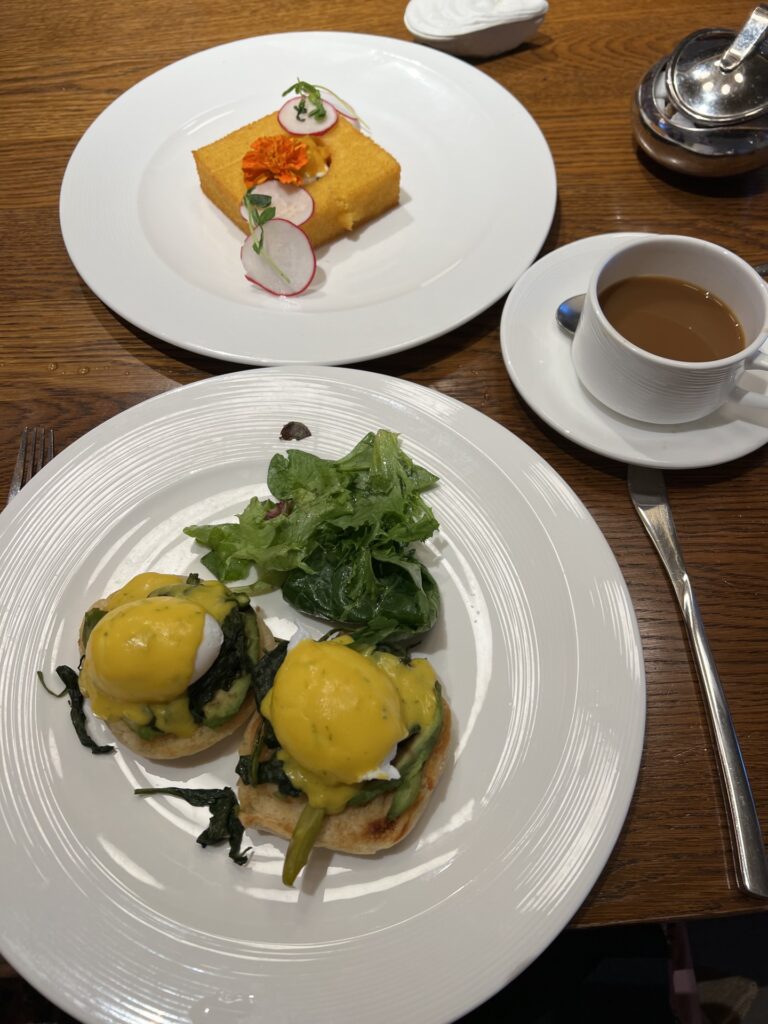 After that, we mostly just bopped around the ship. We got popsicles, desserts and champagne in The Galley. Then we played in the complimentary arcade, ate pretzels in the sports bar, and shopped in the many Duty Free stores.
Even after eating all day, we still had room for dinner. We had a reservation at Razzle Dazzle, which despite its name, is one of the more casual table service restaurants. It is vegetarian for breakfast, but has a handful of meat options for dinner.
As a vegetarian, I was a bit disappointed in this meal. The Nashville cauliflower was greasy and the s'mores dessert was basically just chocolate pudding. However, my meat eating friends loved the pork belly so much they all ordered seconds! So there's that!
Our evening activity was Bingo With The Diva. We had to line up early to buy our cards, and then came back an hour later for the actual event. The Diva did some song and dance numbers, but it was otherwise standard bingo. I didn't win, but I had so much fun! (Bingo cards were an additional purchase. I paid $45 for 4 cards.)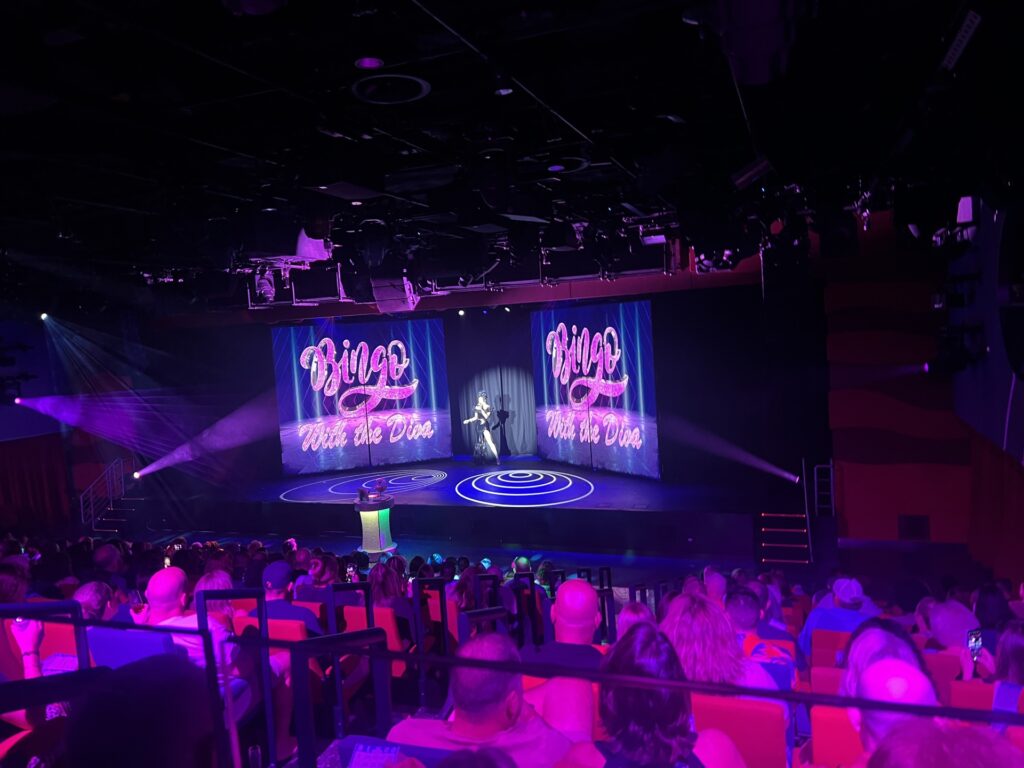 We swung by The Manor — the onboard nightclub — for circus night. It looked really cool, but it was too crowded by the time we got there. After some glitter hallway photos, we went to bed.
Day 3 — Grand Turk, Turks & Caicos
Despite sailing on the Dominican Daze itinerary, we didn't actually go to the Dominican Republic. There was a last-minute itinerary change, and they subbed Puerto Plata (Dominican Republic) for Grand Turk (Turks & Caicos). Honestly, I wasn't mad about it. I've already been to the Dominican, but not Turks & Caicos, so I was excited to see somewhere new.
Since this was a modified itinerary, it won't be much use to many sailors on the standard Dominican Daze route. However, if you're on a different route that also stops at Turks & Caicos (the San Juan itineraries for example), this might still be helpful.
The ship arrived at the port in Grand Turk shortly before 10 AM, and we were among the first off the ship at 10:15 AM. The water was so unbelievably blue that I immediately loved the place.
Snorkel Excursion in Grand Turk
After the itinerary change, Virgin Voyages did immediately release new excursions for Turks & Caicos. Instead of waiting to see if they'd add them, we decided to book through a third party. (Since I was sailing with a few of the best travel advisors in the business, they took care of finding a trusted tour provider.)
We booked the Grand Turk – Exclusive Supreme Snorkeling Tour through Exclusive Escapes. It cost $144 per person and included snorkeling, beach time on a private island, rum punch, and conch ceviche made during the excursion from fresh-caught conch.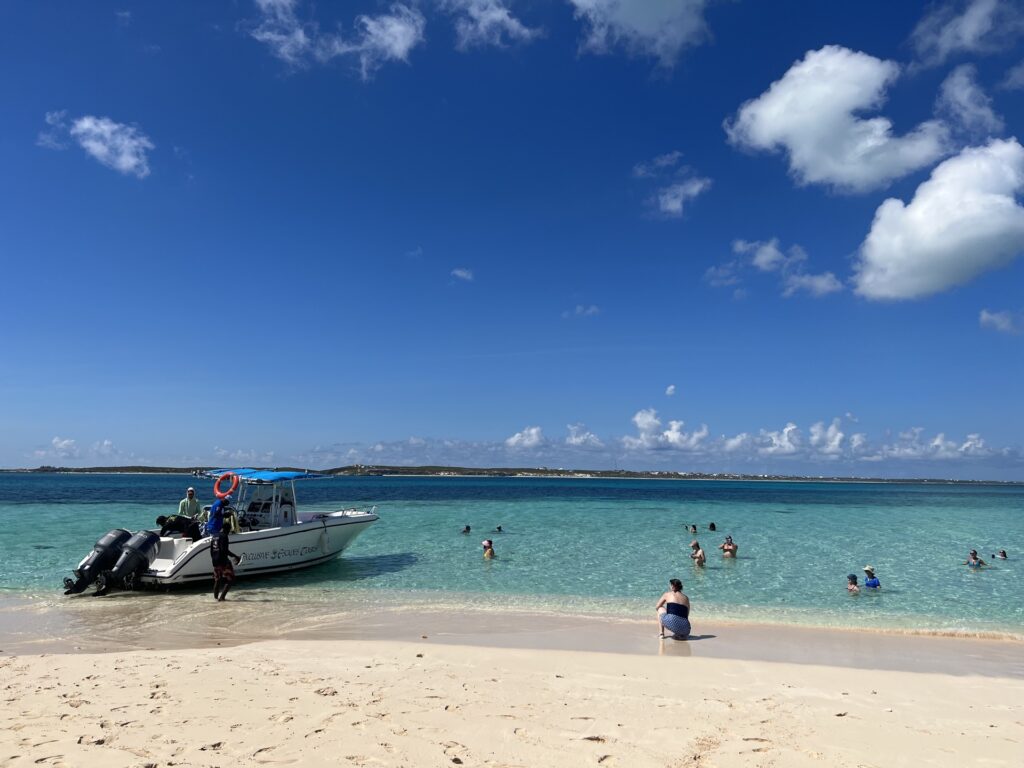 Now, I did get seasick on the boat (I always do), but this excursion was incredible. We got to see a barracuda, lots of Blue Tang, a school of zebra-looking fish, and several other fish. We swam over a coral reef near a drop-off that goes down 7,000 feet, which was really cool to see. The private beach part was my favorite, though. The water was crystal clear, we got to pet wild stingrays, but mostly I was really just happy to be off the boat.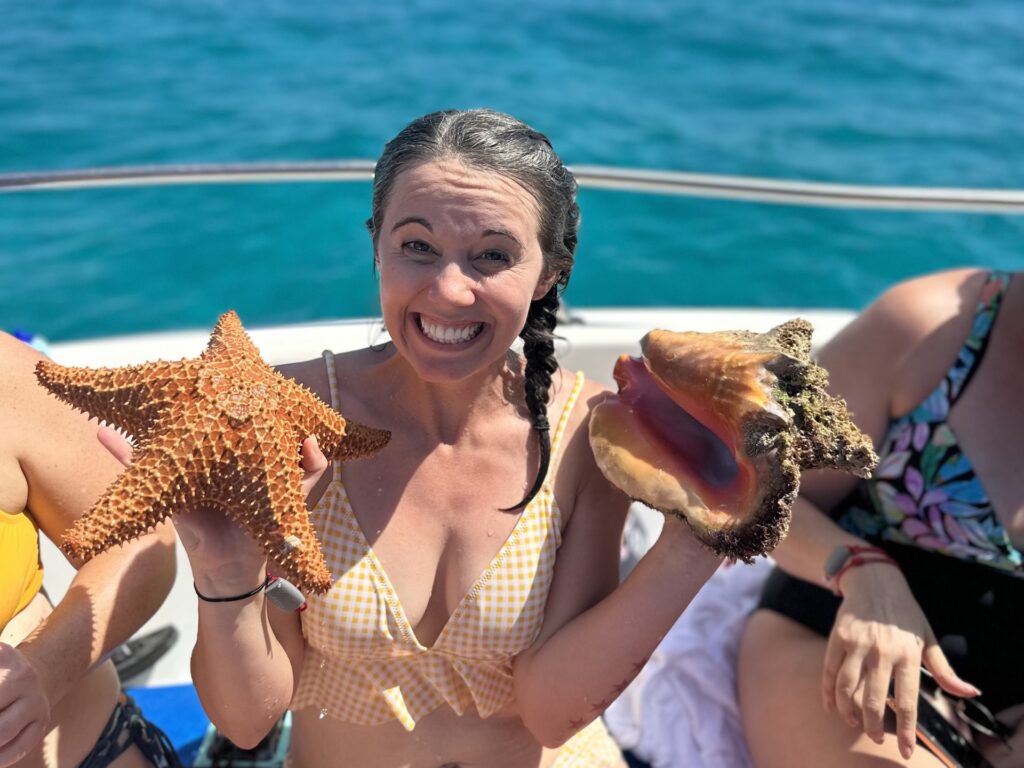 The excursion was scheduled for 3.5 hours, but they run on island time. We checked in at 10:37 AM, and did not return until about 3:45 PM. Our group had a blast and loved the extra time, but there were other people in our group who had other plans on the island that they didn't make it back for.
Speaking of the island, there's plenty of things to do right by the port, even if you don't have an excursion. There is a beach, several shops, a few restaurants (including a Starbucks) and even a large public pool adjacent to Margaritaville.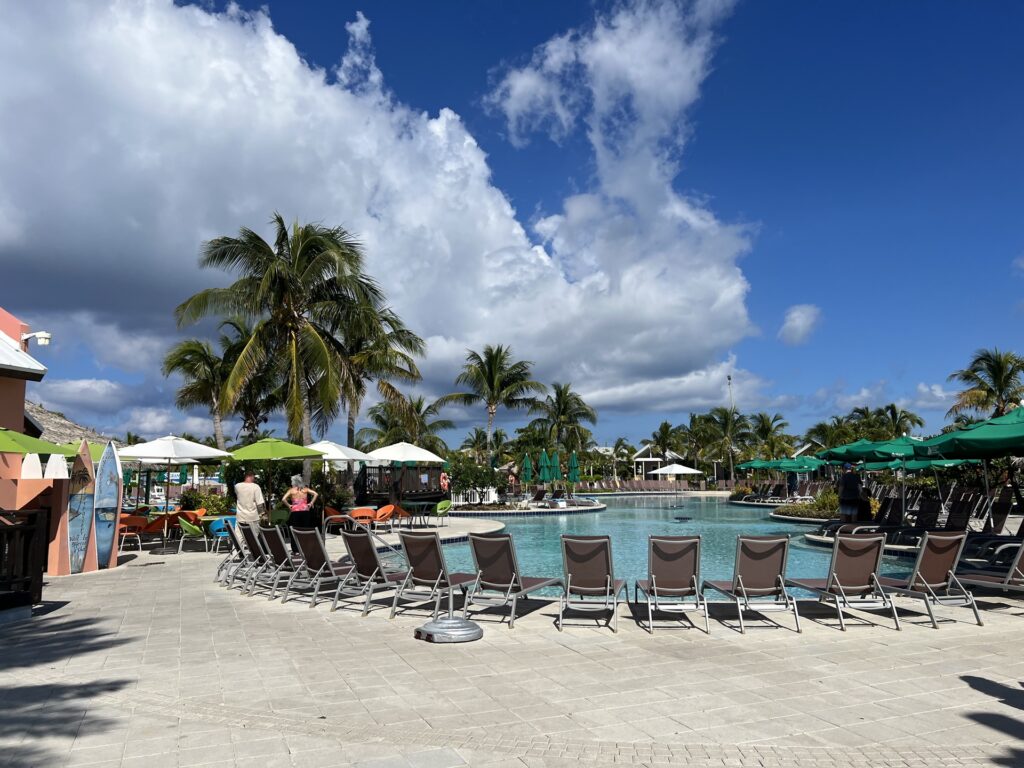 Back on the Ship
The excursion was amazing, but by the time we got back we were all starving. It ran right through lunch time and didn't include an actual meal other than the conch at the end (which I didn't eat). We didn't want to spend money on food when it was free on the ship, so we basically ran on board and beelined to The Galley.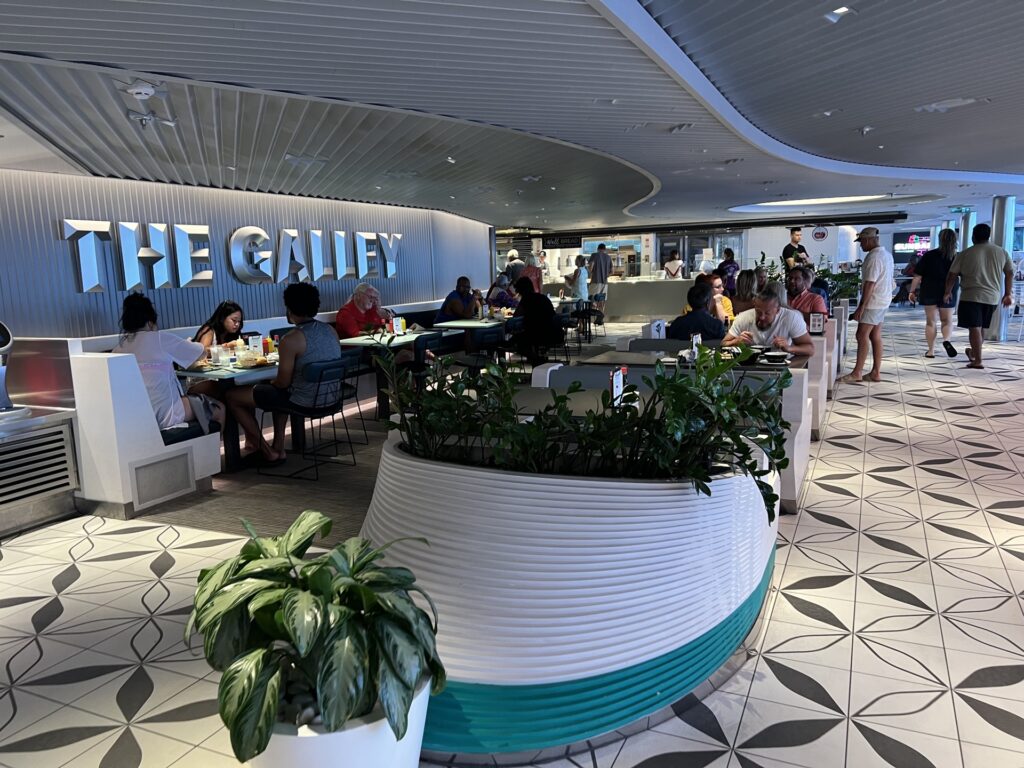 We had booked a spot at an evening show called Duel Reality. Virgin describes it as a "fast-paced retelling of Romeo and Juliet — with an elaborate circus twist." The performance piece of the show was incredible (lots of acrobatics and stunts), but the acting and story-telling was meh. Still a fun use of an hour though.
Then we had dinner reservations at The Wake. (Yes, the same place we had brunch yesterday.) I liked their brunch much better than their dinner. In the evening, it is essentially a steakhouse. As a vegetarian, I only got sides. They were good, but not that great. I'm sure it was better if you ate meat.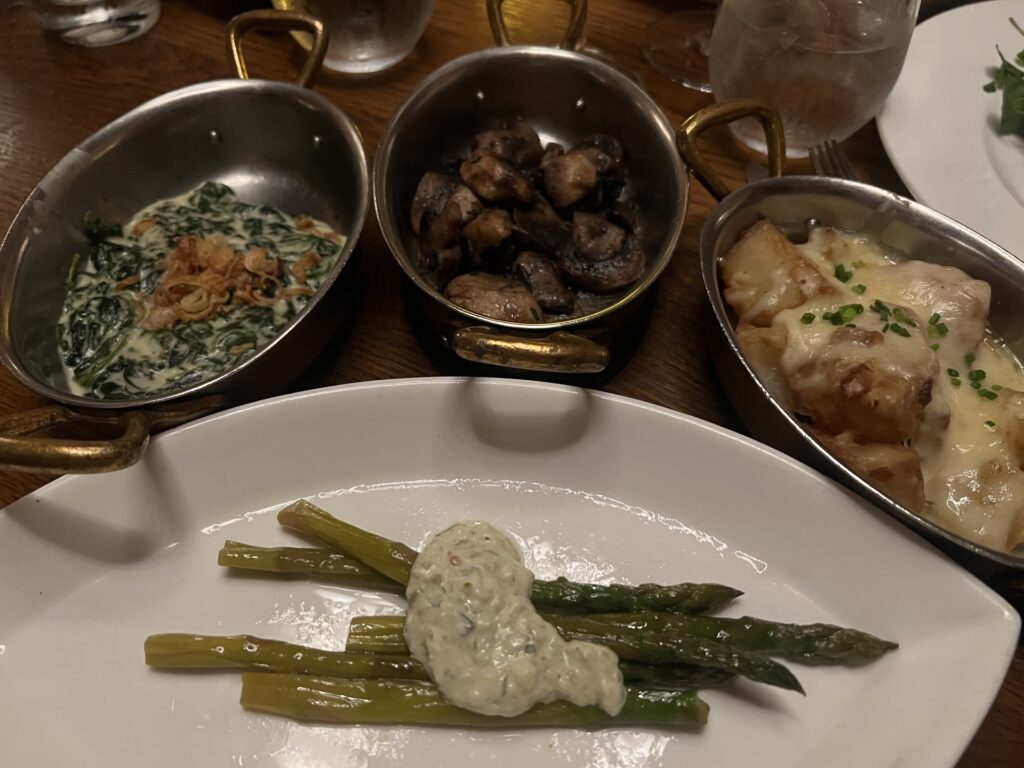 Later, we swung by The Dock House for some karaoke. (They had public karaoke here, and also private karaoke rooms available, which we'd do later.) Some of the performances were incredible! A few people in our group did a bang-up cover of Lady Marmalade, and I heard a version of Strawberry Wine that was so good I'll never listen to the original again.
Finally, we wrapped up at The Manor. This time we got there right as they opened, so we scored a table to set our things while we danced. We danced until well after 1 AM. The set list started out strong, but then kind of fell off at the end, which is when we left.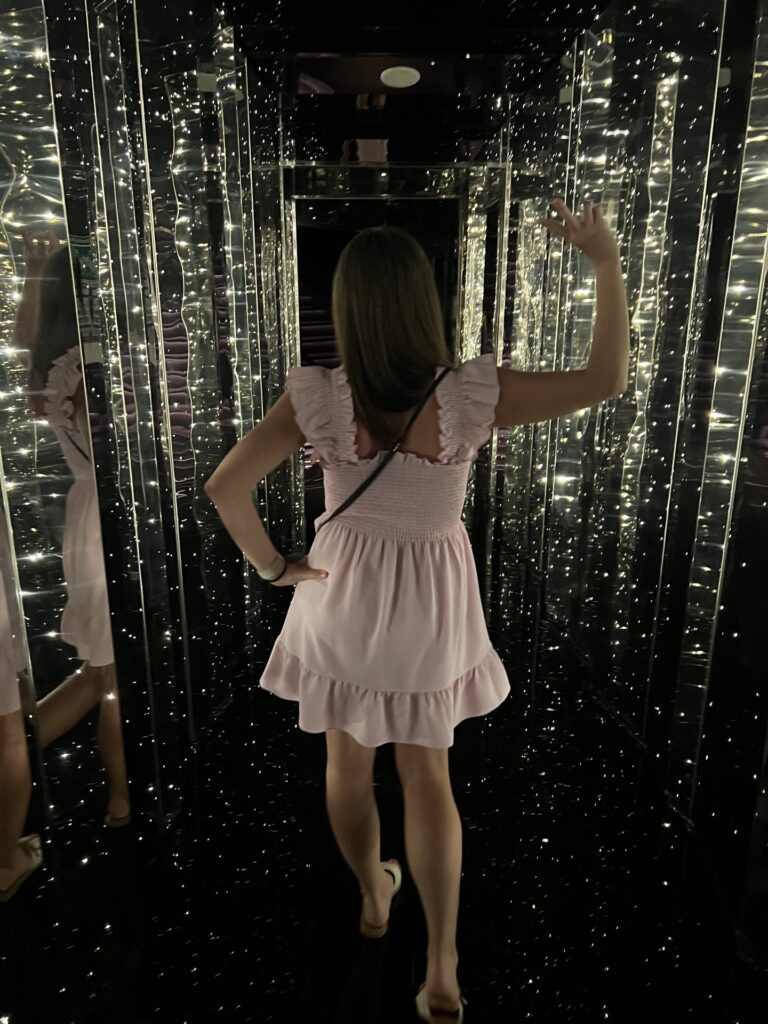 Day 4 — Day at Sea
Despite going to bed at 2 AM, I still made it to the gym for our next day at sea. I got there around 8:30, and found it to be much less crowded than it was on our first day at sea. After a slow 5K, I went straight to The Galley for breakfast and coffee. (I had grown quite fond of the rotating fruit chia and the bagel order I had put together.)
It had stormed over night, so instead of being a million degrees outside, it was a very comfortable low 70s. I decided to join my friends by the pool and happily double-fisted a latte and piña colada at 10 AM.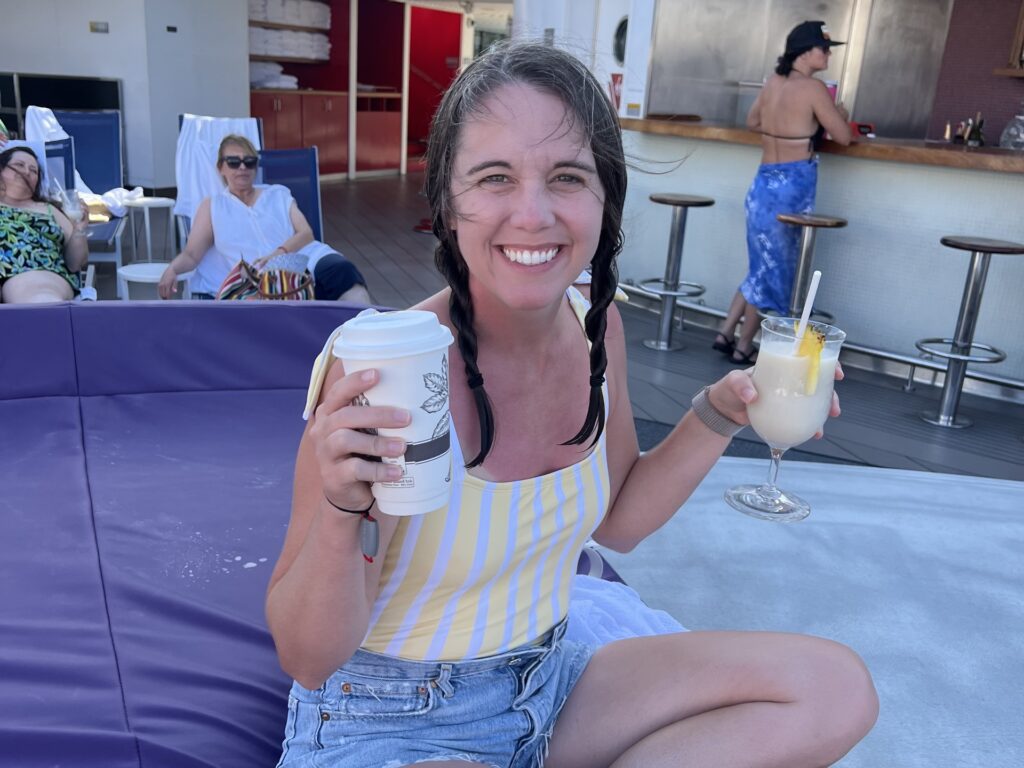 We cancelled our second brunch reservation so we could go to the hypnotist show at noon. Though it's not typically my thing, it was actually very cool to watch! (The hypnotist was Nadeen.)
After a quick lunch at The Galley, our group parted ways. Half of us went to the spa. For $40, you could spend 3 hours in open areas of the spa. That included a sauna, steam room, mud mask area, salt room, hot and cold plunge pools, and few other calming areas.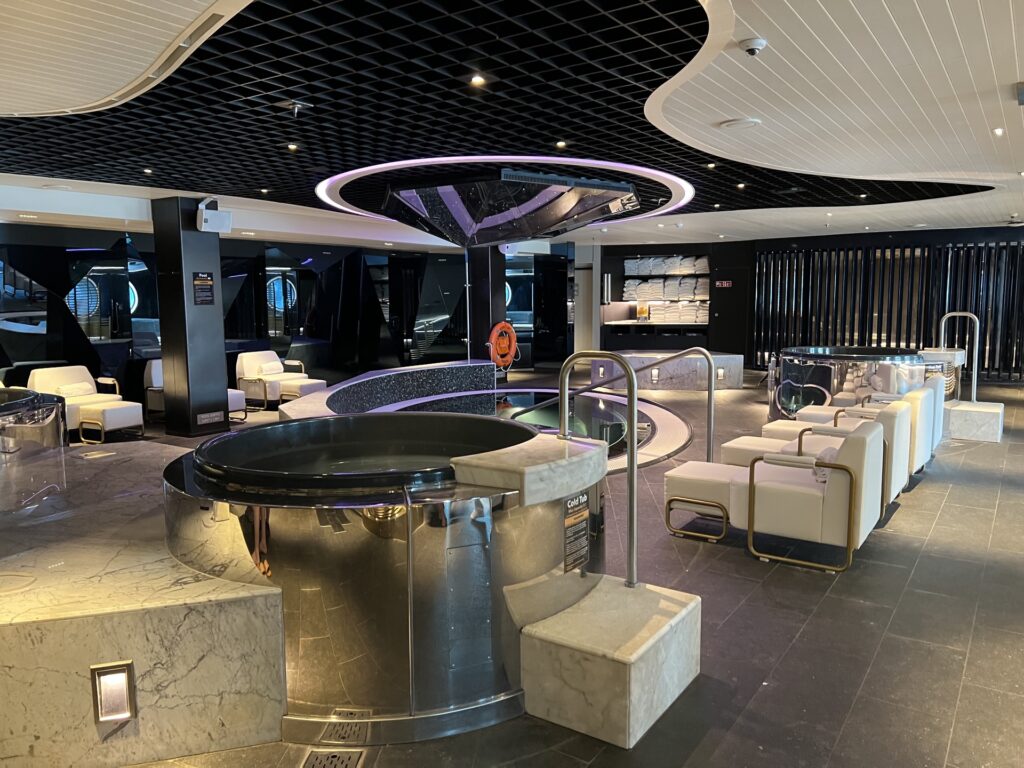 I opted out of that and instead decided to take a 2-hour nap in the hammock on my balcony, lulled to sleep by the waves and ocean breeze. 10/10 recommend.
After that, I grabbed a beer and took another detailed lap around the ship before getting ready for dinner. Tonight was a big night: Scarlet Night.
Scarlet Night
Scarlet Night is the biggest event on all Virgin Voyages cruises. Essentially, everyone wears red and there's a big dance party on the pool deck. I don't typically participate in cruise themed nights, but this one was pretty strongly enforced. (I believe my travel advisor's words were, "If you don't wear red, they will kick you off the ship.")
Before the Scarlet Night festivities, we had dinner at Test Kitchen. This restaurant offers a take on molecular gastronomy, where they prepare each of six featured ingredients into a unique course. Our menu included things like mushroom mouse, smoked pea carbonara and a blue cheese semifreddo. There was an optional beer, wine, cocktail or mocktail pairing to go with each course, for an extra cost.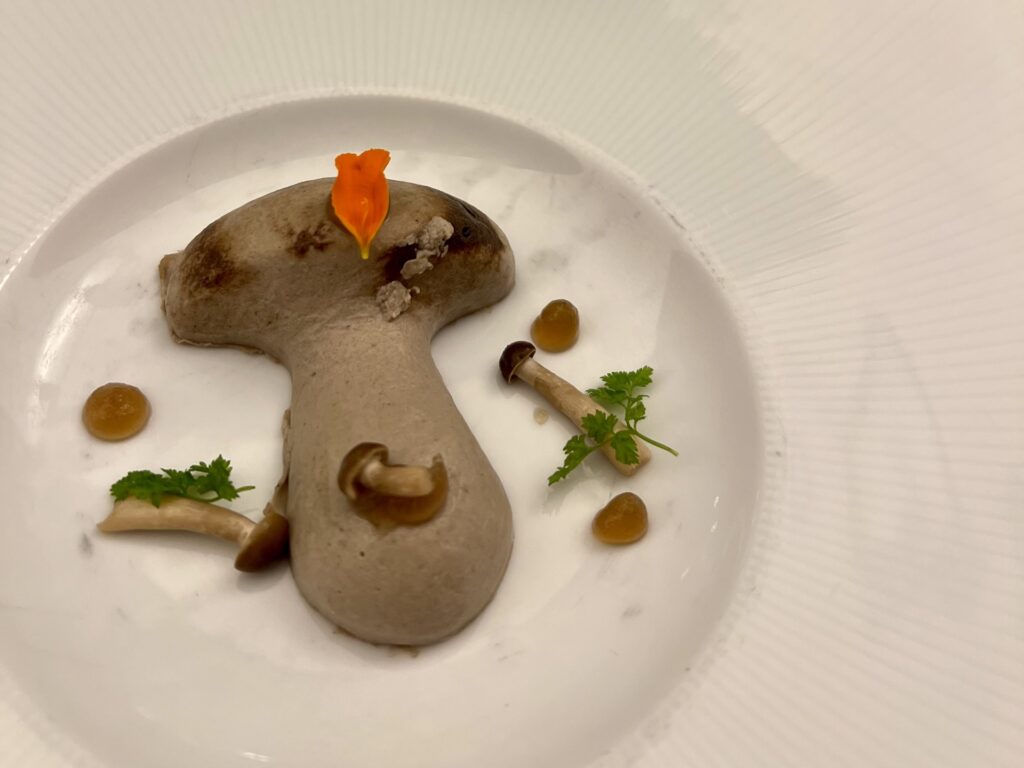 Unfortunately, we didn't love this meal. The food was interesting of course, but also just not that good. Our group actually had such a bad time that we went to a second dinner! We talked to the manager at our favorite place next door, Extra Virgin, and got him to get us in without a reservation.
The highlight of Scarlet Night is a big party on the pool deck, again hosted by the Happenings Cast. There's a DJ, laser lighting, and tons of dancing. They even opened up the pool for dancing in the shallow end (just a few inches deep), and that was one of my favorite memories of the entire cruise. After the pool party, there is an after party in The Manor.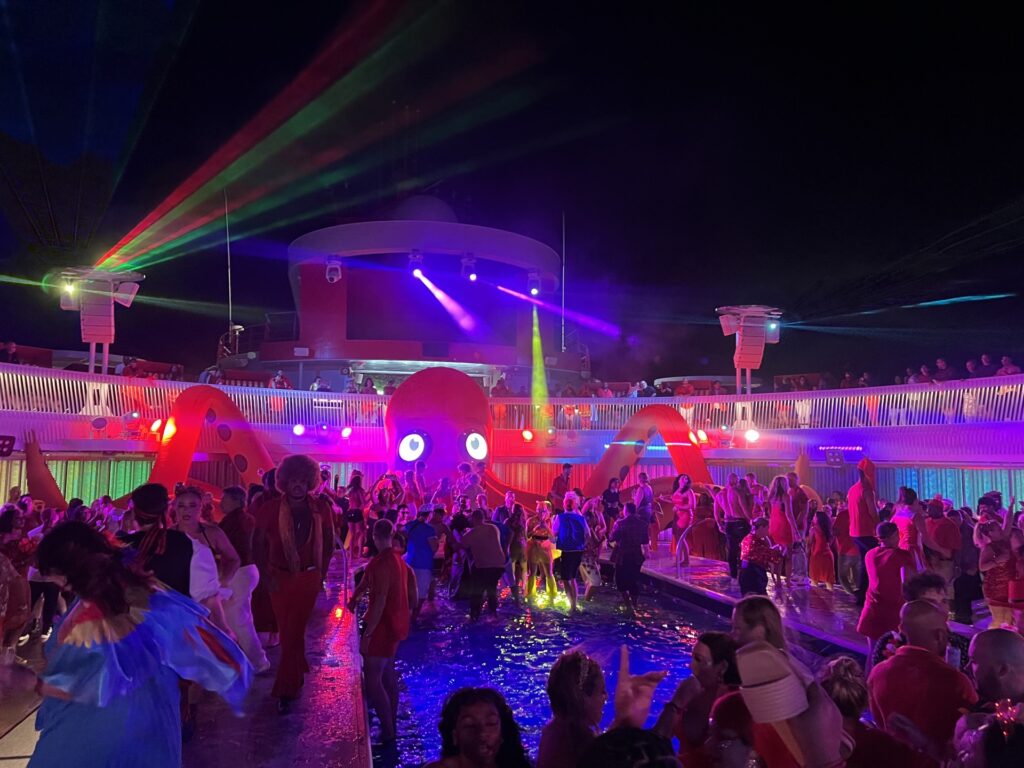 Scarlet Night had a really fun energy on the ship. The only people not in red were the people in costumes for the halloween activities which conflicted with the Scarlet Night dance party. (Poor planning!)
Day 5 — Beach Club at Bimini, Bahamas
The Beach Club at Bimini is Virgin Voyages' private beach in the Bahamas. The Beach Club at Bimini is open to all Virgin Voyages sailors and has a beach, pool, restaurant and bar. There's plenty of beach- and pool-side seating and umbrellas, plus some hammocks for good measure.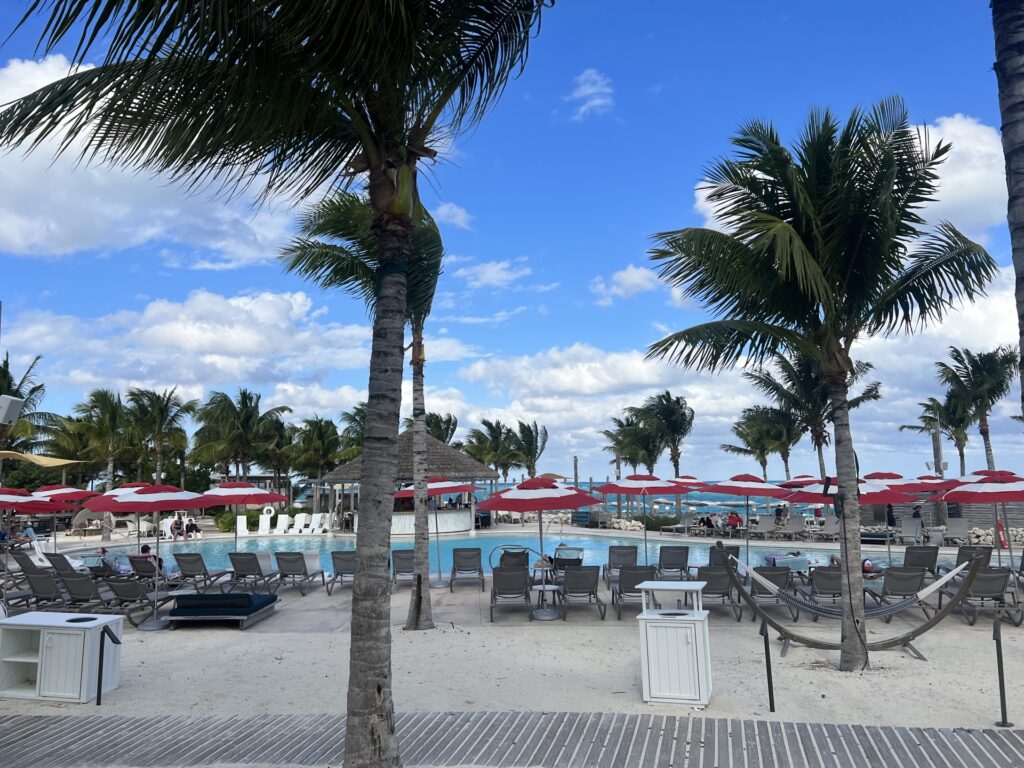 There is a free shuttle that goes from the port right outside the ship, to the entrance of The Beach Club. It makes a few more stops too, including a small shopping area, an excursion departure point, and a place to rent golf carts to take around the island.
On one end of the club is a private VIP section for "Rockstar" guests, which is a cabin category onboard Virgin Voyages. Rockstar sailors can access the area and book private cabanas. We were not Rockstars, but our travel advisor was able to use her magic wand and book us two private cabanas here.
It was cold and windy during our visit, so the cabanas weren't exactly necessary. We didn't need the shade and since the weather was bad, the general seating areas were wide open. However, we did not complain about the extra comfy covered seating or the included $200 of bar tab, which we failed to fully utilize.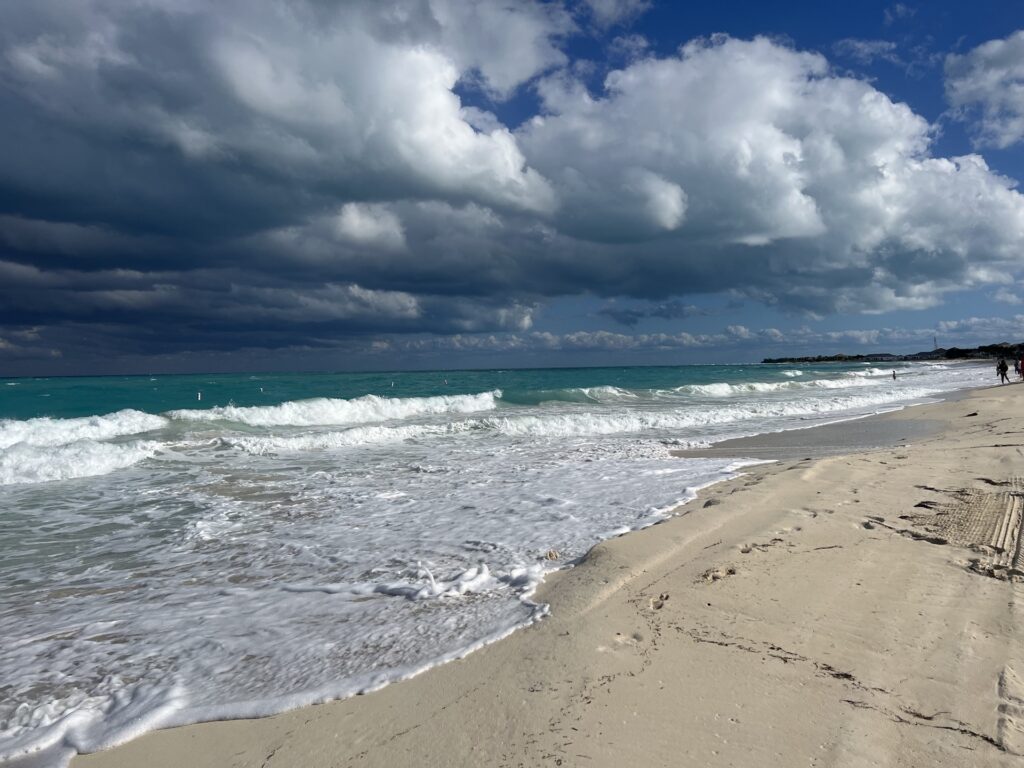 Virgin Voyages owns The Beach Club, so it operates as an extension of the ship. That meant that the food at the club was complimentary, just like it was on the ship. The food was good, but the rum cakes were by far the best part part.
The beach was beautiful, but it was very windy during our visit. I love playing in the waves on a windy day, but I was too scared to venture in past my waist. I wasn't alone either. There was only one or two people on the whole beach that went in further. There are no lifeguards, so we were smart to be careful.
The cabanas opened at 10 AM and we stayed until about 4 PM. (They were open until 6 PM.) The shuttle back to the ship runs regularly, and includes a stop at a shopping area. We got off to shop, but only one store was open at that time.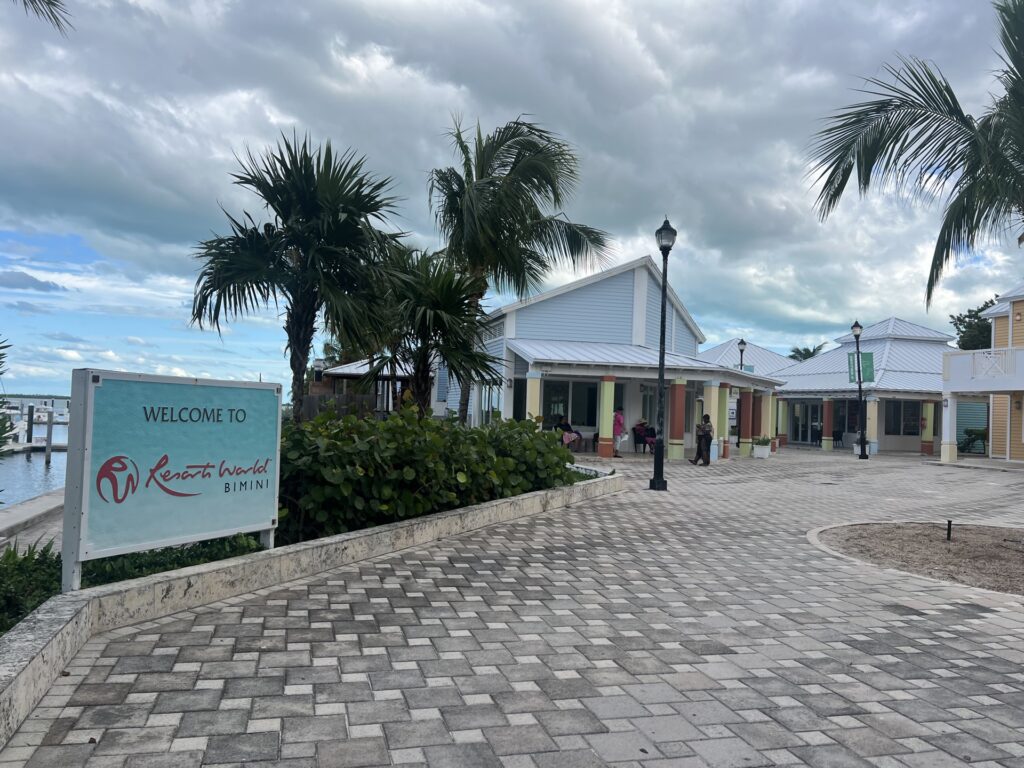 Back on the Ship
We got back on the ship just in time for trivia, which we won! Our prize was a complimentary drink, which was great, but not helpful given we were sitting on plenty of extra bar tab that was going to go to waste when we got off the ship the next day.
Our final dinner was at Pink Agave, an upscale Mexican restaurant. This was my third favorite meal of the trip. (If you're keeping track, that puts the rankings at 1: Extra Virgin, 2: The Wake brunch, and 3: Pink Agave.) Everything I ate here was the good, and the mezcal margarita was on point.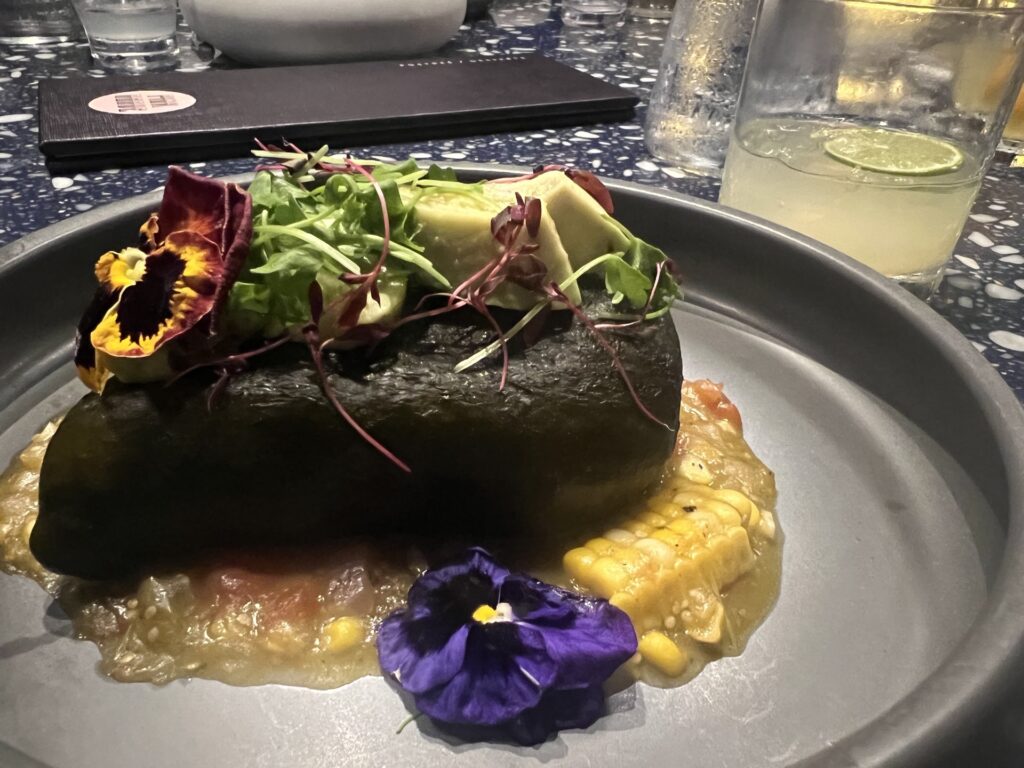 The final night's theme was "We Fancy," which meant we all wore as much sequins as we could find. There was no formal event, but we went to The Manor after our dinner.
After one last late-night snack in The Galley, I went to bed one last time in my cabin.
Day 6 — Debarkation
The ship docked back in Miami at roughly 6:30 AM.
I scheduled my debarkation time for 8 AM, but I was ready to go by 7:30 AM. I decided to head down and see if they would let me off early. As it turned out, there wasn't anyone actually checking your scheduled debarkation time, so I simply hopped in the line and breezed off the ship.
There is a brief immigration check, which is a simple facial scan. (You don't even need your passport.)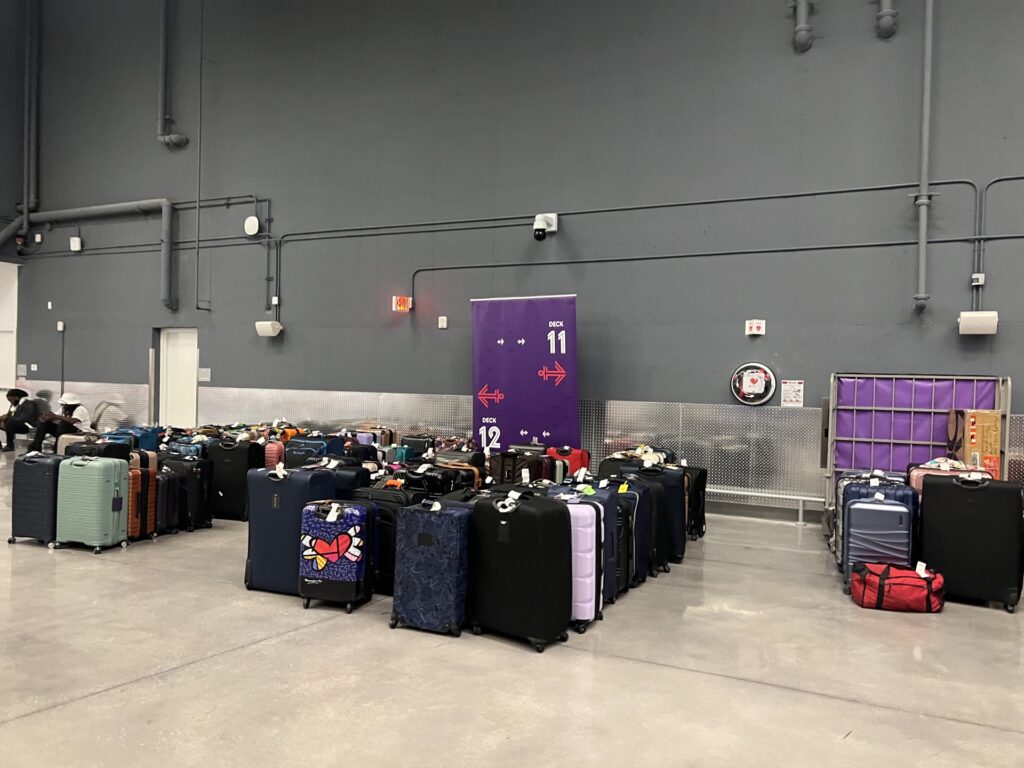 After immigration, there's a baggage collection point. If you don't want to carry your bags off the ship, you can leave them in the hallway the night before and pick them up in the terminal right before you exit. This is probably helpful for some, but this wasn't necessary for my situation.
After exiting the terminal, I followed clearly marked signs to the rideshare pickup area. I was in the Uber waiting area by 7:42 AM, just 11 mins after I got in line to leave the ship. I was at the Miami airport just after 8 AM for a 10:52 AM flight.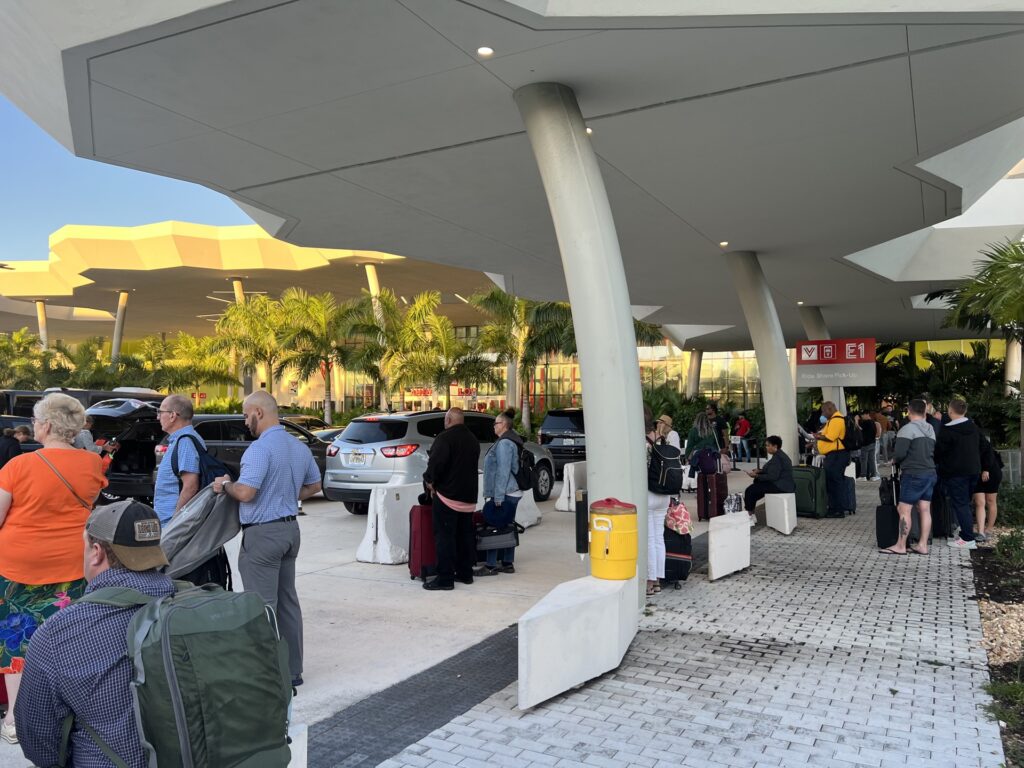 Now, this all worked out fine, but it easily could have been very tight. There could have been delays getting off the ship, lines at customs, a longer wait for an Uber driver, more traffic or a longer security queue at the airport. If any of that pushed me back even an hour, I would have been pretty tight against my boarding time. All that to say, I wouldn't recommend booking a flight much earlier than 11 AM on your debarkation day.
First Impressions
I'm so fresh off this cruise that my skin is still peeling from the sunburn. I wanted to be sure to get my initial reactions documented as quickly as possible. So without taking too much time to let it marinade, here are my honest thoughts on the Virgin Voyages Dominican Daze (that didn't stop at the Dominican) cruise on the Scarlet Lady.
In short, Virgin Voyages is a great cruise experience. Do they put a few too many puns in their marketing material? Sure. (I get it, "ship" sounds like "sh*t.") But they make up for that with their shiny modern ships, high-energy Happenings Cast and premium food options.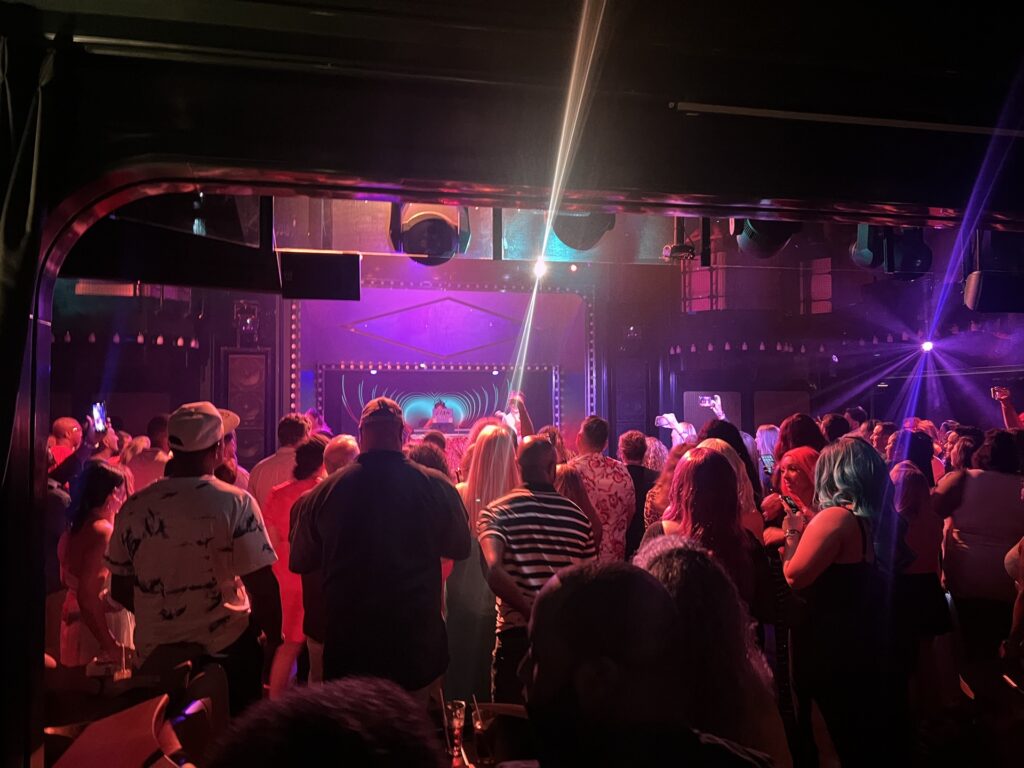 Virgin Voyages is adults only, and I think it most appeals to the late-20s/early-30s age range (in reality or at heart). There was a lot of DJs, dancing, and drinking, plus entertainment and parties scheduled well into the evening. All things that really cater to that age bracket.
I say late-20s though, because it's still not a "party cruise." It never felt out of control or too wild. (We only saw one hangover-puker in The Galley.) The party energy was usually pretty well contained to a certain event or area, and I never once heard anyone yelling in the hallways or causing a scene. It was fun if you wanted it to be, but there were always places to relax or have a more casual and even completely sober experience.
Now let's get into the details.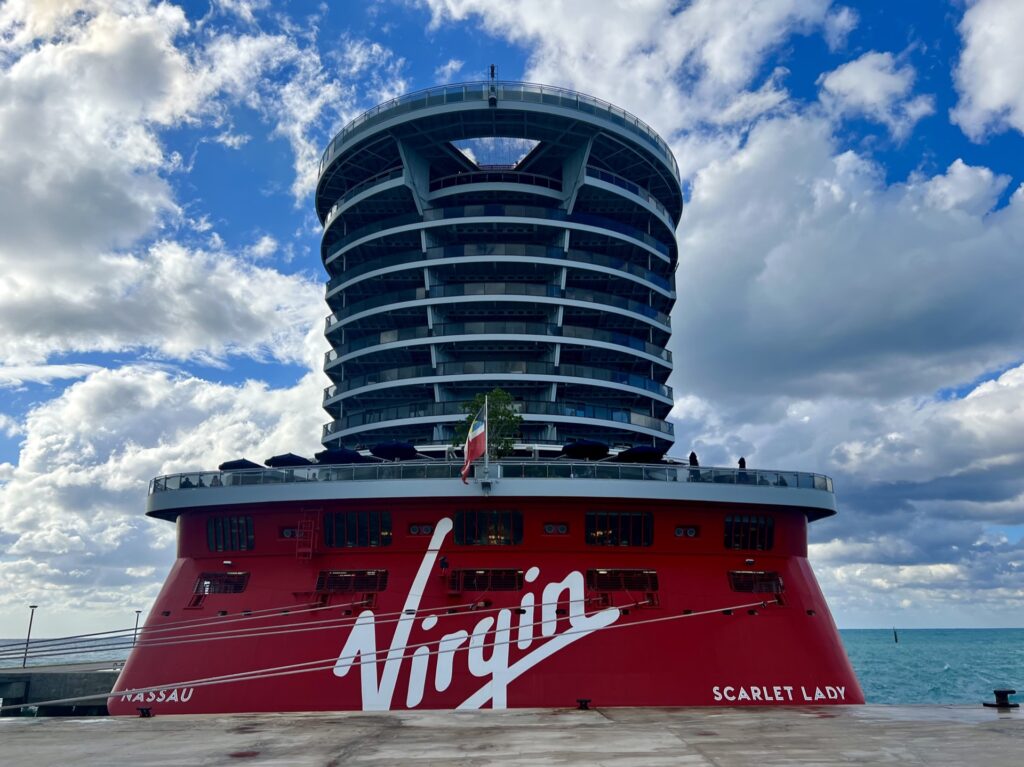 Pros of Sailing with Virgin Voyages
The food is really good. The table service dining features chef-curated menus, including some by Michelin-starred chefs. The food was tasty, diverse, and catered to a variety of dietary requirements (vegetarian, gluten-free, etc). Even the quick service dining was great and included sushi, ramen, tacos and the best dessert bar on the seas.
24-hour dining. There are no set dining times, so you can schedule reservations or eat in The Galley anytime throughout the day. Plus, there is breakfast, pizza, and burgers/fries available all night. There was also always grab-and-go snack boxes with fruit, charcuterie and wraps.
Comfortable and modern cabins. The rooms on the Scarlet Lady were so nice, very spacious, and I loved the digital controls. I'd recommend a cabin with a balcony, which is easier on Virgin because there are so many balcony rooms.
The crew was great. The Happenings Cast made the cruise so much fun, and we loved that they were involved in different activities throughout the trip. Beyond that though, all of the staff were proactive and very kind, without being overbearing. We had great interactions with restaurant managers, housekeeping staff, bartenders and servers, and we were constantly saying how kind and helpful everyone was.
Tips are included. This could be why none of the crew were overbearing or fake. All tips were included, so we didn't have to tip on each drink or at each meal, or pay 6-days worth of tips at the end of our trip.
Free wifi. Everyone gets free wifi on Virgin Voyages, and passengers with Deep Blue Extras (their loyalty program) get premium wifi. We successfully used the premium and standard wifi to FaceTime, stream tv shows, and post to social without any issues.
Great bar variety. No matter what vibe you were going for, there was a bar for you. There was a draft beer bar, cocktail bar, sports bar, pool bar. If you wanted to dance, there was a night club. If you wanted to relax outside, there was The Dock. There was a space for everyone.
Rolling muster drill. Every cruise ship is required to give a safety demo to every single passenger before it can sail. On some cruise lines, they require the entire ship to meet at their stations at one set time. On Virgin, you have the flexibility to swing by your station at anytime for a quick briefing over a 1.5 hour window.
Cons of Sailing with Virgin Voyages
The best entertainment books up fast. The stage shows, fitness classes and some other popular activities have to be booked in the app when you board. These events book up quickly, so if you forget or board late you might miss out on a lot.
No pre-scheduled dining. This is posed a pro on the Virgin Voyages website, implying that you can eat whenever and wherever you want. The reality though is that you're not guaranteed anything. If you don't proactively book dining reservations 45 days in advance, then you will likely be stuck eating quick service food or waiting in long walk-up lines at 5 PM every night.
The mixed drinks were weak. We found that most of our cocktails and mixed drinks were mostly juice or water. (I literally watched them add water to my gin and tonic.) If you want a more consistent drink, stick to wine or beer.
The app was terrible. It was frustrating that we had to book everything in the app, and then the app was constantly crashing, kicking us out, or spinning.
Ship layout is confusing. There were dead-ends, walkways that only went down one side of the ship, and hidden spots tucked into back corners. In many cases, you had to know what you were looking for to find it. You couldn't just walk a loop around a floor and see all of things available, which I didn't love.
The pool got really crowded. During the days at sea, the pool area was very crowded. You could usually find a spot, but not always a good one. There was almost always seating available on the upper decks, though.
No kids allowed. I know this is a pro for so many, but I couldn't stop thinking about how much my kid would love this cruise! They loved their last cruise. They love arcades, all-you-can-eat ice cream shops, swimming pools and dance parties (just the kind that take place before 8 PM.) I had a great cruise with Virgin, but I just don't see myself sailing without my kid any time soon.