If you're sailing with Virgin Voyages, you should be prepared for sun-soaked days, fun-filled nights and flavor-packed meals. But you should also be prepared to do a bit of prep in advance if you want to take your cruise to the next level. In this post, we'll share our 10 best Virgin Voyages tips to help you get the most out of your cruise.
I recently returned from a 5-day Virgin Voyages Dominican Daze Cruise on the Scarlet Lady. Before this trip, I had only cruised with Disney Cruise Line, and the Virgin Voyages experience was very different. (If you're interested in how those two cruise lines compare, be sure to check out our post on Disney Cruise Line vs Virgin Voyages.) I learned so many things from my first Virgin Voyages cruise, and I'm sharing it all here.
Follow these tips and you can be sure that you won't miss out on any of the fun (or food) onboard. The best part about these tips is that most of them can be done before your trip, so by the time you board you can sit back and relax.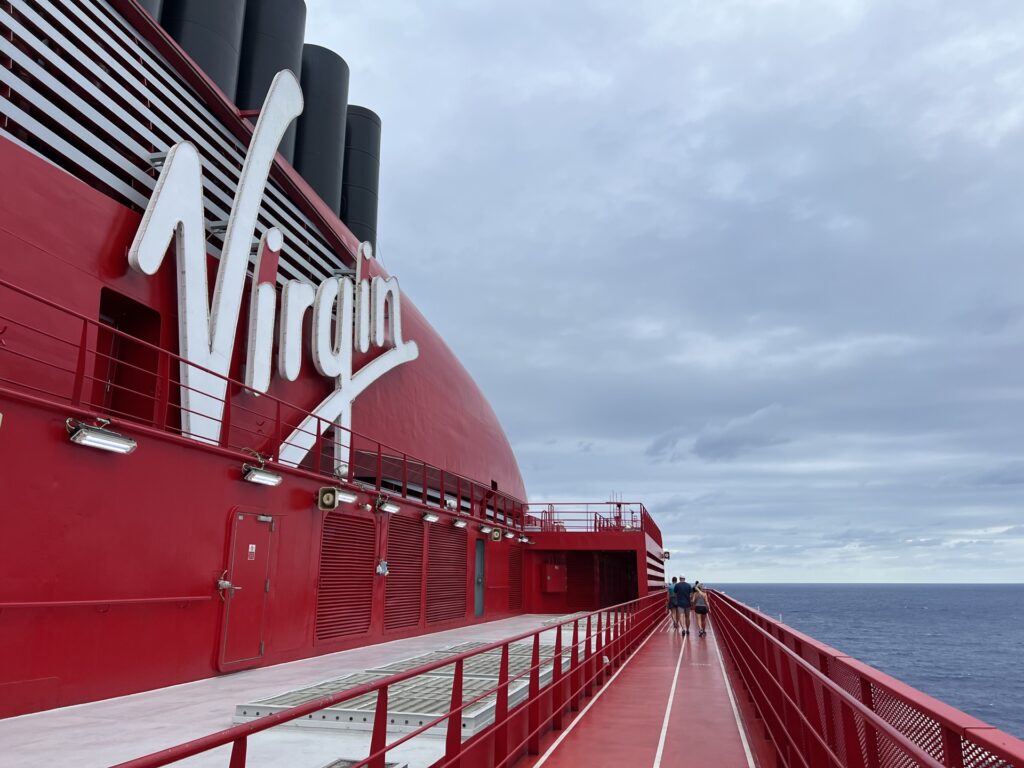 Disclaimer: My Virgin Voyages cruise was graciously gifted by our trusted travel advisor, Lauren Quirk, from Travel With Character. This post is not sponsored by Virgin Voyages or Travel With Character, and I do not receive any compensation in exchange for this post. All thoughts and opinions in this review are my own.
1. Complete the "Before You Sail" tasks ASAP.
As soon as you book your Virgin Voyages cruise (or as early as 120 days out), download the Virgin Voyages mobile app and complete the "Before you Sail" tasks. You'll need the app for a few different things before and during your cruise, so you might as well get it now.
The "Before You Sail" task list has seven steps and takes about ten minutes. It includes things like confirming your passport information, taking a security photo and linking a credit card to use onboard. Most importantly though, this is where you can schedule your embarkation time. (Aka the time you can board the ship.)
It's important to book your embarkation as soon as possible, because the best boarding times can book up quickly. What are the best embarkation times for Virgin Voyages? The earliest ones, which leads us to …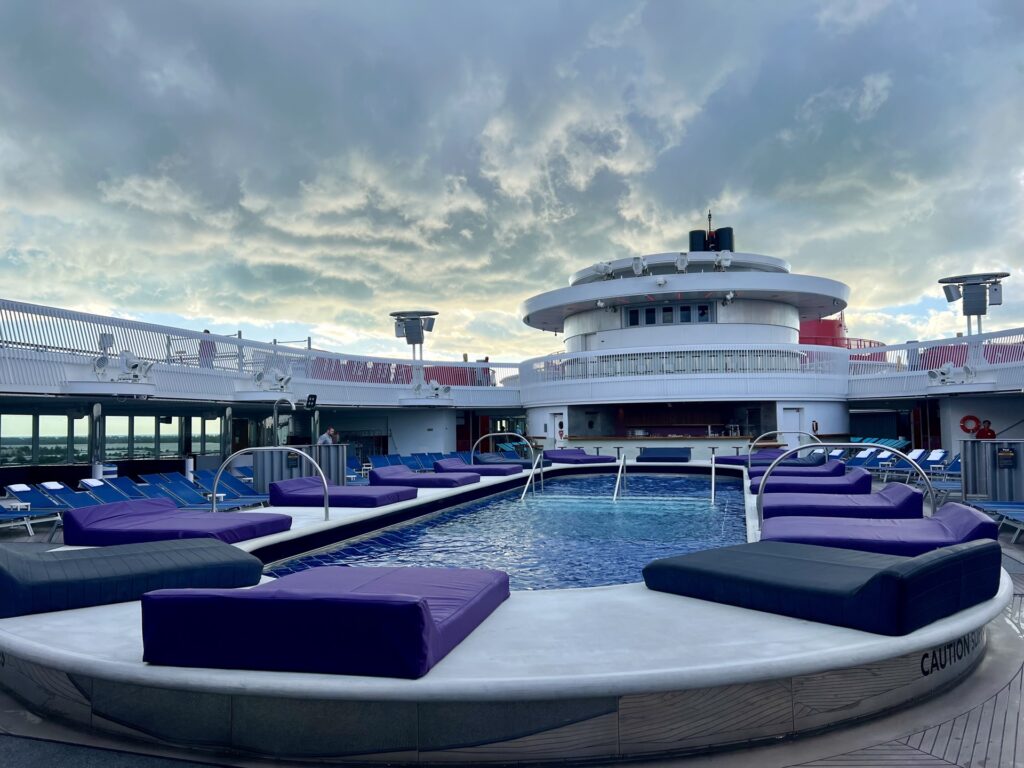 2. Schedule the earliest embarkation time.
I'd strongly recommend booking the earliest possible embarkation time for your Virgin Voyages cruise. On my cruise, this is 2 PM.
Early boarding has many benefits. Most obviously, you will have more time on the ship, plus shorter queues in the terminal. Most importantly though, early boarding means earlier access to registration for onboard activities. (We'll talk more about that in tip #6.)
The embarkation experience will vary based on the port you're sailing from. If you're sailing from Miami, Virgin Voyages' Terminal V is very well organized and boarding is quick and orderly. We were scheduled for earliest boarding group, and we were on the ship 20 minutes after we arrived at the terminal.
Boarding times are pretty strictly enforced. There are queues outside the terminal for each boarding time. If you arrive early, you'll have to wait with your group for your time. You will not be able to board early if you arrive early.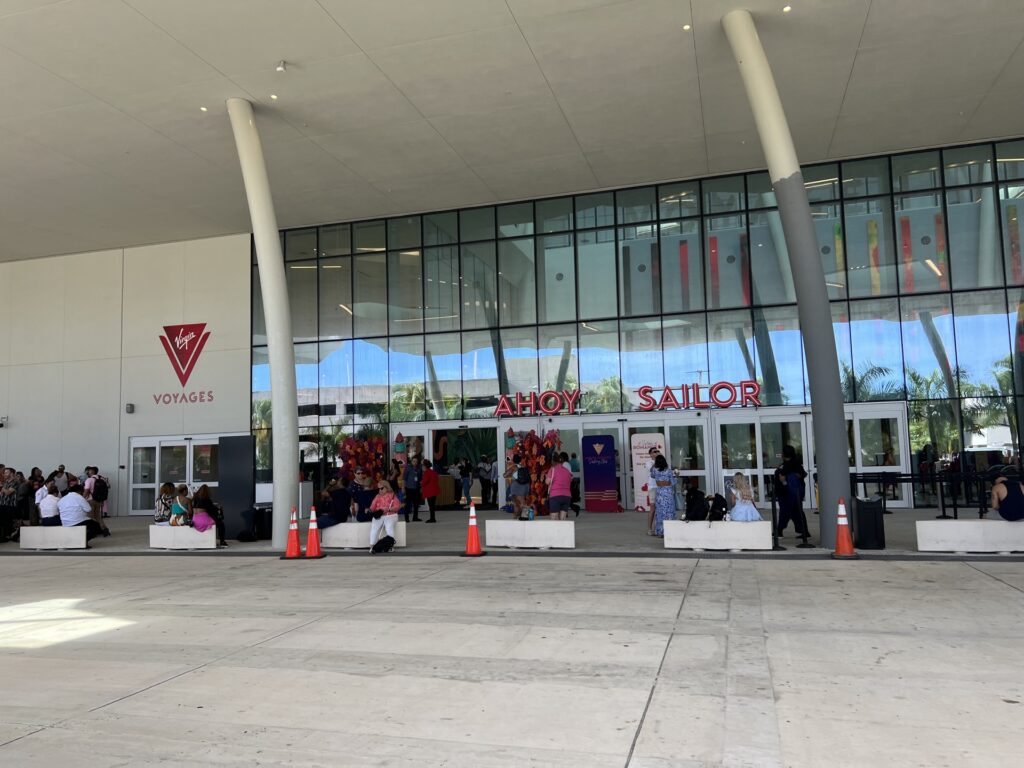 3. Book dining reservations as soon as they open.
Meals are included on all Virgin Voyages cruises. That includes food from all quick service and table service restaurants onboard, as well room service. While all of the food onboard is pretty good, the very best, chef-curated meals can be found at the table service restaurants.
These high-end dining establishments are one of the selling points on Virgin Voyages, but actually getting a table at them takes a little bit of effort.
Virgin Voyages does not automatically schedule any meals for you. That means you're not guaranteed a chance to dine at every (or any) table service restaurant onboard. You need to proactively make a reservation if you want eat at these table service restaurants.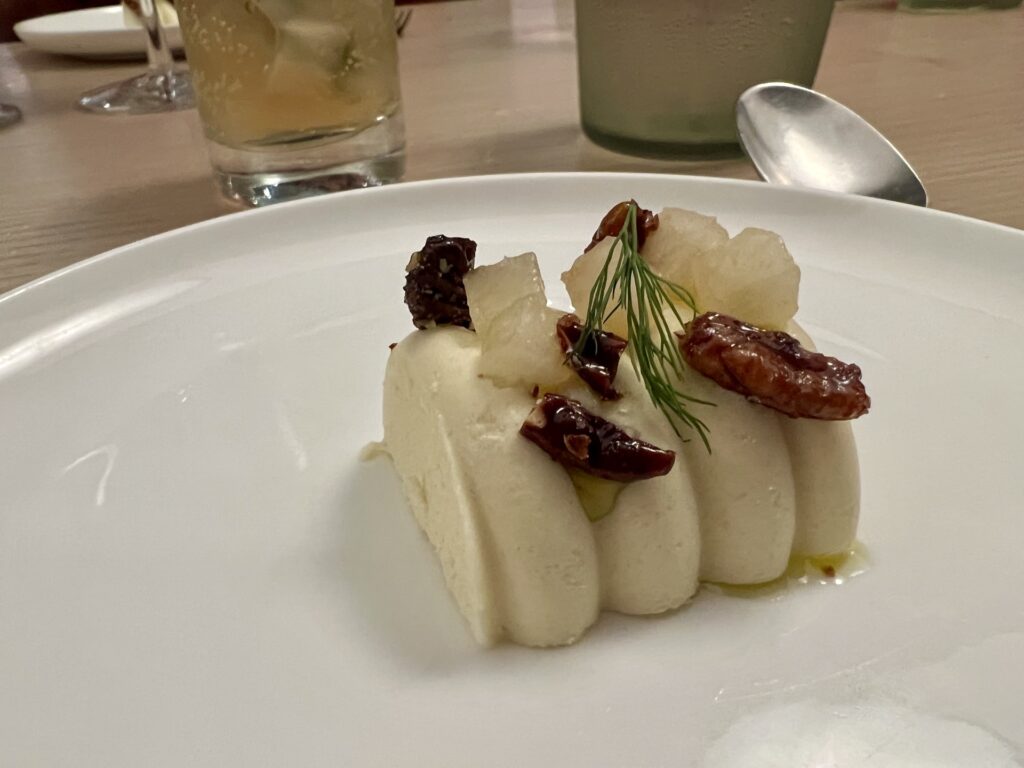 Dining reservations open up 45 days before your sailing date. The exact time reservations open up reportedly varies, but it is typically around midnight in the departing port's timezone. For example, if you are scheduled to sail on December 16, 2023 from Miami, your dining would open just after midnight ET the morning of November 1. You could potentially start checking the website in the late evening hours of October 31, around 11:30 PM, because sometimes they open early.
That said, the reservations don't book up instantly. Unless you have a large party and are really set on a specific restaurant on a specific date and time, you probably don't need to stay up till midnight to book your reservation. You should definitely plan to book in the morning of the day reservations open, though, for the best selection.
If you happen to miss the reservation window, don't give up hope. All of the restaurants do have limited space for walk-ups and same-day reservations. This will just take more time and effort. There is also quick service dining available at all times.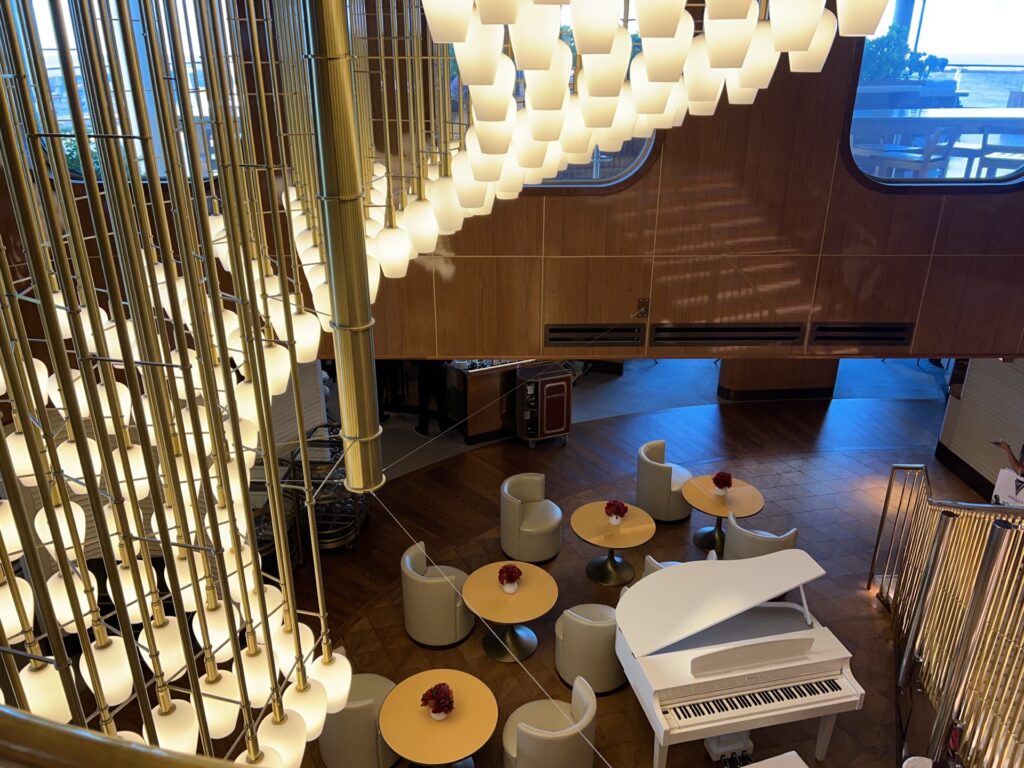 4. See if you qualify for Deep Blue Extras.
Virgin Voyages is a new cruise line, so they don't have an established frequent sailor program just yet. While they build that up, they're offering a collection of perks to seasoned sailors called Deep Blue Extras through the end of 2024.
Deep Blue Extras are pretty good, too. The perks include a $100 onboard drink credit, $10 per day specialty coffee credit, some complimentary laundry services and a free upgrade to premium wifi. You'll also have access to a dedicated Sailor Services rep onboard, expedited boarding and a special happy hour.
There a few ways to qualify for Deep Blue Extras. Anyone who sailed with Virgin Voyages in 2021 or has sailed twice in 2022 and 2023 can receive Deep Blue Extras. Virgin Voyages is also currently offering loyalty matching, so you can earn Deep Blue Extras if you have loyalty status on another cruise line. (Vailed through December 31, 2023.) You can review the details and submit your match request here.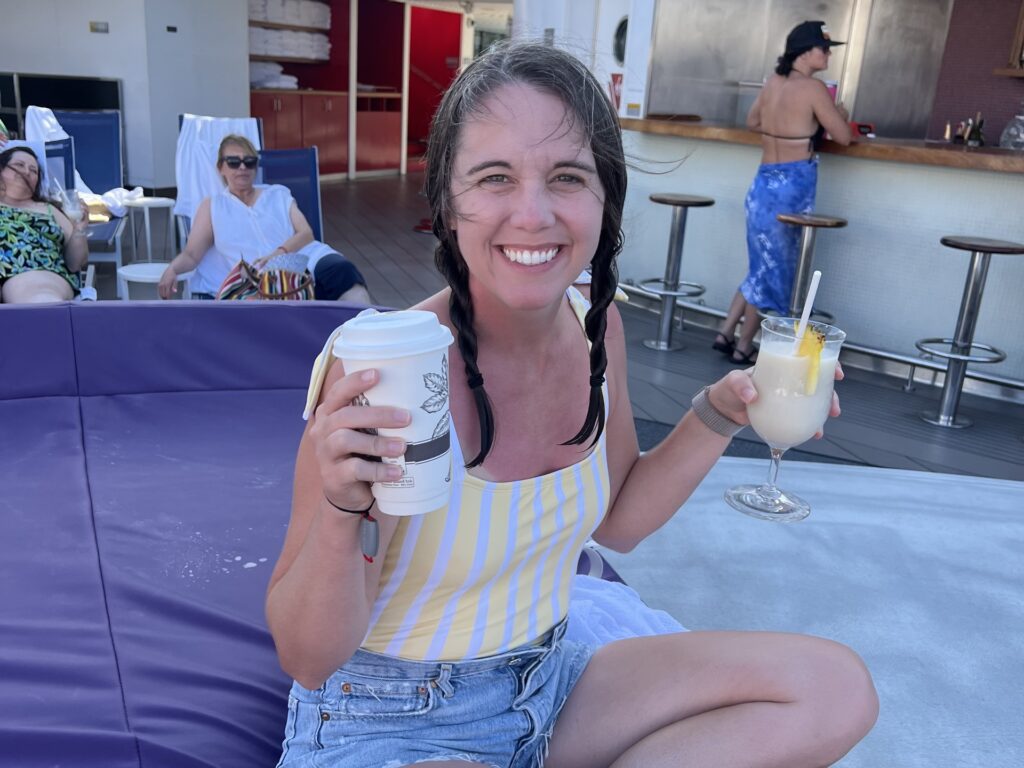 4.5 (Bonus tip!). Don't tighten your Deep Blue Extras bracelet.
If you do qualify for Deep Blue Extras, you'll get a special bracelet when you check in at the terminal. This one is a ribbon style bracelet with a one-way clasp — meaning you can tighten it but not loosen it.
If you put this bracelet on, make sure that you keep it loose enough to slide on and off. You don't actually need this bracelet for anything, and all the perks are connected to your other NFC band. I think this is literally just to demonstrate your status on board.
I slipped mine off right away and just kept it in my purse, but I didn't actually need it.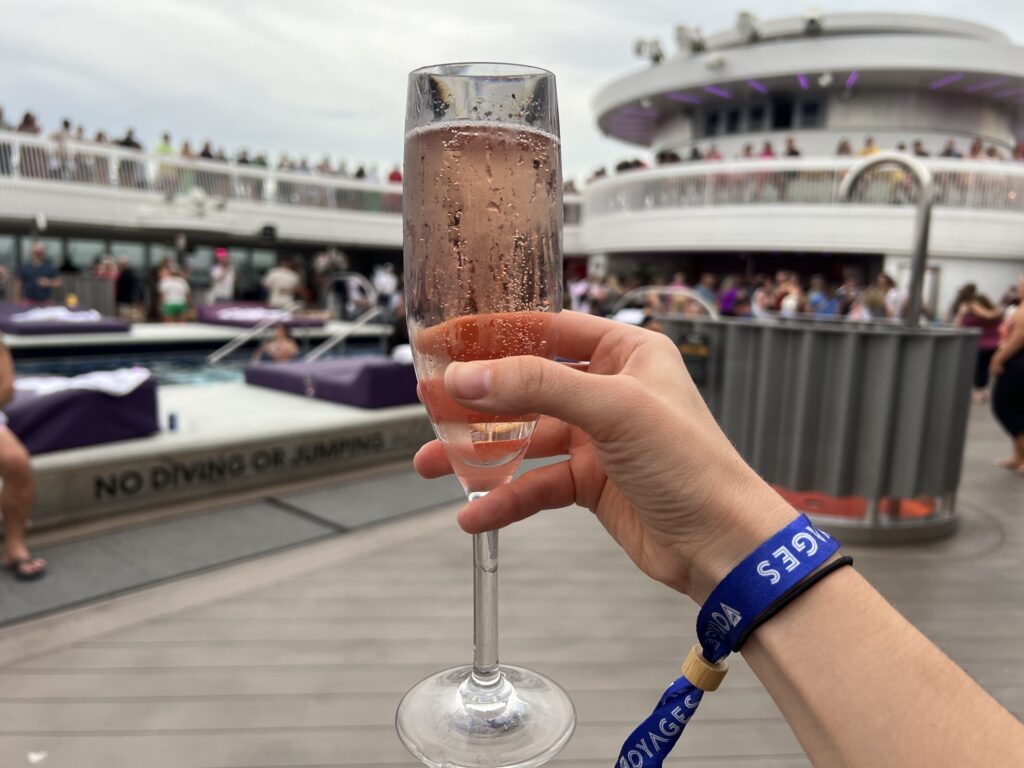 5. Use a hair tie for The Band.
When you check in at the terminal, they will give you a bracelet to use during your cruise. The Band is a contactless device that you need to use for pretty much everything on board. It serves as your room key, ID and credit card onboard, and you are required to tap it every time you get on and off the ship.
The NFC device itself is plastic with two attached loops. It is on a rope bracelet that wraps around your wrist twice and attaches with a small metal anchor. As you would expect from that description, the bracelet broke immediately.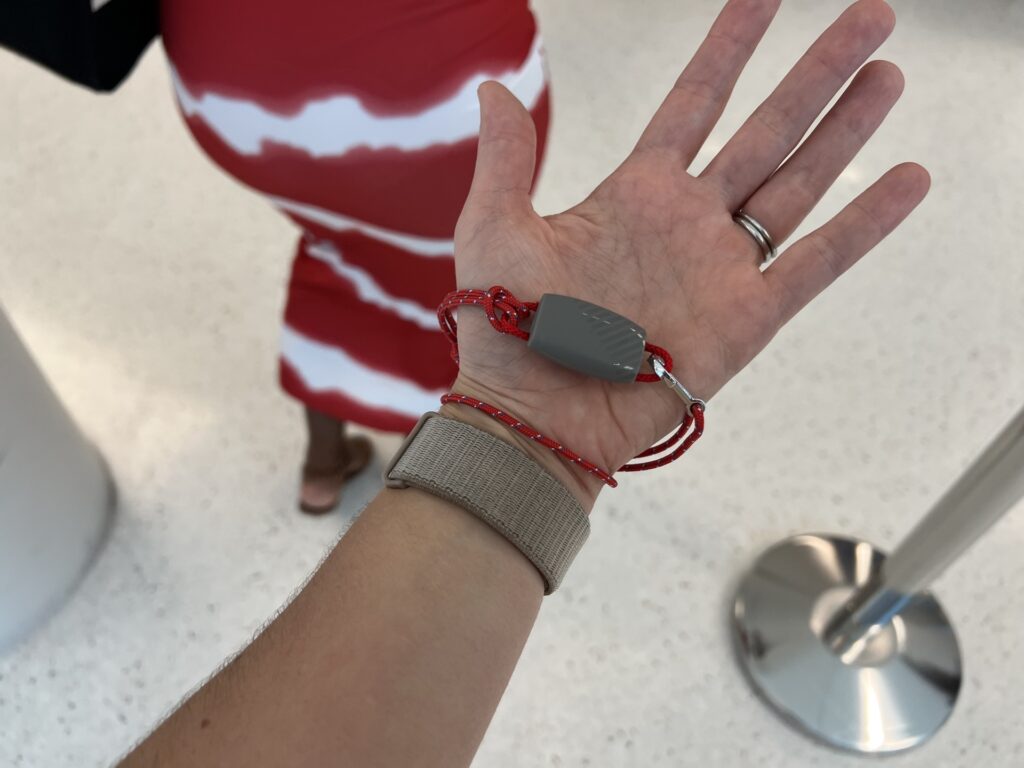 Since the tap device is so important for your cruise, I'd recommend bringing a backup bracelet for it. A hair tie is the perfect solution. Slip the hair tie through one of the loops on The Band, and then pull one side of the hair tie through the other side of the hair tie to create a loop knot. Then you can wear the hair tie around your wrist and The Band won't go anywhere.
Also, any small bracelet that can fit through these loops will do the trick.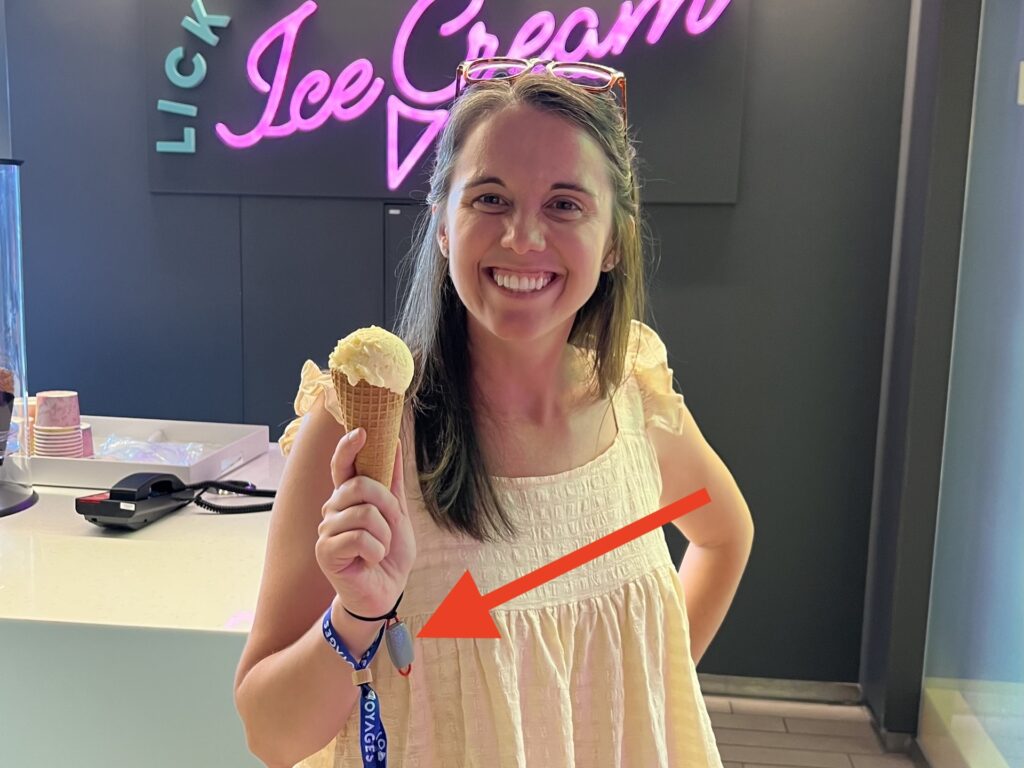 6. Sign up for activities in the app as soon as you board.
As soon as you board, connect to the ship's wifi and open the Virgin Voyages app. At this point, you will be able to see the full itinerary for your cruise and begin signing up for activities. To sign up for an activity, click "Add to Agenda." (Hearting an activity doesn't officially sign you up for it.)
Some events are "ticketed," meaning that there is a cap on how many people can participate. Some ticketed activities have an additional fee (like cocktail classes or coffee tastings), while others are free (like yoga, spin classes and select stage shows). For ticketed events, you'll need to tap your bracelet in order to enter.
You should sign up for all of your ticketed events as soon as you board, because some ticketed events fill up quickly. If any of these activities are important to you, be sure to check the itinerary and sign up quickly or you may miss out.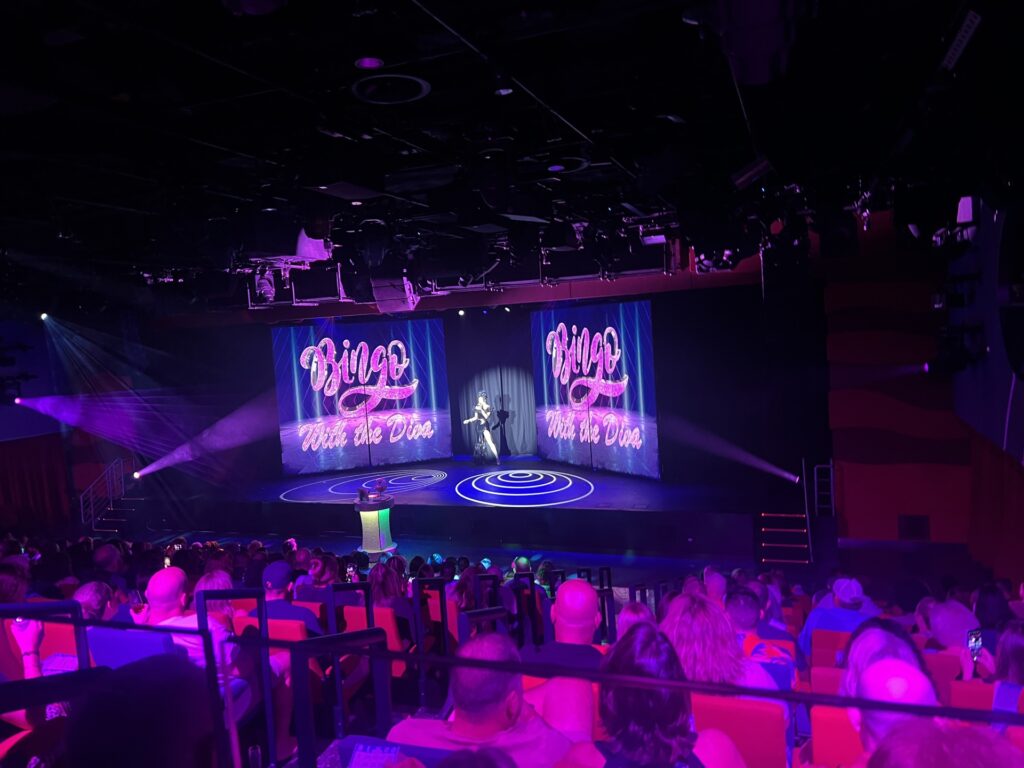 Other activities on board (like fitness classes, bingo and parties) are not ticketed. There is no formal cap on who can attend and they don't check to see if you've registered before they let you participate. For these activities, adding them to your agenda is just to keep you organized.
Unfortunately, the Virgin App isn't great and it's even worse when everyone is using it at the same time. We experienced the app crashing, spinning and logging us out numerous times on both the basic and premium wifi. So I'd recommend heading to a bar and grabbing a drink for this process so it feels less annoying.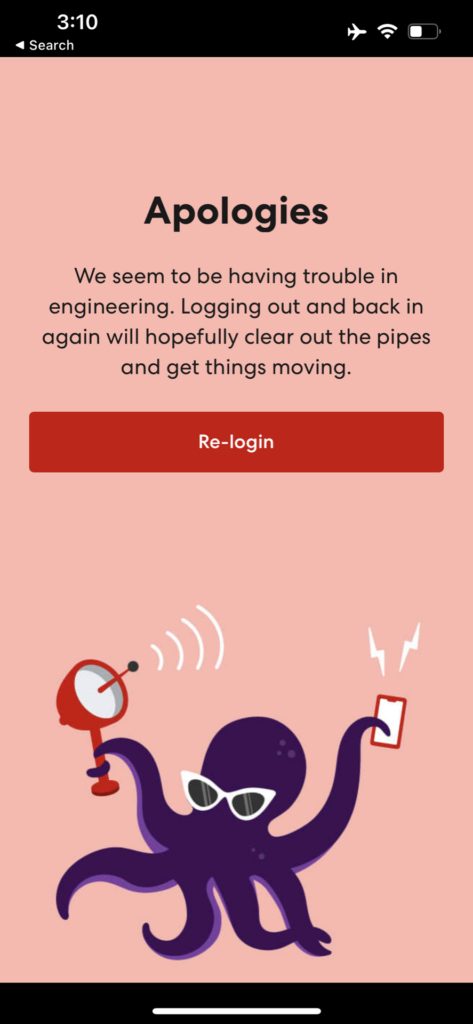 6.5 (Bonus Tip!). Link your party in advance.
Passengers staying in the same room should automatically be connected with each other in the app. That means that anyone in your cabin can register anyone else in your cabin for activities.
However, if you are traveling with friends or family in other cabins, you will need to manually connect them. You can complete this step at anytime, but ideally you should do it before you board. That way, anyone in your party can start booking for the entire party right away.
7. Plan for any in-person registrations.
While most things onboard can be booked in the app, there are a handful of sign-ups that have to be done in person on the ship. These are things with individual time slots, like tattoo and spa appointments and private karaoke registration, and they will be noted as such in the app. If you are set on any of these services/activities, do some research in advance and plan your first day accordingly.
For example, the tattoo parlor opens after the ship has left port and reaches international waters, often around 6 PM. The line for tattoo appointments forms early and gets long very quickly. Appointments on the last cruise day usually book up first, but they're usually fully booked within a couple hours. If a tattoo is a priority, plan to be there about an hour before it's scheduled to open for bookings.
Spa appointments book up less quickly, and karaoke spots usually open up daily. There might be other in-person registrations, but these are the three I know about. This is just something else you'll want to take care of early for the best choice in times.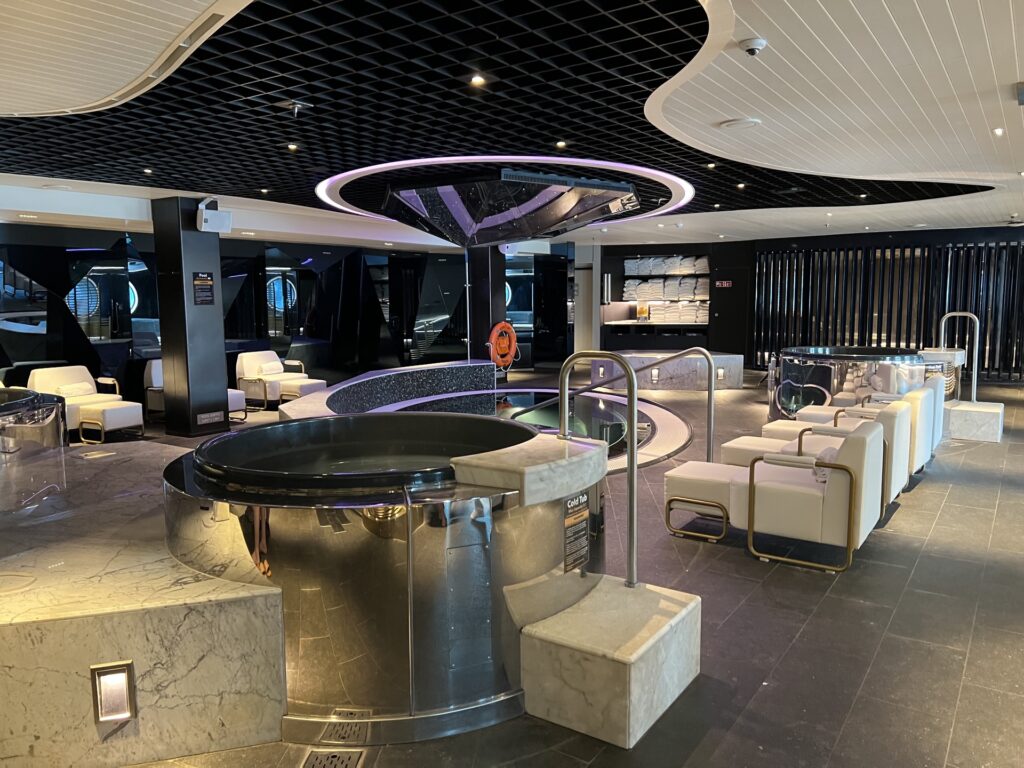 8. Skip luggage service when you board.
Most Virgin Voyages cruises have a luggage service available at embarkation and debarkation. The exact details vary based on your port, but here's how it works at Terminal V in Miami.
There is a luggage check location outside the terminal. You can leave your bags here and then they will be delivered to your cabin that evening. The timing can vary, but on my cruise they were scheduled to be delivered by 6 PM.
This service can make it easier to navigate the terminal and board the ship without having to deal with your bags. This can also make security a bit easier. If you do use this service, just make sure you keep everything with you that you'll need before 6 PM (including swimsuits, make up, meds, etc.)
It's a good service, but I would actually recommend you skip luggage check when you board.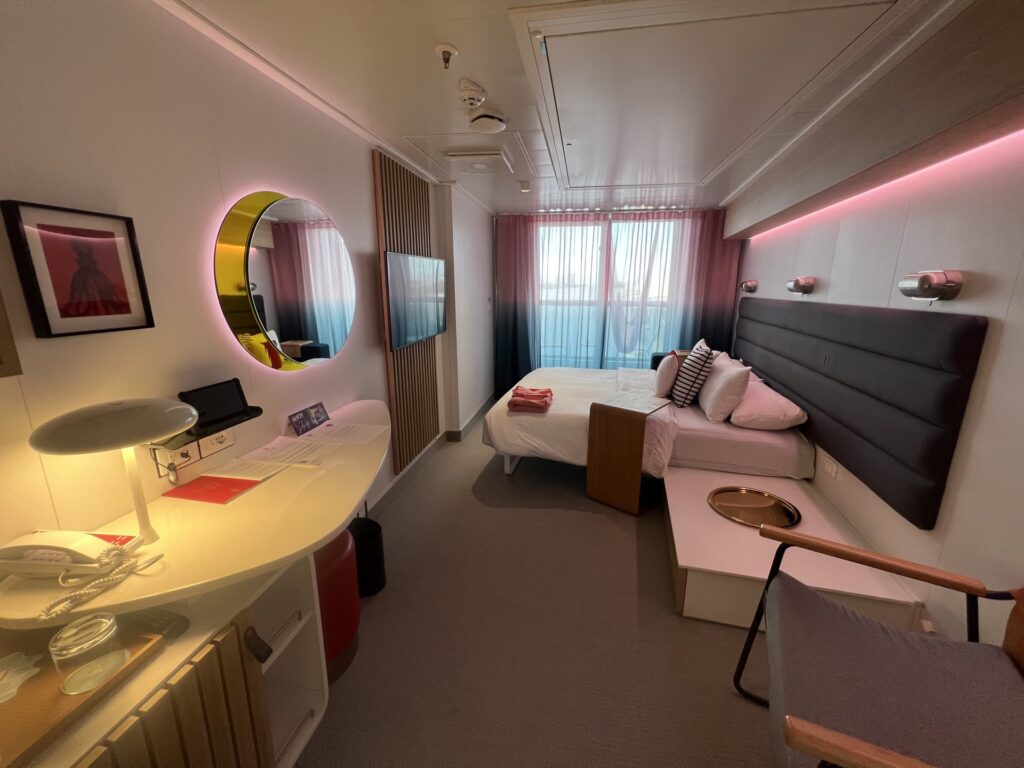 The main reason for that is because rooms are typically ready as soon as you board. On other cruise lines, that's not the case, so you want to check your bags so you can enjoy the ship without lugging them around. But on Virgin Voyages, you can usually drop your bags in your room right away. This is easier than having to pack a day bag and then waiting for your bags to be delivered.
The Miami terminal is also easy to pull your bags through. The entire route is accessible by elevator, escalator, and/or ramp, so you won't have issues with stairs. You do have to go through security, but you don't have to remove anything from your bags like at the airport. If you have an early boarding time, this process can take less than 20 minutes.
8.5 (Bonus Tip!). Do use luggage service if you have a late debarkation time.
Similarly, Virgin Voyages also offers luggage check service on your debarkation day. You can leave your bags outside your door the night before you disembark, and then pick them up just before you exit the terminal. There is a cutoff time, but it's usually around midnight.
This service does actually make sense if you have a late debarkation time. Most itineraries allow you to stay on the ship as late as 10:30 AM. However, access to the rooms is usually cut off before that. That means you have to keep your luggage with you.
If you plan to leave the ship late and want to have a relaxing morning, you don't want to be lugging your bags. In this case, it's a good idea to take advantage of the baggage service.
9. Pack the essentials.
This is not a complete packing list, but there are a few things you should be sure to pack for your Virgin Voyages cruise.
Passport. There are some ways around this, depending on your itinerary, but it's best to have it on you when cruising.
Scarlet outfit. There are a few cruise parties and events, some of which vary by season, but the highlight of every Virgin Voyages cruise is Scarlet Night. Everyone wears red and there are a few events around the ship. It's really fun and everyone gets into it, so this is the one onboard event you should definitely plan for.
Sunblock and aloe. I'm usually pretty firmly in the buy-it-there camp, but that's not always possible on a cruise ship. The stores onboard are only open when the ship is at sea and they are closed when the ship is at port. You might not always be able to buy these important items onboard when you need them.
Portable charger. Virgin Voyages offers free wifi for everyone, so you might be on your phone more than you think. Plus, you'll probably be using the app a lot to check the day's schedules. A portable charger is nice to have in your bag. There are also many outlets around the ship, so you can also just bring an extra cord to keep with you.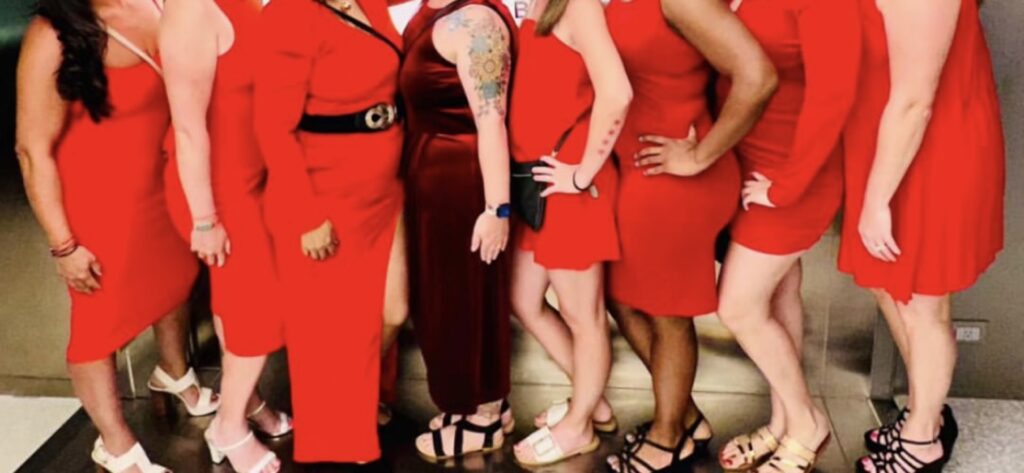 10. Plan your flights properly.
If you are flying on either side of your cruise, selecting the right flight times is a delicate art.
Regardless of what port your sailing from, I would recommend flying in at least one day before you sail. Even if you don't board until late in the afternoon or evening, I still wouldn't recommend flying in the same day as your cruise departure. There's always a chance that your flight gets delayed, you get rerouted, your bags get delayed, etc. You don't want one bad travel day to cost you your entire cruise if you don't make it there in time.
That same rule of thumb does not necessarily apply to your departure flight. It's rare (but not impossible) that your cruise disembarkation will be drastically delayed. You can usually plan to fly out the same day that your cruise is scheduled to arrive. This of course varies based on your specific itinerary and port.
If you're sailing from Miami, Virgin Voyages officially recommends booking a flight no earlier than noon on your arrival day.
Based on my recent personal experience, though, I would say that you could make a domestic flight as early as 10 AM. My disembarkation was scheduled for 8 AM, but I went down at 7:30 AM and walked right off the ship. There were no lines in the terminal, and I was at the Uber pick-up area by 7:42 AM. I arrived at the Miami airport at 8:02 AM and was through PreCheck security by 8:17 AM.
Everything might not always go that smoothly. However, I just wanted to share an actual timeline to help give you an idea.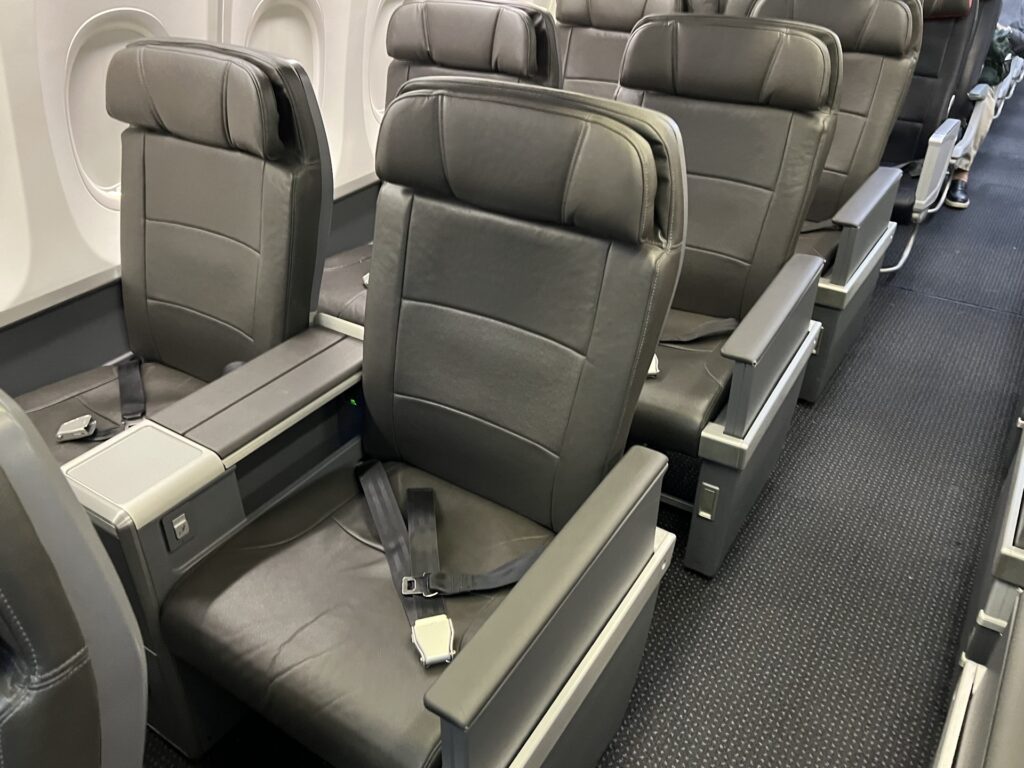 Final Bonus Tip: Work with a travel advisor.
As I mentioned before, this trip was graciously gifted by our travel advisor at Travel With Character. We always work with them to book our Disney vacations, but this was my first time working with them on a cruise. I got to experience first hand what it was like to have a dedicated travel advisor help with my cruise vacation, and it was a dream.
They stayed on top of all of the timelines I mention throughout this post, and sent out reminders for each task to make sure nothing slipped through the cracks. Not only did they make the cruise planning a breeze, but they also helped plan my hotel and activities in Miami before the cruise, and they quickly found a third-party tour provider when our cruise itinerary changed last minute.
If you want your travel planning to be as stress-free as the cruise itself, I'd highly recommend reaching out to Travel With Character. (And no, they're not paying me to say that.)