A trip to Boston is a perfect weekend getaway from New York City. There are a few different ways to get there, but taking the train from NYC to Boston is a convenient and easy option.
In this post, we'll share our experience riding the Amtrak train from NYC to Boston, and back again. We traveled on both the Acela and Northeast Regional trains, so we'll go over the key differences between those trains, including our thoughts on which one is best. (AKA: Is the Acela worth it?)
Basically, this post covers everything you need to know about taking the train from NYC to Boston. Ready? Let's go!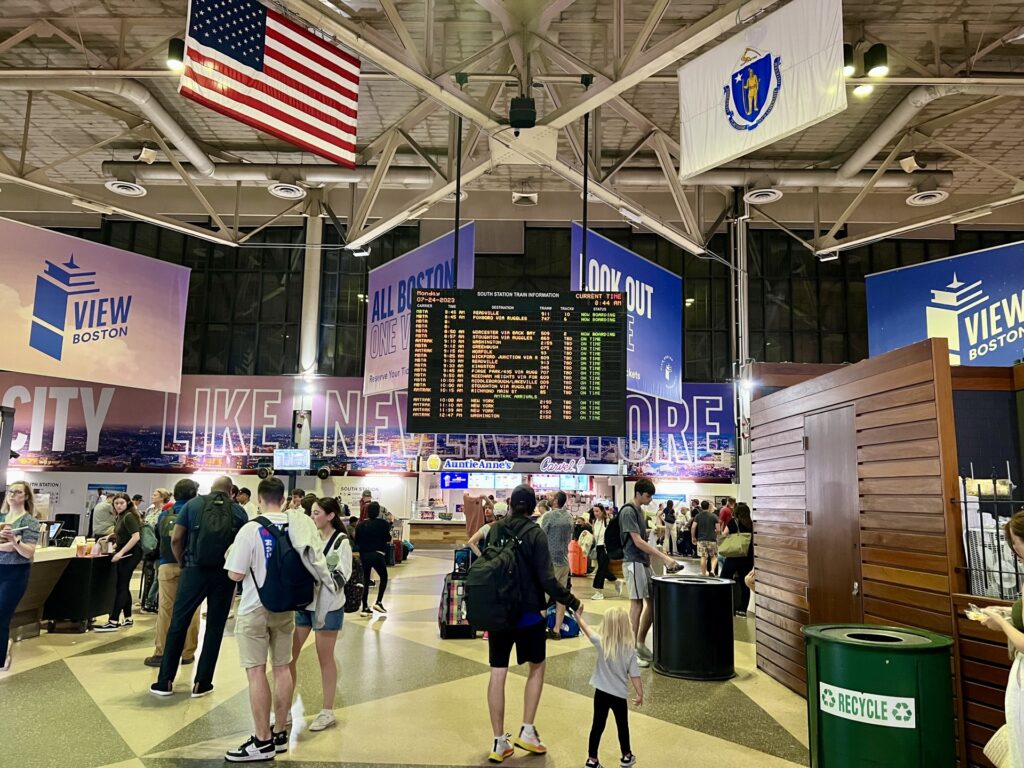 How to get from NYC to Boston
Like I said, Boston is a great weekend trip from NYC — especially if you have a long weekend. It's a charming city that's full of historic sites, photogenic streets, and colorful parks — not to mention the Red Sox and Fenway!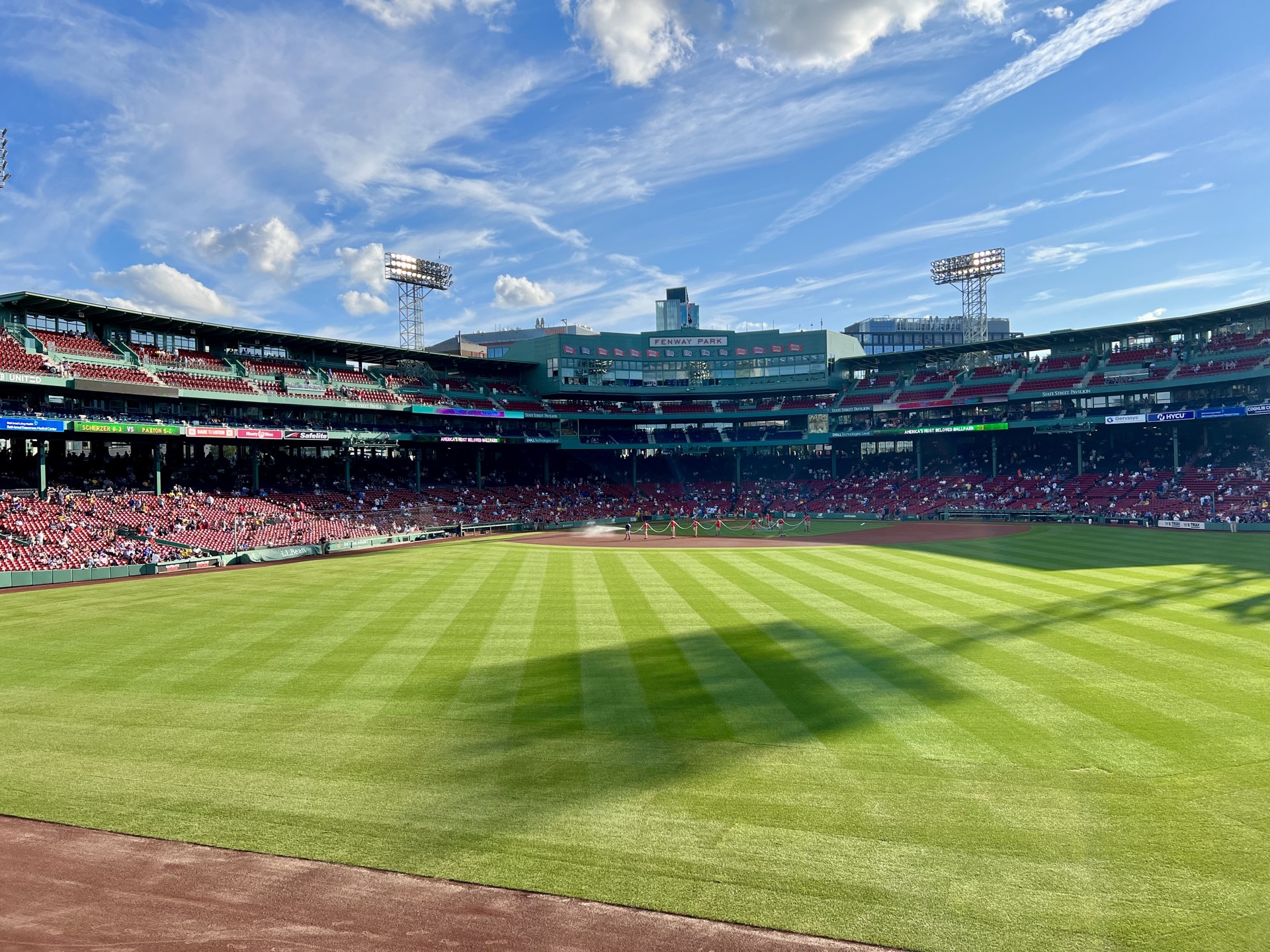 Boston is about 200 miles from NYC and there are three main ways to cover that distance.
Most obviously, you can drive from NYC to Boston in about 5 hours. This of course requires a car, which many New Yorkers (like myself) do not have. You can rent a car for the drive, but that's probably going to end up costing more than the other two options. Driving gives you a bit more control over your schedule, but you're also dealing with traffic beyond your control in both cities. Plus, you then have to find and pay for parking.
Another option is to fly. This maybe sounds ridiculous at first glance, but it can make sense in some cases. The prices are actually quite comparable — with the Acela at least. Even the total travel times are pretty even when you combine the faster travel time (~1.5 hours) with the added airport and transit times. Flights will make the most sense for travelers who live near LGA/ERW or travelers booking last minute. (There's no scenario that I'd recommend flying out of JFK to Boson.)
And finally, you can take the train. The train connects Midtown Manhattan to Downtown Boston in 4 – 5 hours. The seats are much more spacious and comfortable than on a plane or in (most) cars, plus you can get up and go to the bathroom or buy snacks whenever you want to.
All three options are similar in price and speed, so the decision comes down to comfort and convenience. Based on those metrics, I would argue that taking the train from NYC to Boston is the way to go.
Amtrak Train Routes Between NYC and Boston
Amtrak operates two different train routes between New York City and Boston: Acela and Northeast Regional. While the routes follow nearly identical paths, they vary substantially in terms of speed, comfort and price.
Acela is the premium train route between NYC and Boston. As Amtrak's flagship product, these are some of the nicest trains in Amtrak's fleet.
Making a visit to New York City? Start planning your trip with our New York City Three Day Itinerary!
Acela trains comprise only Business Class and First Class seats; there is no Coach class. The business class seats are larger and more comfortable than on other trains. Plus, there are other small improvements, like full curtains and closed overhead bin storage. The quad seats at the front of each car have a large center table that other trains don't have. Business and First Class seats on the Acela are also assigned, versus open seating in coach. Business Class on the Acela does not include complimentary food and drinks.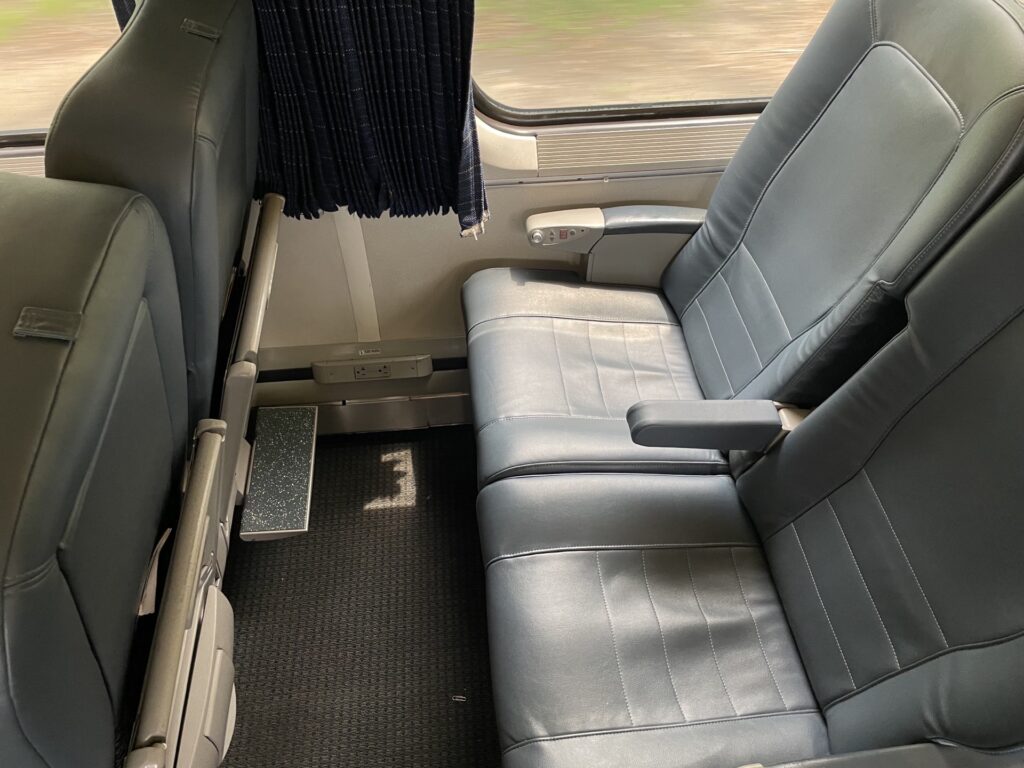 Acela makes fewer stops than its counterpart, with only four intermediate stops between NYC and Boston — including Stamford, New Haven, Providence and Route 128. The train itself is also faster, resulting in travel times up to one hour quicker than the Northeast Regional. (Acela is technically a high-speed train, though it only runs at those speeds for 10% of the route.)
While the Acela is much nicer, the alternative Northeast Regional is much cheaper. For example, if I look at a sample date a few weeks from now, the Acela one-way fare Business Class fare is $136 while the Northeast Regional one-way Coach fare one hour later is only $30.

The Northeast Regional train offers a more typical Amtrak train experience. (Very similar to the Lincoln Service from Chicago to St. Louis, which we also cover.) Most of the seating on the Northeast Regional is Coach class, which is all open seating. The seats are still quite comfortable and spacious, just slightly closer together than the Acela.
Most notably, the Northeast Regional train is slower and makes more stops. Even though both trains follow roughly the same track, the Northeast Regional makes 11 intermediate stops (vs 4 on the Acela).
Both train routes include free wifi, outlets at each pair of seats, and a cafe care onboard.
Amtrak Station in New York City — Moynihan Train Hall
No matter which route you choose, the Amtrak station stop in New York City is the same: Moynihan Train Hall.
Moynihan Train Hall serves Amtrak and Long Island Railroad. It is located right across from Penn Station, which serves NJ Transit. Moynihan Train Hall spans a full city block in Midtown, between 8th and 9th avenues and 31st and 33rd streets. The station is easily accessible from a variety of subway stops and train stops, which we'll mention in the next section.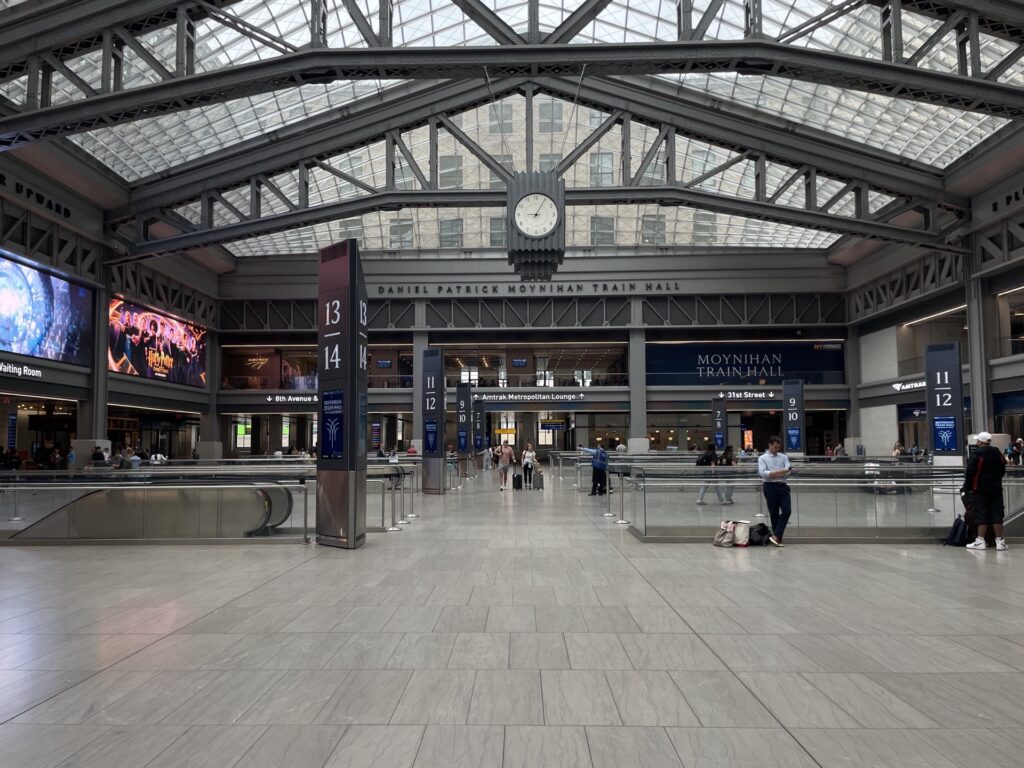 Moynihan Train Hall is a beautiful and functional new station that just opened in 2021. (Watch out European rail, we're coming for you! JK we're not even close, but we're making progress!) The majority of the station's shops and services are located on the concourse level, including a large food court, several coffee shops and a newsstand. There is also a waiting area with lots of seating for ticketed passengers only.
There are signs around the station that list all upcoming trains and their status. They do not announce the track number until shortly before boarding. Once the track is announced, passengers queue at the designed track number on concourse level. When boarding begins, passengers are led down to the platform, in order, to board the trains.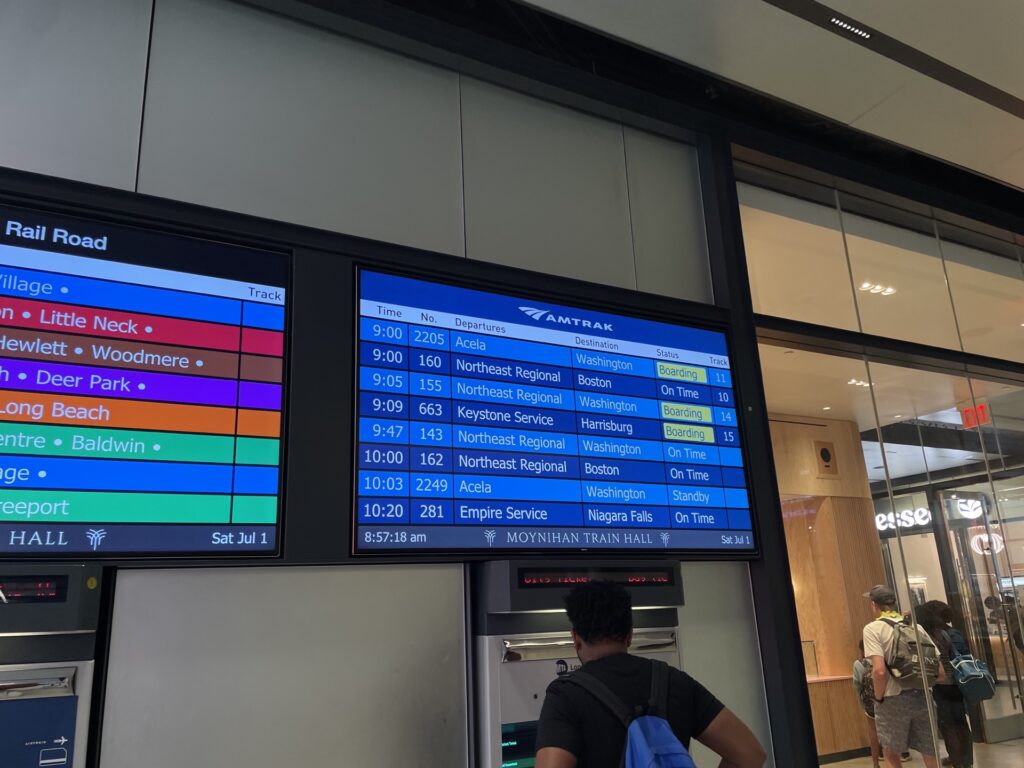 Getting to Moynihan Train Hall
You can get to Moynihan Train Hall at street level or via underground connections.
If you are approaching Moynihan Train Hall on foot or are planning to arrive via a rideshare or taxi service, the main entrance is on 31st Street mid-block between 8th and 9th Avenue. There are also entrances on all four sides of the building if you're coming from a different direction.
Moynihan Train Hall is easily accessible via subway. You can take the A, C or E trains to 34th Street Penn Station, which leads right to the train hall. You can also take the 1, 2 and 3 trains to 34th Street Penn Station, but that station is on the other side of Penn Station. If you get off here, walk through Penn Station underground or a block west on 33rd Street at street level.
At either subway station exit, follow signs toward Moynihan Train Hall.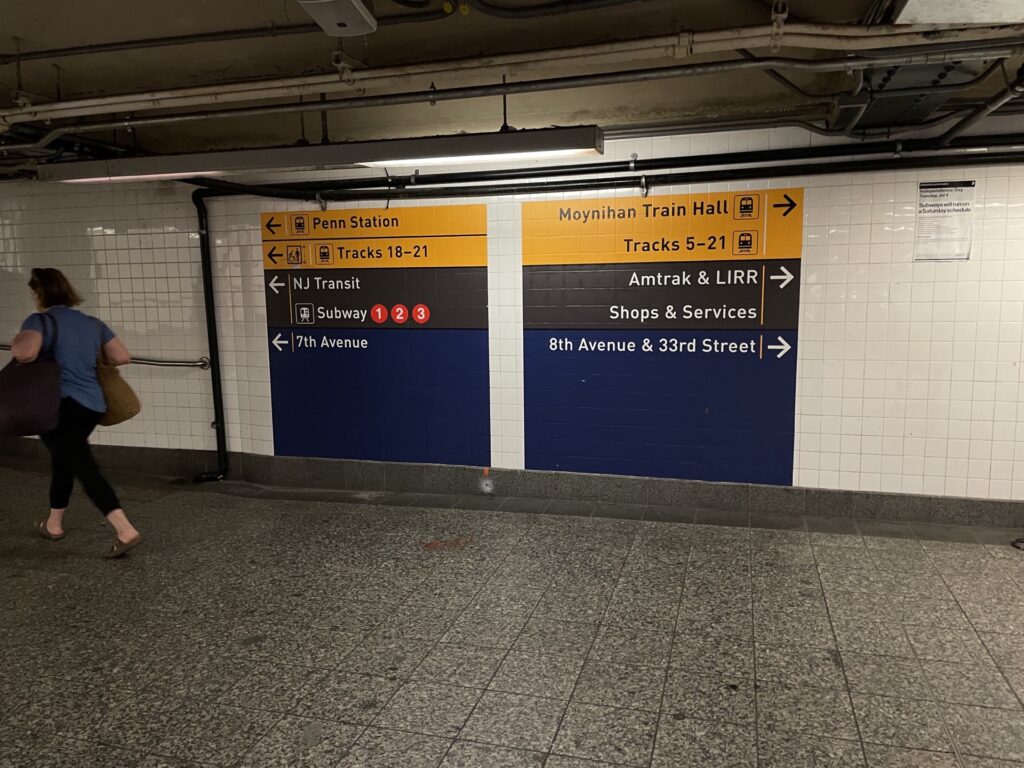 Amtrak Stations in Boston
Both the Acela and Northeast Regional Amtrak trains make two stops in Boston: Back Bay Station (BBY) and South Station (BOS).
Coming from New York City, Back Bay Station is the first stop in Boston. As the name suggestions, it is located in the Back Bay neighborhood, on Dartmouth Street just south of Stuart Street. This station is the smaller of the two, but can be very convenient if you're staying in that part of town or if you need to connect to the Orange line subway.
The second stop in Boston and final stop on both the Acela and Northeast Regional trains is South Station. (As such, it's also the first stop on both lines leaving Boston.) South Station is the main train station in Boston, located just south of Downtown. This station has connections to the Red line subway and MBTA Commuter Rail trains.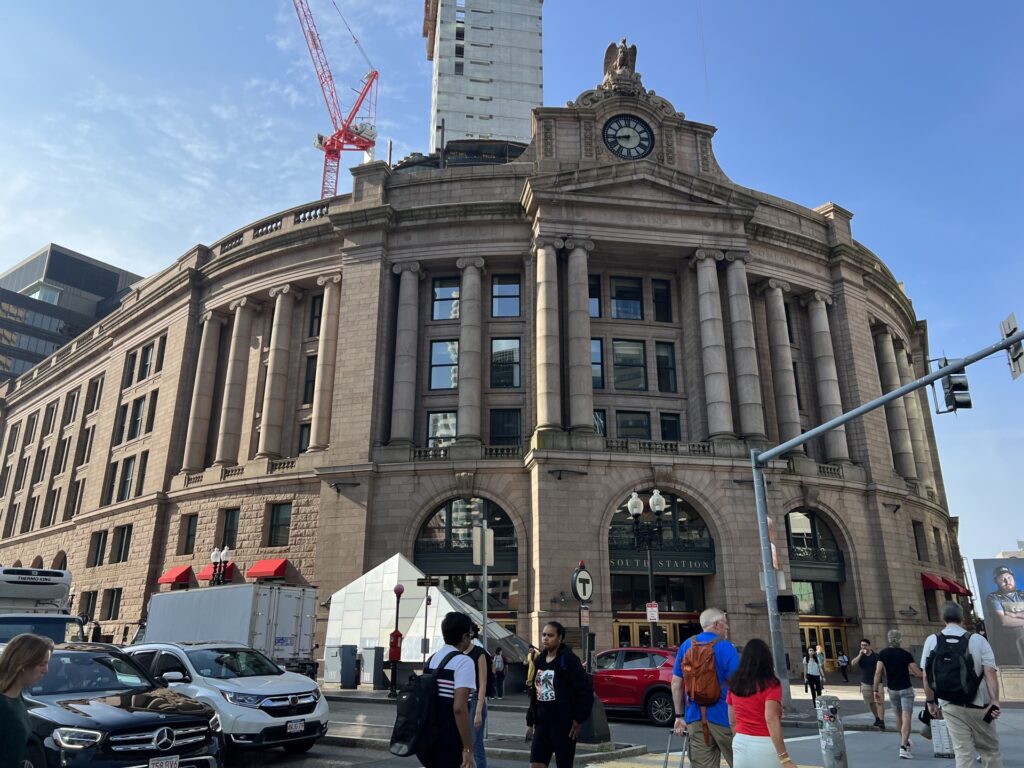 If you're traveling in Coach on Northeast Regional, I would suggest booking your round trip train ticket to South Station. For the journey to Boston, you can still get off early at Back Bay Station if that's convenient for you. (There is no price difference, and getting off early is never a problem.) But when you're leaving Boston, you can board at South Station (the first stop on the line) and have the best seat selection.
If you're taking the Acela (or First/Business Class on Northeast Regional), you can travel to either Boston station. Since these trains/classes have assigned seats, you don't need to worry about when you board.
Boston also has a third Amtrak train station, called North Station. The only Amtrak routes that operate from Boston's North Station is the Downeaster that runs between New Hampshire and Maine. No Amtrak trains from NYC stop at Boston's North Station.
Buying Amtrak Tickets
You can buy Amtrak tickets in advance online at Amtrak.com. The interface is pretty straight forward. First, select your origin, destination and dates, and then review the list of the trains. In the list view, you can see the train route (Acela vs Northeast Regional), time, and prices for each class.
You can chose between Coach, Business and First as available on each train. Then you will have the option to book a Value fare (25% cancellation fee and no changes) or Flex fare (cancel for full refund, free changes). We typically book the Value fare.
Outside of peak travel dates, trains do not often sell out entirely. However, prices do go up substantially the closer you get to your travel date. For example, if I look at a date two months in advance, there is a Coach fare on the Northeast Regional for $30 and a Business Class fare on the Acela for $195. Those same trains only one week in advance jump to $137 and $287, respectively.
For the trip discussed here, we purchased our tickets approximately 2.5 months before our travel date. We paid $327.50 roundtrip, which included Value fares for three Business Class seats on the Acela from NYC to Boston and three Coach seats on the Northeast Regional from Boston to NYC.
Amtrak Seat Selection
All Coach seats are open seating, meaning they are first come first served. You are not guaranteed seats together with your full party. Conversely, all seats on the Acela and Business and First Class seats on the Northeast Regional have assigned seats.
Unlike when you book a flight, you cannot select a seat at the time you book. A seat will automatically be assigned and listed on your ticket attachment in your confirmation email. Groups of 3 or 4 will have priority placement in the quad seats, however that is not guaranteed. If a party of 3 is seated in a quad, a single travel may be seated with you.
That said, you can modify your seat assignment at anytime for free. To do so, you will need to log into your Amtrak account, access your upcoming trip, and use the interactive seat map to select any available seat(s).
If you're interested in traveling in the Quiet Car, you will need to select those seat assignments here.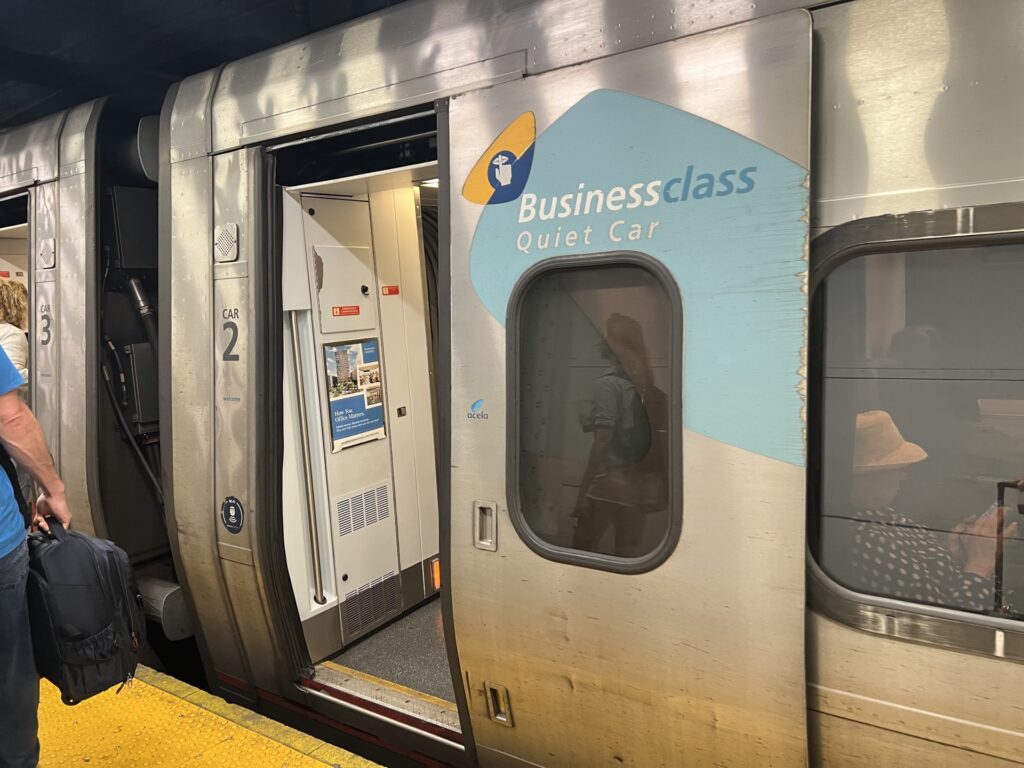 Taking the Train from NYC to Boston
In these next sections, we'll document our personal experience taking the Amtrak train between New York City and Boston. We'll start with our journey from New York City to Boston in Business Class on the Acela. Then, we'll cover our return trip in Coach on the Northeast Regional.
Boarding the Train in NYC
We were booked on Acela 2152 which was scheduled to depart New York at 8:55 AM. As general rule of thumb, you should plan to arrive at Moynihan Train Hall approximately 30 minutes prior to your scheduled departure. That is enough time to find your way to the concourse and figure out where you need to be. (And if you're good, it'll leave you with enough time to grab a coffee or a snack.)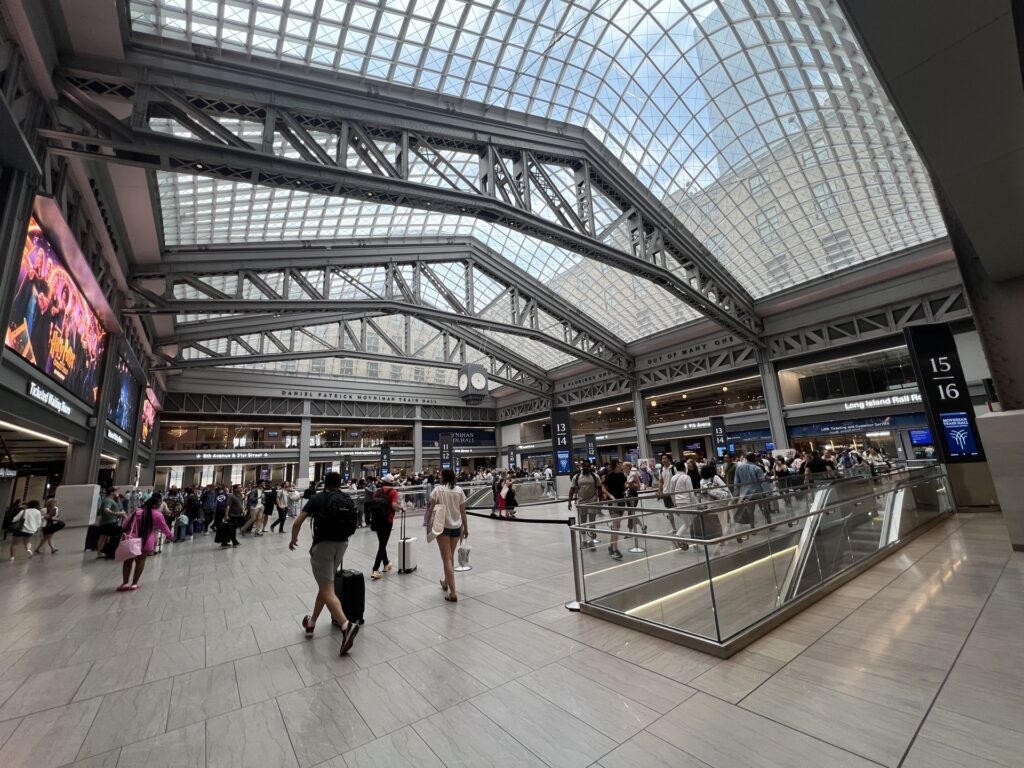 We took the subway into Manhattan from Queens, and arrived at Moynihan Train Hall around 8:15 AM. There is a lounge at the station, but access is limited to First Class passengers. (You can read a review of the Moynihan Train Hall lounge here.) Our track wasn't posted yet, so after grabbing a quick breakfast and a coffee, we made our way to the general passenger seating area.
This waiting area is for ticketed passengers only. It's a comfortable and spacious area with lots of seating and a separate bathroom. Other than the food hall, this is the only real seating space in the station.
The only downside to waiting in the passenger area is that it tends to be full of passengers that are all riding on the same train. So when the track is announced, a large number of people all try to funnel out at the same time.
We decided to leave the waiting area about 10 minutes prior to our scheduled departure. We watched the board for our track assignment from the concourse. That way, we could quickly walk to our track and beat the rush. Even though we had assigned seats, we still wanted to board early.
Our train was slightly delayed, and we were called to board approximately 10 minutes after our scheduled departure. Once our track was announced, we quickly got in line. We were pulled aside for early boarding because we were traveling with a toddler, but there is no priority boarding for Business Class alone (because most of the train is Business Class.)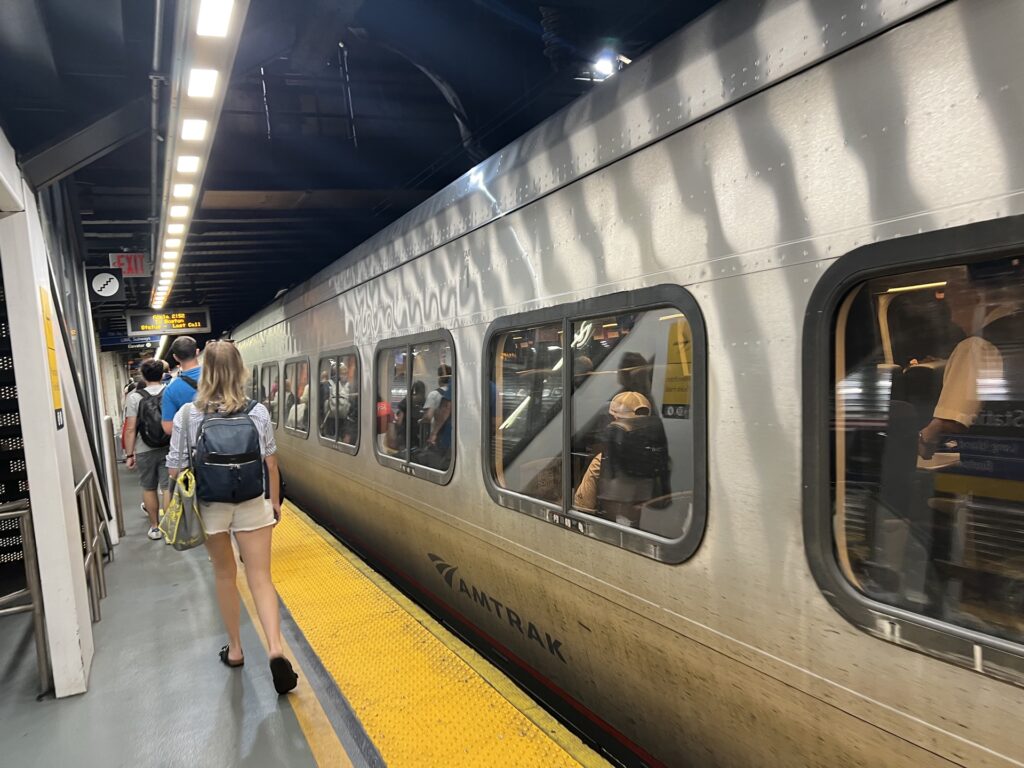 Riding the Acela Business Class from NYC to Boston
After a short trip down the escalator to our platform, we boarded our train. The train cars and seats were all clearly marked, and we had no problems finding our seats.
As a party of three (two adults, one child), we were assigned seats at one of the quads. The fourth seat was occupied by a solo traveler. Had we realized at the time that we could change our seats, we probably would have selected seats in a standard row, with two of us together and the third across the aisle. That way we wouldn't need to worry quite as much about our toddler accidentally spilling their yogurt onto our seatmate's laptop.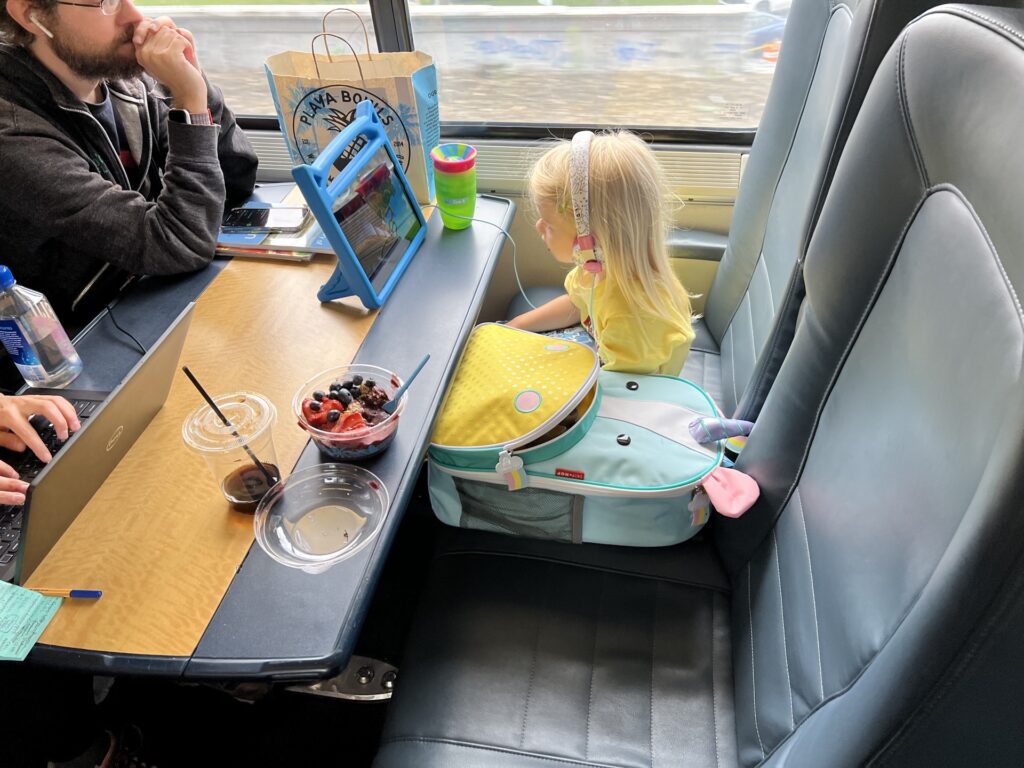 The seats were essentially the same in the quad as they were in the regular 2-2 rows. They are large and plush, covered in a faux leather and recline slightly. They are much more spacious on all accounts than a typical airline seat. The quad seats have a table in the center, while the 2-2 seats have tray tables that fold down from the seat in front.
Outlets are located along the side of the train and are accessible to each row of seats. However, if you are seated in the aisle, you may have to reach over someone seated by the window. We had no problem helping our seatmate use the outlet as needed.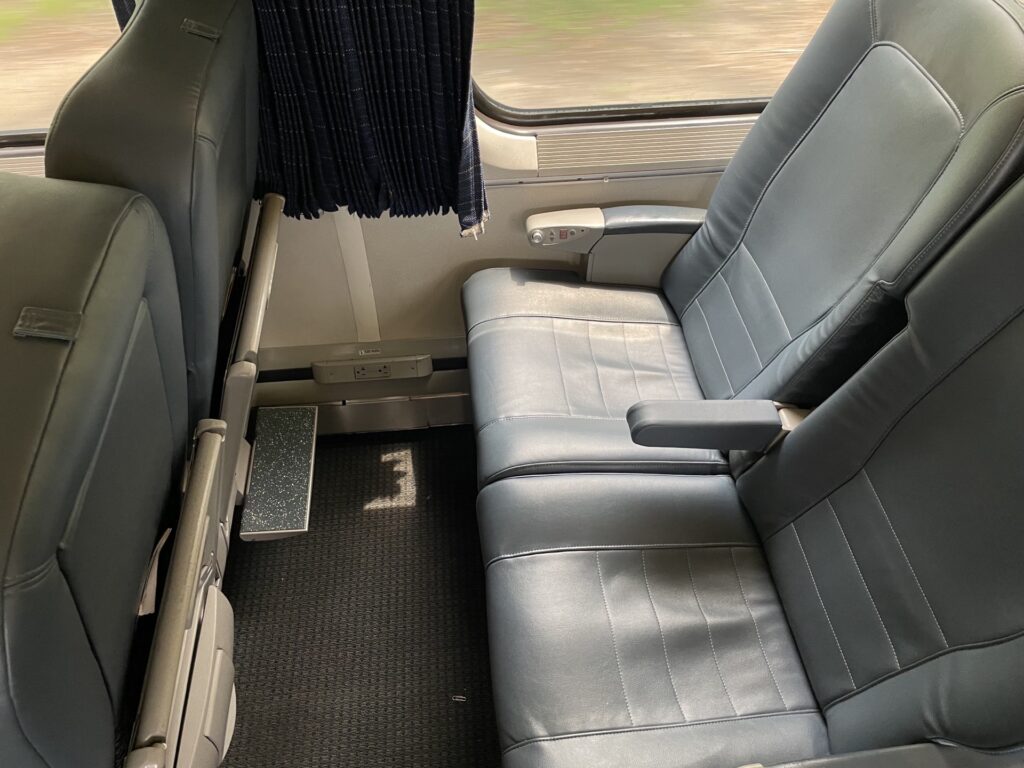 After about an hour, we ventured to the cafe car. The cafe car on the Acela train actually feels like a true cafe. There is barstool seating for eight, as well as standing room and high-top tables around the car.
The cafe cafe on the Acela has a pretty large menu including fresh prepared food, packaged snacks and hot and cold drinks, including alcohol. They accept cash & credit cards on all Amtrak cafe cars. I won't list all of the options, but here's a glimpse at some off the available items.
Egg white & cheese sandwich: $6.50
Turkey & Asiago or Sun-dried Tomato Caprese sandwich: $8.50
Beef Cheeseburger or Vegan BBQ Burger: $8.50
Cheese & Cracker Tray: $6.75
Peanut M&Ms: $3
Starbucks Coffee: $3
Cavit Pinot Grigio: $14.75
Blue Moon: $7.50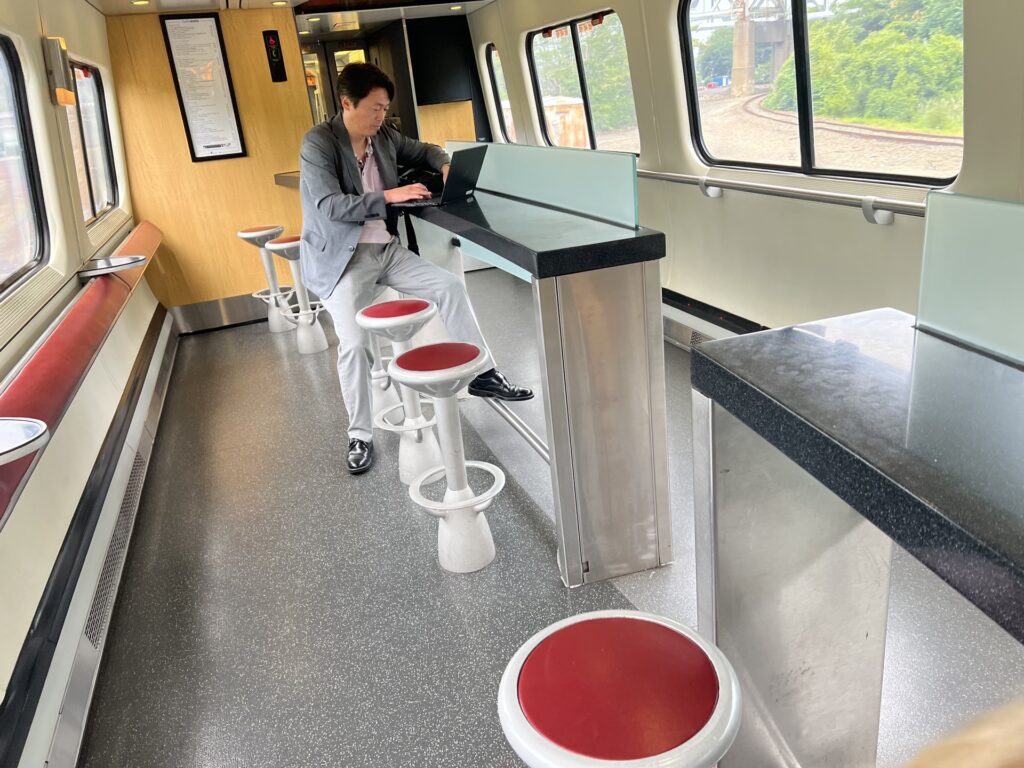 Both routes follow the same coastal track line, and let me tell you: it's beautiful. The views on the train ride between NYC and Boston were incredible! I'd highly recommend grabbing a seat on the east side of the train (right side in the direction of travel to Boston and left side from Boston.) If you are sitting on the other side, make your way to the cafe car and watch from there. My favorite portion was around Mystic and Stonington, CT.
Our train was scheduled to arrive at 12:47, and we pulled up to South Station just a minute or two later. The total travel time was approximately 3 hours 52 minutes. The journey was very pleasant and we were now excited to spend a weekend in Boston.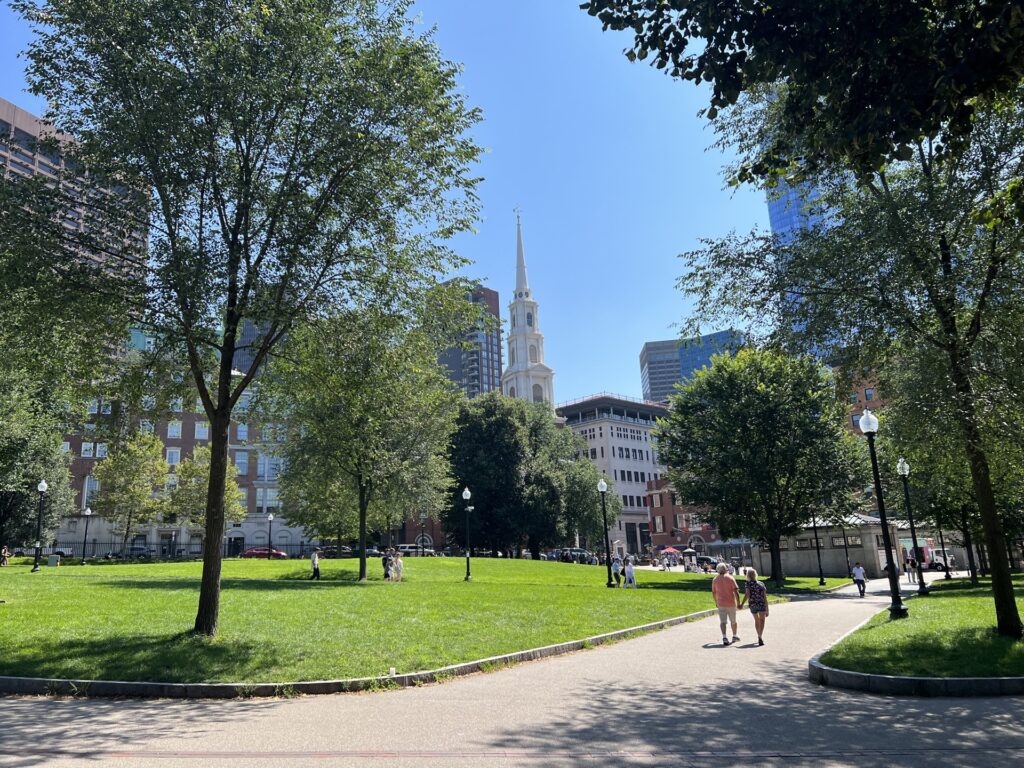 Boarding the Amtrak in Boston South Station
After a few days in Boston, we were ready to take the train back home to NYC. For our return trip, we were booked in Coach on the Northeast Regional. Coach is all open seating and we wanted three seats together, so we planned to get to the station early so we could board early. (If this is important to you, be sure to travel out of South Station.)
Our train was scheduled for 9:15 AM and we arrived at South Station at 8:40 AM. (Again, the rule of thumb on Amtrak is arrive at the station 30 minutes before departure.) Relative to Moynihan Train Hall, South Station is pretty small, with a just handful of restaurants and some seating inside. Similarly to Moynihan though, they do not announce the track numbers until shortly before they are ready to board.
If you're traveling on Amtrak out of South Station though, there is sometimes a hack for this. If you walk toward the platforms, you can see the different trains lined up. South Station serves both Amtrak and the regional commuter rail, and its easy to tell which is which (they're labeled). If there is only one upcoming Amtrak train scheduled, you'll likely only see one Amtrak train at one of the platforms. It's often a safe guess that it will be yours. This is what we did.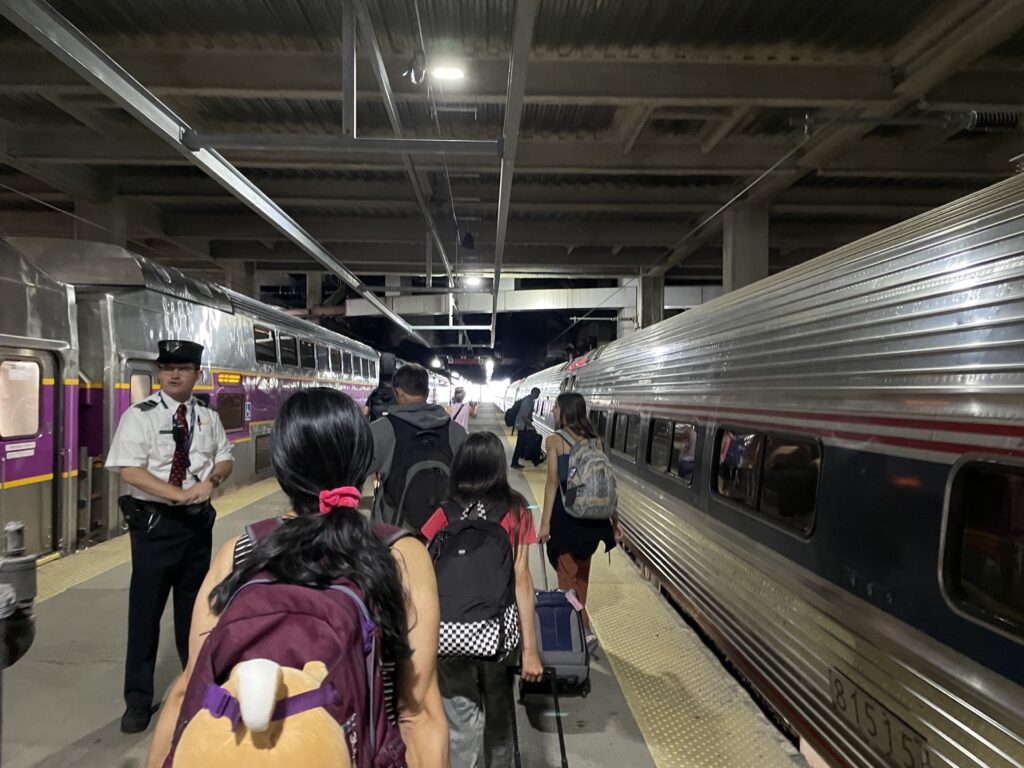 After confirming that it was in fact our train, we joined the queue that was forming on the platform. We were in line well before the track was announced to passengers waiting inside for the board to update. If you really want to board first, you might try this. Otherwise, they will make an announcement and update the board, and you can just head to the train then.
We boarded the first Business Class car and grabbed a quad seat together. As we're watching countless passengers pass by and board the train, the conductor makes a dreaded announcement, "You are seated in the quiet car."
Our toddler is a good traveler, but not quiet car good. Frustrated that we'd wasted our early boarding advantage, we rushed off the train and up a few cars. Luckily, we found another quad at the front of that car and all was well. (As it turned out, most travelers were in pairs and the quads were not actually in that high of demand.)
Let that be a lesson, though — be sure you know where the quiet cars are. On the Northeast Regional, the quiet car is always adjacent to the Business Class car. On the Acela, the quiet car is adjacent to First Class.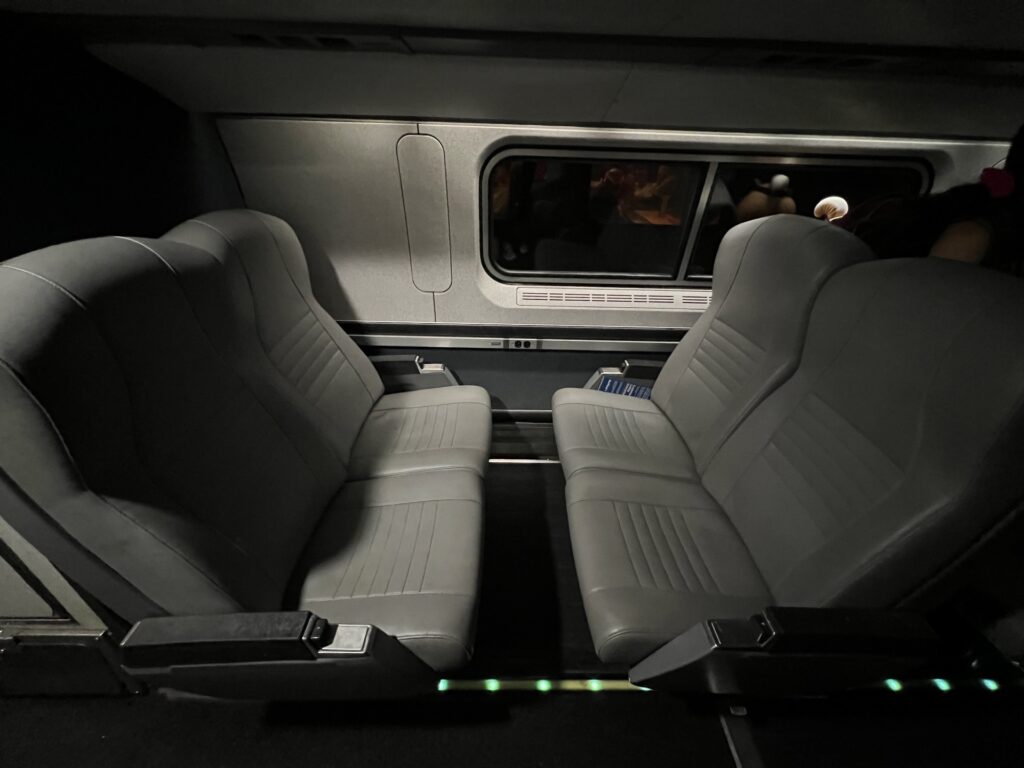 Riding the Northeast Regional in Coach from Boston to NYC
I know that the Acela seats are technically nicer and bigger, but the Northeast Regional Coach seats are still pretty dang good. I do think the pitch is a touch tighter, but still roomy enough. The seats are equally plush, covered in a vegan leather with slight recline available.
There are outlets along the side of the train, accessible to each row. This is nice, but just like on the Acela, it can be a little awkward if you're in an aisle seat and need to reach over a stranger in the window seat to charge.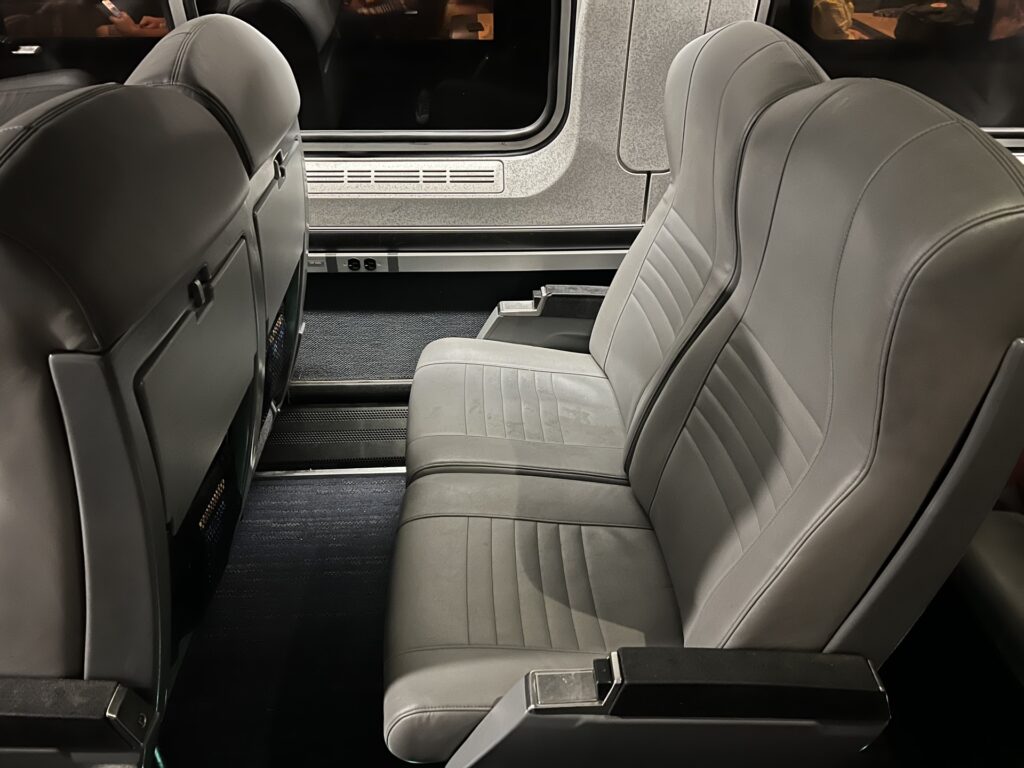 There are quad seats at the front and back of most of the cars. They are similar to the Acela quads, but they don't have a table in the center. The 2-2 seats have tray tables that fold down from the seat in front. In my experience though, these tray tables often don't lower to be completely flat, so you can't always trust a drink or use a laptop.
The Northeast Regional makes more stops, which we definitely noticed. There was a constant ebb and flow of passengers and a lot more announcements. About halfway through the trip, we had a solo traveler take the fourth seat in our quad. That was honestly a relief because I no longer had to clear my things off the seat at each stop for the chance that someone wanted to sit there.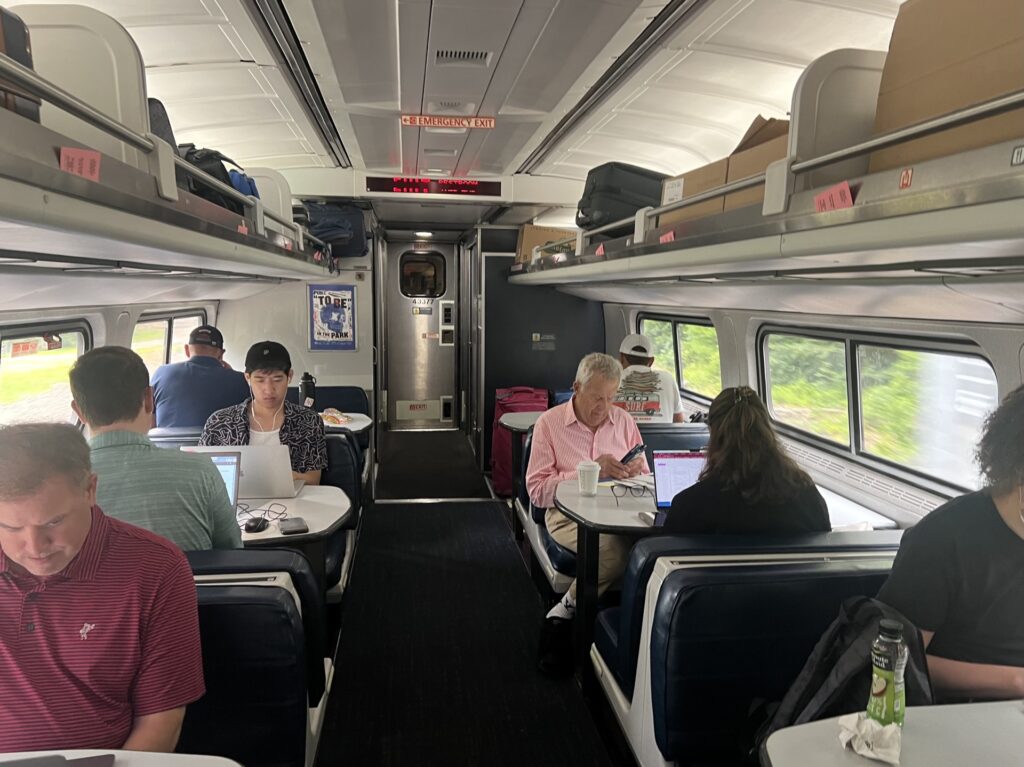 The Northeast Regional also has a cafe cafe, though it looks a lot different than the Acela. This cafe car had booth seating, which meant more overall seats but less standing room. To the best I could tell, the menu selection and pricing was the same on both the Acela and the Northeast regional.
The views on this train between Boston and New York were just as beautiful as our previous journey. We sat on the left side of the train in the direction of travel, so we could enjoy them the whole way. It was a little misty out this morning and it felt very New England.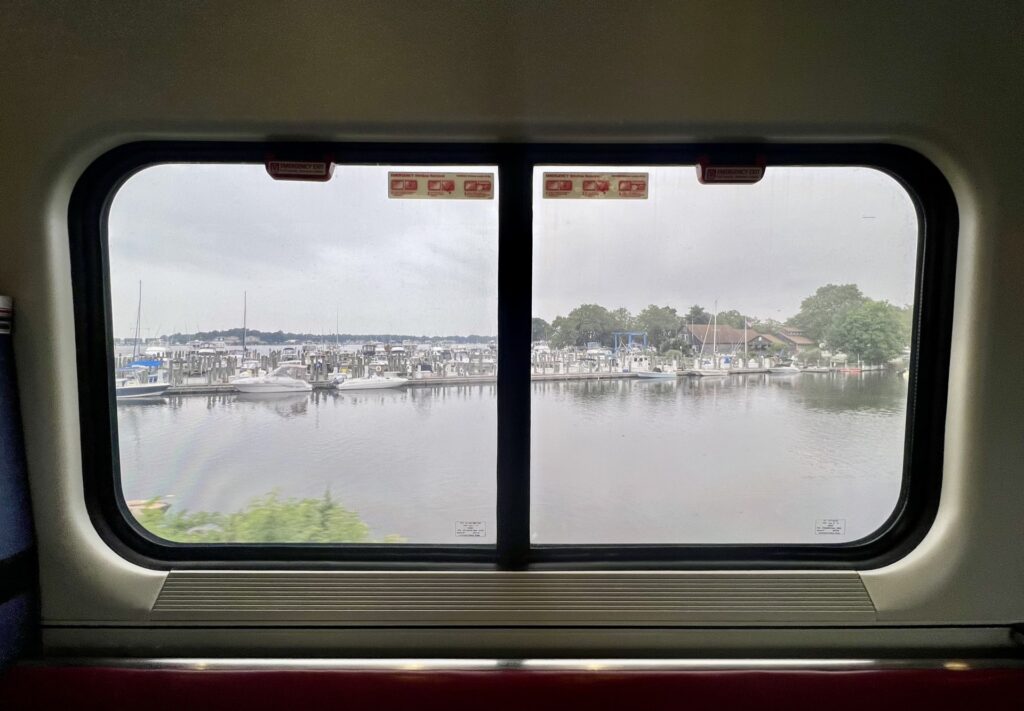 Our train was scheduled to arrive in New York City at 1:48 PM. We were slightly delayed and arrived closer to 2 PM. The total travel time was approximately 4 hours 45 minutes. That was almost a full hour longer than our trip there on the Acela, which took 3 hours 52 minutes.
Onward Service
Both the Northeast Regional and Acela trains terminate in Boston, but New York City is not the end of the line for either.
The Acela train continues south to Washington, DC. The total route from Boston to DC takes about 7 hours and runs serval times throughout the day.
The Northeast Regional train goes toward DC and then splits, with one route terminating in Roanoke, VA and the other in Norfolk, VA. The full route from Boston to Roanoke takes 14 hours and only runs once a day. The full route from Boston to Norfolk takes about 13 hours and runs twice daily.
Which is the Better Train from NYC to Boston: Acela vs Northeast Regional
I loved taking the train from NYC to Boston. The train stations in both cities were centrally located and the boarding process in both was very well organized. Once on board, the journey on both trains was comfortable and very relaxing, not to mention the great views.
As covered here, we rode the Acela Business Class from NYC to Boston and Northeast Regional Coach class from Boston to NYC. So which one is better?
The Acela is without a doubt the nicer experience. While both trains have roughly the same onboard experience (including nice seats, cafe car, wifi and outlets), the total travel experience on Acela is better. It's faster, makes fewer stops, and has assigned seats, all of which makes the trip much more relaxing.
If the Acela and Northeast Regional were the same price, I'd choose the Acela every time. Unfortunately, they're not; the Acela is substantially more expensive. A round-trip weekend ticket (booked 3 months in advance) costs over $300 on Acela while a comparably timed trip on the Northeast Regional costs $91.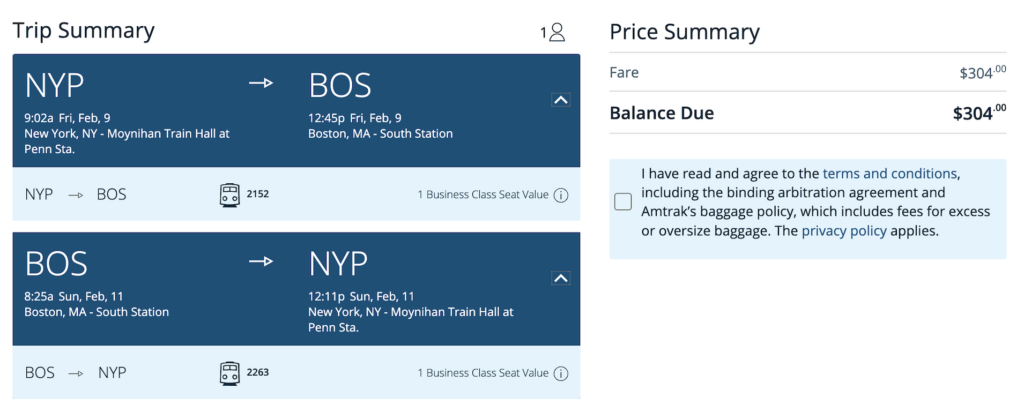 Is Acela really worth the 300% up charge? I'm going to say yes.
Speed, ease and comfort can easily make the difference between a good travel day and a bad travel day. For a short weekend trip, your travel day experience matters. If you're traveling with a family, knowing that you have seats together without having to get there early and stand in line is huge. If you're traveling for a short weekend trip, that extra hour on each end of your trip could mean you enjoy 2 more meals in Boston. It overall makes for a big difference in creating a better travel day.
If you're taking the train from NYC to Boston, I would recommend upgrading to the Acela. However, if that's unrealistic for you, the Northeast Regional is perfectly fine! In fact, it's probably even better for solo travelers or anyone who doesn't mind spending a little extra time on a train.