A day trip to Niagara Falls is the perfect addition to any Toronto itinerary. The journey is pretty quick and the stunning waterfall is completely worth the effort. One day is just the right amount of time to spend at Niagara Falls, too.
In this post, we'll walk through a perfect day trip to Niagara Falls from Toronto. We'll start by explaining exactly how to take the train and a short bus right to the top of the falls. Then we'll detail how to fill your day with the best experiences in the area. Finally, we'll help you get back to the train for your return to Toronto.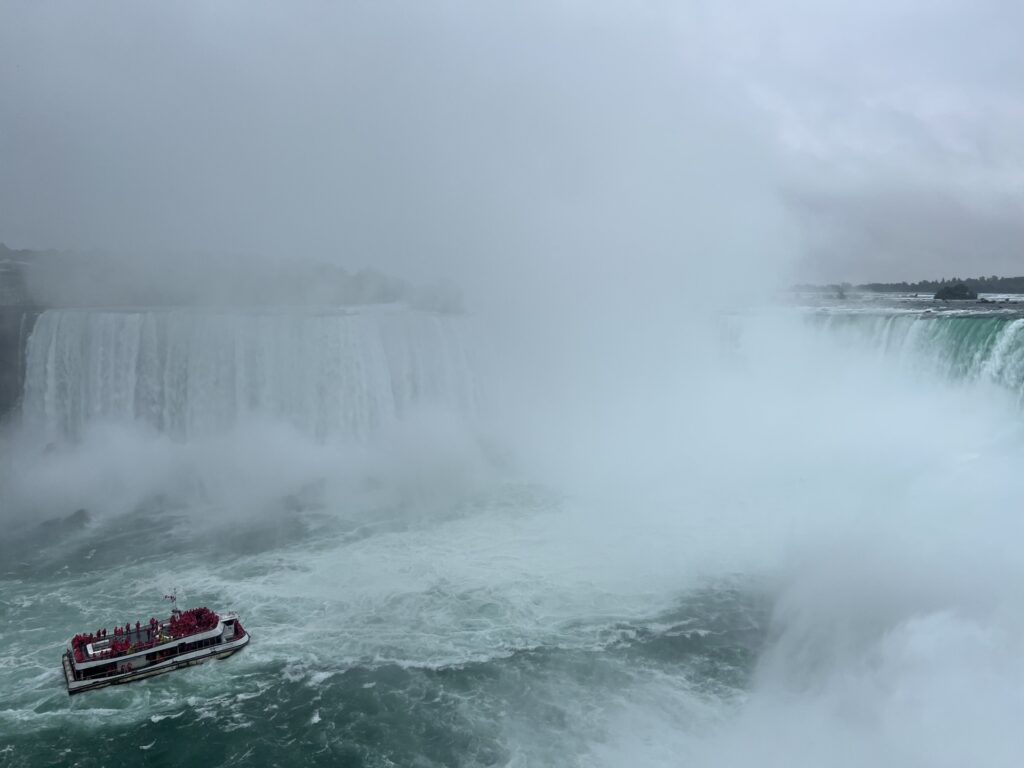 Train from Toronto to Niagara Falls
There are a few different ways to get to Niagara Falls from Toronto, including car, bus or tour group. One of the best options, though, is by train.
The train between Toronto and Niagara Falls is operated by Via Rail. (This train's full route actually goes all the way to New York City, and it's co-operated by Amtrak for US-bound passengers.) The trip takes about 2 hours, and there is only one train scheduled in each direction each day.
Toronto Union Station to Niagara Falls — 8:20 AM to 10:20 AM
Niagara Falls to Toronto Union Station — 5:45 PM to 7:45 PM
*Schedules may change. Refer to Via Rail directly for the most updated information.
You can book train tickets online in advance on the Via Rail website. Tickets don't often sell out and are usually available for purchase the following day. However, there's a limited number of tickets available at each price point, which range from $50 – $150+ per person (roundtrip). If you're traveling during peak season (summer), waiting until the last minute might be much more expensive.
When you arrive at Toronto Union Station, follow signs for Via Rail. When you reach the main hall, check the board to confirm the track number for your train and head to the queue by that track.
The train is all open seating, and they do board the queue in order. It's beneficial to be near the front of the line for the best choice of seats. I'd recommend getting to Toronto Union Station at least 30 minutes early, especially if you're traveling with a group.
I arrived at 7:51 AM and was pretty close to the gate. By 7:56 AM, the queue behind me reached back through most of the hall. If you're at the back of the line, you'll still make the train, but your party might not find seats together.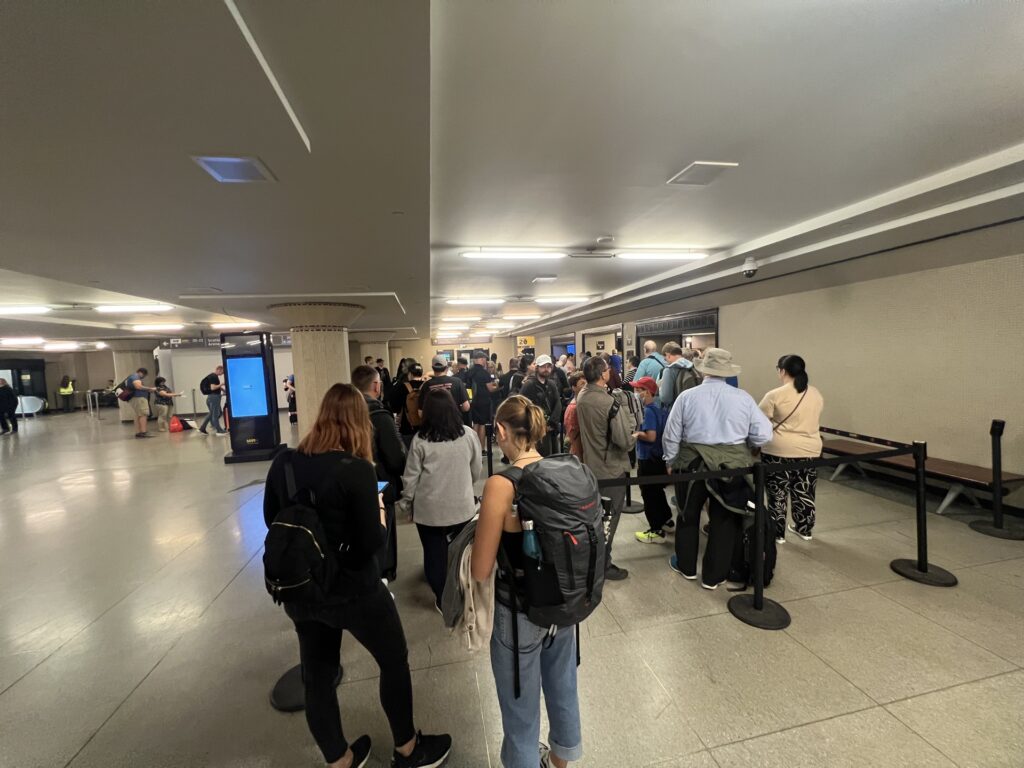 They began boarding the train at 8:08 AM and we departed right on time at 8:20 AM.
The train itself is nice and very comfortable. There are seat-back tray tables and two AC outlets at each seat. There's a cafe car on the train that was open for most of the trip, but it had a pretty limited menu. Bathrooms are available onboard, but they got pretty gross pretty quick. The train did not have wifi and cell service was spotty, so be sure to download any entertainment in advance.
Our train was right on time and we pulled into Niagara Falls Station just after 10:20 AM.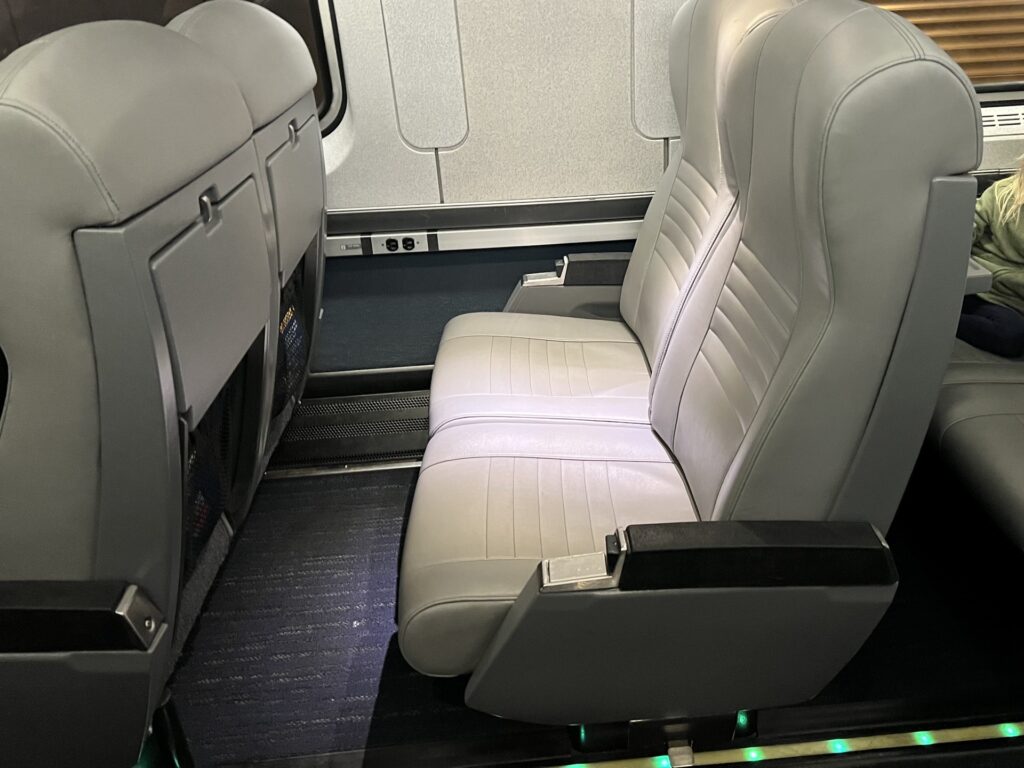 Bus from Niagara Falls Train Station to Table Rock Welcome Centre
The Niagara Falls train station is about 2.5 miles north of the actual falls.
One way to cover the distance is to walk, which is a beautiful 1-hour trip that mostly follows the Niagara River. Another option is to take a rideshare or one of the many taxis that will be waiting at the station when the train arrives. An economical and kid-friendly (aka no carseat required) option is to take the bus.
The WEGO bus is a hop-on-hop-off style bus that serves the Niagara Falls area. There are a handful of different WEGO lines, but the Green route runs between the bus depot (directly across from the train station) and the falls area every 15 minutes throughout the day.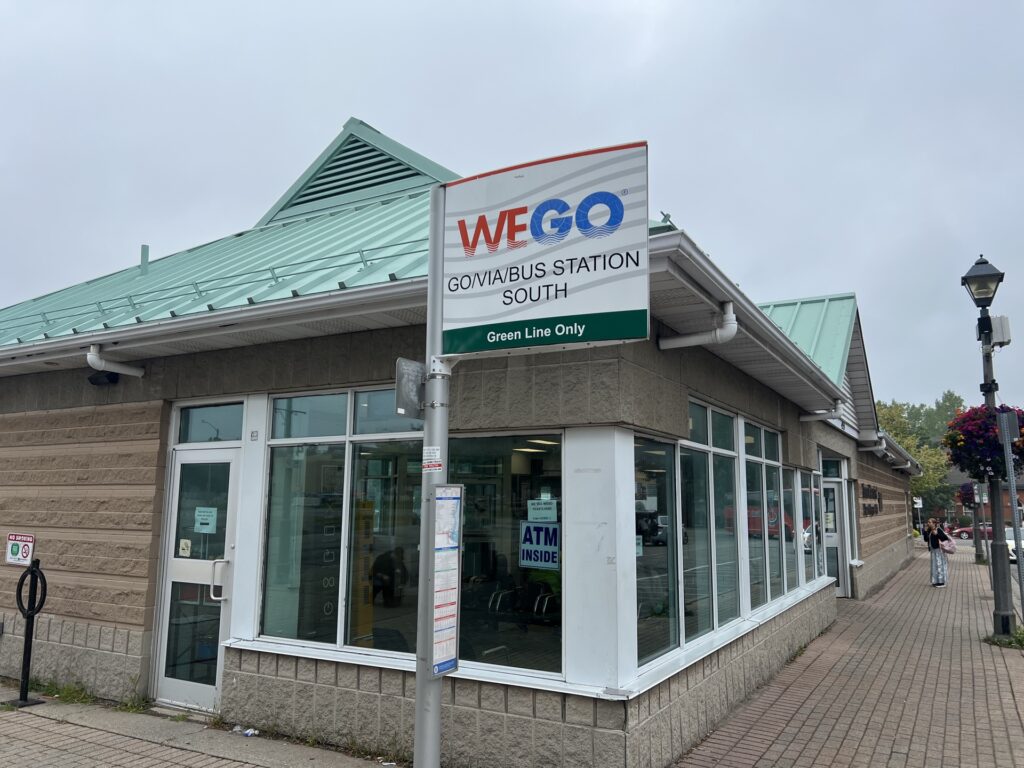 You can buy tickets for the WEGO bus at the bus depot. There is not kiosk, so you'll have to buy them from the agent and you must pay cash. They accept US or Canadian currency, and there's an ATM inside the depot. Tickets are a steep $12 CAD for adults ($8 CAD for children 3-12), but they're valid for unlimited rides for 24 hours. If you follow this itinerary, you'll end up riding at least twice.
The line for tickets did get long fast, so try to get there quickly after you get off the train. However, if you just missed a bus (like we did) and the next one doesn't come for 15 minutes, it doesn't really matter. When the bus did come, it was a double-length city bus. There was enough room on the bus for all of the waiting passengers to board and have a seat.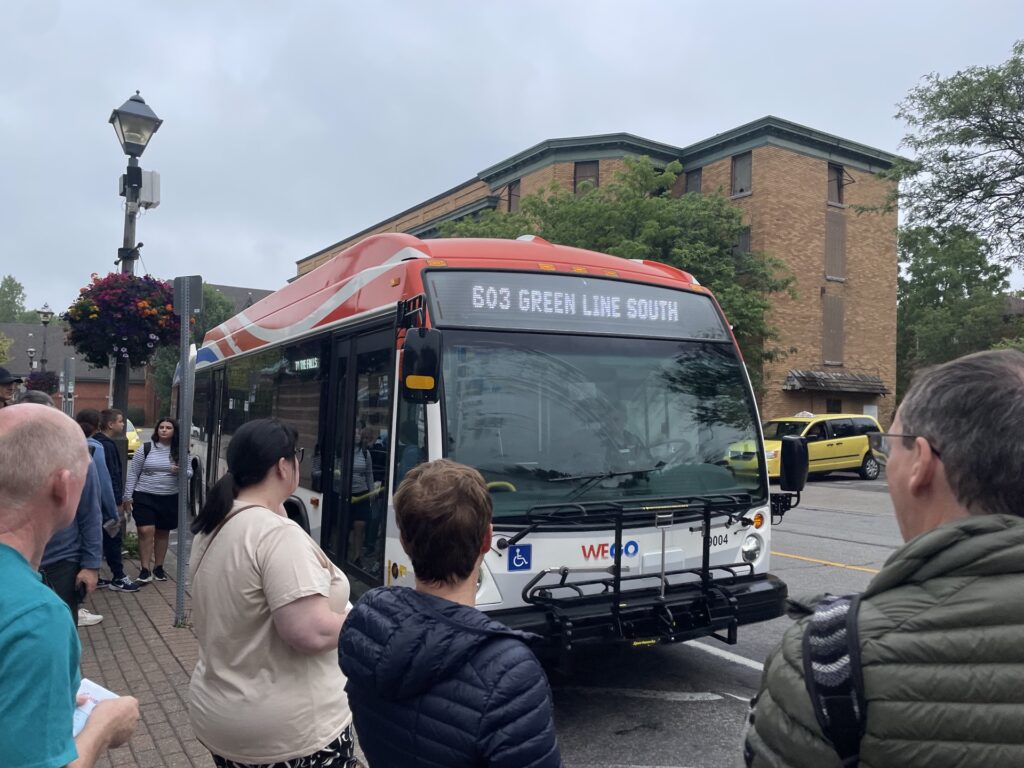 There are four main bus stops near the waterfalls.
Clifton Hill: Get off here for restaurants and non-waterfall entertainment
Grand View Marketplace: Get off here for Niagara City Cruises
Queen Victoria Place: Get off here for this specific shopping and dining destination or Skylon Tower
Table Rock Centre: Get off here for the Horseshoe Falls viewing area, visitor center and Journey Behind the Falls
If you're following this itinerary, get off the bus at Table Rock Centre. The ride takes about 20 minutes.
Niagara Falls Viewing
There are two main waterfalls at Niagara Falls. American Falls is the smaller of the two, but in any other scenario would be a spectacle on its own. Then there is the famous Horseshoe Falls, for which most people flock to Niagara Falls to see. This 2,590-feet wide, u-shaped waterfall dumps more than 700,000 gallons of water every second.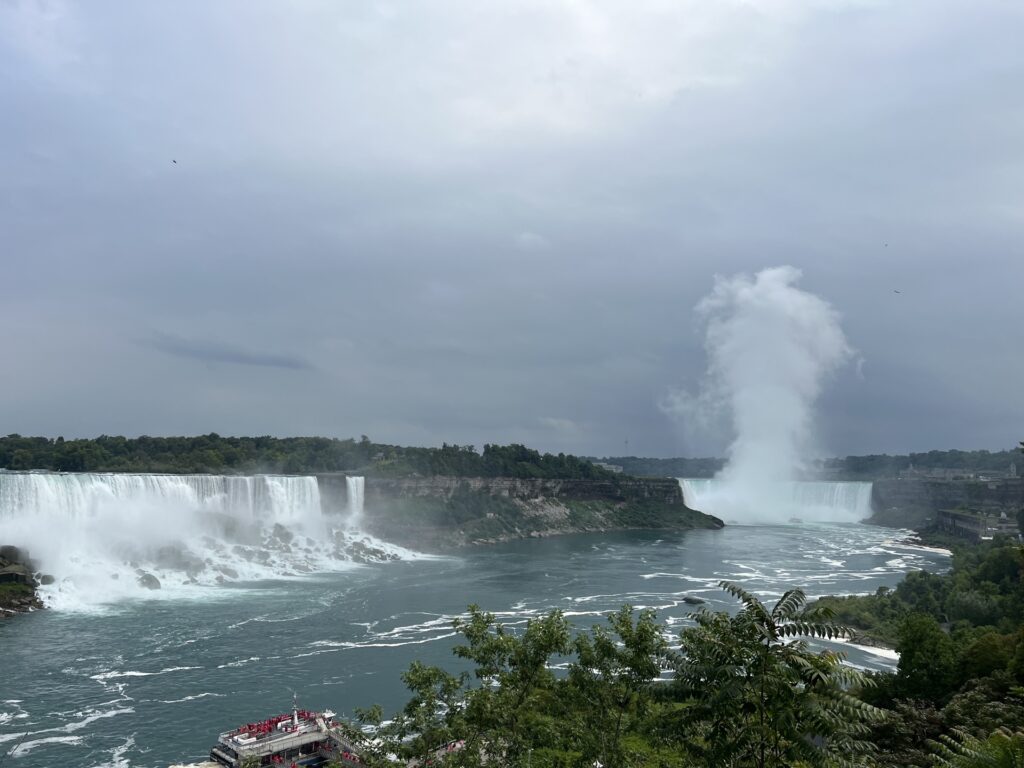 You can view both falls from Fallsview Trail, a pedestrian pathway that follows the Canadian side of the Niagara River at street level. The viewing area extends from the top of the falls near the visitor center well past Rainbow Bridge (which crosses between the US and Canada).
You will get different views of the falls from different points along this trail. I'd suggest walking around a bit to see it from a variety of angles. The viewing areas can be crowded, but they tend to ebb and flow. You can get a front row spot in most spots with a little patience. (If you're following this itinerary, don't venture too far from Horseshoe Falls just yet. We'll head closer to American Falls a bit later.)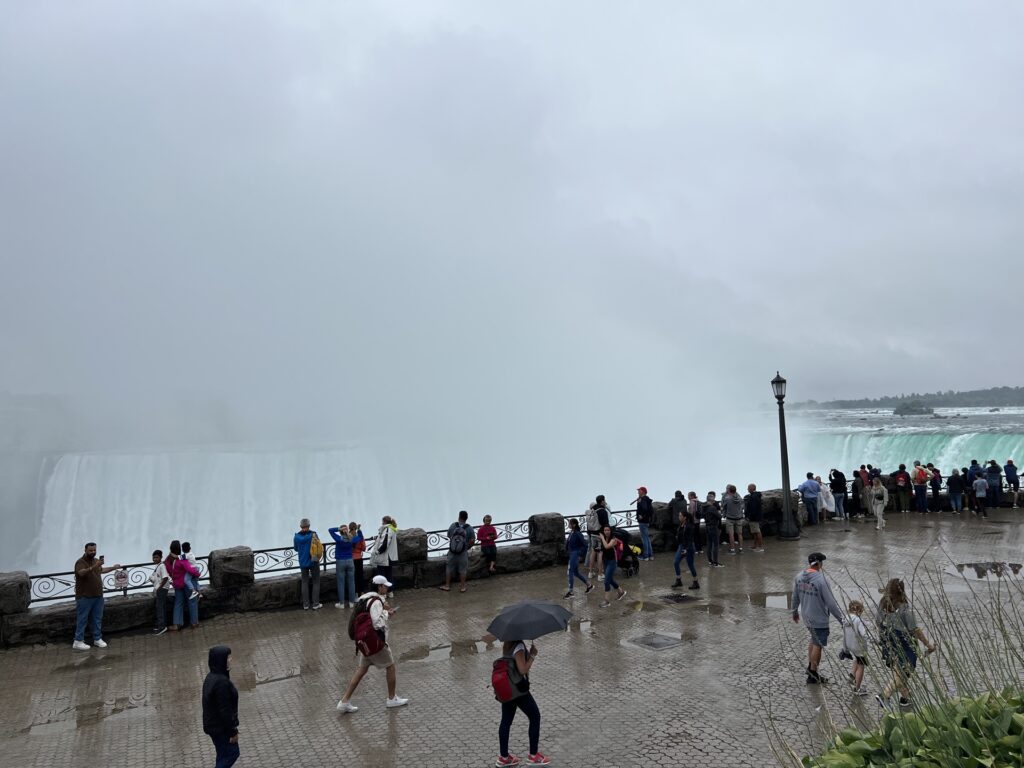 Another thing that can impact your view is the mist that Horseshoe Falls is notorious for. This mist can block the view of the falls entirely sometimes, and blasts wildly high in the air. The mist levels vary based on the wind and weather and can changes drastically throughout the day and season.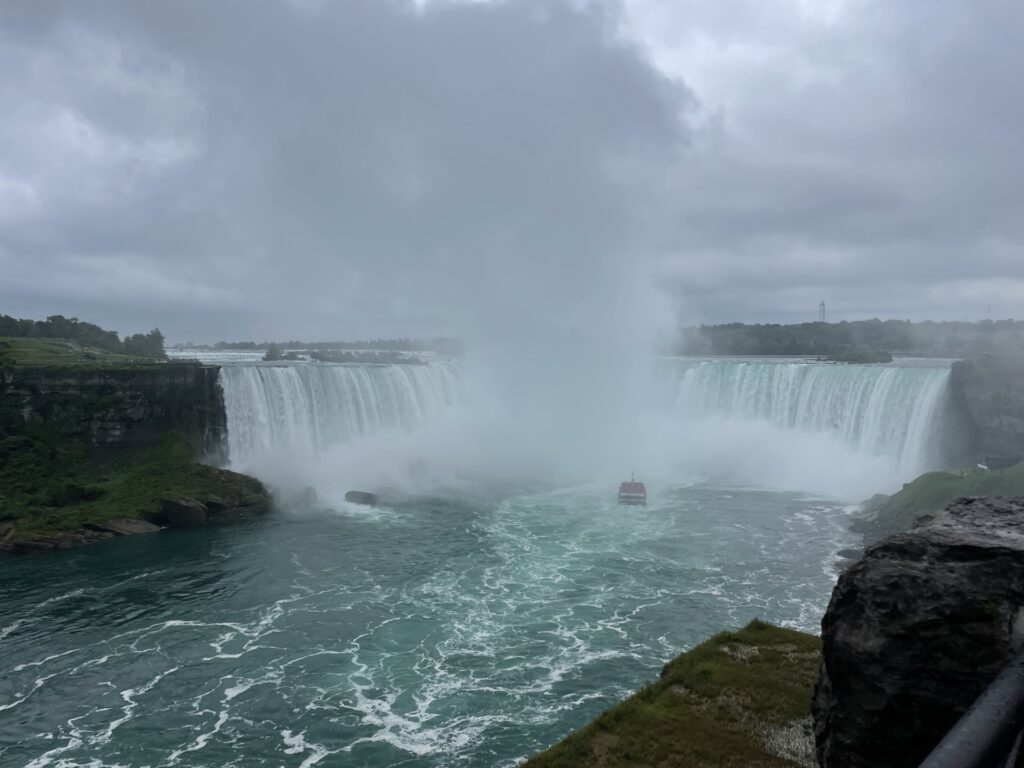 Table Rock Centre
The main visitor center for Niagara Falls on the Canadian side is Table Rock Centre. It's located right near the top of Horseshoe Falls.
It's a large visitor center with a handful of quick-service restaurants, shops, bathrooms. There's an information desk where you can get brochures and book tickets for local attractions. The visitor center is also where Journey Behind the Falls begins.
If you are just arriving from the train, this is a good place to grab a quick, early lunch. There are better restaurants in town, but it's a bit of a hike to get to them. Despite the poor reviews on Google, we had a fine experience eating here. There's a good variety of foods, including vegetarian and kid-friendly options, and plenty of seating.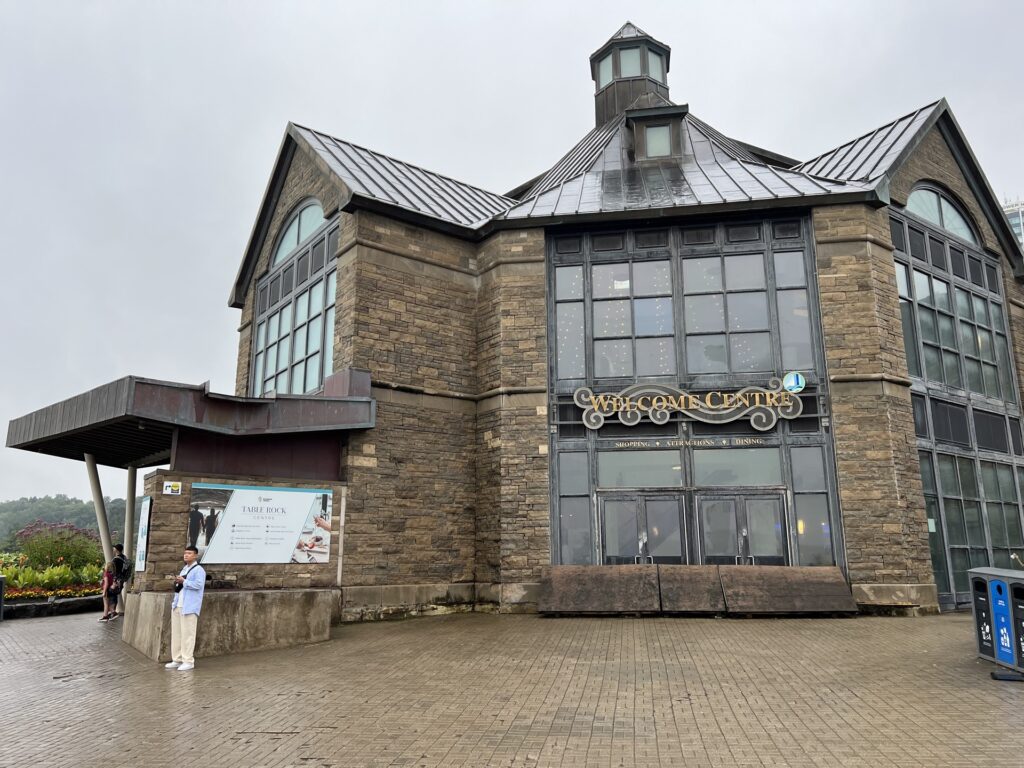 Journey Behind the Falls
Journey Behind the Falls is a ticketed experience that offers some of the very best views of Horseshoe Falls. The journey begins with an elevator ride down to the base of the falls. A series of short, underground tunnels will guide you to a viewing area behind the falls and a two-level viewing deck right below the waterfall.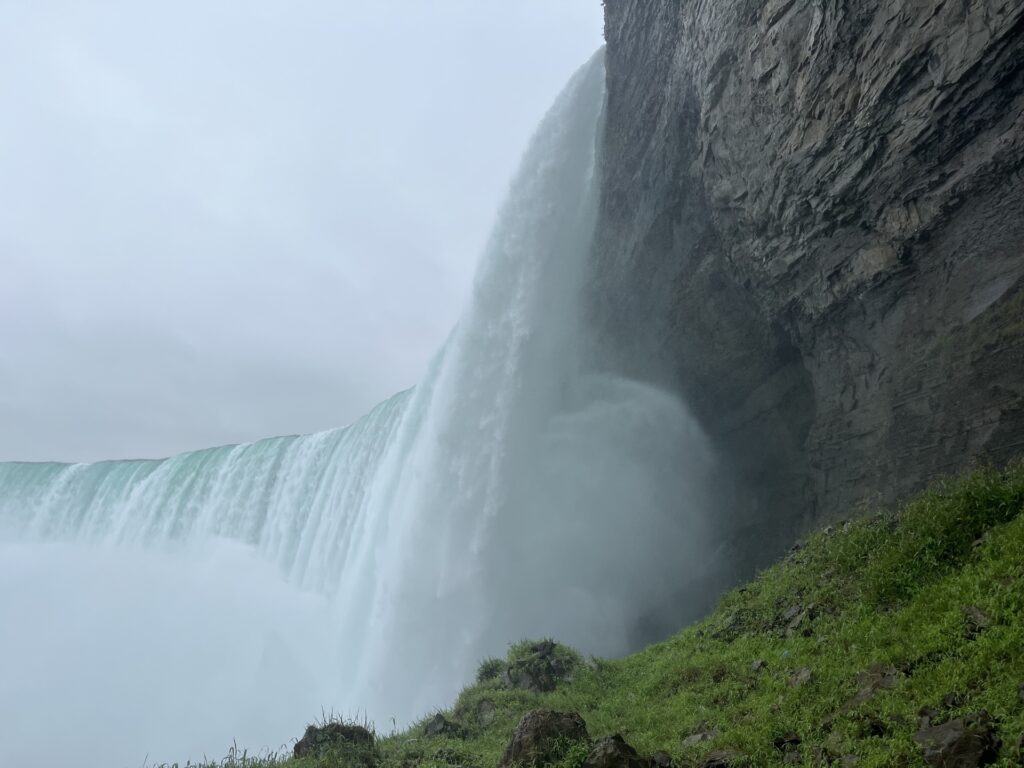 You can buy tickets near the attraction entrance inside Table Rock Centre or online in advance. Tickets cost $24 CAD for adults and $16 CAD for children 3-12 (and worth every penny). You must select a specific date and one-hour time slot when you book your ticket. You can enter anytime within your window. Tickets usually do not sell out and are typically available for the same day at most times.
The view from behind the falls is unique, but the view from the base of the falls is definitely the most impressive. The platform is really close to the water, so depending on the wind you'll either get wet or really wet. Your ticket includes a complimentary poncho, so you'll definitely want to put that on.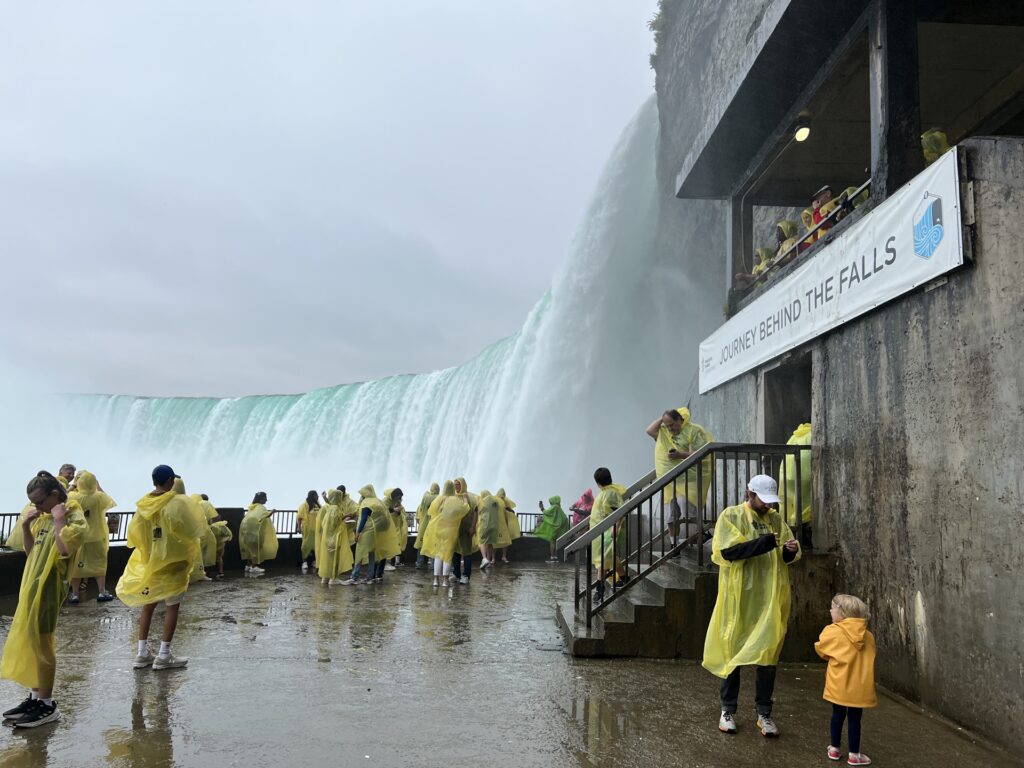 Because it's so wet at the front of the viewing deck, there was pretty high turn over there. That gave everyone a chance to grab some great photos. After you've taken your photos, I'd suggest moving back to the dryer side of the platform and sticking around for a bit. You can stay as long as you like and the views don't get any better than this.
I cannot tell you enough how much I adored this experience. I wasn't even that excited about Niagara Falls before, but after seeing it up close I was in awe. Journey Behind The Falls gives you the best up-close views of the falls in the most relaxed setting. It was completely worth the ticket price and something I would definitely consider a "must-do" in Niagara Falls.
We spent about 45 minutes at Journey Behind the Falls from check-in to exit at the gift shop.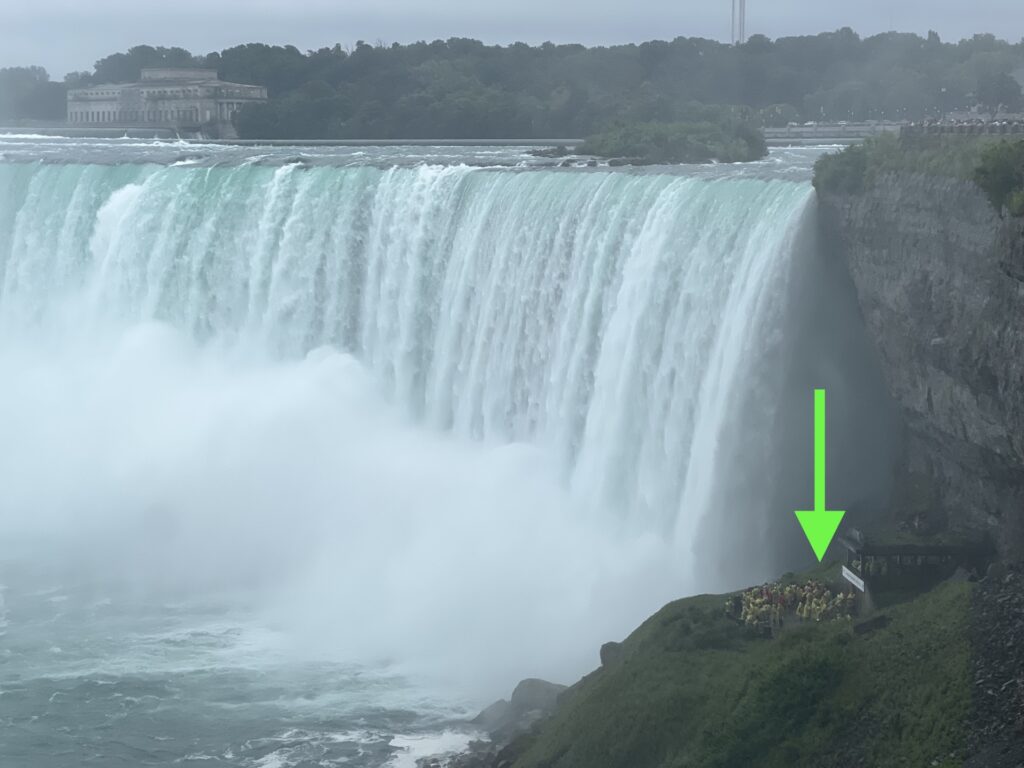 Clifton Hill (Entertainment District)
The town of Niagara Falls has an entertainment district as well, which is primarily around Clifton Hill. This area is along the lines of Wisconsin Dells or Pigeon Forge. Think mini golf, go-karts, arcades and souvenir shops galore. Pretty much the exact opposite of the natural wonder just steps away.
To get to the area, follow the riverfront path from Table Rock Centre to Clifton Hill. It's just under a mile and takes about 20 minutes, but you get views of the falls the whole way. (You can also take the WEGO bus, it just might take longer if you end up waiting 15 minutes for it.)
If you're just here for a day, you might not have time to do the longer activities (like mini golf or the wax museum) but it's still fun to walk through. Maybe grab a drink at Niagara Brewing Company or a bite at Burger Factory. We were visiting with a toddler, so we had lots of fun going to the all the toy stores and arcades. It's cheesy, but it's a popular and active strip to stroll down.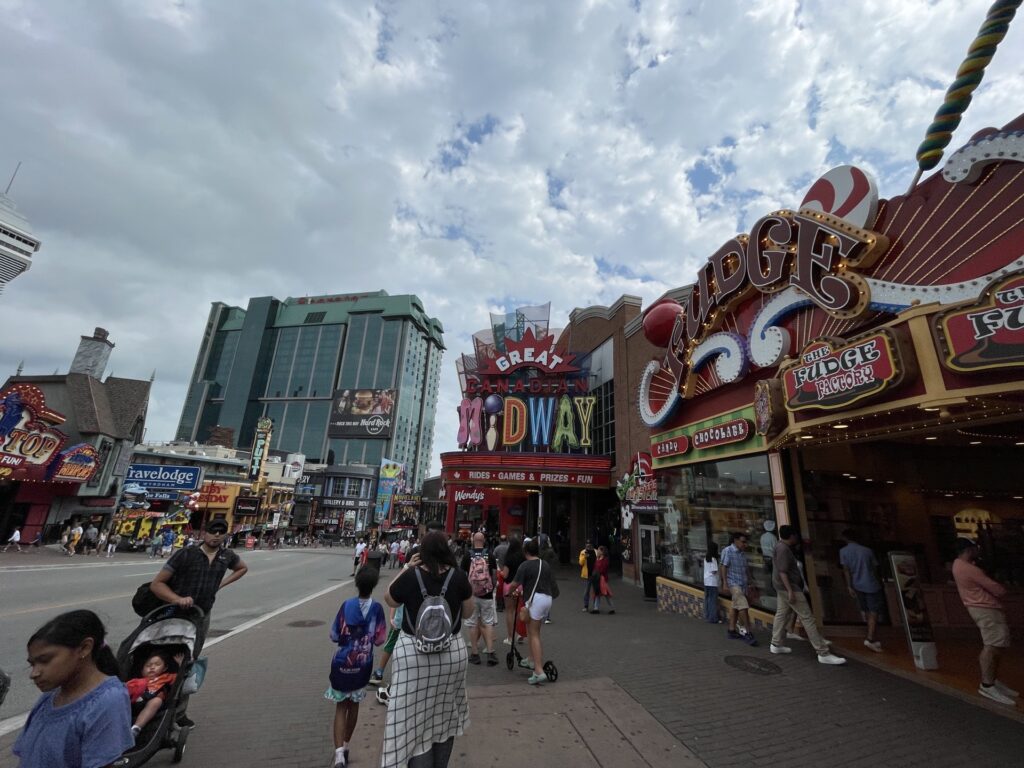 NOTE: You might notice another notable street in Google Maps: Fallsview Boulevard. Unless you are staying at a hotel here or are interested in night life or gambling, you don't need to go out of your way to come here. It's not a great daytime walking street and Clifton Hill is way more fun.
Boat Ride to the Falls
For the ultimate Niagara Falls experience, take a boat right into the mist. On the Canadian side, boat rides to the falls are operated by Niagara City Cruises. (The famous Maid of the Mist sails from the American side.) The entrance for Niagara City Cruises is at street level along the river, right across from Clifton Hill.
You can buy tickets for the boat ride online in advance. Tickets cost $32.75 CAD for adults and $22.75 CAD for children 3-12. You must select a specific date and one-hour time slot when you book your ticket. You can enter anytime within your window. Tickets usually do not sell out and are typically available for the same day at most times.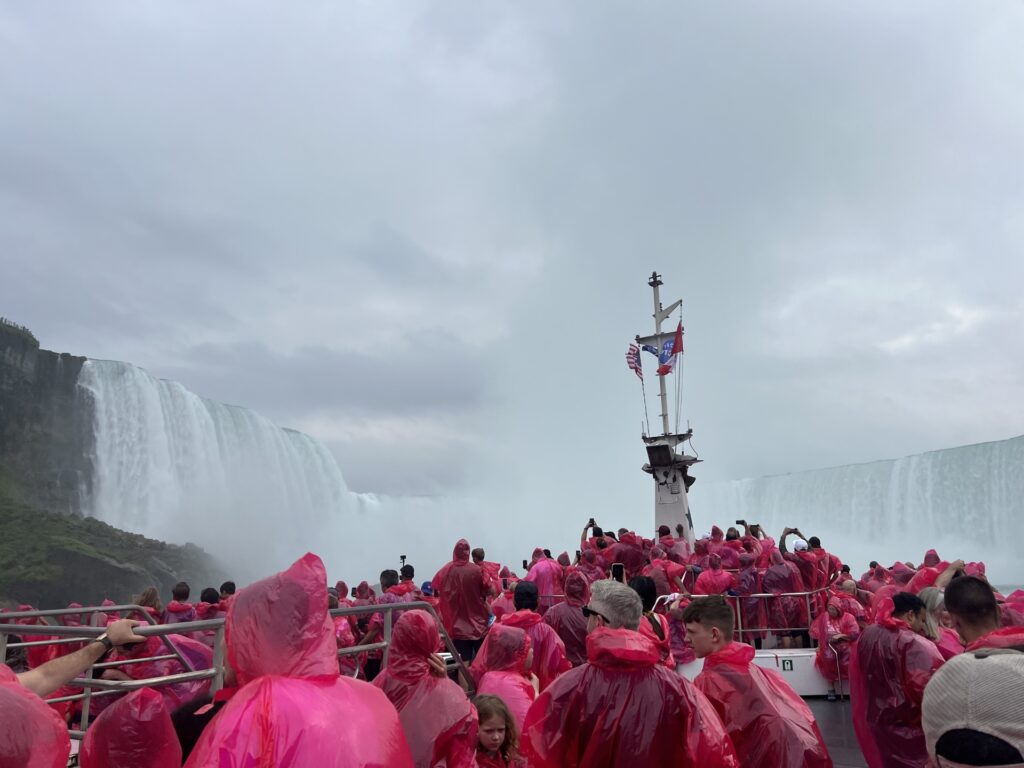 Even though tickets don't sell out, this excursion is extremely popular. Boats depart every 15 minutes, and each one is packed full. The best views are along the edge of the boat on the upper deck, specifically at the front or back. (We snagged a rail spot at the back and it was perfect. As soon as the boat turned around, we had unobstructed views of the falls the entire ride back.) If you arrive late in the boarding process, you do have the chance to step aside and board the next boat so you can secure a better spot.
That said, this attraction is more about the experience and less about getting the perfect photo. It's too crowded, too wet, and too short to worry about the perfect shot. I loved doing this after Journey Behind the Falls, because I felt like I already had great photos with a great view.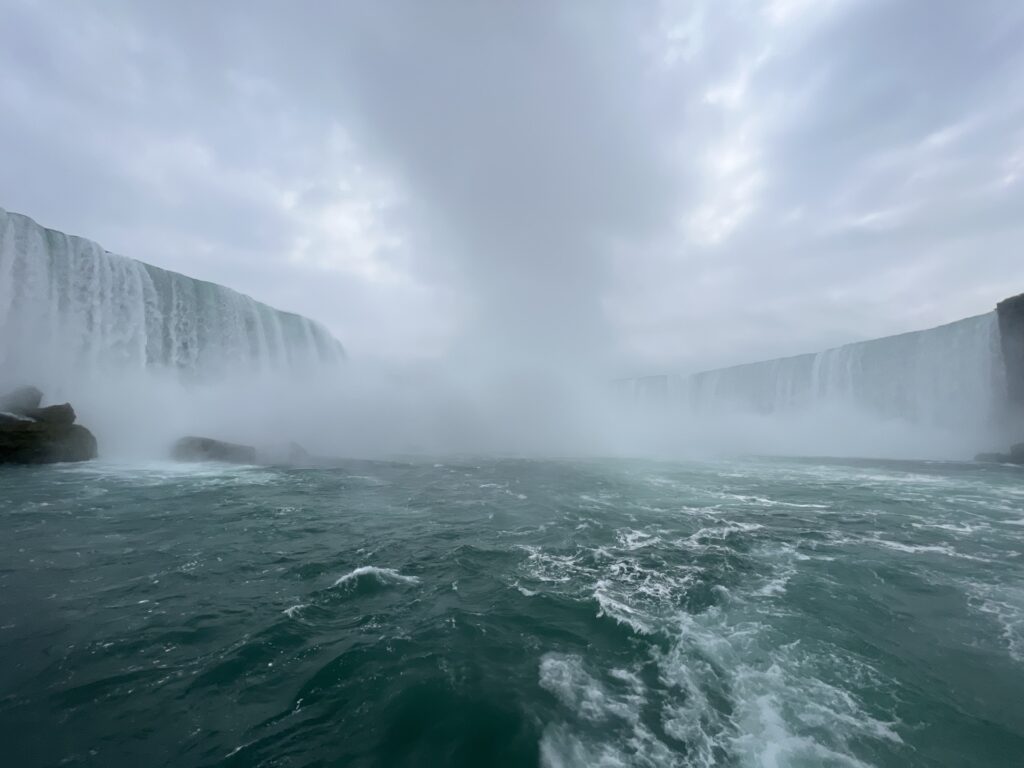 The actual boat ride to the falls is short, only about 20 minutes, but the whole experience takes much longer. The entrance is at street level, where you'll have to wait to take a funicular down to the banks of the river. You'll get a poncho (which you'll definitely need!), take a green-screen photo, and then head to another queue where you wait to board the boat. After the boat ride, you can take an elevator up to street level. In full, the experience took about 1 hour.
Honestly, I didn't love the boat ride as much as I thought I would. It was something that I felt like I had to do while I was there, and it checked that box. In reality, it was a lot of rushing and waiting for just a brief moment at the falls. (And you really get soaked on this one!)
If you have an extra hour and really want that bucket list experience, of course take the boat. But if you're short on time or money and have to choose between the boat and Journey Behind the Falls, definitely choose the later.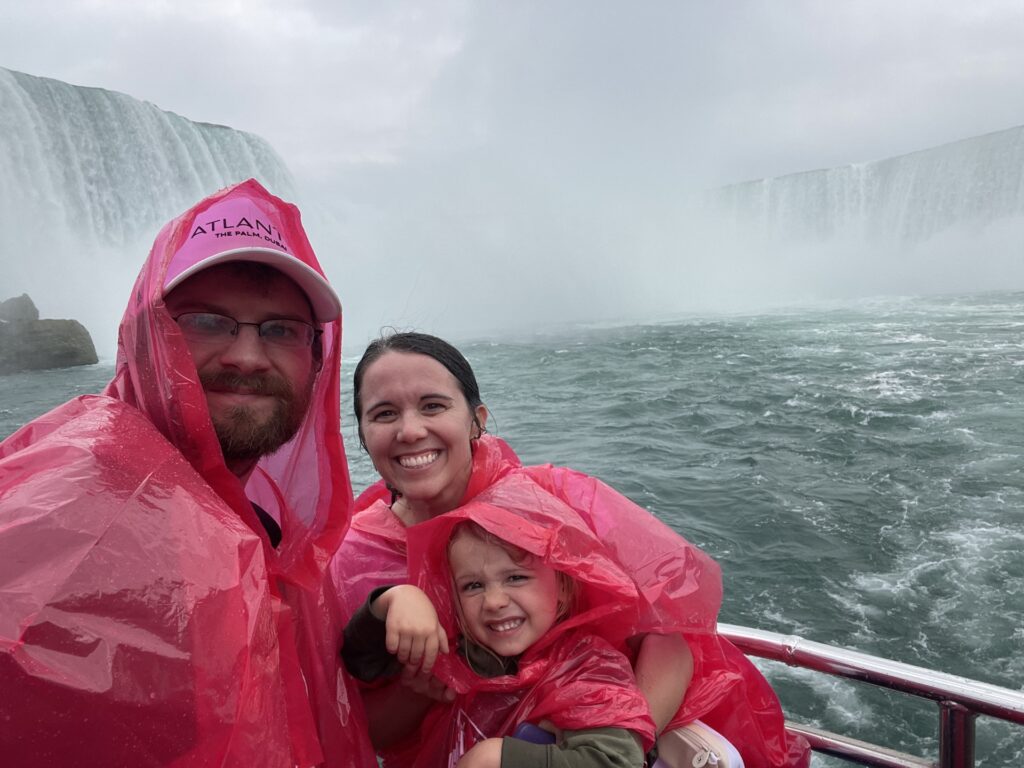 Return to Niagara Falls Train Station
When you get off the elevator after the Niagara Falls boat ride, you'll exit into a gift shop and marketplace. If you held off on buying any souvenirs, you can grab them here. (I did!)
There's also a quick-service restaurant (Grandview Restaurant) that has food for takeout. We'd suggest grabbing dinner here for your train ride back to Toronto. The food isn't great, but it's the most convenient option given the timeframe and location. The views while you wait are pretty stunning, too.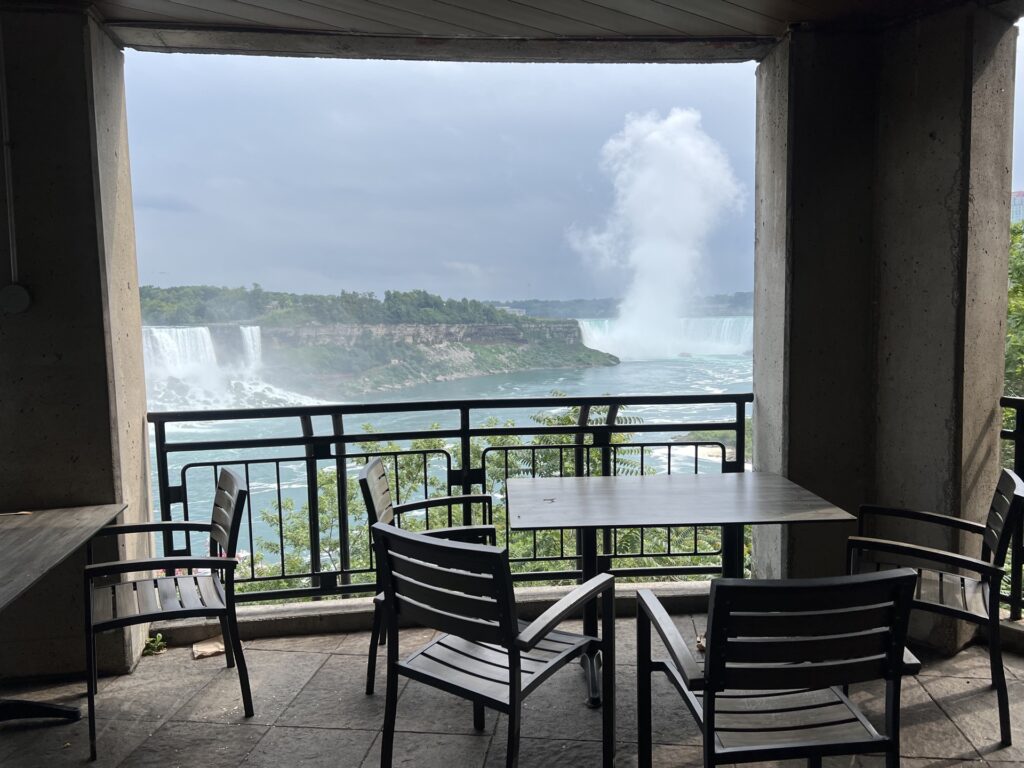 If you took the bus this morning, you'll already have a ticket and will probably want to take the bus back. The Clifton Hill WEGO bus stop is just up the road from the marketplace. The ride to the bus depot takes about 20 minutes. You can also walk if you have time, or you can take a taxi/rideshare back to the train station.
You don't need to get to the Niagara Falls train station that much earlier than your scheduled departure. I would recommend arriving about 15 minutes early. Unlike the morning departure, there is no queue to board the train from the Niagara Falls station. Instead, you can take a seat and relax.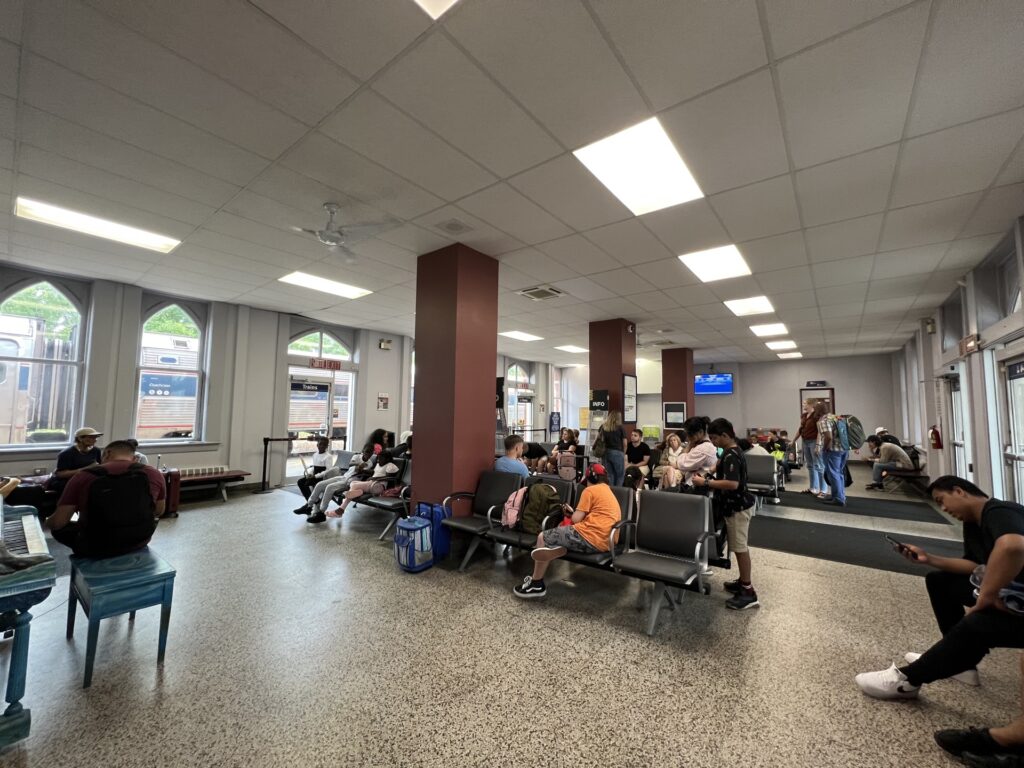 NOTE: Don't panic if the train is there when you arrive. It will not depart early. It's coming from the US, so they stop for a while at Niagara Falls to do passport control.
The train back to Toronto is also open seating. There are empty cars reserved for passengers boarding at Niagara Falls, but you still want to try to board early to get seats together. Other than the difference in boarding, the train back to Toronto is basically the same as the one there. Our train was delayed and we ended up getting back into Toronto at 8:30 PM, about 45 minutes later than scheduled.
Day Trip Summary
7:45 AM: Arrive at Toronto Union Station
8:20 – 10:20 AM: Train to Niagara Falls
10:30 – 11 AM: Bus to Table Rock Centre
11 AM – 12 PM: Horseshoe Falls viewing, Table Rock Centre & Lunch
12 – 1 PM: Journey Behind the Falls
1:30 – 3 PM: Clifton Hill
3:30 – 4:30 PM: Niagara Falls City Cruise (pick up takeaway dinner)
5 – 5:20 PM: Bus to Niagara Falls Train Station
5:45 – 7:45 PM: Train to Toronto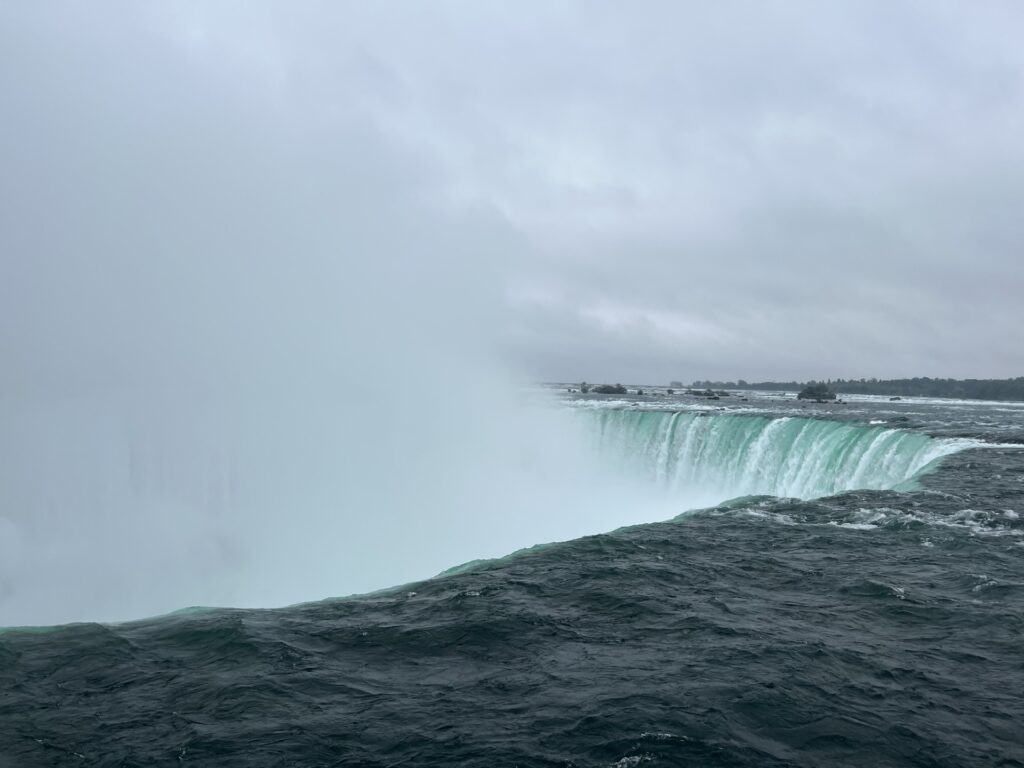 FAQ: Niagara Falls Day Trip from Toronto
How much does it cost to take a day trip to Niagara Falls from Toronto?
For this itinerary, I'd recommend budgeting about $150 CAD per adult, plus extra money for food and souvenirs. The biggest variance in price is going to come from the train fare, but a safe average is about $70 CAD.
$70 train ticket (could range from $50 – $150) + $12 bus ticket + $24 Journey Behind the Falls ticket + $33 boat ride = $139 CAD total.
Is one day at Niagara Falls enough?
Yes. One day is enough time to see Niagara Falls. The most impressive and unique attraction at Niagara Falls is Horseshoe Falls, and one day is enough to fully experience that in a variety of ways.
If you did have another day, you could certainly fill it. Adding one night gives you the chance to see the evening light show on the falls, plus you could see other things in the area such as the White Water Walk, Bird Kingdom, or potentially walk to the US side for different views.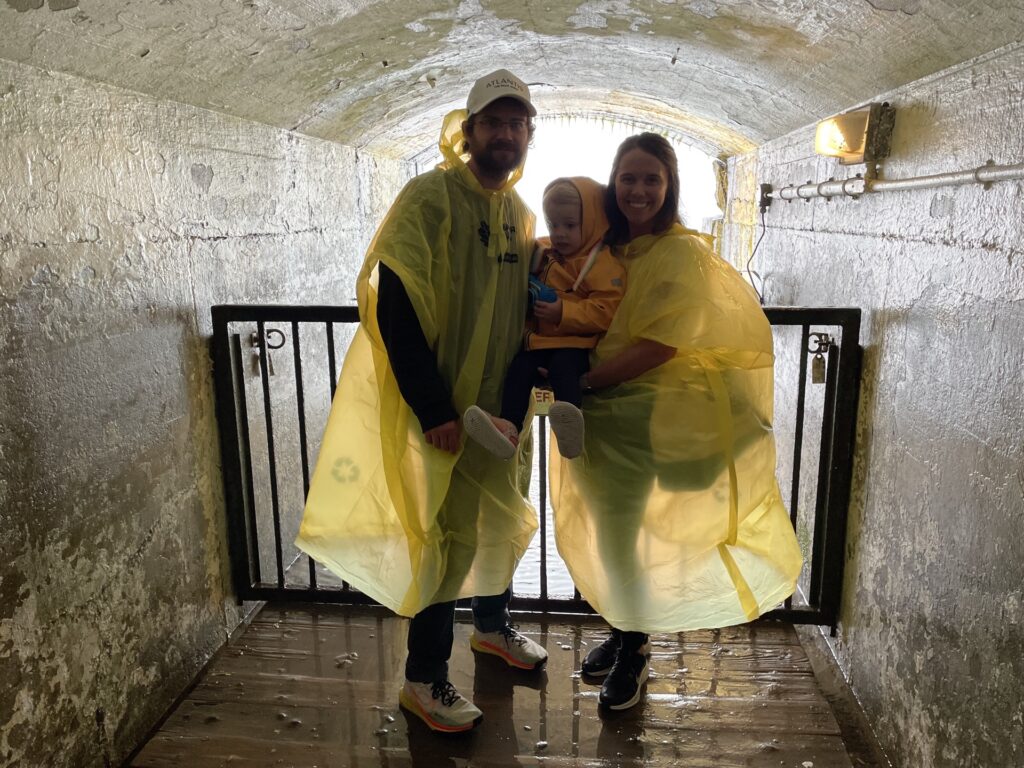 Is it worth it to take a day trip to Niagara Falls from Toronto?
Yes. We had three full days in Toronto and chose to spend one of those days at Niagara Falls. I liked Toronto, but there is nothing in Toronto that I liked more than I liked Niagara Falls. I would definitely sacrifice a day of Toronto sightseeing for a day trip to Niagara Falls. It is worth the effort and time.
If money is a concern, there are a few ways to save some money. First, book the cheapest "Escape" train fare as early as possible for the best deal. (Do note that this fare is not refundable.) You can sometimes get tickets as low as $25 each way. I would also say to skip the boat ride, but try not to skip Journey Behind the Falls.
Do you need a passport for a day trip to Niagara Falls from Toronto?
You will only need a passport if you plan to walk across Rainbow Bridge between the US and Canada. However, you will need a photo ID to board the train from Toronto to Niagara Falls. If you don't want to risk bringing your passport, a state ID or driver's license will do.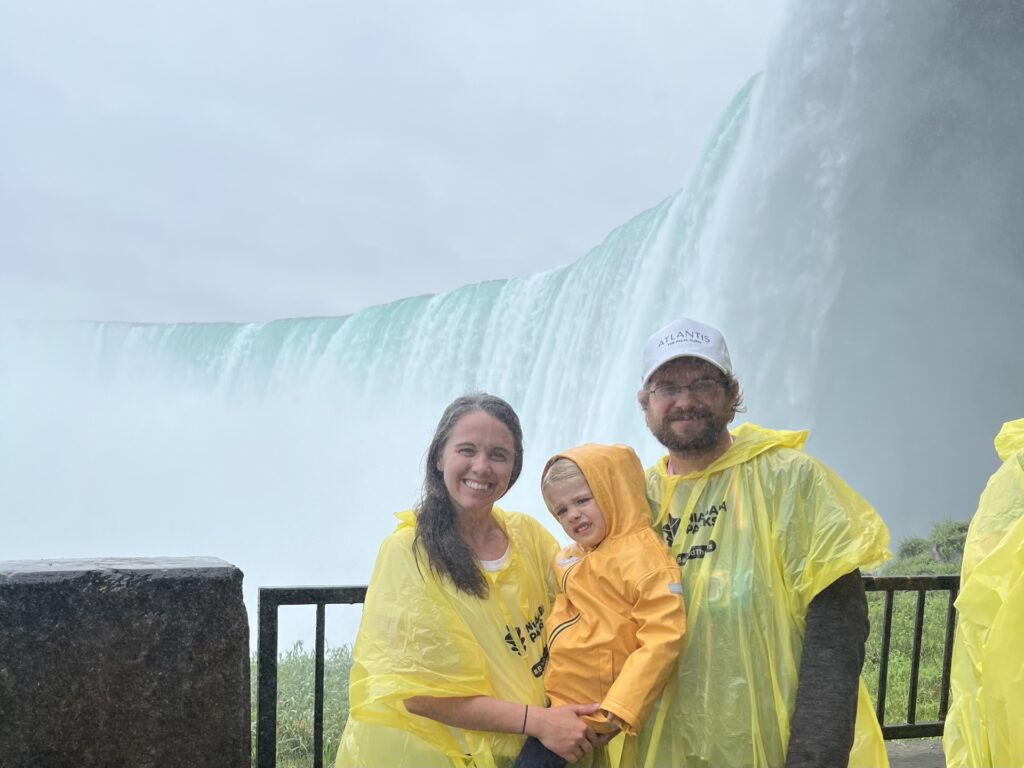 Can you bring a bag?
Yes, but pack it wisely. You're going to have to carry it with you all day, so you won't want anything too heavy. You can take small bags with you on Journey Behind the Falls and Niagara City Cruises, but they are subject to search. And most importantly, any thing you bring might get wet. Bring a bag that can fit under a poncho or that is otherwise waterproof.
NOTE: If you're bringing luggage for any reason, be sure to check size and weight restrictions. They actually weighed bags before boarding, which I'd never seen on a train before.
Do you need to bring a rain coat to Niagara Falls?
No. All attractions that will get you wet (e.g. Journey Behind the Falls and Niagara City Cruises) provide complimentary ponchos. The only caveat to that is if you have a small child. If you have a toddler who might not fit into the kids size poncho, you might want to bring a rain jacket that fits them well.
But you should bring is a change of shoes. Wear flip flops or water shoes during Journey Behind the Falls and the boat ride, because your feet will get wet. Keep your other shoes dry in your bag under your poncho to put on after.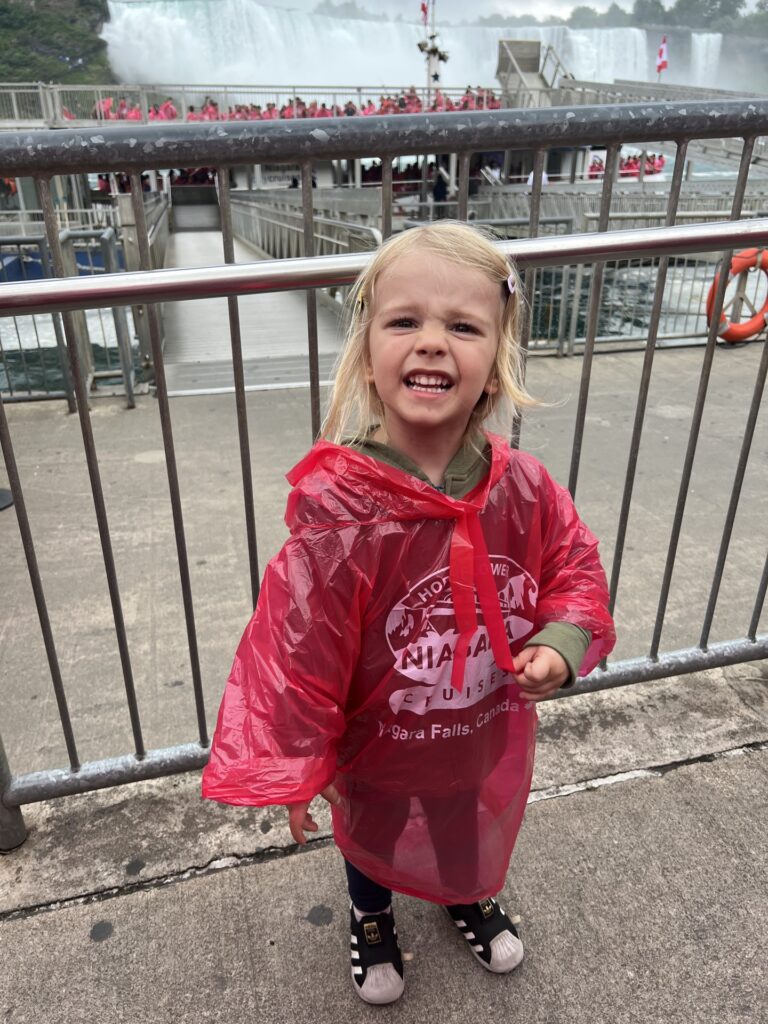 Can you see Niagara Falls from the US side?
Yes, but the views are much better from the Canada side. However, if you want to go to the US side, you can do so by walking across Rainbow Bridge. It's about a half mile walk and you'll need to have a passport.
When is the best time to take a day trip to Niagara Falls?
The busiest time at Niagara Falls is the summer between June and August. These months have the best weather and the attractions are all operating at full capacity. However, I talked to an employee in the gift shop and she said December is her favorite time to be there. She said if you can handle the cold, the snowy falls and Christmas lights are the most beautiful time to visit.