I grew up in a small town. My only childhood reference to Broadway was my grandmother singing "Give My Regards to Broadway," but that was enough to make it sound like a magical place. It wasn't until I landed an internship in NYC that I actually first stepped foot on Broadway. Having loudly sung Defying Gravity in shower many times, Wicked seemed like the obvious best choice for my first Broadway show — and it was.
Fast forward to today, I now live in New York City and Broadway is just a N train ride away. I've been to several Broadway shows since then and little me would be thrilled to hear every single thing about this place, that is in deed quite magical.
I thought I'd put together a quick guide about Broadway, mostly because little me would be amazed that I could. This guide will help you understand more about Broadway, how to see a show on Broadway, and some tips for your first performance.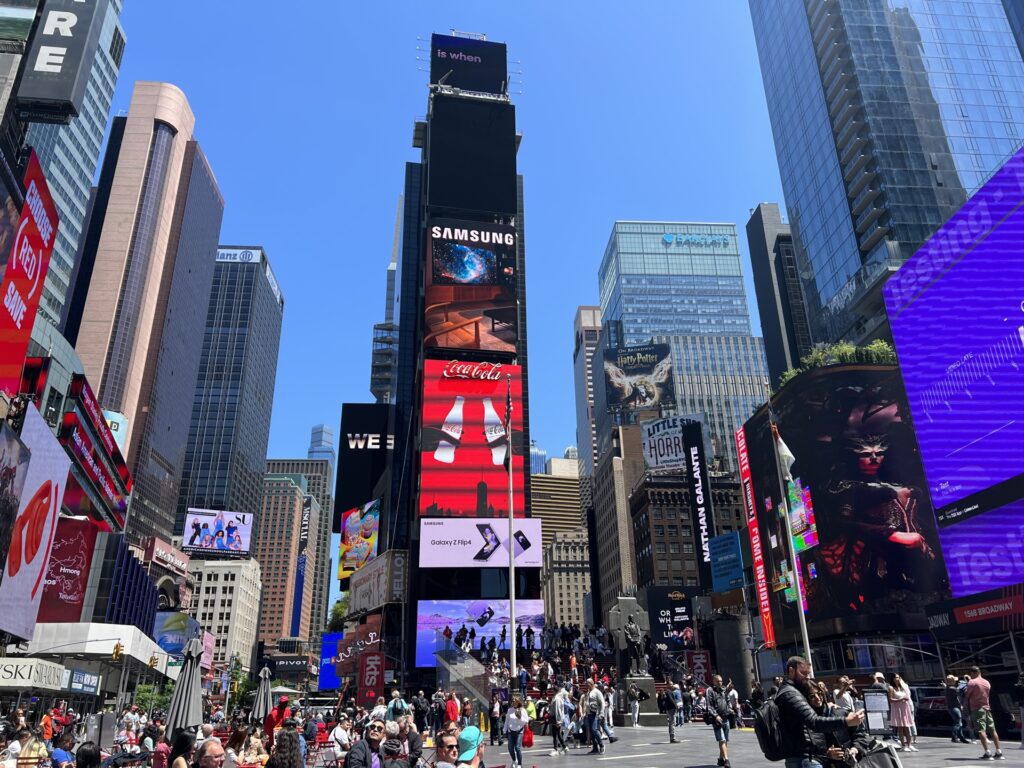 What is Broadway in NYC?
Technically, Broadway is an actual street that stretches the length of Manhattan. When people talk about Broadway, though, they're often talking about the Broadway Theater District. The Broadway Theater District refers to a specific stretch of Broadway between 54th Street and 41st Street (and its cross-streets) and a specific set of theaters.
To by considered "on Broadway," the theater does not have to literally be on Broadway. In fact, there are only a handful of Broadway theaters that actually have Broadway addresses. And prior to 1949, any professional theater production in Manhattan was considered a Broadway show.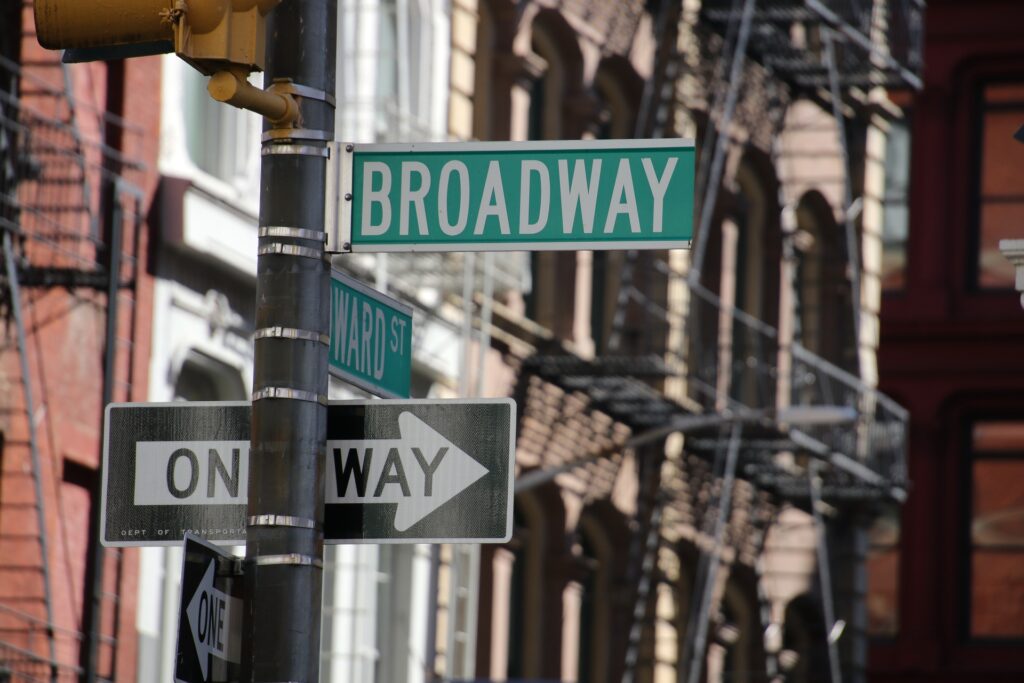 Today, there is an official definition for a Broadway show or theater. In order to be considered a Broadway production, theaters are legally required to meet a specific set of criteria. In order to qualify, theaters must be located within the defined boundaries of the Broadway Theater District, have at least 500 seats, and put on "mostly legitimate productions."
As of publication, there are 41 theaters that are officially recognized by The Broadway League as Broadway theaters. There are also a handful of structures that have held Broadway productions, but are not currently active theaters. Broadway is most famous for its musical theater, but not all Broadway shows are musicals.
Fun fact! Only official Broadway productions and performances are eligible for Tony Awards. With the exception of one region theater award, the Tony Awards do not cover the broader theater industry.
Broadway Vs Off-Broadway
We've already covered that a Broadway show doesn't have to be literally on Broadway to be considered "on Broadway." So you might not be surprised to learned that "Off-Broadway" doesn't have anything to do with its address either.
An Off-Broadway show is any professional theater performance in Manhattan that has a seating capacity of 100-499. The theater can be located anywhere in Manhattan, but most Off-Broadway theaters tend to be concentrated around Greenwich and the West Side.
Off-Broadway shows are often still of an equally high quality, and many productions that start Off-Broadway are moved to Broadway later. Some examples of popular shows that are currently on Broadway that started Off-Broadway are Hamilton, Dear Evan Hanson and Hadestown.
I just got tickets for my first Off-Broadway show, so I'll have to report back on my experience.
What shows are on Broadway?
Shows on Broadway span a wide range of genres, subject matter and performance styles. There are comedies and tragedies, true stories and fictional tales, musicals and plays. Some shows add new songs to stories we know, while others add new stories to songs we know. There is something on Broadway for every taste and preference.
The list of shows currently on Broadway is ever-changing. Some shows run for many years, while other shows come and go after shorter terms. You can find the official list of current Broadway productions here.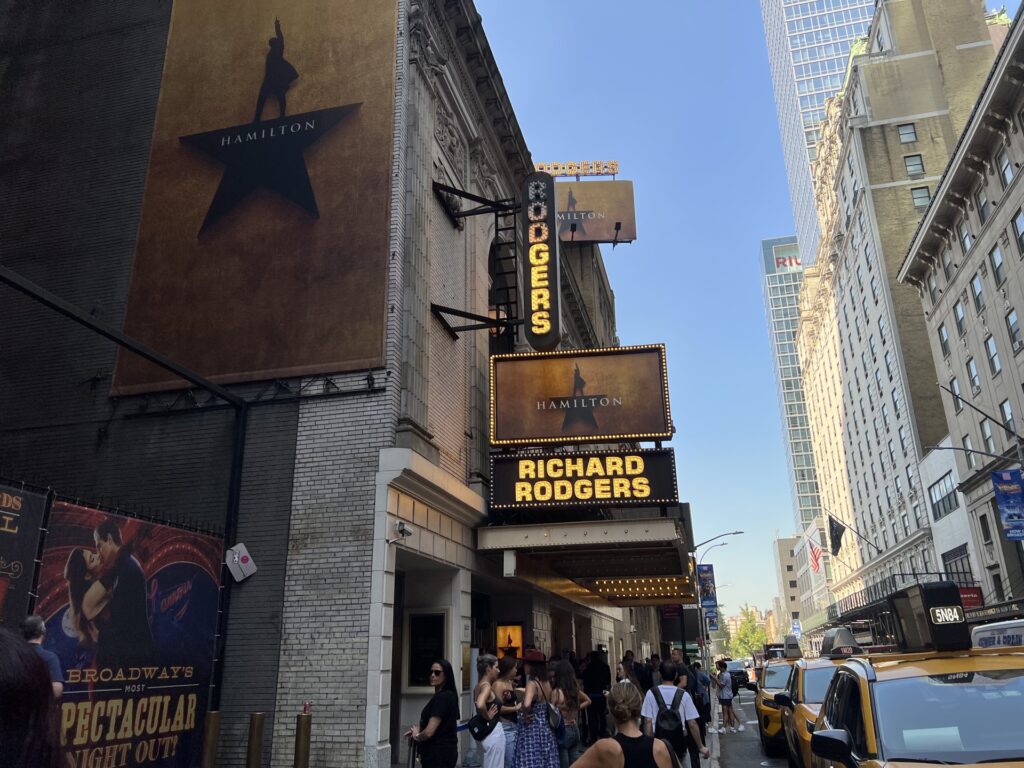 For the sake of this post though, here's a look at some of the longest running and most popular Broadway shows (as of publication). You can most likely count on these shows to be running for years to come.
Chicago
The Lion King
Wicked
The Book of Mormon
Hamilton
Harry Potter and the Cursed Child
What is the schedule?
The performance times and dates vary by theater. Generally speaking though, Broadway shows take place Tuesday through Sunday and start between 7 and 8 PM. Many shows also offer matinee performances on Wednesdays, Saturdays and/or Sundays. Most Broadway theaters do not have Monday performances, but some do.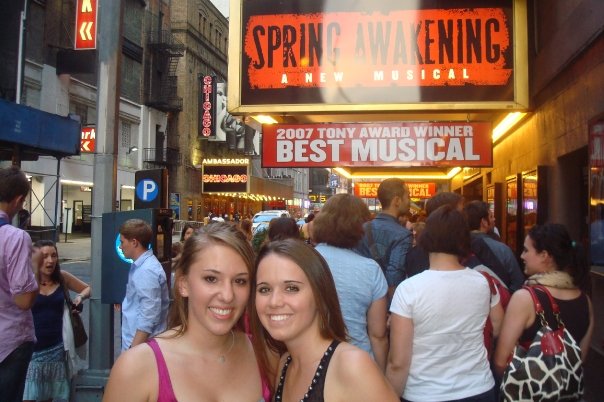 How to Get Tickets
Tickets and schedules are managed by each individual theater on Broadway. You can get tickets direct from the theater or through a variety of 3rd-party methods and websites.
When it comes to buying tickets for Broadway shows, you can take one of two paths: easier or cheaper. You usually can't have both. So we'll break this section into two parts.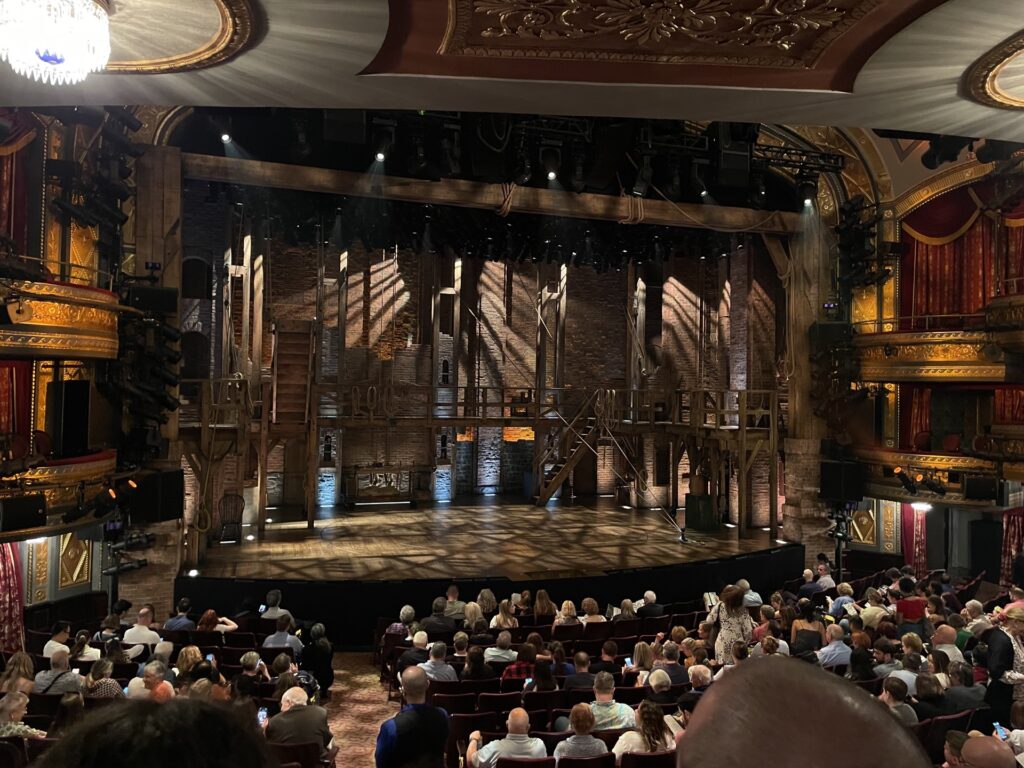 The easiest ways to get Broadway Tickets
The easiest way to get Broadway tickets is usually going to be the most expensive. But if you're willing to spend the money, finding and buying tickets can be very straight forward.
Here are the easiest ways to get Broadway theater tickets.
Broadway Direct. The official, direct source for Broadway tickets online is Broadway.org. The ticket platforms each theater uses varies, but this website will link to the official source for each show.
Online Third-Party. You can also buy official tickets online through Ticketmaster and Telecharge. Both of these websites sell the same tickets, at the same price, with roughly the same fees as BroadwayDirect. (Legitimate Broadway tickets are sold on other sites as well, but most others charge much higher fees.)
Online Resale. For sold-out shows or better last-minute tickets, you may want to buy resale. SeatGeek is a trusted Broadway ticket seller, and you can purchase resale tickets from there. (Some theaters also sell direct on SeatGeek.) Depending on demand, these tickets may be higher or lower than face value.
Buy direct via phone. If you prefer to do your business by phone, both Ticketmaster (800-982-2787) and Telecharge (212-239-6200) have a phone service.
Buy In-Person at the Theater. This is only easier if you are physically in New York City and near the theater. If that's the case, each theater has a box office where you can purchase available tickets for any show. This is also the only way to get tickets without fees.
If you're buying direct through any of these methods, I would suggest buying your tickets as soon as you know you know the show you want to see and when. That will give you the best selection of seats and price points to choose from. However, you can buy tickets through these sources right up until showtime, as long as the show is not sold out.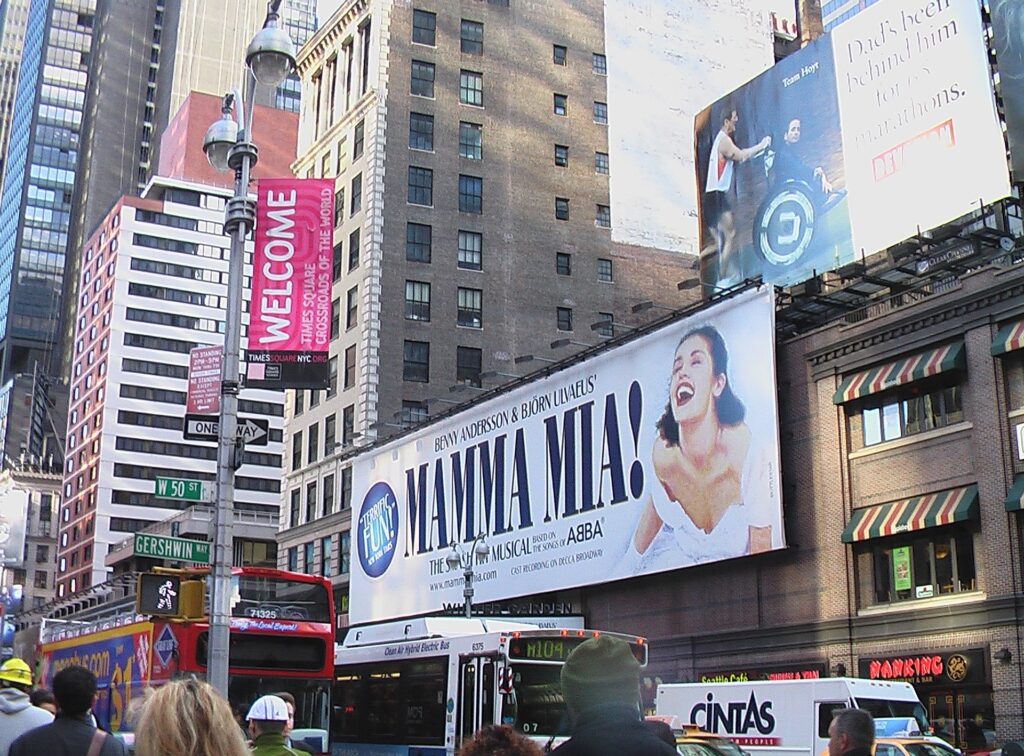 The cheapest ways to get Broadway Tickets
And now for the fun part! If you're flexible on the show/schedule, have some free time, or are willing to chance it, you can sometimes land some great deals on Broadway tickets. In fact, some of these methods will get you some of the best seats in the house for some of the cheapest prices.
Here are some of the cheapest ways to get Broadway tickets.
TKTS: This is the most popular way to get discount Broadway tickets. They sell same-day (or next-day matinee) tickets for a changing selection of shows at up to 50% off. You can view the performances available for the day online, along with the the price range and discount amount. For the best selection, arrive 45 minutes before the line opens. If you're not picky, pop over about 2-3 hours after they open for the shortest lines. There are TKTS locations at Times Square and Lincoln Center, and you can find the hours here.
Ticket Lottery: A handful of shows, including some of the most popular ones, have ticket lotteries. They reserve a handful of seats (usually good ones), and draw from a lottery pool for each performance. If you're selected, you'll be able to buy tickets (usually only up to 2 tickets) at a deeply discounted rate. These lotteries are usually held daily for that day's performance, but some are drawn for the following week. Most are online, but Wicked is in person. This is a great program, if you're ready to attend with a moment's notice and risk not being selected. Here is a great schedule of all the Broadway lotteries.
Rush: Another way to get same day tickets is a program called Rush. Some shows will reserve a handful of deeply discounted tickets to be sold in-person when the box office opens in the morning for that day's performance. This is a great program, but can mean waiting in line for hours for popular shows with no guarantee. Here is a great schedule of all the shows that offer Rush.
Standing Room Only: Some very popular shows (like Hamilton and Book of Mormon) will sell Standing Room Only tickets after all of the seats have been sold. These tickets are usually very cheap, but you have to stand for the entire show. Here is a great list of the shows that offer Standing Room Only.
Matinees: If you're visiting during a weekday, consider attending a Wednesday matinee. Most shows have one scheduled, and tickets are usually a bit cheaper.
Box Office: If you miss out on Rush or if your show doesn't offer it, it can still be beneficial to buy your ticket at the box office. They usually do not charge any fees, which will save you at least $20 a ticket over buying online.
TodayTix: If you want to score last minute deals online, this is a good place to check. Unfortunately, the best deals are usually on single seats and in the back of the theater. It's a good last-ditch effort though.
If you're buying online, be very cautious about where you buy your tickets. The screenshots below shows the fee pricing for the exact same seat and at the exact same show on three different websites. There was a $70+ difference in fee prices!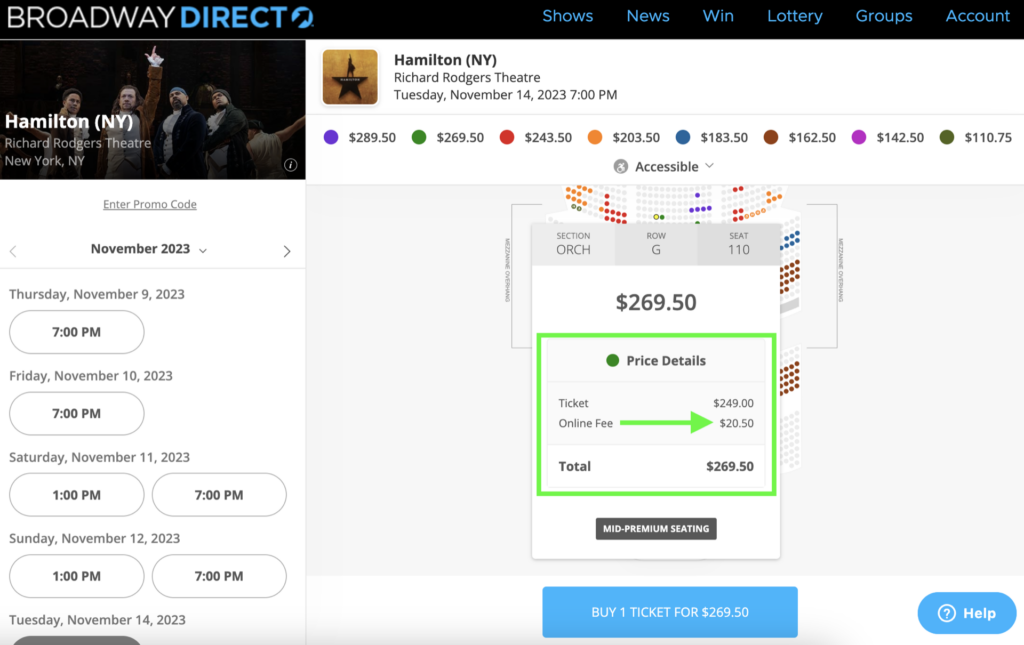 How much do Broadway tickets cost?
Broadway tickets vary substantially based on the show and seat. If you're targeting a really popular show like The Lion King or Wicked, I would be prepared to spend about $150-$200 per ticket at face value. However, you can often find tickets for less popular shows for <$100 face value.
If you're looking at some of the discounted ticket options, like lotteries, TKTS and Rush, you can usually get tickets for closer to the $40 mark.
What to Wear
For a Wednesday matinee of Hamilton, I wore jeans (no holes), a plain black long-sleeve shirt, and a cool pair of sneakers. I felt very comfortable in that. I did see a few people in cocktail attire, but most people were wearing jeans or casual dresses. My husband wore black jeans and a plain black t-shirt with a solid black zip-up hoodie. That was pretty much on par for the men's side.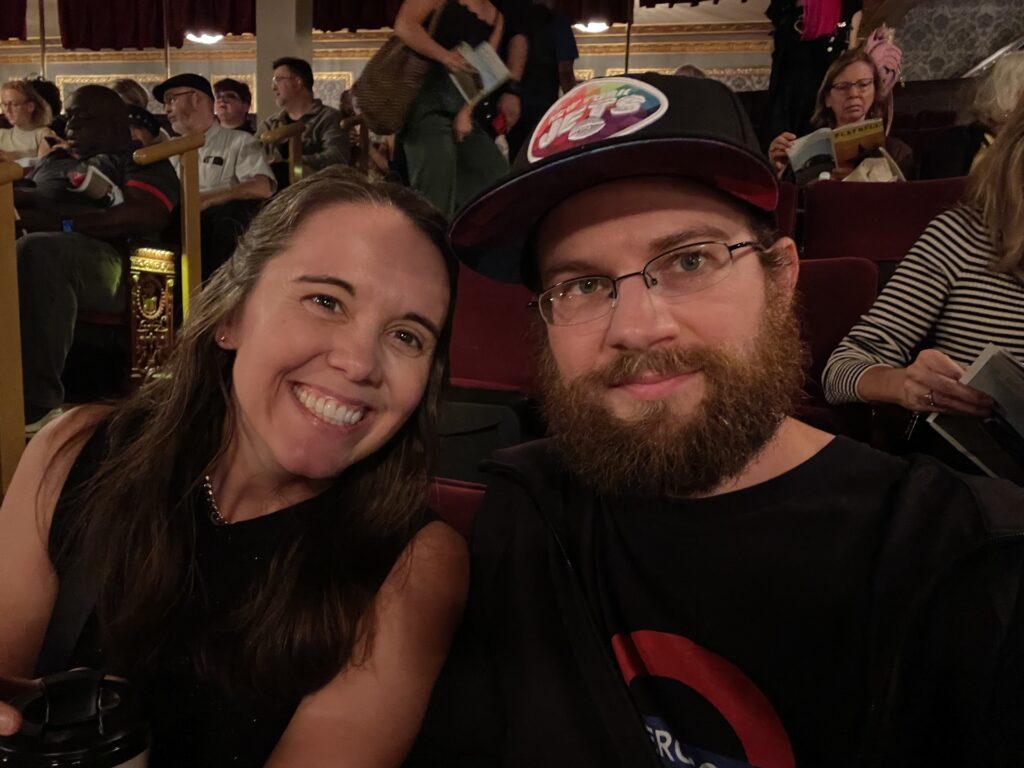 I have not recently attended an evening show on Broadway, but I did recently see the Nutcracker at Lincoln Center. It's not exactly the same, but that show did attract a much more well-dressed crowd similar to what I hear about evening shows on Broadway. I would err on the side on business casual or above for an evening show, particularly on a Friday or Saturday.
That said, Broadway theaters no longer have official dress codes. You are free to wear whatever you are comfortable in. If you choose to dress down, you most likely will not be alone.
Regardless of style, I would also recommend bringing a light outer layer, like a cardigan or a shawl. I didn't find the theater to be too cold in the summertime, but that will vary by theater.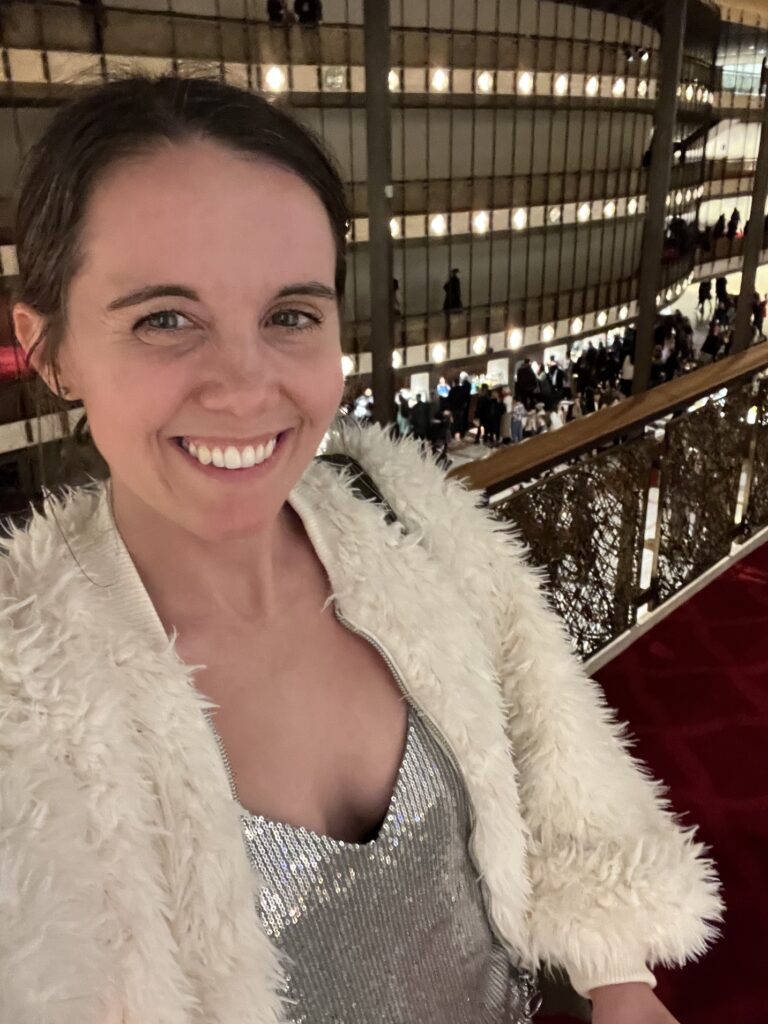 Can you bring kids to a Broadway show?
All Broadway theaters have a minimum age requirement of 4 years old. Children under 4 cannot attend a Broadway show, unfortunately.
Children 4 and over are typically welcome to see any show on Broadway. However, be sure to review the age recommendation for the show specifically. Some shows have adult themes that might be scary and/or inappropriate for children.
5 Things to Know Before Your First Broadway Show
Don't confuse Broadway.org with Broadway.com. If you're looking to buy your Broadway tickets direct from the source, make sure you go to Broadway dot ORG. If you're using Google, you might be served an ad for Broadway dot COM, and it's easy to get them confused. However, the fees on Broadway.com are substantially higher than on the official site, which is Broadway.org.
Bring water and/or a cough drop. Even if you aren't sick (but especially if you are), keep these handy to tackle any coughing fits mid-performance. Sealed bottle water is allowed in most theaters.
No photos. Photos and videos are not allowed during Broadway shows. You can take a photo with your Playbill before or after the show, but keep your phone away during the performance.
Arrive approximately 30 minutes before curtain. Any earlier, and you will have too much time to kill. Any later, you risk being late. Most shows will not seat you once the show has started, and you may have to wait until a scene break or even intermission. Thirty minutes gives you just enough time to grab a snack and find your seat, but gives you a buffer in case your train is late or you miss a turn.
Pre-order your drink. Many theaters these days allow you to pre-order a drink or snack for intermission. If your theater offers it, I'd highly recommend doing it. Intermission goes quick and you might not have time to stand in line. Depending on the theater, you may or may not be allowed to bring drinks and snacks into the theater, so confirm before you buy anything.