Let's talk about hotel stays with toddlers. This particular phase can be tricky, even for those who previously mastered hotel stays with a baby. In this post, we'll explain some of the nuisances of hotel stays at this age and how to tackle some of the biggest challenges. We'll combine tips, general information and product recommendations to make hotels with a toddler easy, restful and even fun.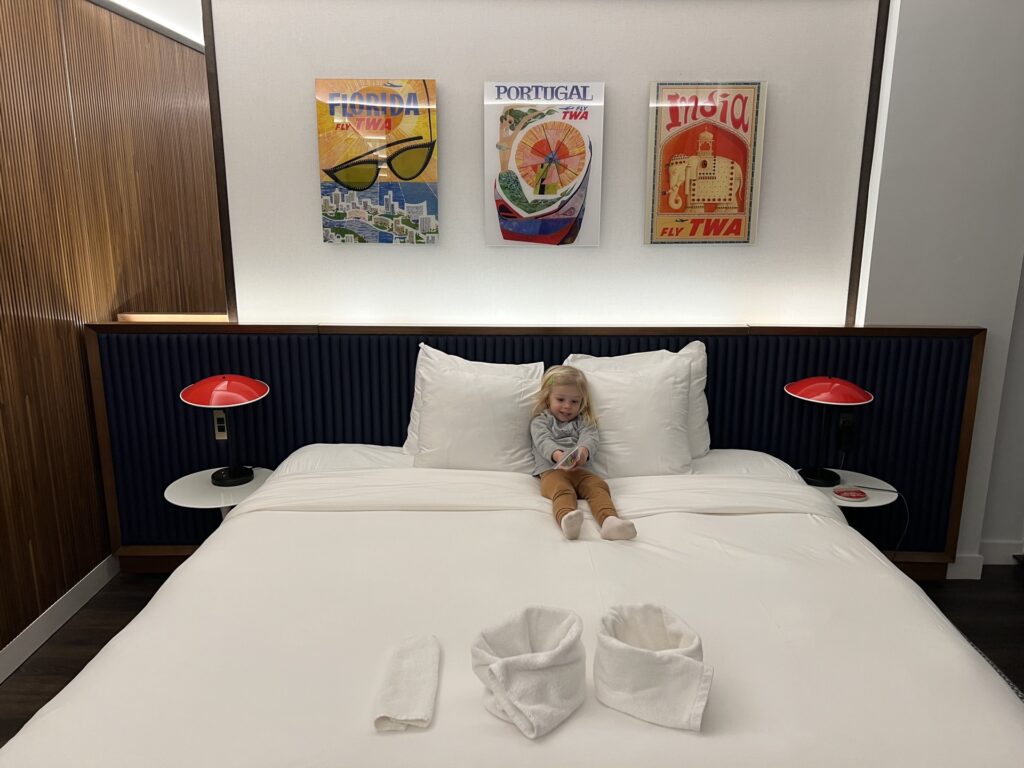 1. Bed rails are the answer.
Where do toddlers sleep in hotels when they're too big for a Pack N Play or crib, but too small to sleep in a regular bed on their own? The best solution to this problem is bed rails.
Bed rails make it possible for small children to safely sleep in big hotel beds without falling off. They come in a variety of shapes and styles, and you can use them on pretty much any bed, including Queen/King size hotel beds, rollaway beds, and sofa beds.
Some bed rails are solid, and create a vertical barrier about a foot high and a few feet long. These rails can be installed by sliding the base under the mattress. Some hotels have bed rails like this available by request, most often at kid-centric destinations like Walt Disney World. They do make a portable version of this style, but it's not the most space-efficient.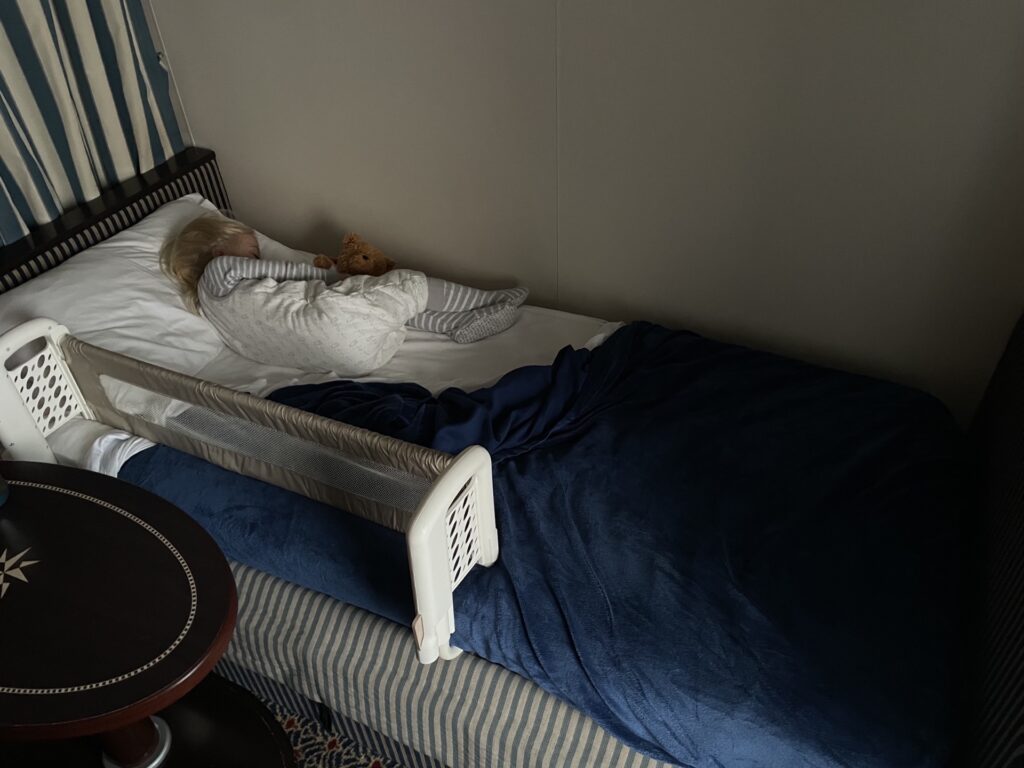 It would be nice of more hotels had bed rails available, but in my experience very few do. If your hotel doesn't offer bedrails, I would recommend bringing you own.
There is a variety of inflatable bedrail options out there, in a wide range of sizes and shapes. We personally have the Shrunks inflatable bed rails. These are on the smaller side of the spectrum, but we love how tiny they pack up and they've always worked well for us. You simply blow them up (no pump required) and slip them under the bed sheet.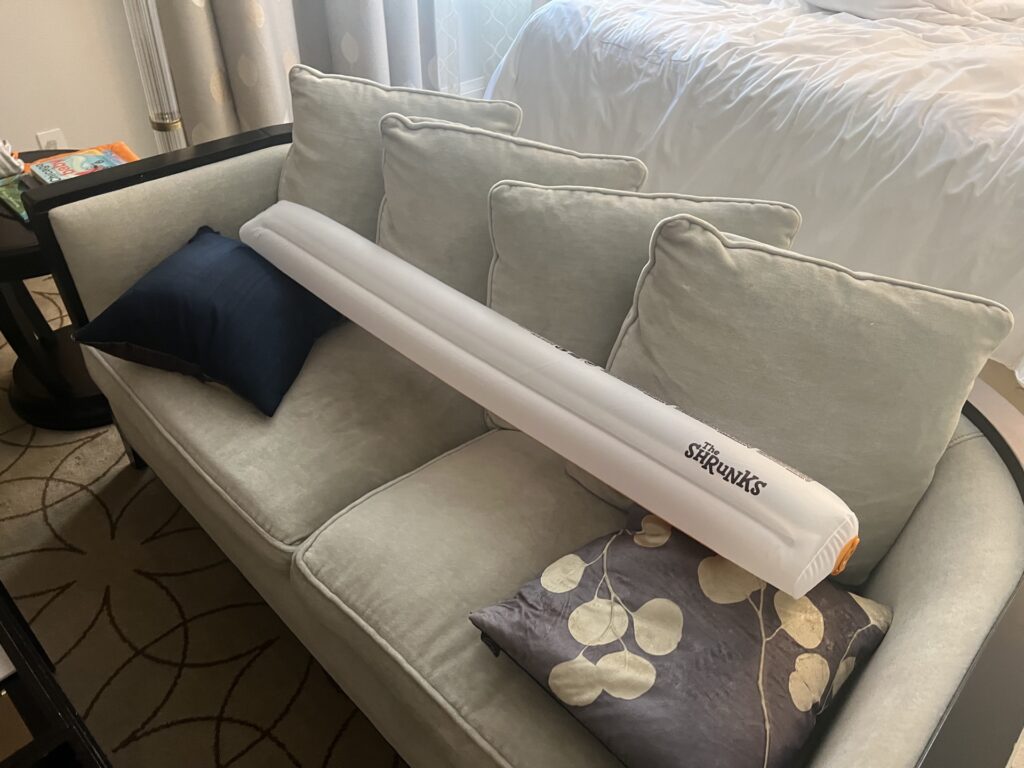 For a similar effect, some people recommend using pool noodles. This is possibly a hack for some people — particularly people who own pool noodles or travel by car — but pool noodles would take up a lot of space in your suitcase.
Each style of bed rail has its pros and cons. The vertical ones are much harder for the child to roll over than the inflatable ones, but the inflatable ones cover a longer portion of the edge of the bed. It may depend on what type of sleeper you have.
While bed rails are great, they are not fail-proof. Our toddler has still managed to wiggle their way off of their hotel bed more times than we care to admit. We like to supplement our bed rails with pillows. We like to place pillows at the bottom of the bed, where there is no bed rail, and over any nearby sharp corners.
2. Get creative on suite alternatives.
The first tip I got as a new parent and continue to hear now is to book a suite. That way parents have a place to hang out after the child goes to bed. While staying in a 2-bedroom suite every time I stayed in a hotel would certainly be lovely, it's not exactly financially possible.
If you are interested in separate spaces but can't splurge on a 2-bedroom suite every time, look into alternative room types. This could mean checking other hotel brands or room categories, looking at different room layouts, or booking rooms with other features that can help serve this purpose. Here are some examples.
SpringHill Suites is the first idea that comes to mind. Their moderately priced suites do not have separate rooms, but they do have a partial room divider. The beds are on one side, and a couch and TV is on the other. It's a cost effective way to ensure a spacious room. (When we went on a 12-day road trip, we stayed at a lot of Springhill Suites.)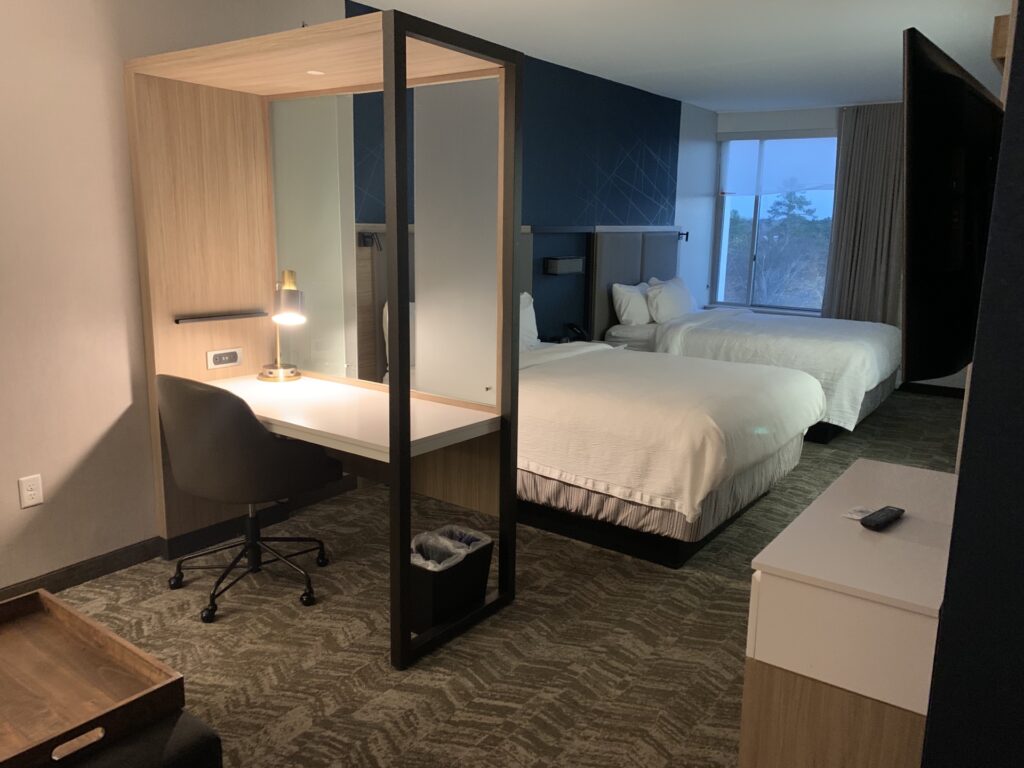 Along those lines, always remember that suites are not reserved for fancy hotels. Sometimes you can find value hotels that have a more affordable suite option. For example, Art of Animation at Walt Disney World is one of the cheaper hotels on property, however, they have 2-bedroom family suites available. It's a good example of getting extra space separate from luxury.
Another suggestion is to review all the different layouts a hotel offers. Sometimes you'll find that certain layouts or room categories have nooks or corners that can help create a separate space without actually paying for one. For example, our room at the Hard Rock Hotel in Amsterdam had the most charming window nook that was behind the window shades. You may have to call the hotel to request a specific room layout.
Depending on the climate of your destination, a room with a balcony can serve this purpose, too.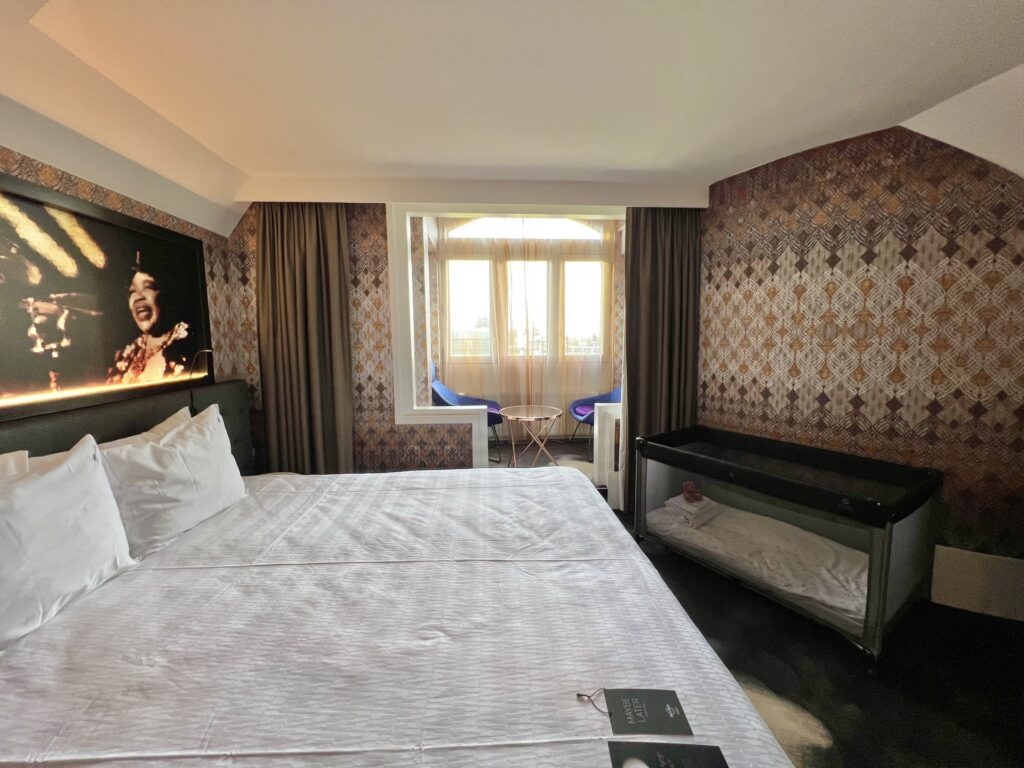 3. Your child's age matters.
When you book a hotel room, you are usually required to designate the number of adults and children that will be staying in the room. If you have a child, you will also need to confirm their age. The child's age will impact the room(s) you can book and thus the price.
While some hotels charge for every additional guest, most are charging for bed space. If they deem a child is old enough to require a bed (usually 2-3), they will put you a room that includes a bed for them. This may bump you up to a larger room category, which can be more expensive. Conversely, if they are younger than that cutoff age, the hotel might put you in a room that doesn't have a bed for them.
As an example, we stayed at Disneyland Hotel when our child was 2 ¾. At that age, they were no longer sleeping in a Pack N Play or crib. However, this particular hotel does not assign bed space to children under age 3. We were given a room with a King bed for us two adults, but there was no other bed for our toddler.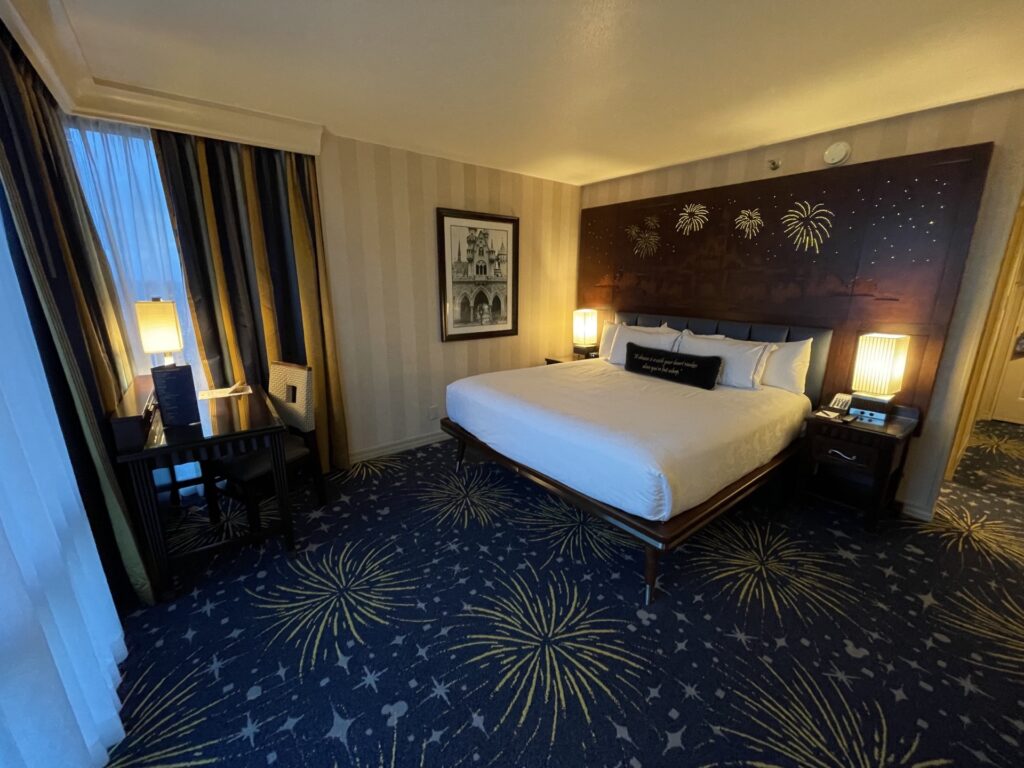 The hotel didn't have rollaway beds and no other rooms were available. We settled for a too-small crib, because we had no other good options. In this example, had our child been 3 or older, we'd have been placed in a room with bed space for three.
If you have a toddler who has aged out of a Pack N Play/crib and is under age 4, I would recommend confirming the bed configuration with the hotel in advance to avoid a problem like this.
4. Check into rollaway beds.
Once children hit a certain age, hotels will typically require them to have a bed. That is to say that you usually can't book a smaller, cheaper room and say that you're child is just going to sleep on the floor. However, there are sometimes options for beds that don't require jumping up to a larger, more expensive room category.
Before you book that double room, check to see if the hotel has rollaway beds. Most hotels charge a small fee for rollaway beds, but it's usually cheaper than booking a larger room that has an extra bed. It's also just a great options for families of odd numbers (3 or 5 people.)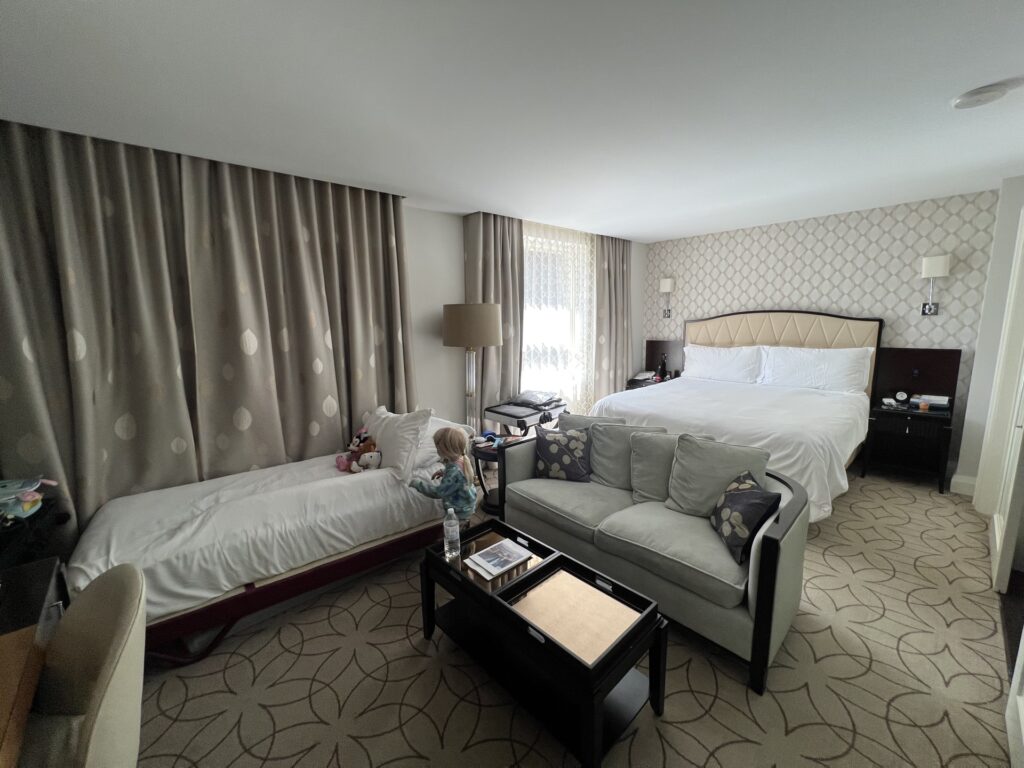 Rollaway beds are actually perfect for toddlers, too. They are usually much smaller than a full-size bed, and lower to the ground. Plus they're usually pushed against a wall, which means your kid has 50% less space to falling off. Sofa beds are also great for toddlers for the same reasons, but rooms with sofas tend to be more expensive.
If you're planning to use a rollaway, make sure that the hotel has one available and that they're allowed in your specific room type.
5. Your baby monitor might not work.
If you have a suite or balcony that allows your child to sleep in a separate part of the hotel room, you might be planning to bring a baby monitor to keep an eye on them. (Please tell me I'm not the only parent of a 3-year-old who still uses a baby monitor?)
If you have a baby monitor that requires wifi (like a Nanit), know that you might have trouble connecting it to hotel wifi. In most cases, hotel networks have a splash page that requires checking a box or entering a room number. The Nanit cannot access splash pages, and connecting it to hotel wifi can be tricky or impossible. For this reason, we've pretty much stopped even bringing the Nanit to hotels.
If you really need a baby monitor that works, I have three recommendations.
If your cell phone has a personal hotspot, you can try connecting your baby monitor to that. This works if you plan to keep your phone relatively close to the device. Hotspots aren't perfect in my experience, so be prepared for it to drop at any point.
If you have two wifi-connected or cellular devices available (phones, laptops, tablets), you can use FaceTime (or any video chat) as a monitor. Start a video chat, and then leave one device in the room aimed at the child (ideally plugged in and charging) and take the other with you. Be sure to mute the volume and turn down the brightness on the device in the room with the child.
And finally, you might just want to pack a baby monitor that doesn't require wifi. You can get no-wifi video monitors and old school audio monitors on Amazon for under $40. If you want a no-fuss option, this is a good one. Just be sure to test it out before your trip.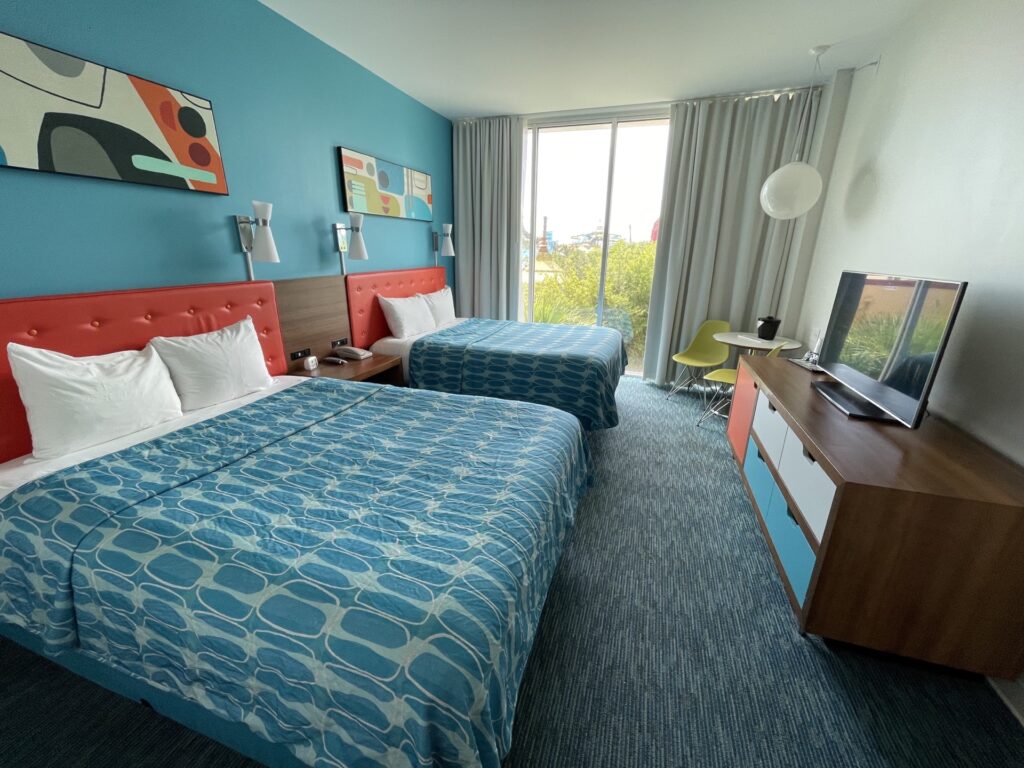 6. The secret to keeping the room dark.
You know that bright beam of light that always shines through the gap in hotel curtains? It's a small gap, but it somehow manages to fill the entire room with light. You can actually fix this incredibly easily.
Head to the closet and grab one of the pants hangers with the clips. Pull one side of the curtain over the other and clip it together with the hanger clips. Depending on the curtain, you might have to use a couple to really close it off. Voila.
I think a lot of people know this tip, but if you don't, it will change your life. This is most helpful during midday naps, but it can also help to keep that morning sun out and might even buy you a few more ZZZs.
Another thing I do sometimes is pack a portable blackout curtain. It was particularly useful in Iceland in the summer, when the sun was up until almost midnight. It's a great curtain, but it's not big enough to cover most hotel windows entirely. I wouldn't typically waste suitcase space on this, but if you have a sensitive sleeper it can be useful. (It is really great for AirBNBs, though, which usually have smaller windows and often lack full window treatments.)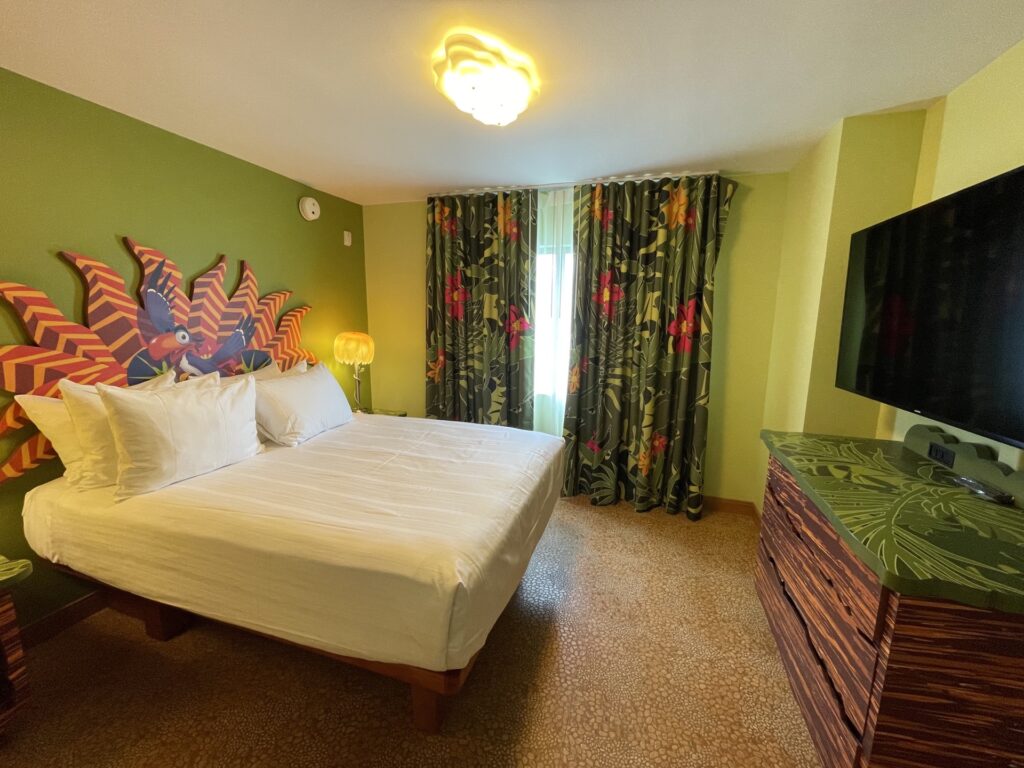 6. Bring a sound machine (and put it in the right place!)
Our toddler sleeps with a sound machine at home. Even if yours doesn't regularly use one, I would still highly recommend using one in a hotel.
Sound machines can help drown out loud noises from outside and the hallway (why do hotel room doors always slam shut?!) For that reason, they can be helpful even if your toddler is sleeping in a separate space. If you're sharing a room, it gives you a buffer to exist in the room more freely without tiptoeing around a sleeping toddler.
The trick to sound machines is putting them in the right place. Somewhat counter intuitively, you don't want to place it by your child's bed. If it's too close to the child, you will need to keep it at a lower volume and then it's less effective. Instead, place the sound machine toward the center of the room between where the child is and where you plan to be.
Ideally, you should plan to sleep on the bed closest to the bathroom (that way you can access it freely throughout the evening.) Place the sound machine between the two beds, on the other side of the room, for the most effective sound distribution.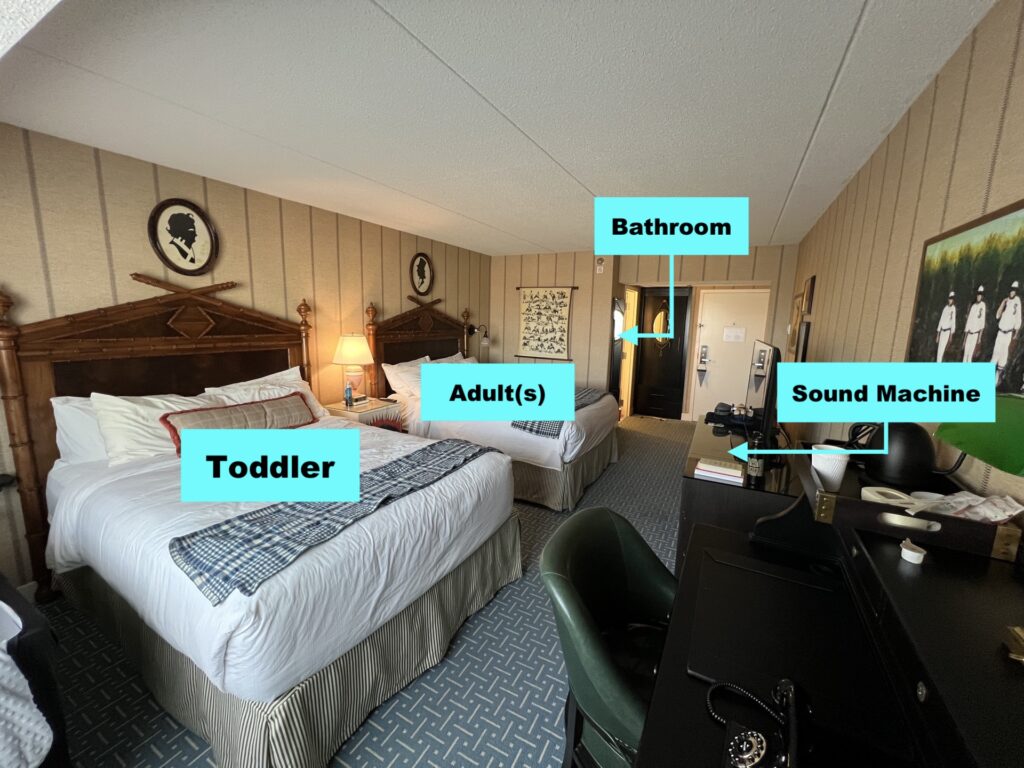 8. Practice your travel bedtime routine.
We stay in hotels a lot. (Our child is 3 and has already spent well over 100 nights in hotel rooms.) So for us, we knew right off that bat that we needed a bedtime routine that could easily travel with us.
Here's what I mean. When we introduced a bedtime stuffed animal, we picked a small one. We read from a bedtime book that has multiple stories in one, so we only need to pack one book. They sleep in a nighttime suit, so they're attached to that instead of a bigger blanket. Everything that my child needs to sleep can easily be packed up, so bedtime at a hotel is nearly identical to bedtime at home.
We share our full toddler hotel bedtime routine here if you're looking for a starting point.
We're an extreme case. I don't think everyone needs to rearrange their bedtime routine just for one or two hotel stays a year. However, it can be helpful to practice the modified bedtime routine for a few days or weeks prior to your trip.
Maybe suggest a smaller stuffy for a few nights. Hype up a single bedtime story that you're going to bring with. (Maybe even let them pick out a new bedtime book for the trip.) Introduce their travel toothbrush if it's different than the one at home. All of these small things can add up and make the hotel experience less jarring.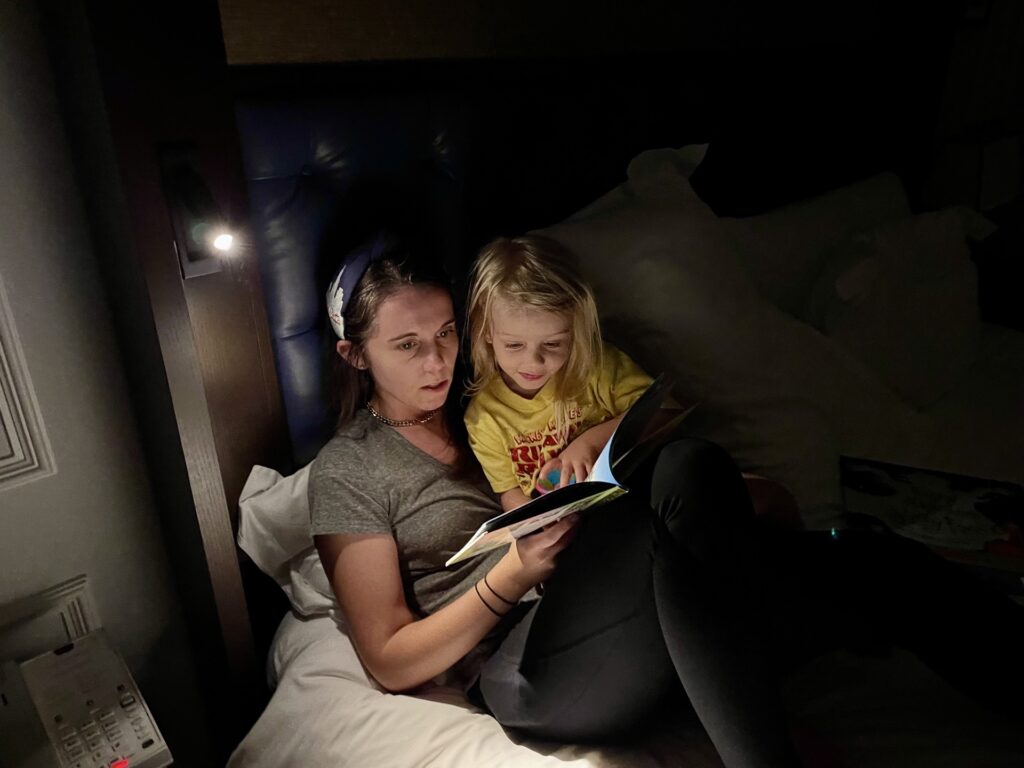 9. The Hatch hack you have to know about.
If there's an exception that proves the rule, it's our Hatch light. Our toddler listens to their Hatch light more than they listen to us on any given day. They will not leave their room until that light goes from purple to green. It's honestly incredible.
The Hatch light is the only device that is essential for our bedtime experience at home that we don't travel with. (It's just too big, and I do not know why they don't have a portable one that does the colors!) Every time we stay in a hotel, they wake up earlier than usual. Without their light telling them otherwise, they assume they can get up as soon as they wake up.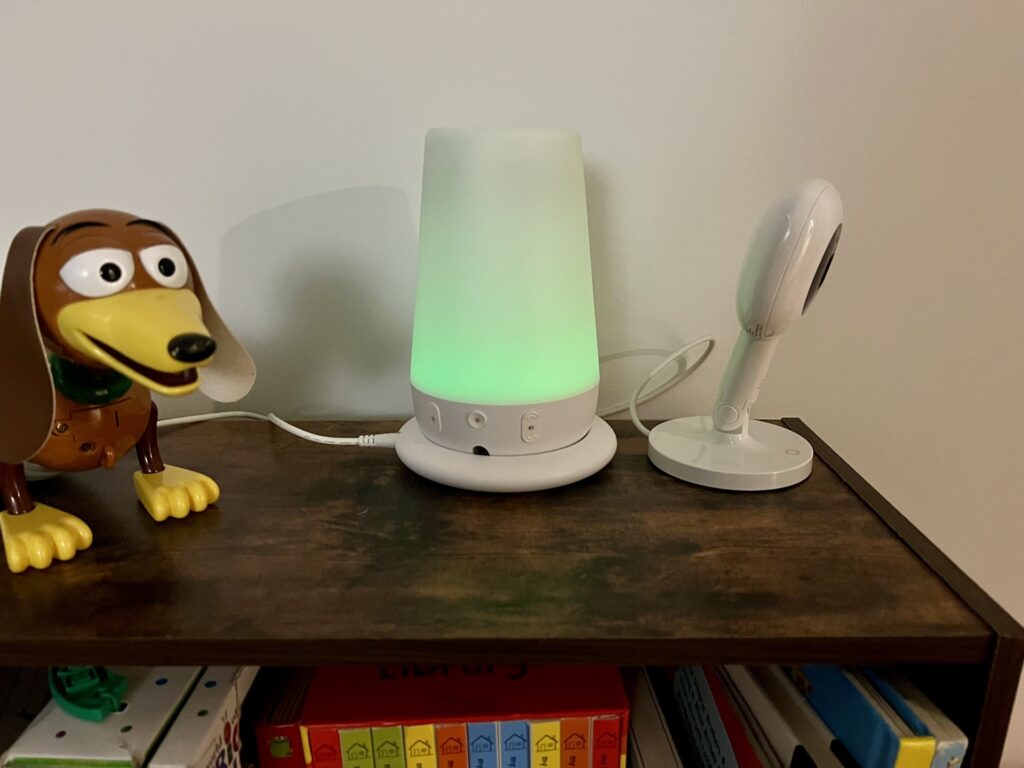 If your toddler has a similar respect for their Hatch light, this $10 nightlight is the answer. It's a basic plug-in nightlight (this one actually has a unicorn which is better than basic), that has multiple color settings. Set it at night to your sleep color, and then change it to their wake color in the morning.
Now, it is manual, so you'll have to physically push the button to change the color when it's time, but I like that. I previously bought a similar light, but it was Bluetooth and controlled by my phone. It took so long to set up and never really worked. This one is way easier. (Okay, maybe too easy. My toddler quickly figured out how to change their own light color, so now it has to be a bit further out of reach.)
If you don't separately have a portable sound machine, this travel nightlight has both colors and white noise. It's a bit more expensive and has a charging cord versus a plug.
10. The early bedtime problem.
We've danced around this problem the entire post. If you have a suite or a separate space for you child, you can skip this one. But in the many cases parents are sharing a single hotel room with their toddler, how do you handle being trapped in a dark hotel room for the hours between their bedtime and your bedtime.
Admittedly, I hate this less than many other parents I know. Honestly, by the time I put my kid to bed, I'm pretty zonked. Most the time all I want to do is scroll on my phone in bed anyway, but I know that this is hard for a lot of people.
Here are a few things to try to make it a little more tolerable.
Watch TV on your laptop instead of the hotel TV. Our laptop is just as bright the TV, but we can angle it away from the child so the light isn't distracting. (I know people are probably doing this anyway.)
Pack a splitter and headphones with cords if you're planning to watch something with a partner. Alternatively, you can split a pair of AirPods in a pinch.
Pick the bed closest to the bathroom so you won't wake them up when you get ready for bed.
Grab a beer or a special drink/snack before bedtime to enjoy after bedtime. It makes a night in feel more special.
Alternate nights/days out. One parent stays with the baby, and the other person can go do something else. Maybe that's a solo activity, just sitting in the lobby or even working out at the gym. We do this with bedtime and nap time, and alternate between the two.
Sit on the other side of the curtains. This one sounds ridiculous, but it can actually be nice if you have a good view. If you have portable chairs in the room, move them next to the window inside of the curtains, kind of like you're making a fort. We always do this at airport hotels when we have runway views. (Honestly, we do this a lot and just sit on the floor.)
Keep your child up a bit later than usual. Depending on where you are and how long you're traveling for, you might decide that you just want to let your kid stay up later. That way you just have less or no time to kill.
Hire a baby sitter. We've never done this, but I know that it's a thing and people who do it swear by it. If you choose to go this route, start by reaching out to your hotel. Many nicer hotels will be able to provide recommendations, and may even have an in-house or parter provider for childcare.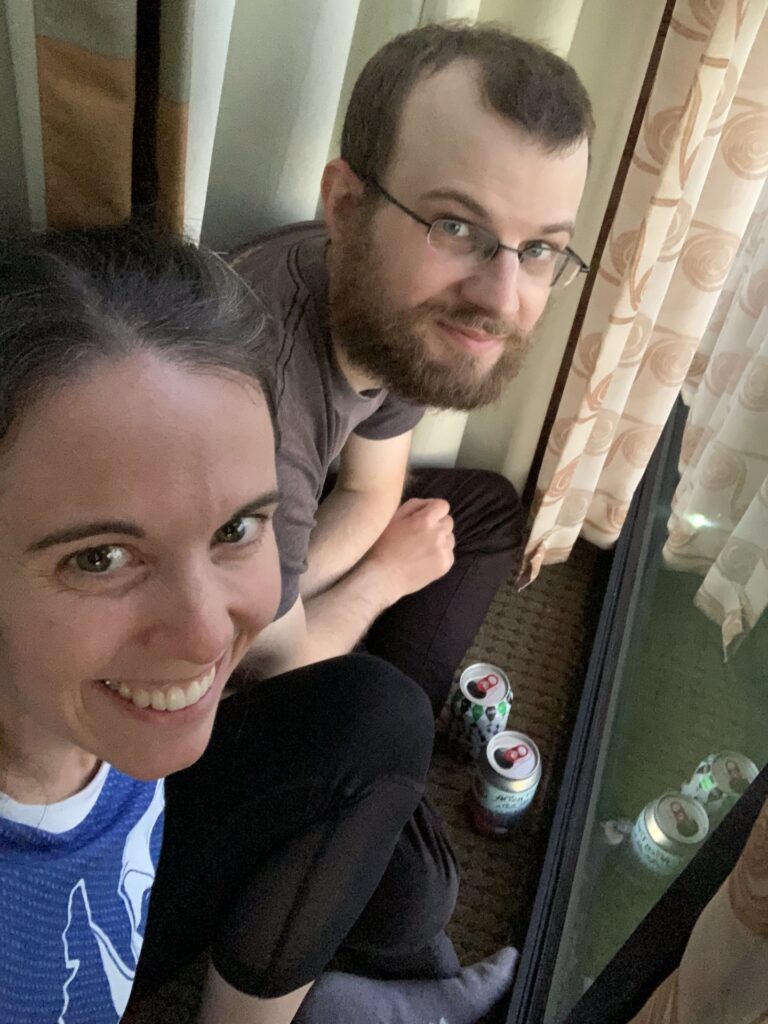 Closing Thoughts on Hotel Stays with Toddlers
I'll wrap up with something everyone already knows. All kids are different. All parents are different. Everything in this list won't work for everyone or be true in all instances. Even still, I hope you're able to take away a few tips that will help your family enjoy your nights at hotels just a little bit more.
Like with anything, hotel stays with toddlers takes practice on everyone's part. It also just takes some attitude adjustments. I'll never forget putting my child to sleep for the first time in a hotel at 7 PM and then thinking to myself, "So no what?" But with time, I've come to actually really look forward to that downtime.
I hope you and your family settle into a hotel routine that is comfortable and restful. If you have any tips we should try or that other readers might benefit from, please share them in the comments.