Chiang Mai, Thailand | Truth time. Before I arrived in Chiang Mai, I never really gave elephants a second thought. In general, I don't consider myself much of an animal person except for being weirdly obsessed with birds. But when my friend (who travels a lot and I totally trust her judgement) told me that I had to visit an elephant sanctuary in Thailand, I took her word for it. As it turns out, my visit with the elephants at Maerim Elephant Santuary in Chiang Mai was one of my favorite memories from our 15-month trip around the world.
I'm now a bird and elephant person.
Save The Elephants
Let's talk about elephants and why "sanctuary" is the operative word here. Despite weighing in at 11,000+ pounds, elephants in Thailand and throughout Asia are struggling to survive. With less than 50,000 left in the wild, they're considered Endangered and their population is decreasing.
Asian Elephants are losing their homes to deforestation and they're being poached by humans. Larger males are killed for their tusks and babies are taken from their mothers and sold into tourism. Others are taken and sold to the logging industry. In captivity, they're beat into submission and/or forced into labor that their bodies are not designed to withstand.
But there is hope.
Maerim Elephant Sanctuary is rescuing elephants from these horrific conditions and giving them love and food and space. The elephants at Maerim Elephant Sanctuary were saved from logging and riding camps, and the little baby, Set Thi, was rescued from the circus.
They are showing the world the right way for humans to engage with elephants, and that's by feeding them lots of bananas and playing with them in the mud. No hooks, no riding, no tents. Maerim is giving the elephants back their freedom and they're teaching us all a lesson in compassion along the way.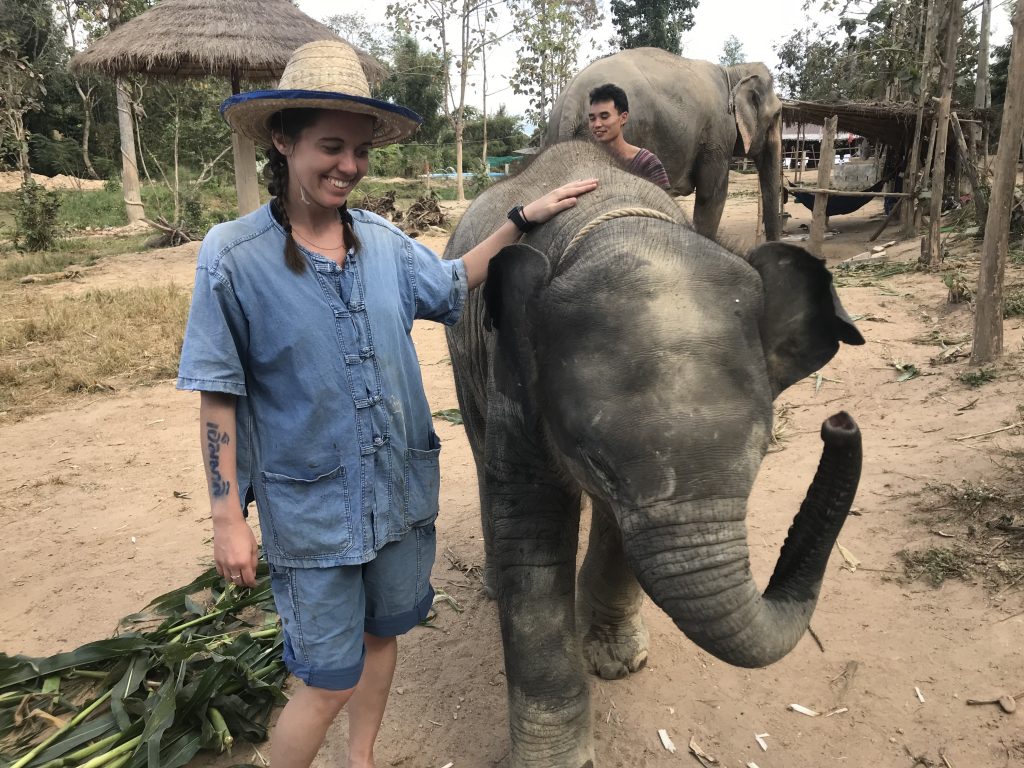 WARNING: This Video Will Make You Happy
So without any further ado, let's meet the elephants of Maerim Elephant Sanctuary in this adorable video of elephants being elephants and Kenny and I loving every single minute of it.
How You Can Meet Elephants in Chiang Mai
Meet the elephants at Maerim Elephant Sanctuary for yourself!
Where | Maerim Elephant Santuary is located near Chiang Mai, Thailand
Cost | A full-day visit with the elephants, including feeding them and swimming with them, costs 2,000 Thai Baht (about $61 USD) per person. The cost includes lunch and transfer service from Chiang Mai!
Volunteer | Are you planning to be in Chiang Mai for a while? Look into their volunteer opportunities.
Learn More | Be sure to check out the Maerim Elephant Sanctuary website for all of their current packages and prices.
More To Do In Chiang Mai
We had an incredible time in Chiang Mai. You will not have trouble filling your days in this city that is bursting with ornate temples, fantastic coffee and of course, elephants!
If you're looking to get out of Old Town for a day to see some breathtaking views and amazing temples, we've got a perfect hike for you! We've written up some clear and simple directions for hiking the Monk's Trail to a gorgeous mountain-top golden temple called Wat Phra That Doi Suthep.
Planning to be in Chiang Mai at Christmas Time? It's actually a great place to spend Christmas. One thing we recommend when you're celebrating Christmas away from home is to start a new tradition, and ours was the Chiang Mai Marathon on Christmas Eve. It was a very interesting race, but if you're a runner, it's a really cheap marathon and includes two shirts and Thai food!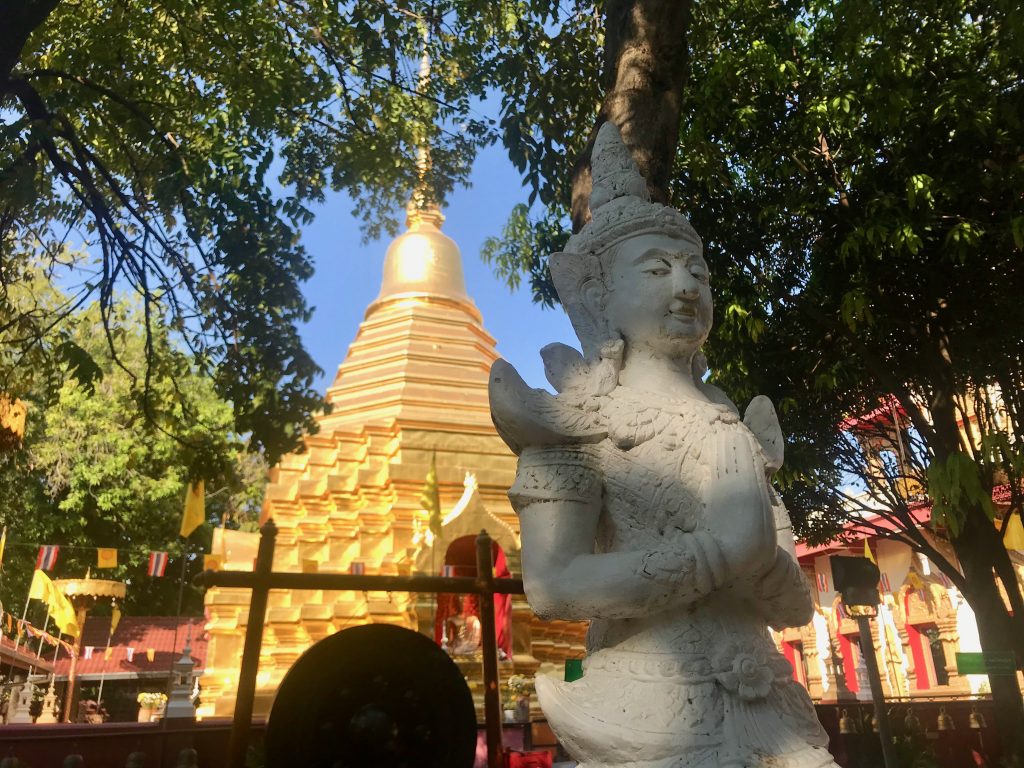 Other Travel in Asia
Our two months in Southeast Asia started and ended in Thailand. In between, we biked around Angkor Wat in Cambodia, took a two-day slow boat through Laos, and we cruised through Ha Long Bay in Vietnam. If you have a few weeks to travel, you can't go wrong with the Banana Pancake Trail around Southeast Asia.
After waving goodby to the beaches of Phuket, we jumped a flight straight to winter. Our next adventure would be celebrating Chinese New Year in Beijing!