Beijing, China | I wish I was here writing an actual guide for celebrating Chinese New Year in Beijing, but I'm not. When we rang in the Year of the Dog in Beijing, we made a lot of mistakes, but they were mistakes that we think you could make, too. Today we're here to share the lessons we learned and our tips for making your trip to Beijing for Chinese New Year even better than ours.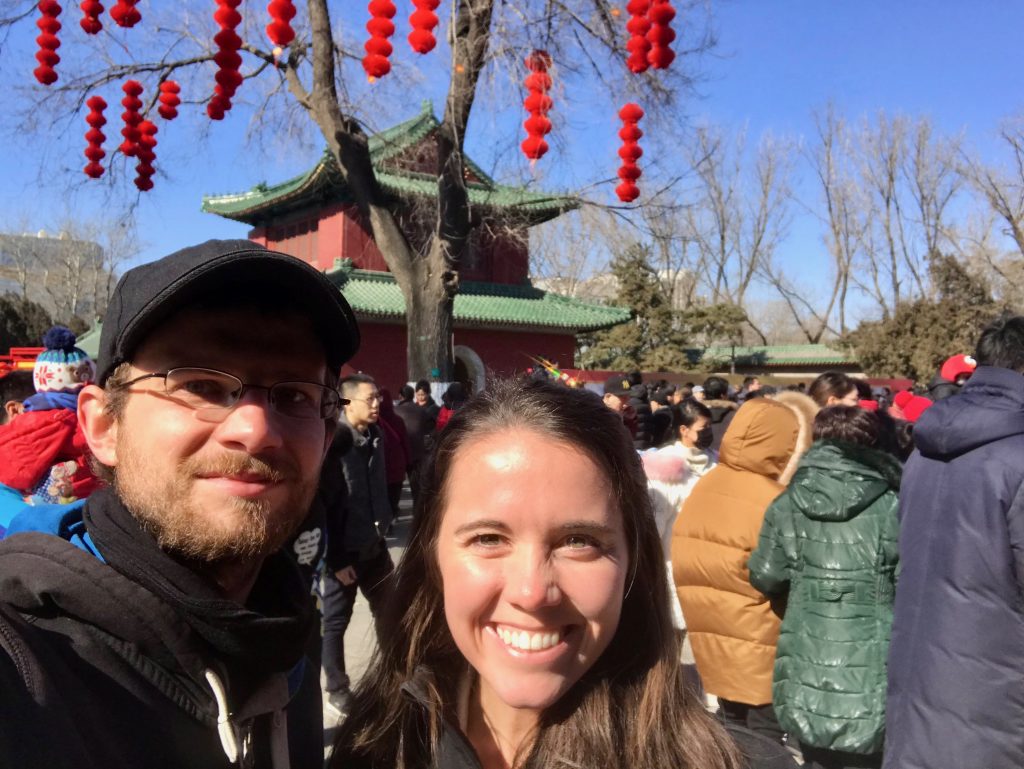 What is Chinese New Year?
Chinese New Year marks the beginning of a new lunar year and the start of the Chinese calendar. The holiday is celebrated by one quarter of the world's population and actually results in the world's largest annual human migration.
In the days leading up to the new year, Chinese families will prepare their homes and bodies to usher in the new year's luck. They thoroughly clean their homes, decorate with paper lanterns and purchase new clothes.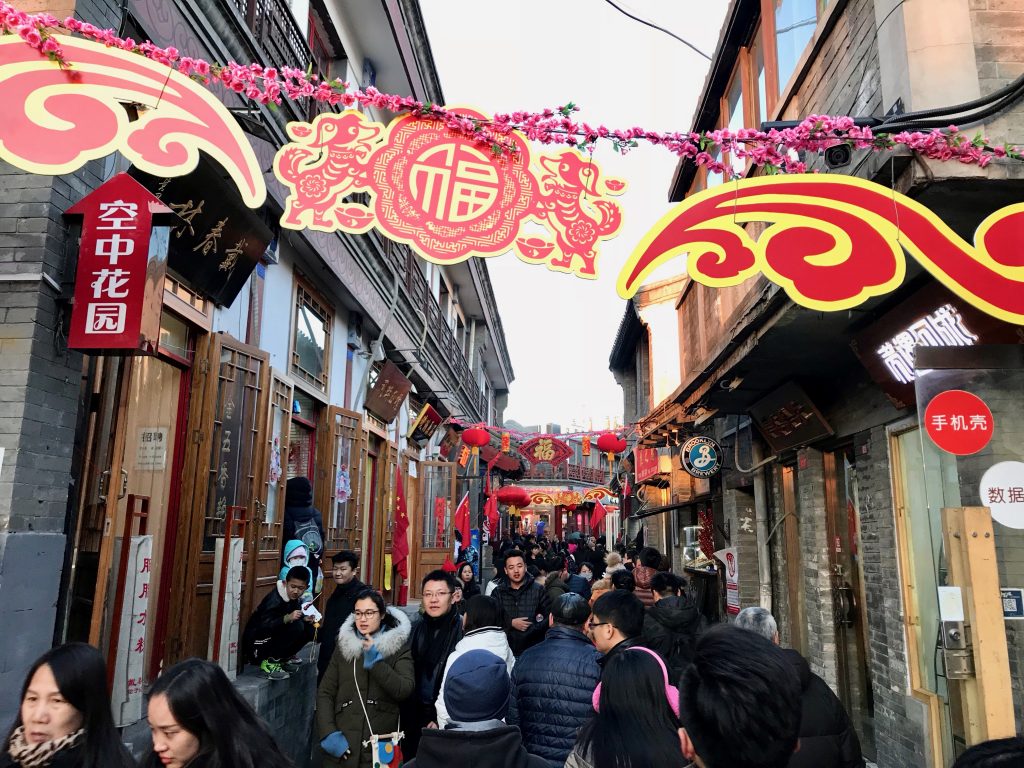 On New Year's Eve, families come together from near and far to celebrate with a reunion dinner. Children look forward to receiving red envelopes filled with money from their parents and grandparents. Many people will spend the evening praying at temples or watching the variety show New Year's Gala on TV (which is incredible, btw, and I didn't understand a word). At midnight, they set off fire crackers (sometimes a lot of firecrackers) to warn away evil spirits.
New Year's festivities go on for 15 days, each day of which has its own tradition and purpose, and culminates on the 15th day with the Lantern Festival.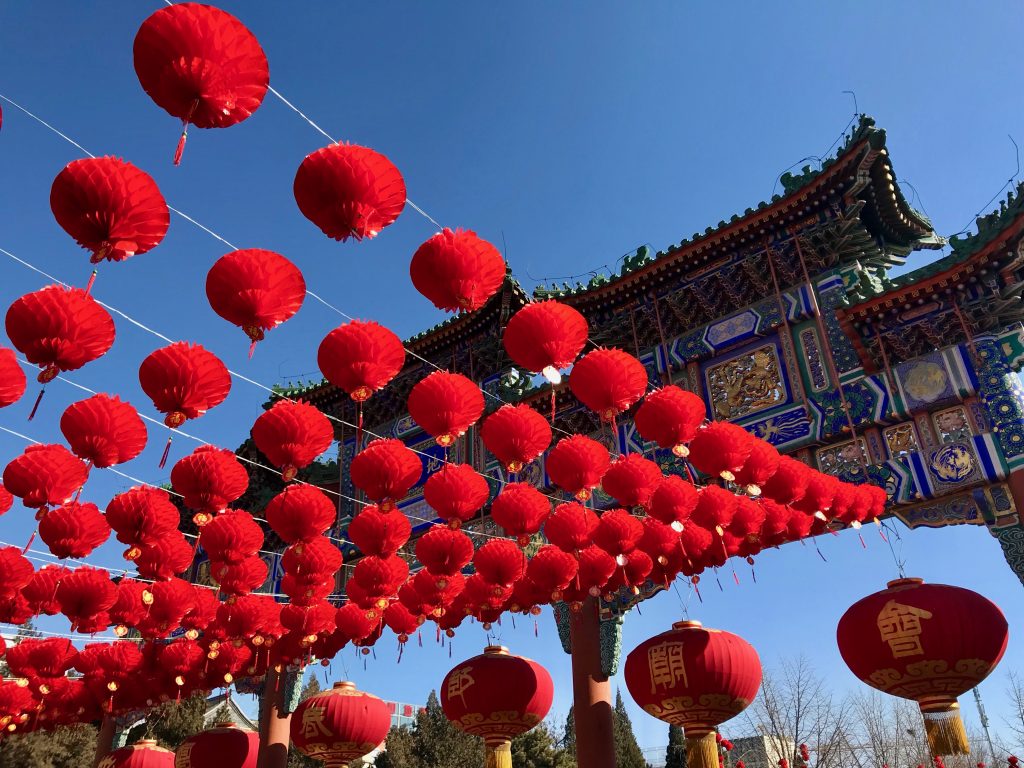 Why is Chinese New Year in Beijing so Hard?
Celebrating Chinese New Year in Beijing as a foreigner can be difficult. What's so different about celebrating Chinese New Year in Beijing than celebrating any other local holiday in any other city? A few things.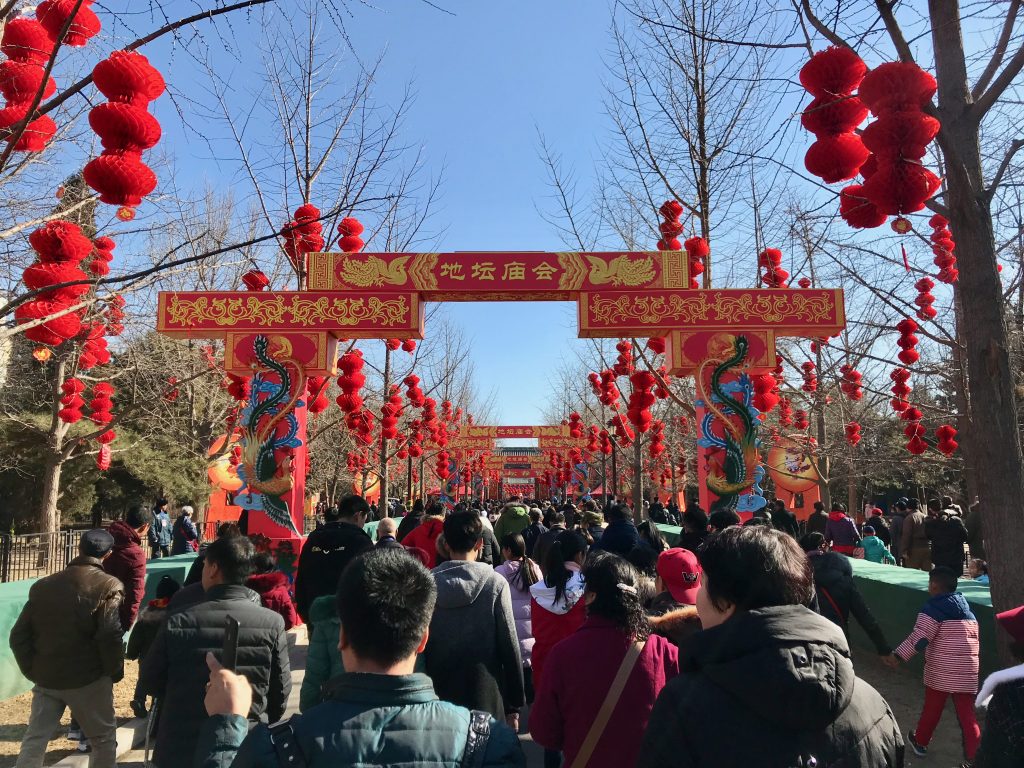 1. The best guides are written in Mandarin.
There are a lot of detailed guides written about Chinese New Year in Beijing. Unfortunately, most of them are written in Mandarin which was of no help to us as non-Mandarin speakers.
The best English resource we found was by Travel China Guide. We were able to find basic info like dates and sometimes addresses, but we were still left clueless to details like activity schedules, reviews and detailed directions.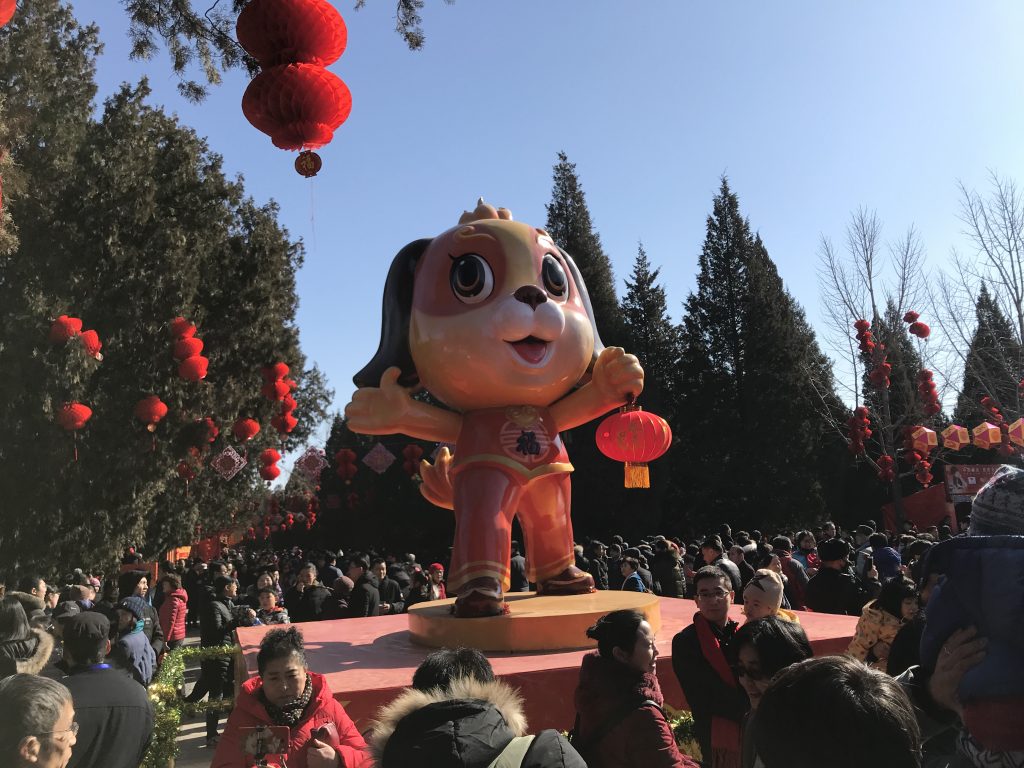 2. It's a family holiday.
Chinese New Year, specifically New Year's Eve, is celebrated with family. Most the of the family-owned businesses shut down so owners and workers can be with their families. That leaves you at a Mexican chain restaurant with all the other Westerners. Not exactly world travel at its finest.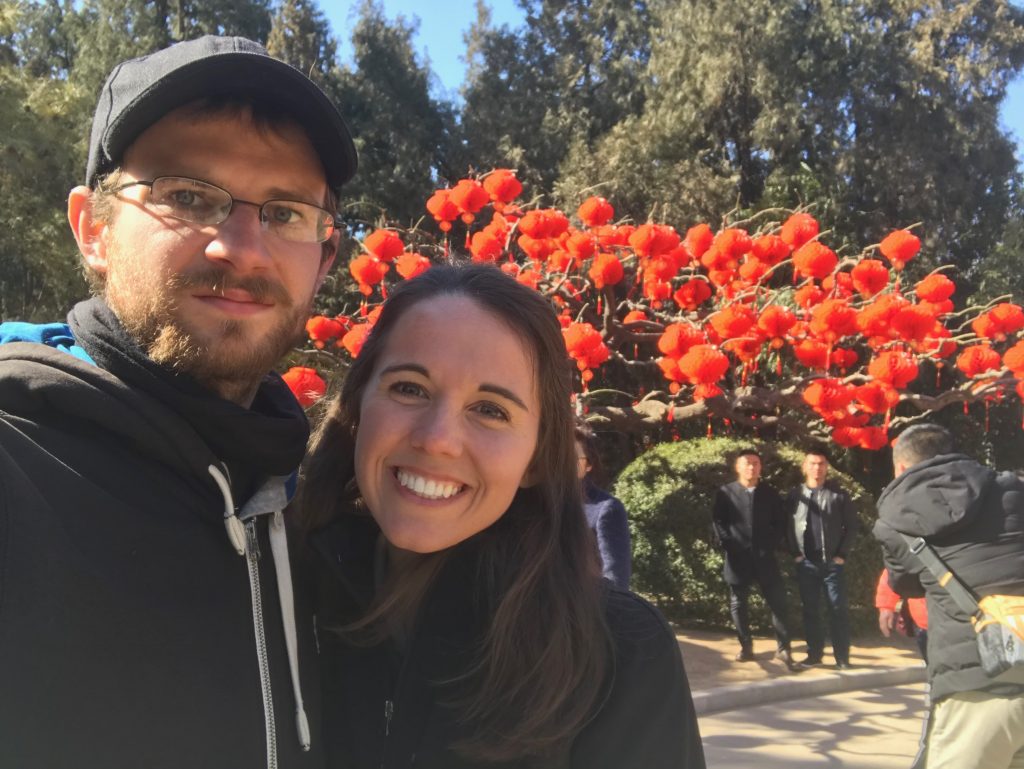 3. It is Very Crowded
In 2018, 1.7 million Beijingers visited one of the top two temple fairs in Beijing over five days. One point seven million people in two parks over five days. That's a lot of people.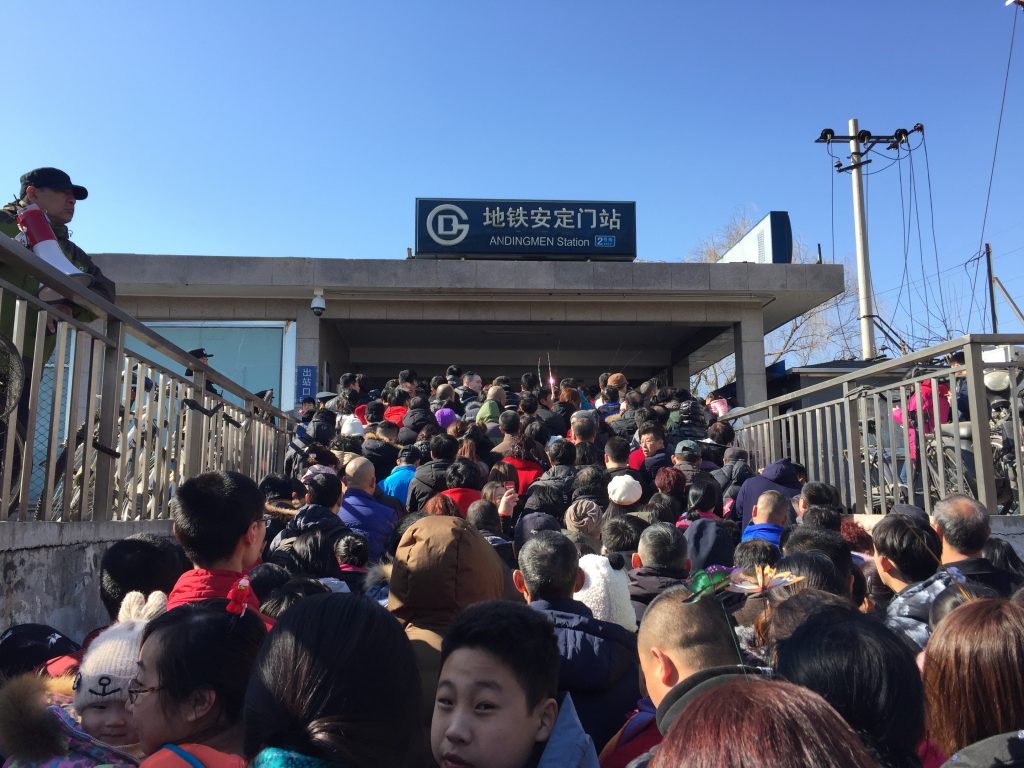 Be prepared to be squeezed in like sardines at multiple points throughout the experience, from buying your ticket to making your way to the train afterward. It is a little stressful, but stay calm and just don't plan on getting anywhere quickly.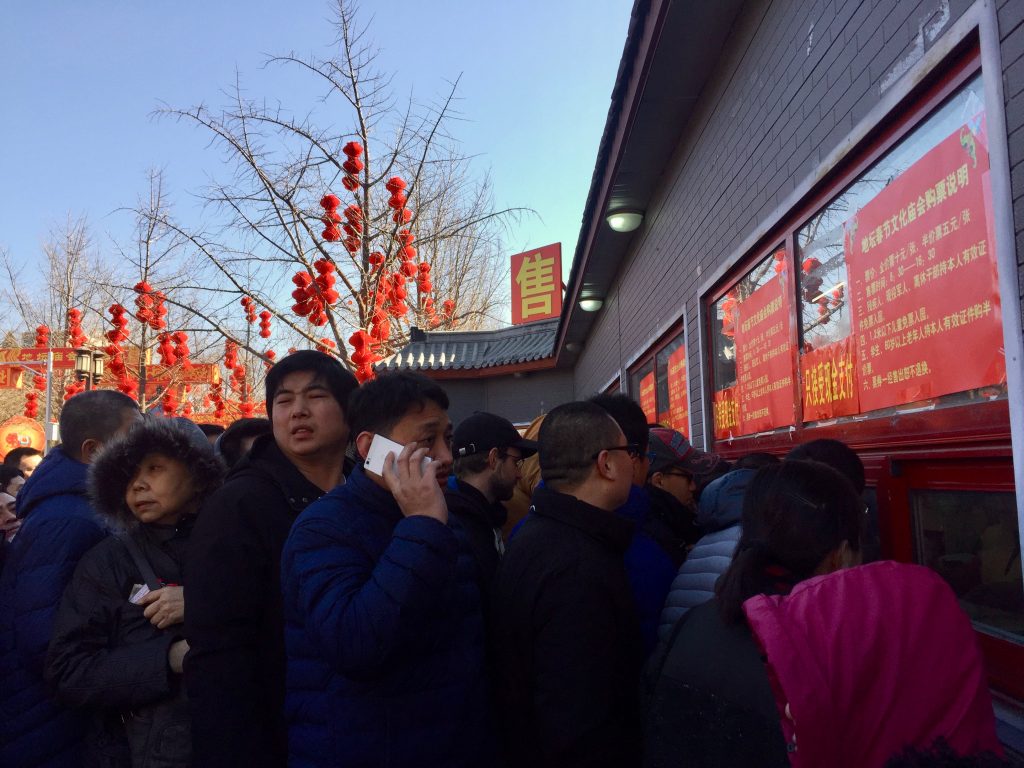 How to Celebrate Chinese New Year in Beijing?
Beijing is a great city to spend Chinese New Year, maybe even the best. There is plenty to do and the backdrop of ancient temples and historical buildings sets a stunning scene. Here's what you can expect when celebrating Chinese New Year in Beijing.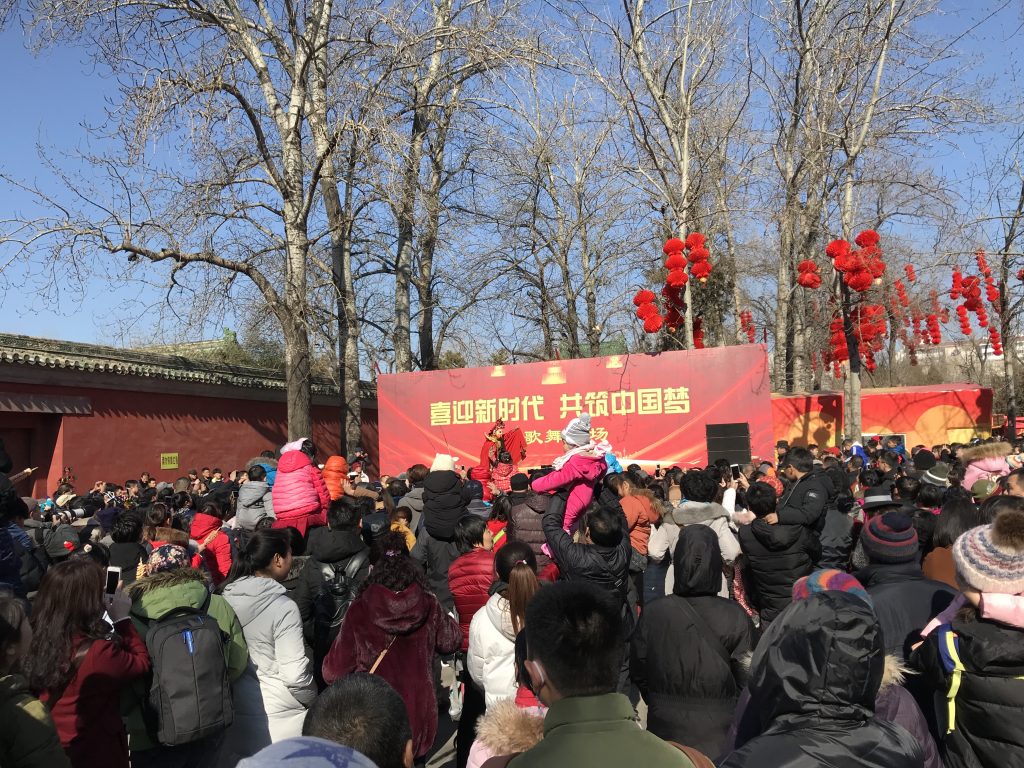 Temple Fairs
The most popular and most fun thing to do in Beijing during Chinese New Year are Temple Fairs. They're called temple fairs because many take place and historically have taken place at, you guessed it, temples.
The most famous and largest temple fairs are Ditan Park Temple Fair and Longtan Park Temple Fair. Each temple fair is different, but they all offer a festive and cultural experience. There are games, traditional performances (including the famous lion and dragon dances if you can time it right) and so much food. Speaking of …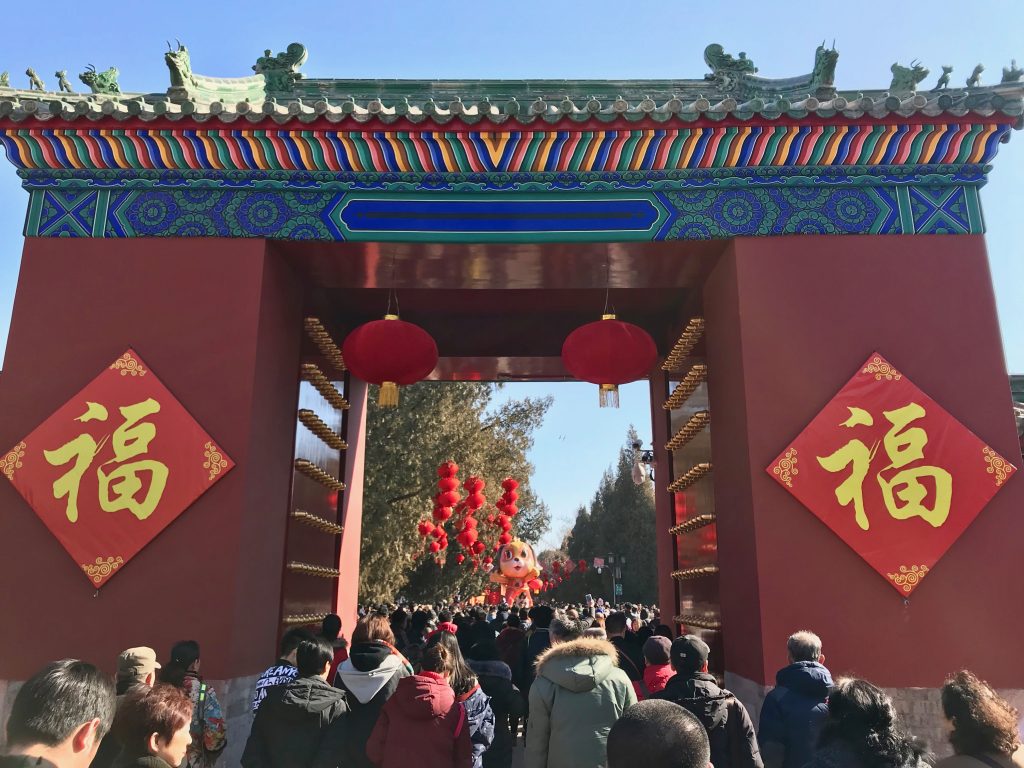 Traditional Foods
The food in Beijing is fabulous, and the temple fairs put all of the best food in one place. If you're a carnivore, there are meat and seafood skewers galore! We can't vouch for those items, but some of our vegetarian favorites included:
Tanghulu: Long skewers of fruit, traditionally hawthorn berries or strawberries, dipped in a glossy hardened sugar syrup.
Stinky Tofu: Don't be turned off by the name or the smell. This is a staple in China and can be found at any temple fair. We actually found the Beijing version of this dish to be much less pungent than what we had in Shanghai.
Tornado Potatoes: Fried spiral potatoes on a stick, which are popular throughout all of Asia.
Donuts: What festival anywhere in the world would be complete without a donut stand?! In Beijing, they top the hot donuts with powdered sugar and they are amazing.
Beijing City Attractions
Chinese New Year is a great time to visit Beijing's historical sights. Many of the parks and temples are decorated to the nines for the holiday, making them even more beautiful than usual. Be sure to pay attention to holiday hours, though, and buy advance tickets if/when available.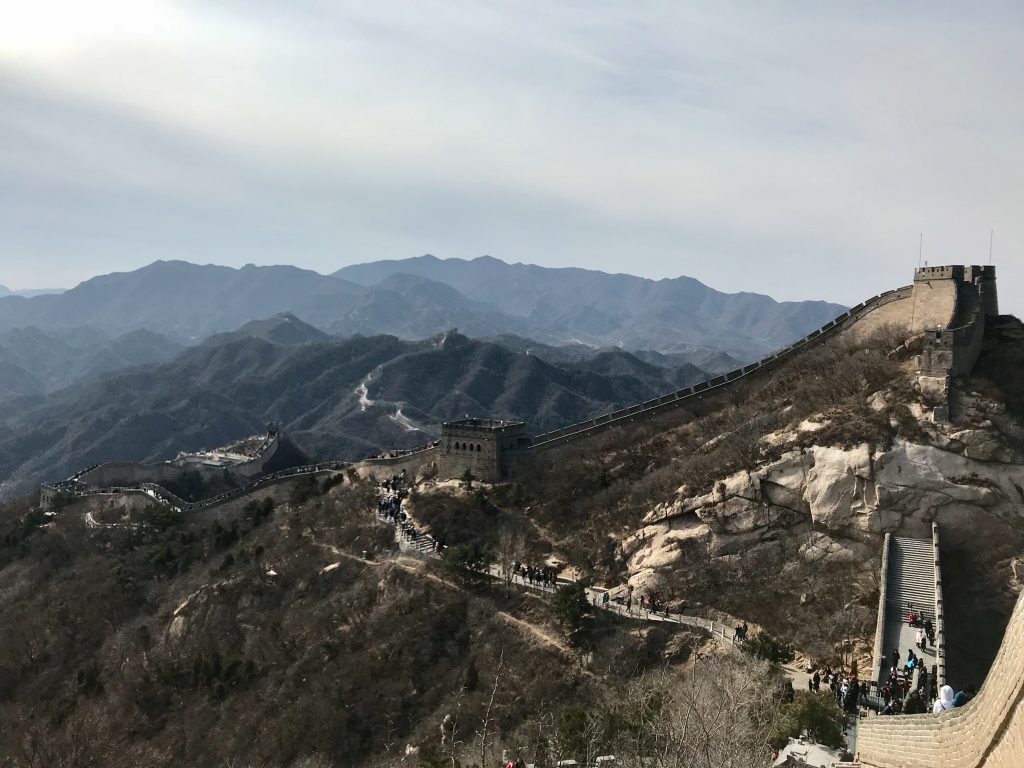 Some of the Beijing sites you won't want to miss during Chinese New Yew include:
The Great Wall of China | We recommend taking the bus to the Badaling section of the wall.
New Summer Palace | We went to New Summer Palace in search of a Temple Fair that wasn't. Instead, we found a stunning palace and gardens (including Yunhui Yuyu Archway, which inspired the entry to the China pavilion in Epcot).
Temple of Heaven and Behai Park | If it's not too cold, these two places offer beautiful architecture, imperial gardens and great people watching. They're also decorated for the holidays and will not be too crowded. (While we're talking about Epcot, the China pavilion's highlight is a half-scale replica of the Hall of Prayer for Good Harvests at the Temple of Heaven.)
Forbidden City | The Forbidden City was the center of Chinese power and royalty for over 500 years. It was the home to emperors and their families during the Ming and Qing dynasties and is now home to the Palace Museum.
Chinese Acrobats | It sounds kitschy I know, but we saw the Chaoyang Acrobats and were blown away.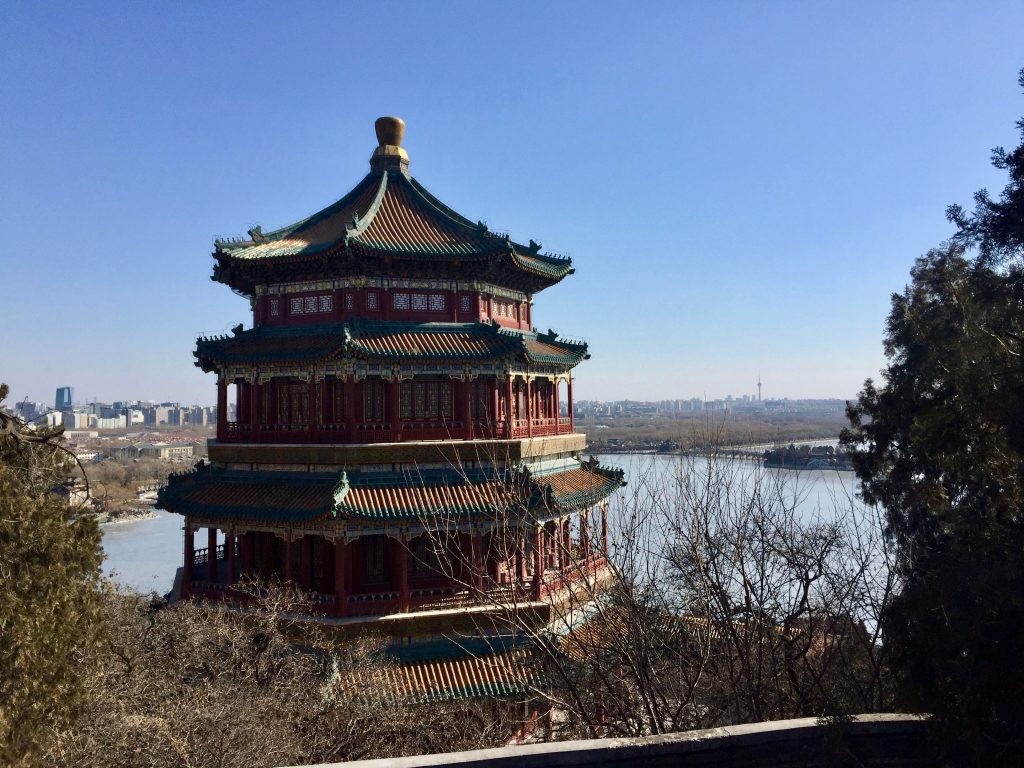 Tips For Chinese New Year in Beijing
We weren't very prepared for our first Chinese New Year in Beijing. A few mistakes were made and a few tears were shed. We learned so much though. If we got to go back in time and give ourselves tips on this trip, this is what we'd say.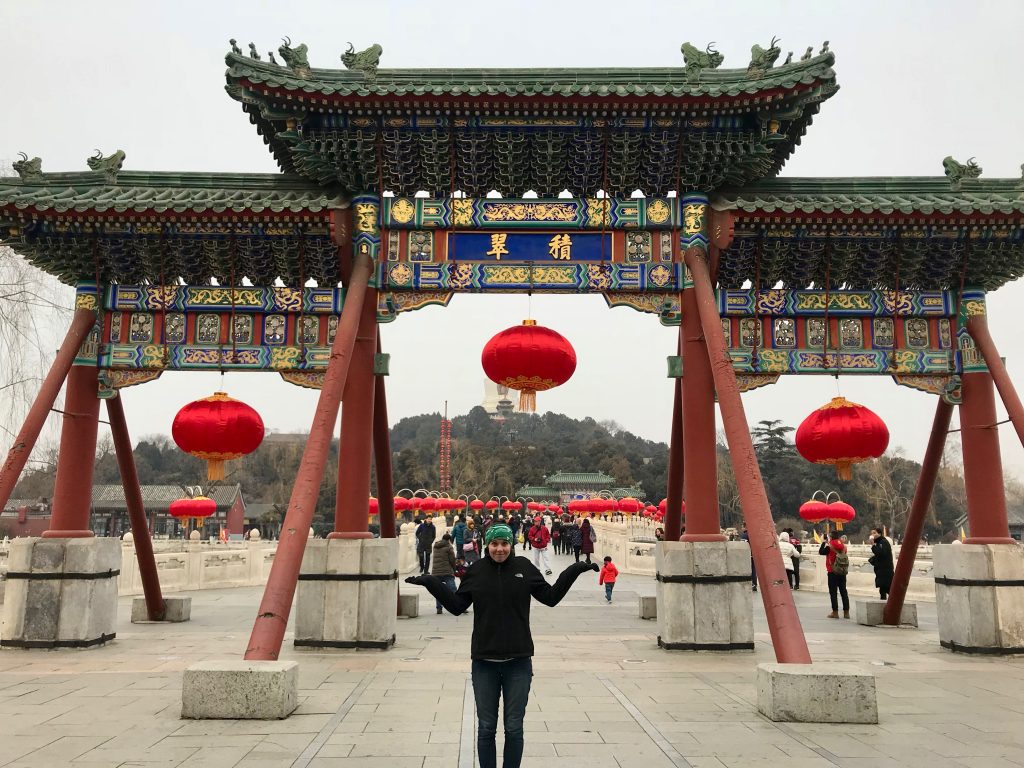 1. Fireworks are a thing of the past in Beijing
"They'll light up the entire sky," they said. "Just walk outside anywhere and you'll see fireworks," they said. "The fireworks go on for hours," they said.
That was all true for a time, but 2018 was the year that Beijing fell silent on New Year's Eve. Fireworks are now banned in Beijing's city center in an effort to address rising concerns with air pollution. The steep fines for violators worked and when we walked outside at midnight, we didn't hear a sound.
Beijing is not a city where you'll find Chinese New Year Fireworks anymore, so don't get your hopes up. If you need Chinese New Year fireworks, you'll want to head south to Hong Kong for the state-sponsored fireworks on Victoria Harbor. (And while you're there, you won't want to miss these day trips from central Hong Kong.)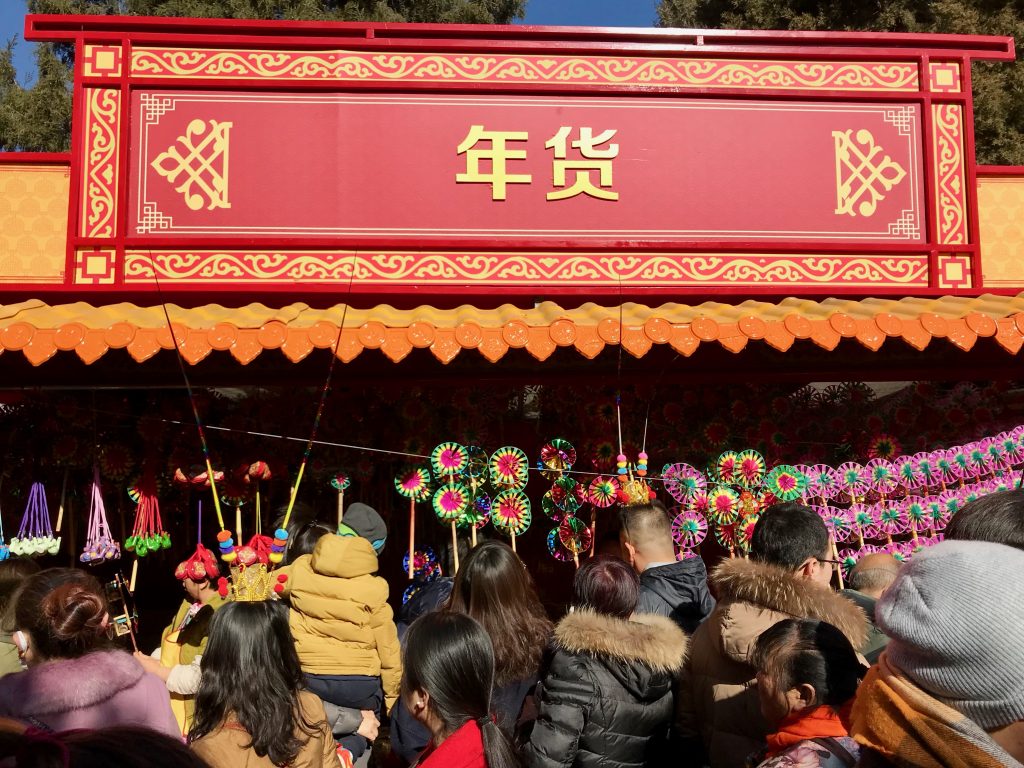 2. Not All Temple Fairs are Created Equally
Temple Fairs are the best thing about Chinese New Year in Beijing, but you have to pick the right ones. We had the most incredible time at the Ditan Park Temple Fair. We loved hustling through the crowds to buy tickets, walking through streets adorned with hundreds of lanterns, and watching the performances, even though we had no clue what was going on.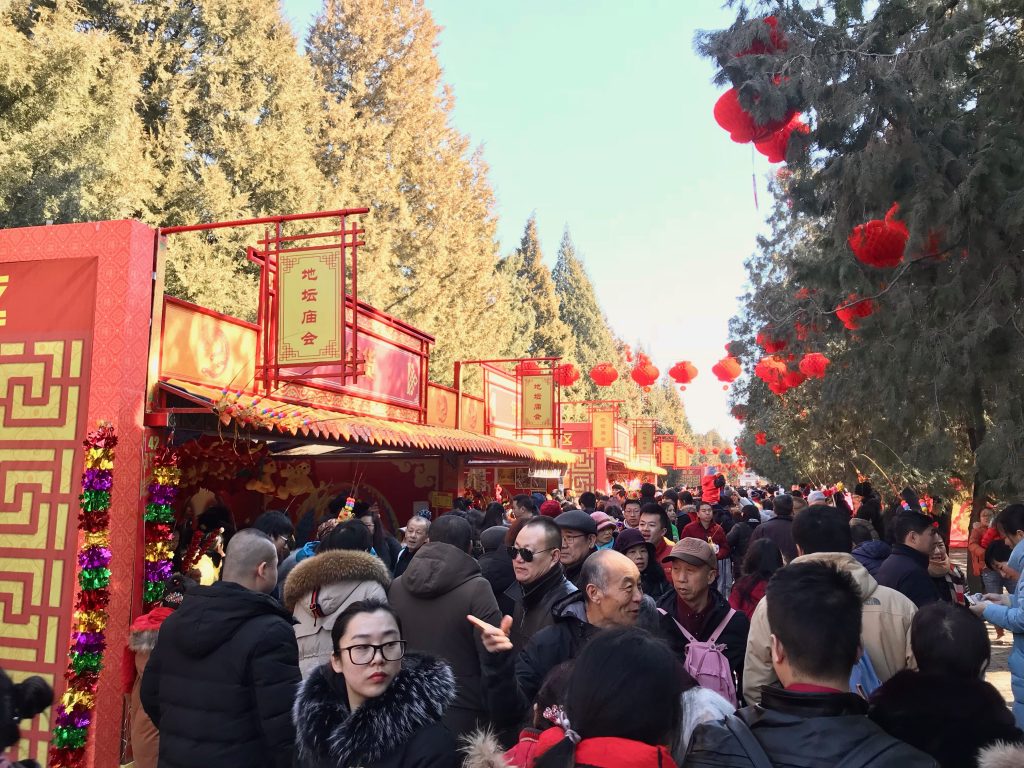 But we also trudged through Beijing in the freezing cold to find temple fairs that just didn't exist. Everything we read said there should be a temple fair, there were lots of people and security there like there was a temple faire, but we never found the actual temple fair. It was so strange.
This happened to us at the New Summer Palace Temple Fair and Changdian Temple Fair, both of which seemed so frequently talked about. We suggest you focus your energy on Ditan Park Temple Fair and Longtan Park Temple Fair.
3. Buy tickets in Advance
There were two times I broke down in tears during our trip: when we missed the train to Cusco after hiking the Inca Trail and when I tried to go to the Forbidden City in Beijing. Let me explain.
I just remember waiting in line going through security to get into Tiananmen Square, then seeing the crazy long line to get into the National Museum of China and then seeing the people flooding into the Forbidden city. Yet at no time was I like, "Hm, I might not get in here."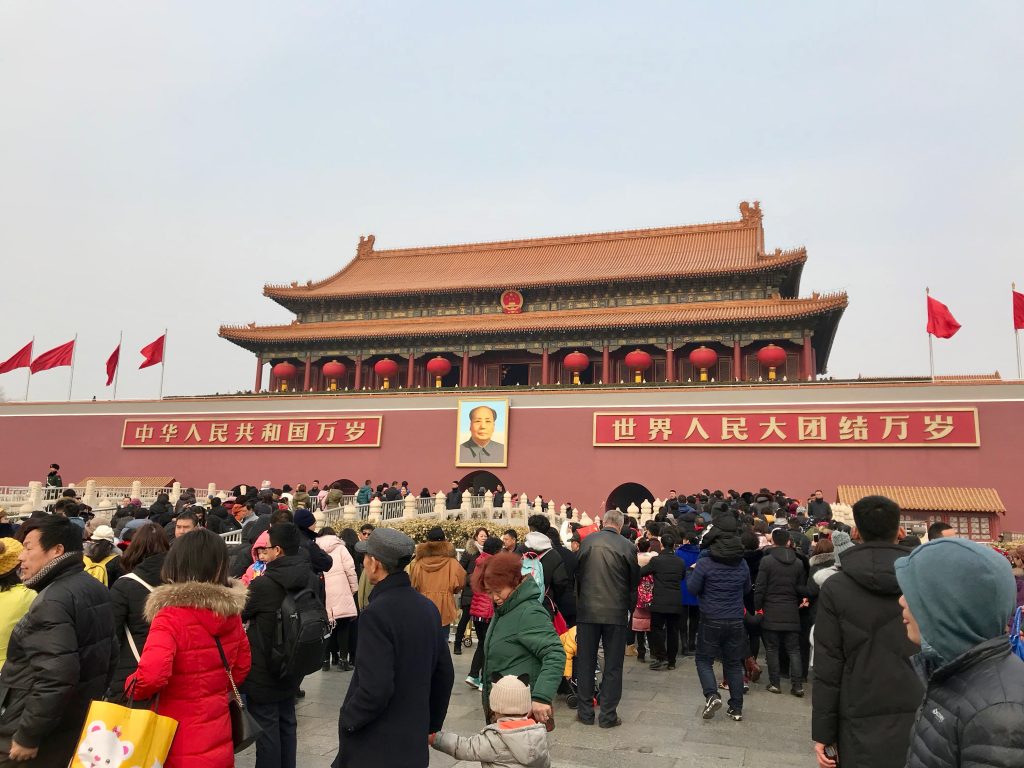 I started seeing signs that said tickets were only available online, but the website was only in Mandarin. So I went up to the customer service desk. The agent didn't speak much English, but I had the website on my phone and we were stumbling through it. She points to the calendar and I point to today and she literally laughed out loud. Tickets were sold out.
It was my last day in Beijing and we couldn't get into one of the top three things you have to do in Beijing! Tears. So my dear reader, I insist: BUY YOUR TICKETS IN ADVANCE!
Should You Visit Beijing During Chinese New Year
A lot of people argue that Chinese New Year is not a great time to visit Beijing. Their points are valid, and there are some major downsides to visiting Beijing for Chinese New Year. The cons list includes:
It's freezing cold.
Local businesses are closed for the holiday.
Major tourist attractions have odd hours.
It can be very crowded.
That said, we're going to tell you to go. For sure, if you have ever even thought of it, go.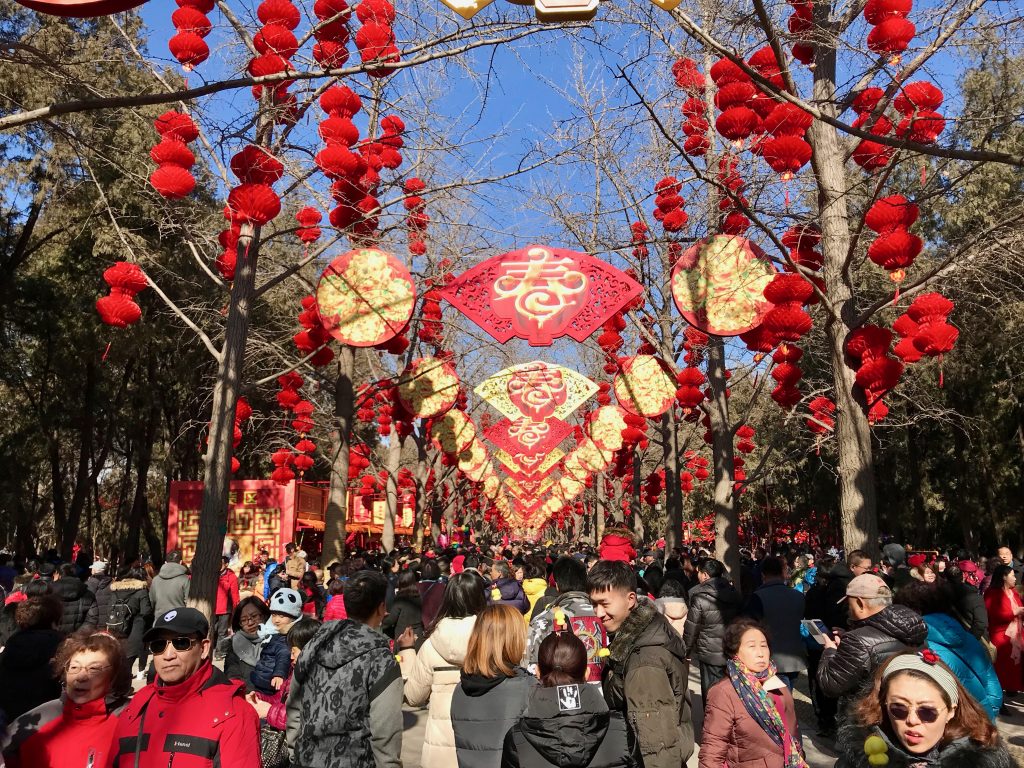 Even though it was difficult, we wouldn't trade our experience celebrating Chinese New Year in Beijing for anything. It was such a special and memorable experience. Because it was challenging and we had to work hard for every moment, we appreciated it that much more.
Beijing is a city city. It is fast and loud and alive. Beijing is filled with people getting things done, who quite frankly, don't really care if you're there or not. It's not that people weren't welcoming, they were, but they didn't cater to tourists. We loved that. In order to get by in Beijing, you have to figure sh*t out. And when you do, you will be greatly rewarded.
Thank you Beijing for rewarding us with a beautiful experience in your country.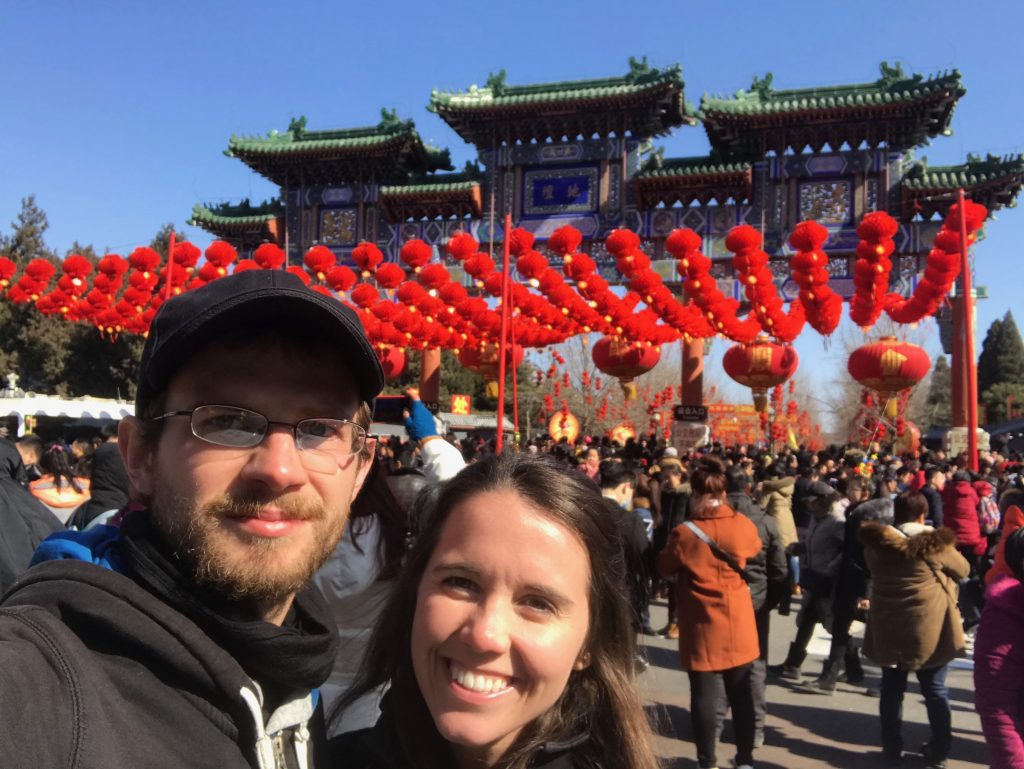 After Chinese New Year, we flew Japan Airlines Business Class from Beijing to Tokyo! Our next big adventure? Run the Tokyo Marathon!